This story is part of Covering Climate Now, a global collaboration of more than 250 news outlets to strengthen coverage of the climate story.  
Public relations experts keep a careful eye on the multitude of ways that PR can go wrong: tracking the year's biggest "PR blunders," assessing flopped ads for lessons learned, and noting when to remain silent and when to circulate a particular point of view.
PR blunders have been blamed for causing stock prices to dip, powerful executives to lose jobs, and occasionally even forced public apologies from PR representatives themselves.
But it takes a special kind of PR nightmare — a particularly unusual kind in the U.S., with its broad protections for free speech — to prompt investigations by state attorneys general into whether a company's public messaging was so misleading and harmful that it should be considered illegal.
That is the situation facing one of the world's most powerful industries, on one of the most consequential issues of our time, climate change. The subject of these investigations isn't the direct harm from the fossil fuel industry's actions, it's the ways that companies communicated about their actions, and how that misled investors or the public.
And right on cue, the fossil fuel industry's PR professionals have been stepping in to help reshape the narratives propping up their bottom lines.
What #ExxonKnew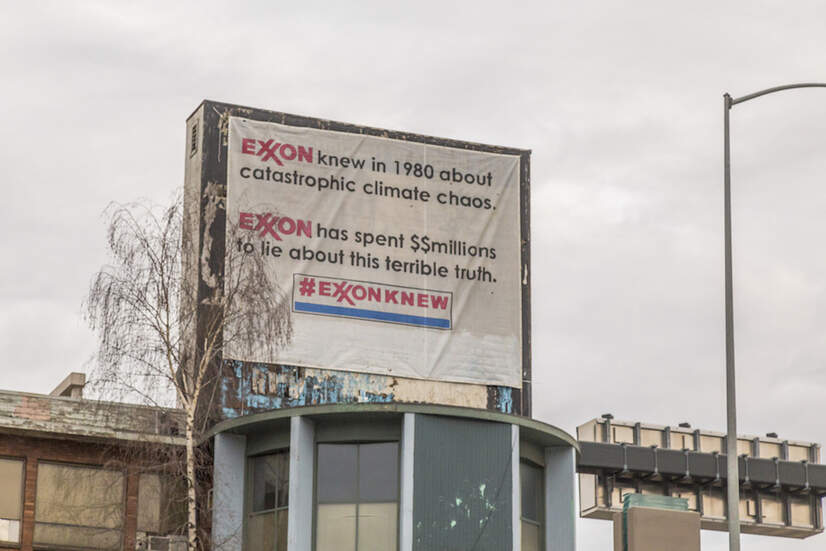 Sign about what Exxon knew about climate change. Credit: John Duffy, CC BY 2.0
ExxonMobil, for example, currently faces investigations by multiple state attorneys general centering on how the oil giant communicated about climate change and the risk of climate regulation to investors and to the public.
In 2015, the New York state attorney general subpoenaed ExxonMobil and Peabody Energy, following an InsideClimate News investigative series, eight months in the making, that was one of three finalists for the 2016 Pulitzer Prize for Public Service.
Last year, New York's investigation ripened into a lawsuit, still pending.
"Investors put their money and their trust in Exxon — which assured them of the long-term value of their shares, as the company claimed to be factoring the risk of increasing climate change regulation into its business decisions," New York Attorney General Barbara Underwood said in a statement roughly a year ago, when her investigation turned into a lawsuit that claims ExxonMobil defrauded its investors. "Instead, Exxon built a facade to deceive investors into believing that the company was managing the risks of climate change regulation to its business when, in fact, it was intentionally and systematically underestimating or ignoring them, contrary to its public representations."
In January, the U.S. Supreme Court declined to block a different investigation into ExxonMobil's climate communications, this one by Massachusetts Attorney General Maura Healey.
Big news: SCOTUS just rejected Exxon Mobil's appeal to stop Massachusetts' attorney general from forcing the oil giant to turn over documents detailing what and when it knew about burning fossil fuels causing climate change. https://t.co/wUdKso7fXF

— Alexander Kaufman (@AlexCKaufman) January 7, 2019
In March, a report by the Climate Investigations Center tallied $1.4 billion worth of public relations, advertising, and communications contracts signed by energy and business trade associations from 2008 to 2017. One organization, the American Petroleum Institute (API), accounted for nearly half of that sum.
The Evolution of Fossil Fuel Messaging — and Climate Science Denial
Amid the investigations into their communications on climate change, many fossil fuel companies have been slowly re-tooling their messaging.
Some have acknowledged a need to transition away from fossil fuels — but at what critics respond would be a very slow pace.
Others have continued to push natural gas as a climate-friendly fossil fuel, despite the industry's severe climate-changing methane problems. API, for example, has placed ads claiming natural gas can "help meet the growing global demand for sustainable energy" under the Washington Post's "branded content platform," as The Intercept's Sharon Lerner reported in April.
Other campaigns ditch mention of climate change and pollution all together, instead focusing on the benefits of products made from fossil fuels.

During the Super Bowl in 2017, the American Petroleum Institute released an ad campaign called Power Past Impossible, touting the many uses of oil and natural gas and highlighting how dependent modern life is on the byproducts of these fossil fuels.
"Oil majors are projecting themselves as key players in the energy transition while lobbying to delay, weaken, or oppose meaningful climate policy," Edward Collins of the UK-based think tank InfluenceMap said in a March statement accompanying a report he authored on public relations campaigns by oil and gas giants. "They advocate gradual implementation of market-based and technological climate solutions, but the latest [United Nations Intergovernmental Panel on Climate Change] report makes clear that urgent policy action and limitations on fossil fuel use are needed to avoid dangerous climate change."
The shift doesn't spell the end of climate science denial — DeSmog's database of individuals and organizations that seek to cast doubt on climate science or oppose action to prevent some of the worst effects of warming the world includes roughly 225 organizations — and that list continues to grow.
Climate sciences deniers, many with ties to the oil, gas, and coal industries, have also climbed to dizzying heights within the Trump administration, placing them in positions where they can wield power directly and also communicate doubt to the public. Vice President Mike Pence is closely tied to the Koch network and in 2016 said, regarding climate change, "I don't know that that is a resolved issue in science today."
And of course, there's President Trump himself, who in June responded, "I believe that there's a change in weather and I think it changes both ways," when asked by Good Morning Britain if he believed in climate change.
Any and all weather events are used by the GLOBAL WARMING HOAXSTERS to justify higher taxes to save our planet! They don't believe it $$$$!

— Donald J. Trump (@realDonaldTrump) January 26, 2014
But some of the organizations and think tanks in DeSmog's database have gotten a lot quieter when it comes to questioning climate science, even during the Trump administration — and a handful have dissolved entirely. 
Take, for instance, the National Center for Policy Analysis (NCPA), a free market think tank that co-authored a 1991 report that read: "Currently, scientists disagree on whether global warming has already occurred, whether significant global warming will occur in the future, whether warming would be harmful or somewhat beneficial to humans and whether, if harmful, it is better to adjust to the warming or try to prevent it."
A quarter century later, the organization carried a very different message to an industry conference. "It is no secret that the oil and gas industry has an image problem," Jacki Pick of the NCPA reportedly told the Tyler Area Energy Summit in Texas in March 2017. "We don't do a very good job of explaining the value of the industry."
Later that year, the NCPA folded, citing "significant financial challenges over the last three years."
'A Crisis of Perception'
This year, the state-owned oil company Saudi Aramco's chief executive similarly warned of the oil and gas industry's image problem.
"My encounters in Davos showed me that fewer and fewer of our stakeholders accept logic and facts, least of all from us. We are therefore facing what I would call a crisis of perception," Amin Nasser told an industry audience in February, according to The Guardian. "Because it threatens our industry's very relevance, it puts our ability to supply ample, reliable, and affordable energy to billions around the world at risk, which in turn risks their energy security."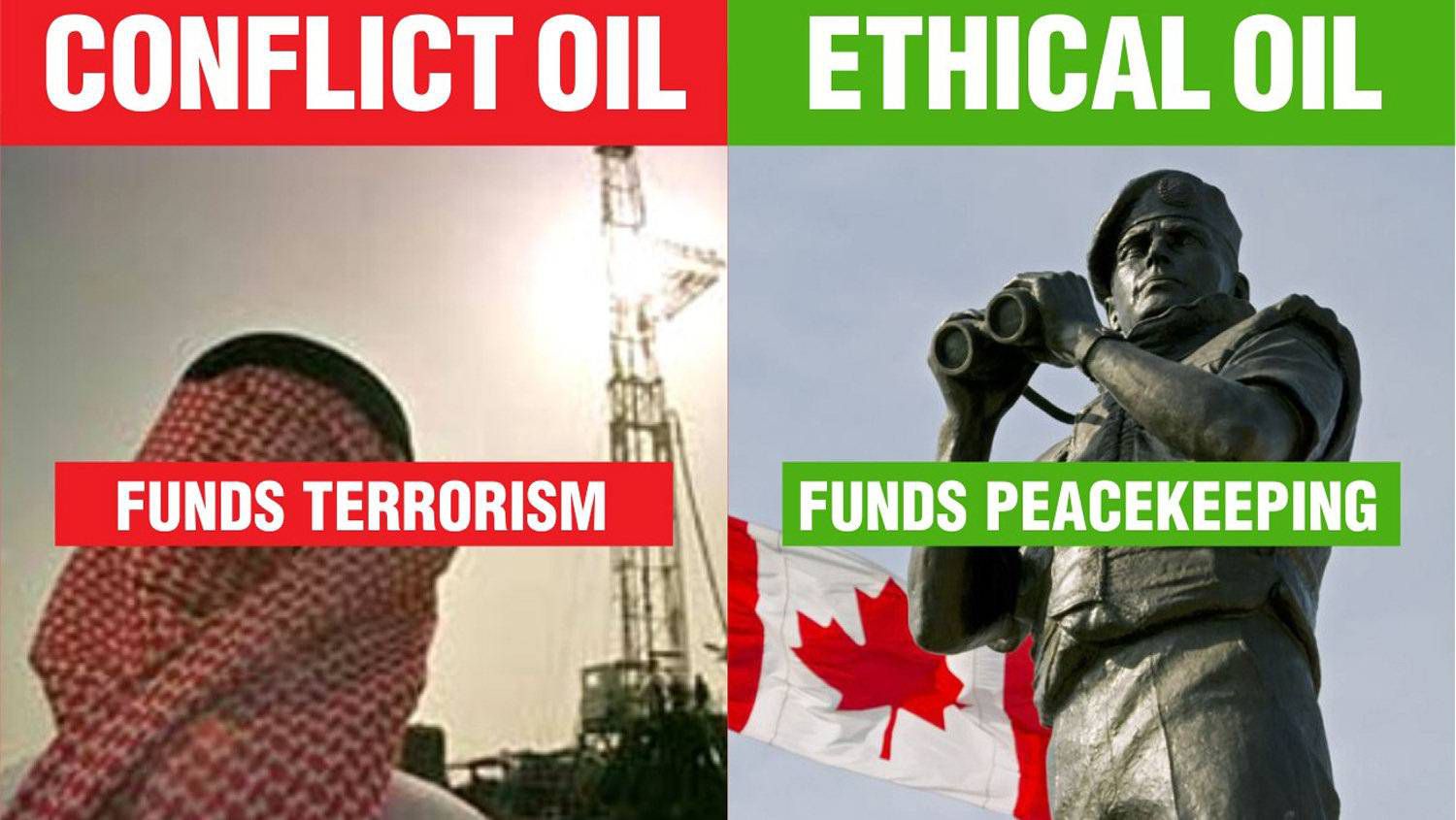 The oil industry has had image problems before. The "Ethical Oil" ad campaign pitted Canadian oil against Middle Eastern oil producers. Credit: EthicalOil.org
In August, a top Chevron executive hinted that a group of major oil and gas companies plans to launch a new branding campaign, which she suggested would be modeled after the "Got Milk?" ad campaigns that launched in 1993.
"I think as an industry, we have an image that we need to change, where people equate what we do to their everyday life," Kimberly S. McHugh, a Chevron vice president, said at the Summer NAPE Expo in Houston.
"What we do is noble," she added, "we help humankind."
That's a message that the fossil fuel industry, particularly as investigations into their past communications continue, may be trumpeting a lot more loudly in coming days.
Or, in the words of McHugh at the NAPE Expo: "The world needs what we have."
Main image: Sunset over oil rig, Huntington Beach, California. Credit: Pete Markham, 

CC

BY

–

SA

 2.0