Fossil fuel interests appear intent on swaying public opinion about the electric vehicle tax credit, based on recent polling on the policy. A deeper look at these efforts reveals oil and gas funding behind the groups conducting the polls and blatant bias in the polling methodology, according to experts. 
Survey results commissioned and publicized by the American Energy Alliance (AEA) seem on their surface to indicate that a majority of respondents are not thrilled about subsidizing EVs purchased by other consumers, particularly wealthy Americans. However, according to polling experts who reviewed the survey for DeSmog, the questions were designed to solicit a certain response and produce results to serve a predetermined narrative that supports the oil industry's interests. According to polling expert Ed Maibach, director of the Center for Climate Change Communication at George Mason University, the surveys relied on "highly biased questions designed to elicit highly misleading answers." 
Who Is Behind the 'Highly-Biased' Anti-Electric Vehicle Poll? 
The organization that commissioned the surveys, AEA, is funded by oil interests including the Koch network and the American Fuel and Petrochemical Manufacturers (AFPM), the nation's leading trade group of oil refiners. The group is touting these findings from recent polls in Maine, Michigan, and South Dakota, saying the results are consistent with those from surveys they commissioned in nine other states. 
"This is further evidence that efforts to compel taxpayers, ratepayers, workers, and consumers to pay for the choices of others, and the preferences of government bureaucrats, are doomed and will lead directly to voter resistance," said Thomas Pyle, president of AEA. "The citizens of Maine, Michigan, and South Dakota see an expansion of the electric vehicle tax credit exactly for what it is: a giveaway to rich Californians and large, already prosperous corporations."
Pyle's statement, and the survey questions themselves, are loaded with misleading information. The tax credit's stated purpose is to lower the cost of electric vehicles, which is critically important for low-to-moderate income Americans. Automakers don't claim the credit, consumers do, including those who opt to lease an electric vehicle. But Pyle appears to disregard these points in an attempt to drum up opposition to the policy.
Pyle's approach makes sense within the context of his and his organization's backgrounds and former lobbying clients, as well as those of the firm conducting the surveys. 
The American Energy Alliance is a 501(c)(4) organization — meaning it is not required to disclose its donors — and is the advocacy arm of the Institute for Energy Research. IER supports "free-market energy and environmental policy" and was formed in 1989 from a predecessor organization founded by petrochemical billionaire Charles Koch. Donors to IER include oil and gas interests such as the Charles G. Koch Charitable Foundation and Charles Koch Institute as well as ExxonMobil and the American Petroleum Institute. The AFPM oil refiners trade group is also a major donor, having given three times as much to the American Energy Alliance compared to any other organization, according to the most recently available tax records.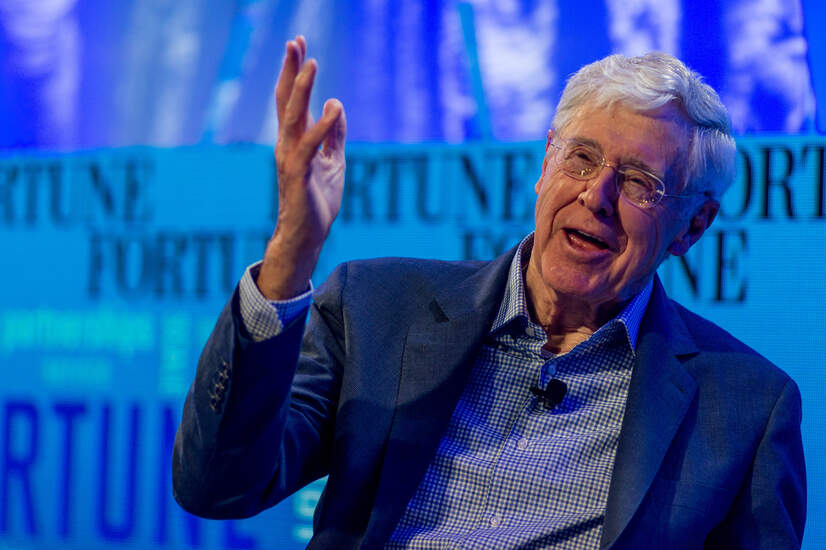 Charles Koch at a conference in Aspen in 2016. Credit: Fortune Brainstorm TECH, CC BY–NC–ND 2.0
Thomas Pyle, president of IER and AEA, is a former lobbyist for Koch Industries, the largest privately owned energy company in the U.S. Pyle has also lobbied for the Big Oil trade association formerly called the National Petrochemical & Refiners Association, which is now AFPM. Both Koch Industries and the members of AFPM like Exxon make billions in profits from fueling internal-combustion engine vehicles, so policies supporting vehicles not fueled by their products, like the EV tax credit, threaten their bottom lines. 
MWR Strategies, the firm conducting the surveys on the EV tax credit, is a research, communications, and lobbying company whose clients include electric utility and energy companies with clear fossil fuel interests. For example, TECO Energy — owner of natural gas businesses in Florida and New Mexico — paid MWR $80,000 just this year. Among other energy and utility corporations paying MWR are ENGIE, Public Service Enterprise Group/PSEG Power, and Southern Company. Notably, Koch Industries has paid hundreds of thousands of dollars to the firm from 2008 to 2016, OpenSecrets data reveals. Other petroleum corporations and trade associations like El Paso Corp. and AFPM's predecessor National Petrochemical & Refiners Association have previously retained MWR. 
Michael McKenna, president of MWR Strategies, is an energy lobbyist who led Trump's Energy Department transition team, and, as E&E reported, is "well-known in Republican energy circles" and was recently tapped to serve in the White House as an advisor to the president. McKenna previously worked at several other research and communications firms including Luntz Research Companies, founded by notorious climate denier Frank Luntz (who only recently announced he was wrong and has shifted his views).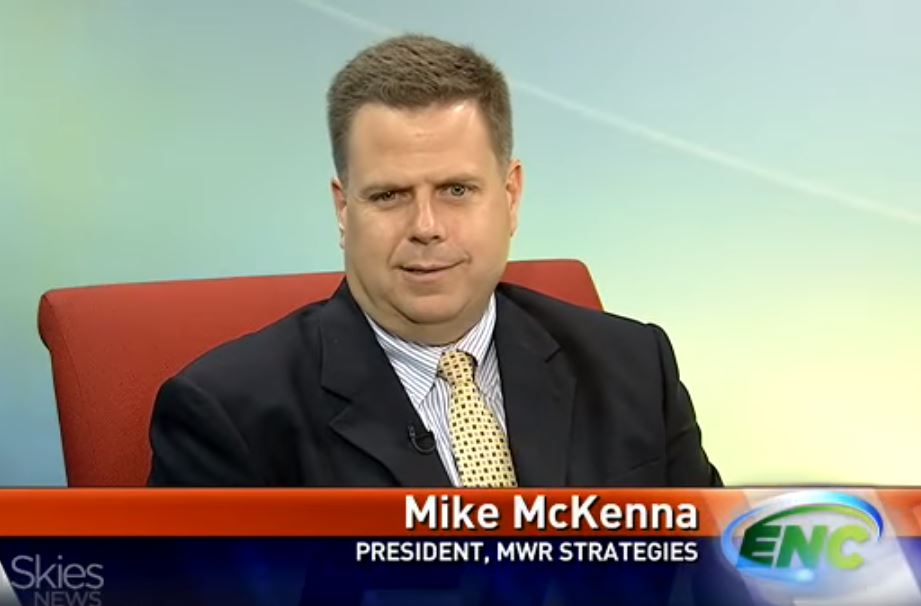 Mike McKenna of MWR Strategies
The MWR Strategies website does not have information about current work, rather the "current" section is a list of links to polling on climate and energy topics dating back to 2008 and earlier. These "polls" are structured in much the same way as the polls about EV tax credits, with questions focused on the (debunked) premise that addressing climate change is too expensive and even asking about the "certainty" of climate science (exploiting scientific uncertainty has been a key strategy of the fossil fuel industry's well-documented disinformation campaign).
MWR's polling strategy appears to be posing misleading questions, some with inaccurate information, in order to garner a particular response. For example, in the firm's March 2008 poll on global warming, one question asked which is more important, addressing global warming or reducing reliance on foreign energy sources — which is a false choice given that renewable energy sources like solar and wind would do both. In another survey from 2006 on energy, the statement "liquefied natural gas cannot explode like gasoline" was posed to respondents. This is also misleading because while the liquid itself won't explode, blasts can occur at LNG sites and associated vapors are combustible. 
How
MWR

's

EV

Tax Credit Survey Misleads Respondents and Deceives the Public

In the recent surveys MWR conducted on the EV tax credit, one of the statements that respondents could agree or disagree with was, "it is not right for GM to ask taxpayers for a tax credit." General Motors is lobbying to extend and expand the electric car tax credit, but the automaker would not actually claim the credit — consumers would. 

Another question claims that "the average buyer of an electric car makes more than 150 thousand dollars per year," a claim that is demonstrably false. When pressed by DeSmog for a citation or clarification, McKenna responded through a media relations contact, pointing to the often-debunked Manhattan Institute report by Jonathan Lesser called "Short Circuit: The High Cost of Electric Vehicle Subsidies."

That report actually cites a 2013 UC-Davis study that examined "the characteristics of 1,200 households who actually purchased a new plug-in vehicle in California during 2011-2012," finding that "46 percent of electric car drivers in California alone had incomes above $150,000." This study, now six years old, does not translate to the statement regarding an "average buyer" that was presented in the survey. In effect, the survey question was premised on a falsified statistic from an outdated data set that only included California.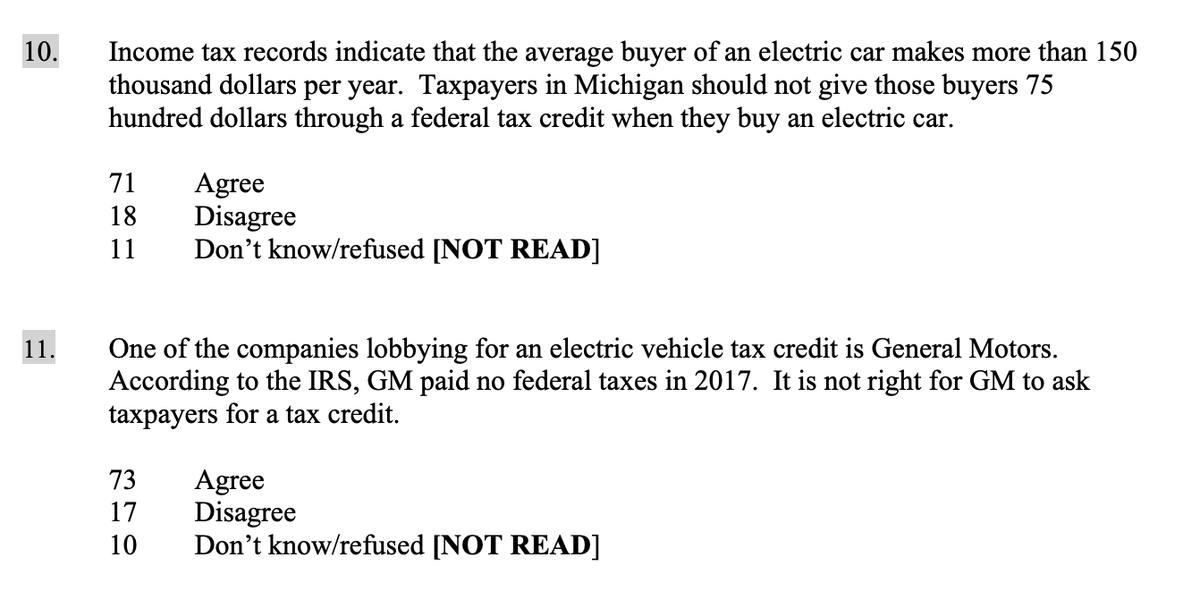 Excerpt of misleading questions from the MWR poll about consumer attitudes toward the electric car tax credit.
Polling and communication experts told DeSmog that these EV tax credit surveys should not be considered legitimate measures of public opinion. Many of the questions are actually statements that respondents can agree or disagree with. But according to polling expert Joshua Dyck, associate professor of political science at UMass Lowell and director of the Center for Public Opinion, "Agree/disagree items are not a legitimate way to determine public opinion on policy issues." 
"There is a well known response bias for respondents in surveys to agree to prompts in questions structured as agree/disagree items," he said. "This is known to survey researchers by the term 'response acquiescence.' In order to get at how respondents actually feel, you should allow respondents to pick from balanced options. I wouldn't put much stock in the agree/disagree items in this survey."
Ed Maibach, director of the Center for Climate Change Communication at George Mason University, also said these surveys were designed to be misleading. 
"Unbiased survey questions intended to elicit people's opinions about or support for a proposition (such as a proposed public policy) can be done in one of two ways. The proposition can be stated in neutral, factual terms with or without the leading arguments both for and against the proposition," he explained. "The questions on AEA surveys did not state the facts about the propositions, but instead made negative claims about the consequences of the propositions. Therefore, people were responding to the negative statements made about the proposition, not the proposition itself."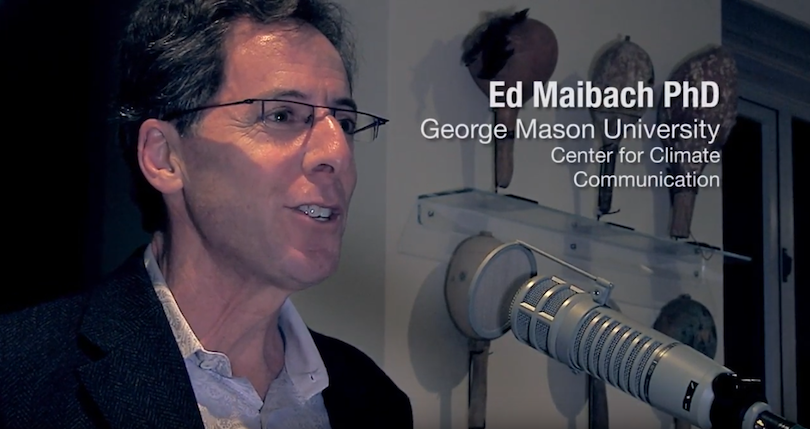 Ed Maibach, a climate change communication researcher at George Mason University. Credit: greenmanbucket, YouTube screen shot
This response to negative statements gives the misleading appearance that there is little public support for the EV tax credit. "Elected officials who are concerned about voter opinion should probably think twice before expanding favorable tax treatment for electric vehicles. Voters in each of the 12 States we examined are very skeptical of them," MWR's McKenna said in a statement about the poll. 
But as Maibach explained, this is probably not true. "The poll done for AEA was not intended to determine how people actually feel about public policies in support of EVs, rather it was done to give the impression that people do not support use of public resources to support EVs," he said. 
Maibach's Center for Climate Change Communication, along with Climate Nexus and the Yale Program on Climate Change Communication, did a poll in July of 820 registered voters in Michigan on their attitudes towards various climate policies. According to the results, "Michigan voters favor expanding the tax credit for those who purchase EVs — close to two-thirds (66 percent) agree the federal tax credit for EVs should extend beyond each manufacturer's first 200,000 vehicles." 
Pyle, AEA's president and former Koch lobbyist, told E&E News he stands by his surveys finding little support for the tax credit, adding that he is "not concerned about what the greens think about our work." 
But Maibach pushed back against this statement. "The problem with his poll is not that 'the greens' don't like the findings," he said. "The problem is that his findings are bogus, because they asked highly biased questions designed to elicit highly misleading answers."  
Main image: Senior Airman Alec Cope plugs in a hybrid vehicle at Hanscom Air Force Base, Massachusetts, June 2, 2016. The 66th Logistics Readiness Squadron unveiled the plug-in electric hybrid vehicle and charging station during an open house. The vehicle complies with President Barack Obama's federal government directive to become more energy efficient with the Defense Department's vehicle fleet. Credit: U.S. Air Force photo/Linda LaBonte Britt, public domain