America's air seems to have taken a turn for the worse, according to recent scientific research. Last week, a nationwide study by researchers at Carnegie Mellon University (CMU) found that the country's air quality deteriorated in 2017 and 2018 — a dramatic reversal of improvements recorded over the prior seven years.
Today, the Consumer Energy Alliance (CEA) — an organization funded by oil and gas producers — released their own report that presents a different narrative about energy production and air quality in Pennsylvania, a state that's become one of the nation's largest producers of fossil fuels.
CEA's report first points to a drop in some types of air pollution in Pennsylvania between 1990 and 2016 and next to a rise in natural gas production in the state from 2010 to 2018.
But a look at the data presented inside that report — a two-page infographic drawing on data from the Environmental Protection Agency (EPA) and the Energy Information Administration — shows that connecting more drilling to less pollution is deeply misleading, public health experts said.
New Report Claims Pennsylvania Pollution Down Amid Gas Drilling
"Pennsylvania's emissions fell 92 percent as energy production soared by almost 3,000 percent," a statement released with the report by CEA announced.
Some Pennsylvania politicians hailed the findings. "As the CEA's report underscores, we do not have to choose between a cleaner environment and a strong economy that requires more energy," state senator Camera Bartolotta said in a statement released by CEA. "Pennsylvania is among the nation's leaders in emissions reductions, while our natural gas industry is producing at record levels."
This CEA report, at first blush, might suggest that Pennsylvania could be a good-news outlier from the recent CMU study, which linked roughly 10,000 premature deaths to worsening air pollution across the nation. The CMU study's findings made headlines in national news outlets from CNN to Gizmodo to the Washington Post.
Carnegie Mellon's study was widely seen as an indictment of the Trump administration's well-documented resistance to enforcing environmental laws and regulations, suggesting that a hands-off approach to industry may have had an immediate and measurable impact on the quality of American air. It also suggested some of the deadliest impacts from California's wildfires, made worse in recent years by the country's history of failing to prevent climate-changing industrial emissions, may be the effects of the fumes on people's health.
Breathe deeply? via @PopovichN

Analysis of EPA data by Carnegie Mellon researchers found that fine particulate pollution increased 5.5% on average across the country between 2016 and 2018, after decreasing nearly 25% over the previous seven years.https://t.co/zAZ8mCQEdj

— Kendra "Gloom is My Beat" Pierre-Louis (@KendraWrites) October 24, 2019
In addition, the CMU researchers specifically highlighted the dangers of oil and gas pollution. "The research identified recent increases in driving and the burning of natural gas as likely contributors to the uptick in unhealthy air, even as coal use and related pollution have declined," the New York Times reported.
Similarly, the effects of oil and gas drilling were also on display in Pennsylvania when public health experts reviewed CEA's data. CEA sought to connect Pennsylvania's fracking boom with better air quality in the state, but air quallity advocates said that the fossil fuel-funded organization's narrative failed to withstand examination.
That's in part because some of the longer-term improvements touted by CEA stalled or reversed right around the time that Pennsylvania began producing large amounts of fracked gas from the Marcellus Shale and in part because CEA's report primarily cites pollutants not often associated with natural gas production.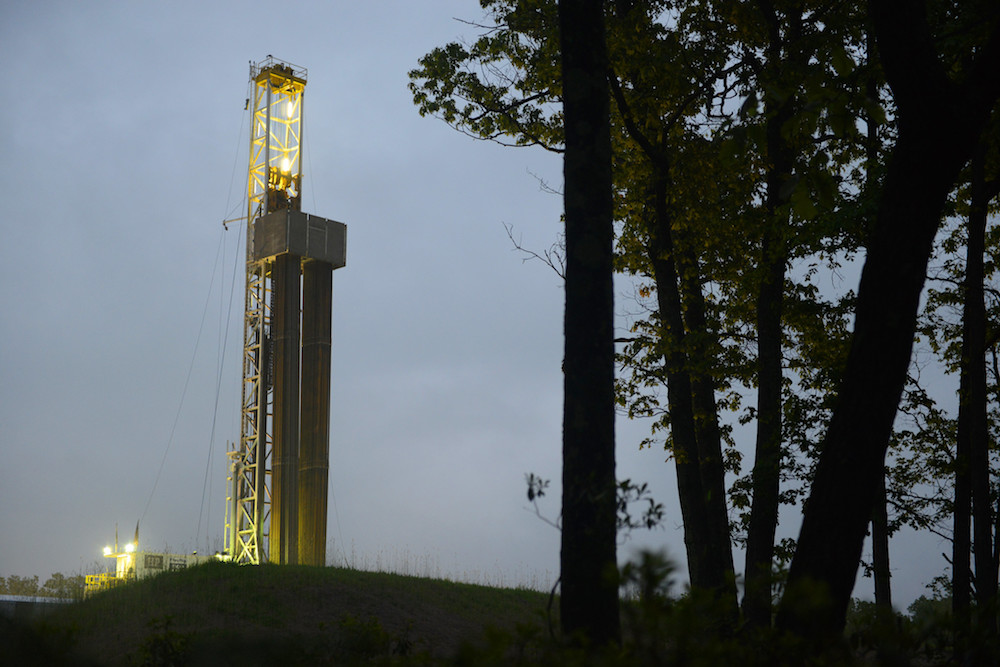 An active rig in Tiadaghton State Forest in Pennsylvania. Credit: © Kyle Pattison, via Public Herald, CC BY–NC–ND 2.0
That 92 percent drop? It refers to one air pollutant out of the seven: sulfur dioxide, best known for its role in causing acid rain. The year CEA's report starts its clock, 1990, is also the year that the 1990 Clean Air Act Amendments were signed into law. Many of the provisions in those amendments specifically targeted sulfur dioxide and acid rain.
"They indicate that the Clean Air Act works," said Dr. James Fabisiak, a University of Pittsburgh professor and director of the Center for Healthy Environments and Communities, referring to the pollution reductions starting in 1990 shown in CEA's report. "Air improved by setting stricter ambient air quality standards, continuing and enhanced enforcement, and increased control technologies to meet the mandated need to reduce pollution (auto fuel efficiency standards, clean diesel technology, scrubbers in coal plants etc.)"
"Also note that these improvements have little to do with changes in energy sources like the shift to natural gas as they clearly begin much earlier than the burst of gas extraction pointed to in 2010 or 2011," he added. "The timelines just don't match."
Shale Rush Arrives
The CEA report also shows that some of the pollutants that are associated with natural gas drilling, in particular volatile organic compounds (VOCs), were falling in Pennsylvania from 1990 levels — until 2012, when levels began climbing back up.
Around that exact same time, Marcellus Shale natural gas drilling and fracking in Pennsylvania began to take off.
And VOCs, a group of widespread and potentially toxic chemicals, aren't the only pollutant where air quality improvements stalled or reversed in Pennsylvania when the shale rush arrived.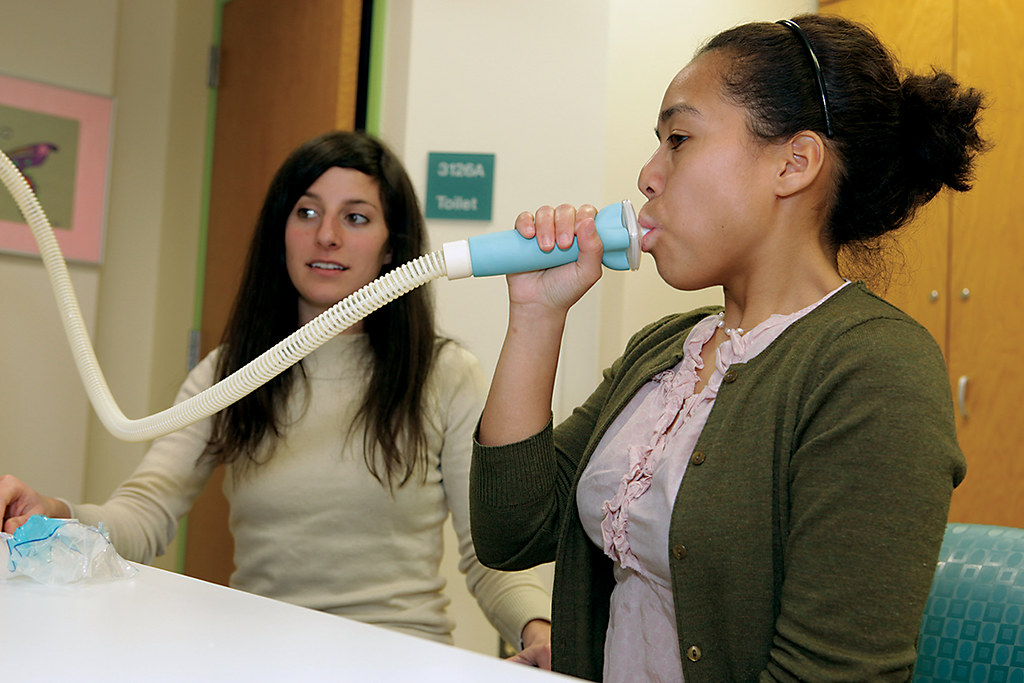 A girl undergoes an asthma check at Children's National Hospital in Washington, D.C. Credit: Bread for the World, CC BY–ND 2.0
Last week's CMU study, published by the National Bureau of Economic Research, examined the amount of "fine particulate matter" pollution, often referred to as PM2.5, that is released into America's air each year. The term refers to particles that are so tiny as to be invisible in the air — and are deadly.
"Fine particles can damage a person's respiratory system, accumulate in the brain and send people to the emergency room," the Washington Post explained. "The elderly appear to be especially susceptible to PM2.5, which has been linked to dementia and cognitive decline."
Today's CEA report describes a "45 percent reduction in fine particulate matter" in Pennsylvania and a 61 percent drop in coarse particulate matter — without noting that those declines also stopped abruptly in 2012.
"Saying the air is 'better than it was before' is still not good enough," said Dr. Ned Ketyer, a retired pediatric physician and board member of Physicians for Social Responsibility. "And the CMU report makes clear, that progress is slipping away."
Voice of Energy Producers?
CEA calls itself "the voice of the energy consumer" — but it's also been funded by energy producers, including some of the world's largest oil and gas companies as well as the American Petroleum Institute and the American Natural Gas Alliance.
"Consumer Energy Alliance (CEA) is the leading consumer advocate for energy, bringing together families, farmers, small businesses, distributors, producers, and manufacturers to support America's environmentally sustainable energy future," a statement accompanying today's report said.
Those energy producers include some major names in the oil and gas business.
Great News: Emissions in PA have decreased across the board, all while natural gas production has soared. Via @CEAorg https://t.co/0r1J6KFONY pic.twitter.com/YRfzpGTh2z

— Range Resources (@Range_Resources) October 31, 2019
"The CEA receives financial backing from petroleum giants, with its member groups including BP, ExxonMobil, Shell, and Chevron, among many others," DeSmog has previously reported. "With operational support from petroleum, gas, and energy infrastructure associations, the CEA engages in targeted media messaging and government lobbying to advance pro-industry agenda items such as offshore drilling, deregulation, and refineries expansion."
Today, members listed on its website include those oil giants as well as over 80 "energy providers and suppliers," including the American Gas Association, fracking industry leader EOG Resources, pipeline builder Energy Transfer, and others.
Last month, CEA released a report similarly touting Ohio's reduction in certain air pollutants and its increased production of natural gas.
Methane and Climate Change
ExxonMobil, one of CEA's member companies, is currently facing civil complaints from state attorneys general in New York and Massachusetts, who argue that the company deceived the public and its investors about one of the most consequential forms of air pollution from fossil fuels: climate-changing greenhouse gases.
"For 60 years, the fossil fuel industry has known about the potential global warming dangers of their products," Geoffrey Supran, a Harvard researcher and co-author of the recent report "America Misled," told the Los Angeles Times earlier this month. "But instead of warning the public or doing something about it, they turned around and orchestrated a massive campaign of denial and delay designed to protect profits."
CEA's report cited data showing an 18 percent reduction in carbon dioxide emissions in Pennsylvania from 1990 to 2016. It did not note that the state remains the fourth-largest producer of carbon dioxide in the U.S.
"Carbon emissions from fossil-fuel combustion peaked in 2007 at 6 million tons. Then, the recession struck and the U.S. increased its use of natural gas, wind, and solar energy. Use of coal-fired plants declined," the Philadelphia Inquirer reported earlier this year. "Between 2007 and 2015 emissions fell by 12.1 percent, or about 1.6 percent on average each year. Since 2016, the pace of emissions declines has slowed."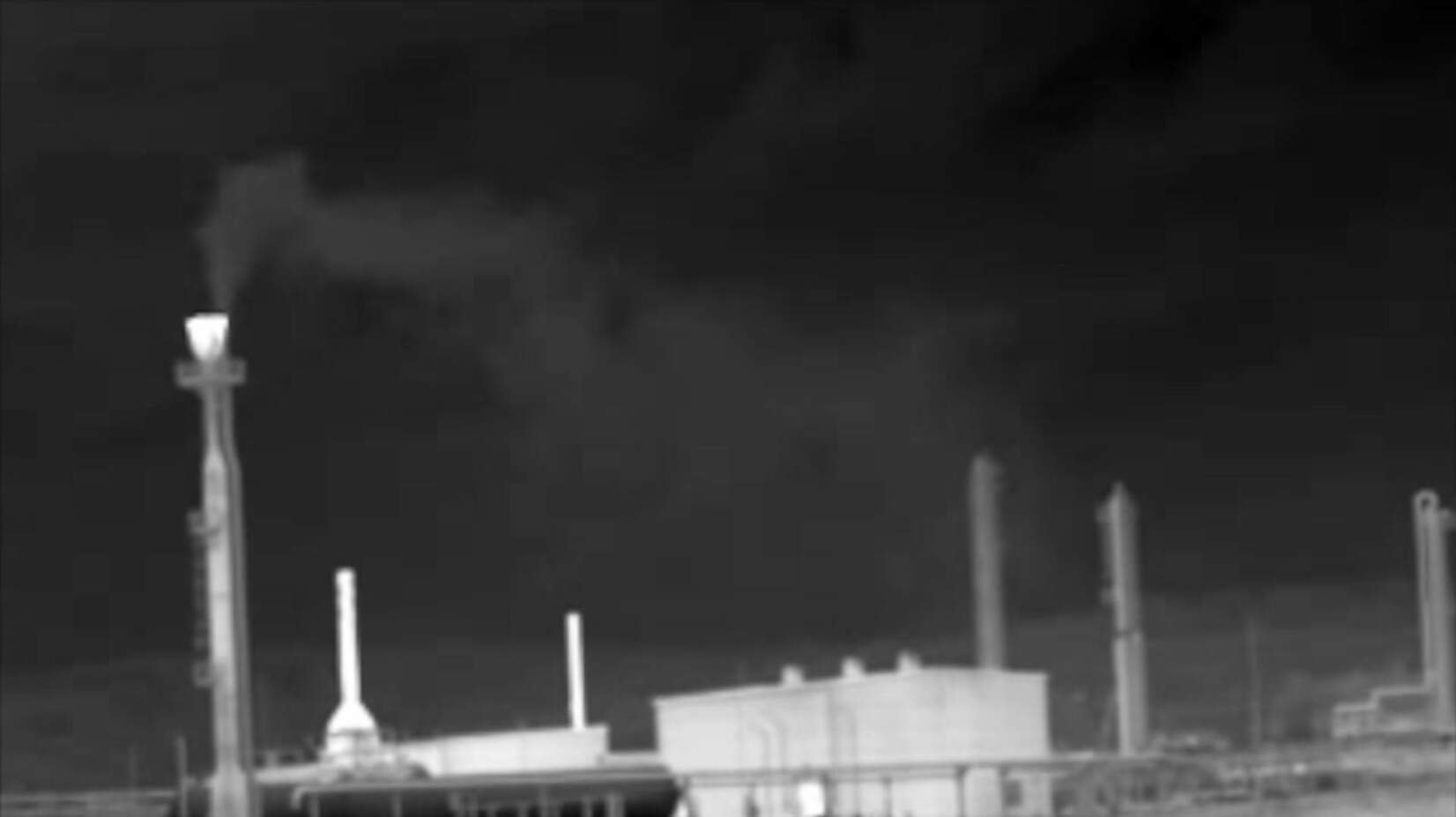 Flare at a Bluestone Natural Gas Processing Facility in Butler County, Pennsylvania. Credit: FLIR video by Earthworks
Air quality advocates pointed to another key omission in CEA's assessment of greenhouse gases.
"This report doesn't look separately at emissions from the natural gas sector which would be the most relevant comparison to natural gas production rather than total emissions," said Patrice Tomcik, Pennsylvania state campaigns project manager for Moms Clean Air Task Force. "It also fails to include emissions of methane, the main component of natural gas and a powerful greenhouse gas."
The report also relies on data that's estimated or self-reported by industry, not actual measurements. "A 2018 analysis by Environmental Defense Fund estimated that oil and gas companies in Pennsylvania emit at least five times more methane pollution than they report to the state (more than 520,000 tons of methane a year)," Tomcik added.
Experts also warned that the state is poised to head in the wrong direction on air quality as the petrochemical industry looks to the Ohio River Valley as a potential new manufacturing base.
"For example, if one examines [Pennsylvania Department of Environmental Protection's] industrial emissions for VOCs in Beaver County [Pennsylvania] (home to the future Shell Petrochemical facility) over this same time period, one sees a decline of about 40 percent at present," said the University of Pittsburgh's Fabisiak. "Adding the projected VOC emissions of that single petrochemical facility to the current total number, completely eliminates that previous time-dependent improvement."
In other words, more natural gas drilling, fracking, and petrochemical plants would put reported improvements to Pennsylvania's air at greater risk — and not the other way around.
Main image: Summit Elementary School playground, next to an oil and gas well pad, in Butler County, Pennsylvania. Credit: Moms Clean Air Force, 

CC

BY

–

NC

–

SA

 2.0