By Dan Zegart
Last week, in a historic first, the former CEO of a major oil company took the witness stand in a New York City courtroom and spent four hours defending his company against charges that it misled investors about the potential impact of global warming on its viability as a business.   
Rex Tillerson, who led ExxonMobil from 2006 until the end of 2016 when he became U.S. secretary of state, was grilled by an attorney for the New York State attorney general for allegedly participating in a "longstanding fraudulent scheme" by Exxon to fool investors. More specifically, the company is charged with exaggerating the stringency of its financial safeguards in pricing risks from regulations restricting greenhouse gas emissions, according to the complaint filed last year in New York state court.    
But Tillerson's appearance was just one of several recent watershed moments for efforts to hold the fossil fuel industry accountable for its dominant role in causing climate change.
These included a former Exxon scientist giving first-ever oil industry whistleblower testimony before Congress, a Senate hearing on how dark money blocks climate change action, the Supreme Court allowing three major climate liability suits to proceed, Maui and Honolulu announcing they will sue the fossil fuel industry, and, perhaps most significant, the Massachusetts attorney general filing suit against Exxon.   
The Beginning of Big Oil's Big Tobacco Moment?     
This anti-fossil fuel fusillade prompts some veterans of tobacco and health litigation to compare current events to the period in 1994 and 1995 when litigation, legislative hearings, and other spearheads were launched that ultimately led to massive damage settlements with Big Tobacco, changes in industry practices, and regulation of tobacco products by the Food and Drug Administration.
"That was a time when tobacco was the Big One. Now this is the Big One. The question is, how far will it go?" said Richard Daynard, a law professor at Northeastern University Law School in Boston whose Tobacco Products Liability Project was a key player in what became known as the "cigarette wars."
But, Daynard noted, it was only due to the persistence and sheer scale of the lawsuits, specifically those by attorneys general — all 50 ultimately sued — plus a massive racketeering action against the entire tobacco industry by the U.S. Department of Justice, that Big Tobacco was forced to reverse a 50-year-long denial campaign, admitting on corporate websites that its product was addictive and caused cancer and other diseases.
Certainly, former Exxon CEO Tillerson made no such concessions about petroleum and climate change. And while the nitty-gritty of the New York attorney general's case concerns Exxon's accounting practices about climate risk, not global warming directly, Tillerson nevertheless made significant statements about climate science and how the company views the threat and urgency of a warming earth. Such statements may be clues as to how the industry will handle other climate lawsuits.
The former Exxon CEO, once Trump's secretary of state, defended practices he implemented while running the oil company. He testified Wednesday at Exxon's investor fraud trial, giving the clearest defense yet for his former employer.https://t.co/fWqo18nRUS

— InsideClimate News (@insideclimate) October 31, 2019
Under cross-examination by Exxon lawyer Ted Wells, a tall attorney with a commanding voice who led the tobacco industry defense team in the Justice Department racketeering lawsuit, Tillerson refused to put climate change into a special category of risk as an urgent, existential threat to the planet. That refusal is central to Exxon's longtime public position and a rhetorical signature of climate denial.
Wells questioned Tillerson multiple times about how highly he ranked global warming, seemingly probing for a less equivocal reply. Finally he asked, "Was it one of the most important issues you faced during your tenure?"
But Tillerson couldn't agree with that statement either.
"It was one of many risks that we had to manage," he said. "And that's really what the nature of my job was — risk management. But we had a lot of other risks we were managing. Technical risks, geopolitical risks in the countries we operated in, investment risks. There were a lot of risks we were managing. So this was just among the basket of risks that we had to keep in front of us."
That was similar to Tillerson's comment in a 2012 speech to the Council on Foreign Relations that "there are much more pressing priorities" than climate change.
Echoes of Denial


Exxon sign. Credit: Mike Mozart of TheToyChannel and JeepersMedia on YouTube, CC BY 2.0
Tillerson also echoed other previous statements on climate science and change. Just as he did at Exxon's 2015 annual shareholders' meeting, where he said climate "models are simply not that good," he told the court in New York that such models "really should improve" and that "the science around global warming is continuing to evolve."
Perhaps most importantly, in response to a question from Wells about the "complexity" of the global warming problem, Tillerson minimized its urgency with the familiar argument that fossil fuels will have to persist well into the future.
"The whole global economy is dependent on energy. The largest component of the energy supply is fossil-fuel based. So if the economies are going to continue to not just perform but grow, if people are going to continue to want to improve their quality of life and sustain their quality of life, they're going to take a lot of it and demand for it is going to keep growing," Tillerson testified.
"And so we began early on trying help people understand that is the tension you're dealing with and what are the prospects?" he said.  
Meanwhile, Tillerson said, Exxon's role in helping solve the crisis is to find technical solutions — another favorite oil and gas talking point — such as lower emission fuels. And he framed this search largely as a matter of consumer demand — not a response to a global emergency.
"They can contribute to a solution to the problem because that's what people are going to want. And that's good for our business," he told the court.
Industry Talking Points Before Congress    
Exactly a week before Tillerson took the stand in New York, another witness was giving strikingly similar testimony in Washington, D.C.
The witness was Mandy Gunasekara, who was defending the fossil fuel industry before a subcommittee of the House Committee on Oversight and Reform. She was trying to rebut attacks by two former Exxon scientists and others in the first-ever congressional hearing on the oil industry's denial and deception campaign.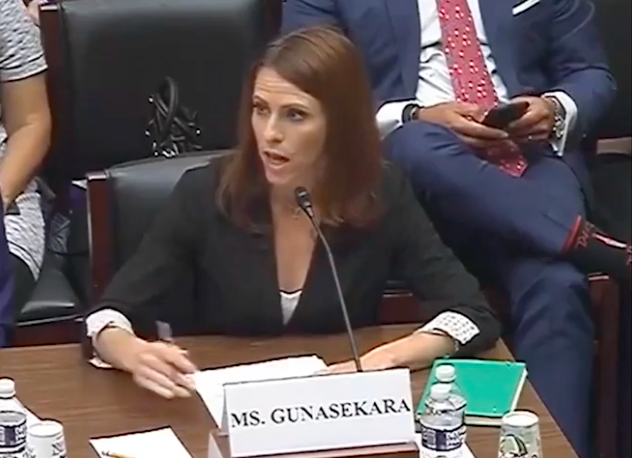 Former Trump EPA official Mandy Gunasekara testifies before a House Oversight subcommittee. Credit: House Oversight Committee
Gunasekara, a former Trump appointee to the Environmental Protection Agency, runs an organization called the Energy 45 Fund that according to its webpage is "dedicated to informing the public about the environmental and economic gains made under the Trump Administration." Energy 45 is part of the CO2 Coalition, a hard-core climate change denial organization funded by the Kochs and the Mercer Family Foundation, among others. The Coalition is staffed by a number of notorious climate science deniers, including William Happer, Patrick Moore, and Craig Idso, and is the successor organization to the denier group the George C. Marshall Institute, which received at least $865,000 in funding from ExxonMobil.
But Gunasekara is perhaps best known for handing a snowball to then-Republican Congressman James Inhofe in 2015, who offered it to the House of Representatives as proof that global warming was a myth.
Like Tillerson, Gunasekara told the subcommittee that the absence of fossil fuels would be "hugely detrimental to the standard of living of everyone."
"Fossil-based energy enables the modern economy. And with the modern economy you have access to life-saving healthcare, refrigeration for food, and all sorts of technologies that are built on fossil-based energy systems," she said. 
Like Tillerson, Gunasekara saw the wisdom in "balancing the goals of economic growth alongside reducing pollution." She called lawsuits against oil companies "frivolous." And as Tillerson suggested, she saw these corporations instead as "drivers of innovation and where the solutions to any current and future changes will come."
Also like Tillerson, she was at pains to point out how "complex" an issue climate change is, but she went considerably further, praising the work of the coterie of deniers at the CO2 Coalition for asking "tough questions" as part of a "climate science discussion that is ongoing in a number of different applications, including the relative sensitivity of the planet to a mild and manageably warming climate that we have seen and that many have been talking about openly."
Democratic Congresswoman Alexandria Ocasio-Cortez pounced on the CO2 Coalition's funding, asking a series of questions suggesting that Gunasekara was a proxy for the oil companies and other powerful interests, like the Mercers and the Kochs, that have spent millions to block climate progress.                                                
Rep. Alexandria Ocasio-Cortez questions Mandy Gunasekara during the congressional hearing titled, "The Oil Industry's Efforts to Suppress the Truth about Climate Change."
Asked whether she was aware that the coalition was funded by those two families, Gunasekara at first pleaded ignorance, saying, "I just recently came on board as an advisor."
When Ocasio-Cortez suggested Gunasekara was an "unwitting" helper of the Kochs' and Mercers' interests, Gunasekara shot back that her "engagement with them is not unwitting," but is "active, inspired, and educated."
"Understood," Ocasio-Cortez replied. "Thank you for your testimony that you are not unwittingly working for the Koch brothers."  
At that, the capacity crowd in the hearing room burst into laughter.
Massachusetts Takes Aim at Exxon        
On the same day as the House Oversight subcommittee hearing, Massachusetts Attorney General Maura Healey filed suit against Exxon, launching a much broader attack on its alleged climate-related wrongdoing than the New York action, which was brought under the state's potent Martin Act and focuses on fraud against investors.
During the congressional hearing, the subcommittee chairman Democratic Congressman Jamie Raskin noted that the industry's tactics have changed over a period of decades. Many climate science deniers no longer claim global warming isn't happening, but question the human contribution, or point to the failure of giant emitters like China and India to curb their emissions, claiming that any progress in the U.S. is futile.
Although Massachusetts is taking aim at ExxonMobil for spending millions through at least 2009 to directly fund "fringe groups" challenging the scientific consensus on climate, Attorney General Healey's lawsuit is the first to dedicate a separate section to these new, more indirect tactics, noting that the fossil fuel industry now goes to great lengths to avoid the appearance of funding denial or obstructing progress. 
Massachusetts AG @Maura_Healey sued oil giant Exxon Mobil, alleging deceptive advertising regarding climate change.

"Exxon has fought us every step of the way…But they can't hide from their own record and ongoing deceptions." – AG Healeyhttps://t.co/7HG9JyjIaI

— Democratic AGs (@DemocraticAGs) November 8, 2019
"Through the 2000s and 2010s, ExxonMobil used proxies, employed other indirect means, and itself continued to make statements that cast doubt on the role of fossil fuels in causing
climate change," the Massachusetts complaint states.
Rather than taking the stage itself, the company increasingly benefits from proxy advocates — like Gunasekara — who continue to muddy the public discourse about climate change.  
Exxon is in the midst of an advertising campaign claiming that it has potential technical fixes to the damage its products continue to cause — without ever mentioning the words "climate change." This includes everything from algae-based bio-fuels that could cut "emissions in half" to carbon capture and sequestration projects. All of which fit the narratives spun by Tillerson and Gunasekara of the industry as a workshop for solving climate change.
New York's Uphill Battle  
Meanwhile, back at the New York trial, which concluded November 7, the attorney general's case faces stiff headwinds.
Its small legal team has sometimes struggled against a highly skilled and experienced defense team from powerhouse corporate law firm Paul, Weiss, Rifkind, Wharton & Garrison, a leading financial law firm with over a thousand lawyers worldwide. 
But criticism of the state's trial team needs to take into account the role of Barry Ostrager, the judge in the case.
To begin with, Judge Ostrager had to divest himself of $250,000 in Exxon stock in order to try it and scolded the attorney general's team for trying to have him removed from the case for that reason. Like most judges in the New York Supreme Court's Commercial Division, he is a former corporate lawyer. Aside from a clerk's position in federal court, Ostrager has held only one other job his entire career — at the white shoe law firm Simpson Thacher & Bartlett, where he specialized in representing insurers, appearing as lead trial counsel in more than a dozen major insurance coverage cases.  
He has often shown an apparent bias for Exxon during the trial, frequently interrupting the attorney general's team in the middle of questioning, expressing impatience with their handling of witnesses, and threatening to close out the state's case early when they weren't ready with a witness.
Did you know Rex Tillerson used a a fake email address called "Wayne Tracker" to talk to his employees about climate change?

Well, no one wanted to ask him about it at the Exxon trial https://t.co/jmCzJnpoUW

— VICE News (@vicenews) October 31, 2019
Perhaps most significantly, Ostrager refused to allow the state to pursue the so-called "Wayne Tracker" emails. Wayne Tracker was an alias used by Tillerson for a private email account that was sometimes used to discuss climate-related subjects.
Exxon admitted it destroyed all Tracker emails prior to August 18, 2015, but claimed the deletions were unintentional, even though when deleted they were under subpoena, potentially making Exxon subject to various sanctions for spoliation of evidence. The state claimed the emails would have backed up charges that the company's top management and Tillerson himself planned the financial fraud alleged in the state's case.
Ostrager waved these concerns aside at a pre-trial hearing in October, and said he believed the deletions were accidental. "No harm, no foul," he said at the time.
As the New York case ended on November 7, Ostrager promised a decision within a month. For reasons having little to do with the case's merits, his ruling may mean less for the future of climate litigation than the clues Exxon has left as to how the industry may defend itself in the future — both in the courtroom and outside it.
Main image: Former ExxonMobil CEO Rex Tillerson, who served as Donald Trump's first Secretary of State, at his confirmation hearing in January 2017. Credit: Office of the President-elect, CC By 4.0