2019 was the year public concern around climate change seemed to go mainstream. Galvanised by UN warnings that the world is rapidly running out of time if it wants to avoid crossing the "safe" threshold of 1.5C, people have been taking to the streets to demand action like never before, forcing politicians to come up with more ambitious proposals to tackle it.
But it hasn't all been smooth sailing. The UK had its first general election TV debate entirely devoted to the issue, but not everyone turned up. Meanwhile, the relative failure of the Madrid COP has put extra pressure on the most important UN climate summit since the Paris Agreement was signed in 2015, to be hosted in Glasgow next November.
It's been quite a year. Here's our list of the people that made it so.
Boris Johnson (and his cabinet)
Having briefly stepped back from frontline politics after resigning as Foreign Secretary last year, Johnson saw his opportunity to take a shot at the top spot in the summer Tory leadership race. And things accelerated rather rapidly from there.
Johnson has often dismissed the "conventional doctrine of climate change" in the past, and the issue apparently wasn't enough of a priority for him to show up to Channel 4's climate debate, where he was memorably replaced by a melting ice sculpture.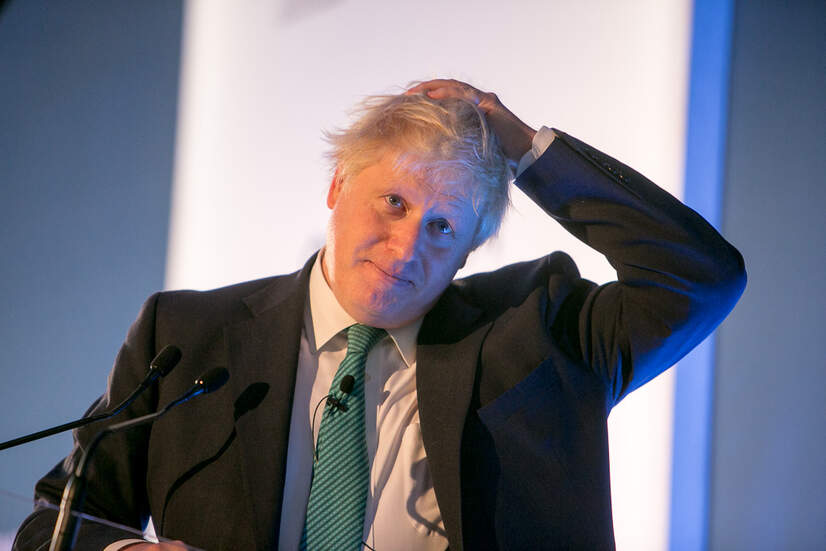 Image credit: Chatham House/Flickr/CC BY 2.0
Nonetheless, Johnson insisted he's committed to meeting the UK's 2050 "net zero" target in his general election victory speech. And there were a number of green measures in his government's first Queen's Speech, including a big increase in offshore wind generation and a new £9.2bn fund to make buildings more energy efficient.
But climate action advocates won't be reassured by the current make-up of his government, which includes long-time opponents of climate action including Jacob Rees-Mogg (more on him later) and Liz Truss. He also appointed an infamous climate science denier, David T.C. Davies, as Wales Minister and Assistant Whip within days of taking office for the second time.
---
DeSmog needs your help to keep up its work in 2020 – why not become a patron today?
---
Many of Johnson's ministers, including Dominic Raab, Kwasi Kwarteng and Matt Hancock also have close ties to libertarian, anti-regulation lobby groups at 55 Tufton Street. It remains to be seen how they will compete with life-long greens like Zac Goldsmith, as well as apparent climate converts like Michael Gove and Andrea Leadsom.
Will Johnson's supposed reinstatement of a climate change department, separated out from business and energy, stop the country's response to the issue ever being compared to Dad's Army again? 2020 will tell.
Nigel Farage
At the start of the year, Nigel Farage was another politician looking around for his next big role, having just ditched UKIP. By May, he'd swept to victory in the EU elections with his newly formed Brexit Party and by December he'd helped Johnson win his majority by giving him a free ride in Tory-held constituencies. 
Farage has denied the threats climate change poses throughout his political career. We went through all the Brexit Party's proposed candidates (before Farage abruptly pulled most of them), and a very large number of his party's candidates in both the EU elections and the general election seem to take the same view as their leader. Perhaps it's unsurprising that, like Johnson, he failed to show up to the televised climate debate. 
After a rollercoaster 2019, perhaps Farage is tempted by the relative easy ride of the lucrative US chat show circuit? Or maybe he'll hear the House of Lords calling.
Jacob Rees-Mogg (and the

ERG

)
Many thought Rees-Mogg would never make it to Parliament's front benches, but that's exactly what he did this year — quickly making himself feel at home.
The Leader of the House of Commons has consistently downplayed climate change, whose link to carbon dioxide he has said is "much debated".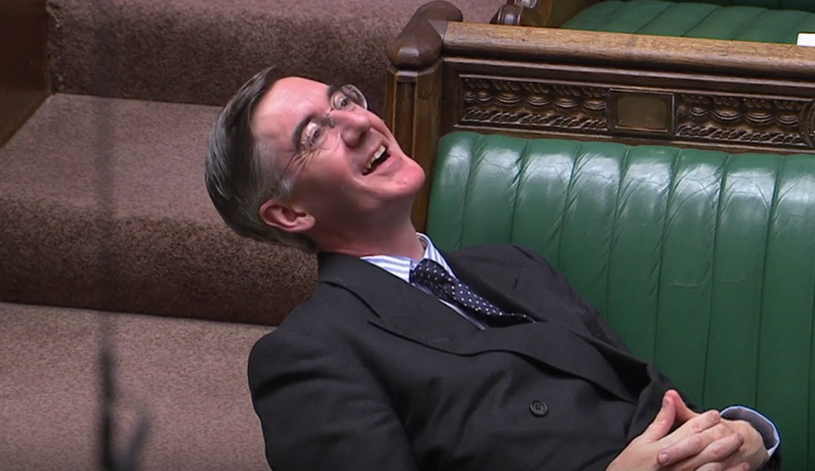 Image credit: YouTube screenshot.
Rees-Mogg was chairman of the European Research Group, the hardline Brexiteer group within the Conservative Party, up until September. The faction, now chaired by former Brexit Minister Steve Baker, has comprised many of the UK's most hostile opponents of climate action over the years, including Liam Fox, Peter Lilley and Christopher Chope, confirming the significant overlap between the two issues.
It looks as though he's set to be the most high-profile climate science denier in government again in 2020.
Jeremy Corbyn
The outgoing leader of the Labour Party has had a rough year. Despite his supporters' hopes for a repeat (or better) of the dramatic 2017 election turnaround, he ended up overseeing the worst result for Labour since 1935.
Corbyn has long called for climate action. A key plank of the Labour manifesto was the commitment to spur a "green industrial revolution", with a huge programme of public spending on renewables, public transport and energy efficiency, inspired by the movement for a Green New Deal in the US.
---
Read all of DeSmog's general election coverage.
---
While Brexit came to dominate "the climate election", some voters felt Labour's green plans were unrealistic and denied Corbyn's party the opportunity to implement them.
Guus Berkhout and the Climate Intelligence Foundation
In response to the growing climate movement, there has been a backlash from well-established climate science denial groups this year.
The Climate Intelligence Foundation (Clintel), launched in the Netherlands in April, is the new one in town and has already organised a campaign across Europe called "There is no climate emergency".
Led by Guus Berkhout, an engineering professor with an oil and gas focus, the group calls carbon dioxide "plant food" and insists there is "no cause for panic or alarm" about climate change. They held an event in the European Parliament last month, hosted by the European Conservatives and Reformists, to which the small number of remaining Tory MEPs belong.
These calls may get louder in 2020 if right-wing populist parties continue to make gains, attempting to use anti-climate action rhetoric for electoral advantage.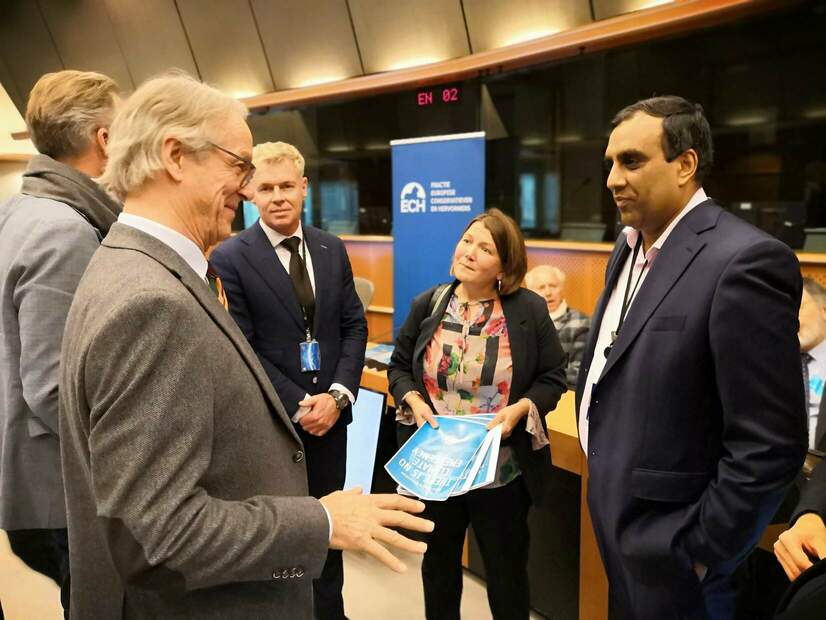 Image credit: Ellie Chowns
Extinction Rebellion and the School Strikers
The past year has seen mass protests by schoolchildren inspired by Swedish climate activist Greta Thunberg, who was named Time's Person of the Year.
The "Fridays for Future" movement took its biggest actions yet in September, when it organised a global climate strike with millions of participants around the world.
Not to be outdone, the Extinction Rebellion (XR) activist group, which wants the UK to reach "net zero" emissions by 2025 (a full 25 years faster than the current target), took a more confrontational approach in October, blocking large parts of Westminster.
---
DeSmog has been reporting on Extinction Rebellion and the school strikers from the beginning.
---
More than 1,800 arrests were made, beating the total from April, when just over 1,000 people were arrested for blocking key London intersections like Oxford Circus.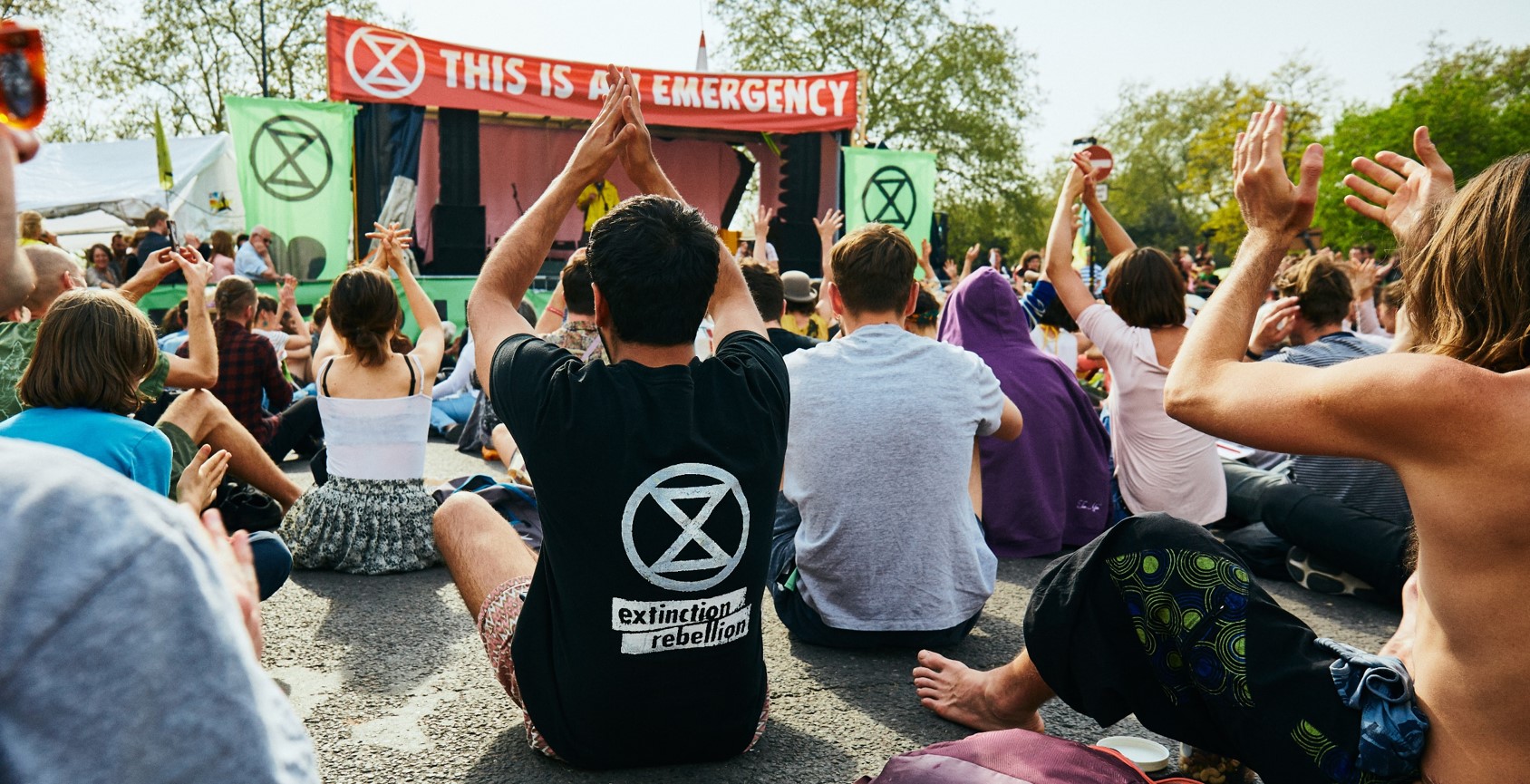 Image credit: Sarah Cresswell
The public reaction to the disruption hasn't always been warm, something Greta, who has faced attacks from a network of right-wing lobby groups, can empathise with.
But they're showing no signs of slowing. Expect XR's vivid imagery and Greta's blunt calls for action to be a feature again in 2020.
Fracking protesters
One group of climate activists had a reason to celebrate last month as the government put a stop to fracking developments in the UK (though the door is still open for it to restart the industry if "further evidence is provided that it can be carried out safely.")
Ministers have been accused of "wasting millions of pounds of taxpayers' cash" and ignoring other technologies like carbon capture and storage in a committed push to get the industry up and running. But protesters have spent years fighting the fracking developments, with one site in Lancashire becoming a particular flashpoint.
It looks, for the moment, as though they've won. While they've pledged to continue to fight for an outright ban, perhaps they can rest a little easier next year.
Main image credit: Leonhard Lenz/Wikimedia/CC0 1.0