This week, plans to build one of the world's largest plastics and petrochemical plants in St. James Parish, Lousiana — the heart of the state's notorious Cancer Alley — inched forward as Lousiana approved air quality permits that could allow the plant to release 13.6 million tons per year of greenhouse gases — equal to three coal-fired power plants — and a host of other pollutants.
The St. James plant would be the single most polluting facility of 157 planned new or expanding refineries, liquefied natural gas (LNG) export projects, and petrochemical plants that have sought or obtained air pollution permits in the U.S., according to a report published today by the Environmental Integrity Project (EIP).
Within the next five years, these plants could create as much as 227 million tons of additional climate-changing greenhouse gas pollution, bringing the industry's cumulative annual emissions to 990.5 million tons by 2025. Those planned facilities create an impact equal to adding 50 new coal-fired power plants to the U.S. electrical grid, the report concludes.
"The U.S. is already struggling to meet climate commitments and transition to a low-carbon future," Courtney Bernhardt, Research Director at the Environmental Integrity Project, said in a statement accompanying the report. "This analysis shows that we're heading in the wrong direction and really need to slow emissions growth from the oil, gas, and petrochemical industries."
In addition to the climate impacts, the planned projects could have significant impacts on public health. "According to their permit documents, the facilities could emit every year up to 119,000 tons of volatile organic compounds, which are a component of smog; 11,100 tons of fine particles that contribute to asthma and heart attacks; 8,800 tons of sulfur dioxide, which damages the lungs; and 47,200 tons of nitrogen oxides, which feed fish-killing 'dead zones' in waterways," EIP wrote.
As Coal Slows, Oil and Gas Hit the Accelerator
In 2019, actual coal-fired power plants were retired at a record-setting rate. Power generation in the U.S. from coal dropped 18 percent from 2018 to 2019, according to estimates released January 7 from the Rhodium Group. All told, the power sector reduced its carbon emissions by 150 million metric tons this past year.
But the planned oil and gas expansion described in EIP's report would move even more rapidly, undercutting the impacts of the power sector's transition away from coal. A massive American oil and gas production boom, unleashed by fracking, has hit right as the impacts of climate change have become increasingly clear.
Our new report, "Greenhouse Gases from Oil, Gas, and Petrochemical Production," finds that oil, natural gas and petrochemical companies could release up to 30% more greenhouse gas pollution by 2025 than they did in 2018. https://t.co/IOz4HQTIbb

— Environmental Integrity Project (@EnviroIntegrity) January 8, 2020
'"In 2018, the U.S. registered the largest annual increase in oil and gas production ever recorded by a single country in history," EIP reported. That in turn, has the oil, gas, petrochemical and LNG export industries planning a massive expansion in the U.S., even as the pressure to ratchet down fossil fuel use grows.
That expansion is already underway. Between 2016 and 2018, EIP tallied a rise of 57 million tons, or eight percent, in greenhouse gases from the industry.
"Oil and gas production and petrochemical manufacturing are responsible for most of the growth in greenhouse gas emissions today," Eric Schaeffer, Executive Director of the Environmental Integrity Project, said.
Most — but not all — of the oil and gas industry's planned projects will take place along the U.S. Gulf Coast. "About half (76 of the 157) of the future projects are planned for Texas or Louisiana," EIP said. "These new or expanded plants could produce 145 million tons of greenhouse gases annually, accounting for roughly 75 percent of the expected increases from new oil and gas-related projects across in the U.S."
The report also includes the impacts of industry projects in Appalachia, Alaska, and other parts of the U.S. A similar report from EIP last year, which focused only on infrastructure along the Gulf Coast, added up permitted pollution equal to 29 new coal-fired power plants.
The expansion comes at a time when every single year matters, scientists say. The United Nations Intergovernmental Panel on Climate Change (IPCC), whose work has included input from scientists from the fossil fuel industry, warns that the next decade will be enormously consequential for the fate of all life on Earth. 
Exporting
LNG

and Plastics

Some of the biggest and most polluting projects identified in EIP's new report are LNG export terminals and petrochemical plants used to make plastics.

"The largest potential growth in greenhouse gas emissions could come from export of liquefied natural gas (LNG)," EIP wrote. "An additional 18 new LNG export sea terminals and one inland facility are planned by 2025 that could emit up to 80 million more tons annually — a potential 100-fold increase over a decade."

Among the LNG sites with the biggest planned pollution increases include the pre-construction Driftwood LNG plant in Calcasieu, Lousiana; the partially operating Cameron LNG plant, also in Lousiana; and the Rio Grande LNG terminal planned in Cameron, Texas. Those Gulf Coast sites are followed by the Alaska Gasline Development Corp.'s Kenai Peninsula project.
Tellurian will be authorized to export this LNG from the Driftwood LNG project in Louisiana, which, once completed, will be able to export enough LNG to fill over one cargo ship of LNG every day – nearly four billion cubic feet of natural gas each day. pic.twitter.com/wHgyj9NXAp

— Rick Perry (@SecretaryPerry) May 2, 2019
After LNG, in terms of greenhouse gases, comes the rapidly expanding plastic and petrochemical industry. "Petrochemical and plastics plants released 80 million tons of greenhouse gases in 2018," EIP wrote. "Proposed expansions and new plants could raise emissions by another 64 million tons annually — a potential 80 percent increase — by the end of 2025."
The single largest permitted emissions increase would be at Formosa's St. James site, where plastic, resin, and chemicals would be made. The Lake Charles methanol plant under construction in Calcasieu, Louisiana, ranks second, and Motiva Enterprises' planned Port Arthur ethane cracker (creating plastics feedstocks) comes in third on EIP's list of petrochemical sites. Two plants in Appalachia, Shell's ethane cracker under construction in Beaver, Pennsylvania, and PTTGC's proposed petrochemical project in Belmont, Ohio, also report permitted greenhouse gas emissions of over 2 million tons per year.
Leaks, Spills, and Burns — Both Accidental and Deliberate
EIP's new numbers include 36 million tons of permitted emissions a year from expanded oil and gas drilling, which the researchers said likely understates the actual amounts of greenhouse gases released because Clean Air Act permits are not required for thousands of smaller oil and gas projects, as well as many compressor stations and the fractionators and gas processing plants that separate out different natural gas liquids.
EIP's new report also calls attention to the impacts of venting and flaring at oil and gas wells in Texas' Permian basin, which has escalated dramatically. Oil and gas companies sometimes deliberately allow gas to "vent," or leak to the atmosphere, or ignite (or "flare") the gas to burn it off — and these two activities reached their all-time heights this past year, according to the Oil and Gas Journal.
On an average day in the first quarter of 2012, drillers flared off 33 million cubic feet of gas, EIP said. By the end of 2018, drillers were burning off an average 488 million cubic feet each day. By the third quarter of 2019, average daily flaring estimates reached 752 million cubic feet per day, the report adds — over 22 times as much gas per day as they had burned off seven years earlier.
Devon Energy, WPX Energy, and ExxonMobil reported the highest emissions from venting and flaring, the report notes, citing Environmental Protection Agency (EPA) data from October 2019. At least five more companies, including one publicly traded firm, Diamondback Energy, reported no venting and flaring emissions to the EPA — but gave different numbers to Texas state regulators, according to EIP's report.
And then there are accidents. "For example, emissions from the Aliso Canyon natural gas storage blowout in 2015 and 2016, and a large 2018 well blowout at an ExxonMobil XTO Energy wellhead in Belmont County, Ohio, were not reported or were grossly underreported to EPA's Greenhouse Gas Reporting Program," EIP wrote. "Remote sensing studies of these events estimated that they released 2.7 million and 1.6 million tons of greenhouse gases, respectively."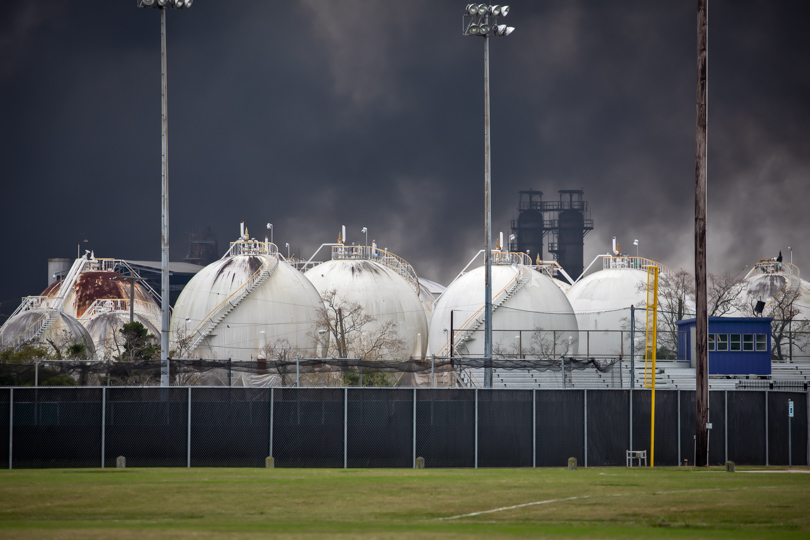 Plume from the Texas Petroleum Chemical (TPC) plant  in Port Neches Texas, the day after multiple explosions rocked the plant, November 28, 2019. Credit: Julie Dermansky
Still Pending
On the other hand, the report also notes that the 157 new plants may not actually pollute as much as their permits allow, which would bring the industry's cumulative emissions down, particularly as new plants gradually begin operations.
"Three of the 22 liquefied natural gas projects began fully or partially operating before the end of 2018: Sabine Pass LNG in Cameron Parrish, Louisiana; Corpus Christi Liquefaction in San Patricio County, Texas; and Dominion Cove Point in Calvert County, Maryland," EIP wrote. "These plants are authorized to emit a total of 19.2 million tons of greenhouse gases when fully operational, but they reported emitting only 5.3 million tons in 2018 as two of the three plants are not fully operating."
There's also the possibility that not every proposed plant will be approved or that they will not be granted permits to pollute as much as their applications project.
The report suggests that state and federal regulators have failed to demand that plants operate efficiently or used "cost-effective, common sense methods that could limit emissions and save money by reducing fuel consumption and product loss." ("Examples include recycling and reusing waste gases to conserve heat or minimize flaring, or superior leak detection practices that can identify and fix methane leaks from tanks and other equipment," EIP noted.)
Nonetheless, a clear picture emerges from the details of the data.
"In short, reported emissions from oil, natural gas, and chemical infrastructure have increased in recent years, and new infrastructure that is still in the pipeline has the potential to increase emissions even more," EIP's report concludes. "The industries responsible for driving fossil fuel extraction and production need to be held more fully accountable for their actions and the consequences of those actions."
Main image: Shell's sprawling plastics plant, also known as an"ethane cracker," under construction in November 2019 in Beaver County, Pennsylvania, and representing part of the growing petrochemical industry in the United States. Credit: Julie Dermansky