You don't have to look far to find misinformation about climate science continuing to spread online through prominent social media channels like YouTube. That's despite the overwhelming scientific consensus that humans are driving the climate crisis.
A new report by the global activist NGO Avaaz reveals that, despite YouTube's pledge to combat misinformation, the popular video site owned by Google has failed to crack down on this problem when it comes to climate change. Videos containing false or misleading information on climate change continue to reach millions of users through YouTube's recommendation algorithm. Furthermore, ads — including those from major brands and environmental groups — displayed on these videos provide a monetary incentive, not only to YouTube, but to the videos' creators to keep promoting fringe theories contrary to scientific reality.
"We found that YouTube is driving millions of people to watch climate misinformation videos every day," Avaaz writes in its report, titled "Why is YouTube Broadcasting Climate Misinformation to Millions?" "YouTube's recommendation algorithm is giving these videos free promotion and showing misinformation to millions who wouldn't have been exposed to it otherwise."
Monetizing Misinformation
Examples of videos identified as containing climate misinformation include titles such as "ACTUAL SCIENTIST: Climate Change is a Hoax" and "CIA Whistleblower Speaks Out About Climate Engineering Vaccination Dangers and 911." Other videos feature interviews with climate science deniers, such as Patrick Moore, and promote false claims that there is no evidence that CO2 emissions are the dominant cause of climate change (there is and they are).
Not all of the channels promoting misinformation are owned by pseudonymous individuals with fringe ideas. Some come from established media organizations such as Fox News and the conservative media nonprofit PragerU.
Avaaz uncovered these examples by reviewing over 5,000 videos using the search terms "global warming," "climate change," and "climate manipulation." The NGO found a number of videos containing misleading or false information for each search term.
"For the search term 'global warming,' 16 percent of the top 100 related videos included under the up-next feature had misinformation about climate change," the report states. The percentage of top 100 related videos with climate misinformation, promoted through YouTube's recommendation algorithm, dropped to 8 percent when the search term "climate change" was used. When the researchers typed in "climate manipulation," however, that percentage rose to 21 percent. According to Avaaz, the climate misinformation videos it reviewed had 21.1 million views collectively.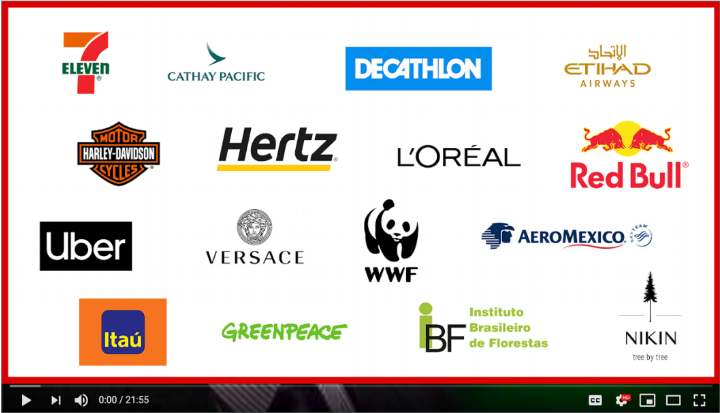 Image digitally created for visualization purposes only to show examples of brands whose ads were featured on climate misinformation videos. Credit: Avaaz
Avaaz researchers also found that some of these climate misinformation videos had accompanying advertisements, indicating that YouTube is incentivizing climate misinformation through its monetization program. As the report points out, 55 percent of the fee that advertisers pay goes to the video creator, while 45 percent goes to YouTube.
Avaaz identified ads from over 100 brands appearing alongside the climate misinformation videos that it reviewed. These included major consumer brands such as Samsung and L'Oréal, ethical or green brands such as Ecosia and Nikin, and environmental groups such as WWF and Greenpeace.
"We from NIKIN want to join Avaaz in calling on YouTube to change their algorithm that disinformation doesn't get spread around the world and it should especially not be monetized," a company spokesperson for the Swiss sustainable fashion company said in response to the Avaaz report. "We from NIKIN are a sustainable brand that used YouTube as an advertising platform, but our videos got shown before videos that call climate change a hoax. This is completely against what we want and the responsibility lies in YouTube's hand to change that."   
Avaaz Recommends Further Action, YouTube Defends its Policies
Avaaz acknowledged steps that YouTube and Google have taken to update the video platform's Community Guidelines policy and fight disinformation. In 2015 YouTube initiated a campaign to help "change the way people discuss climate change," and climate-related videos now include a Wikipedia link to basic, definitive information on the term "global warming."
In February 2019 Google issued a white paper on fighting disinformation, stating: "We set out to prevent our systems from serving up content that could misinform users in a harmful way, particularly in domains that rely on veracity, such as science, medicine, news, or historical events." Google said it introduced a "higher bar" for the promotion of YouTube videos. YouTube has also updated its policies on the kind of content it prohibits and has taken steps to protect its users from exposure to misinformation on vaccine safety and conspiracy theories.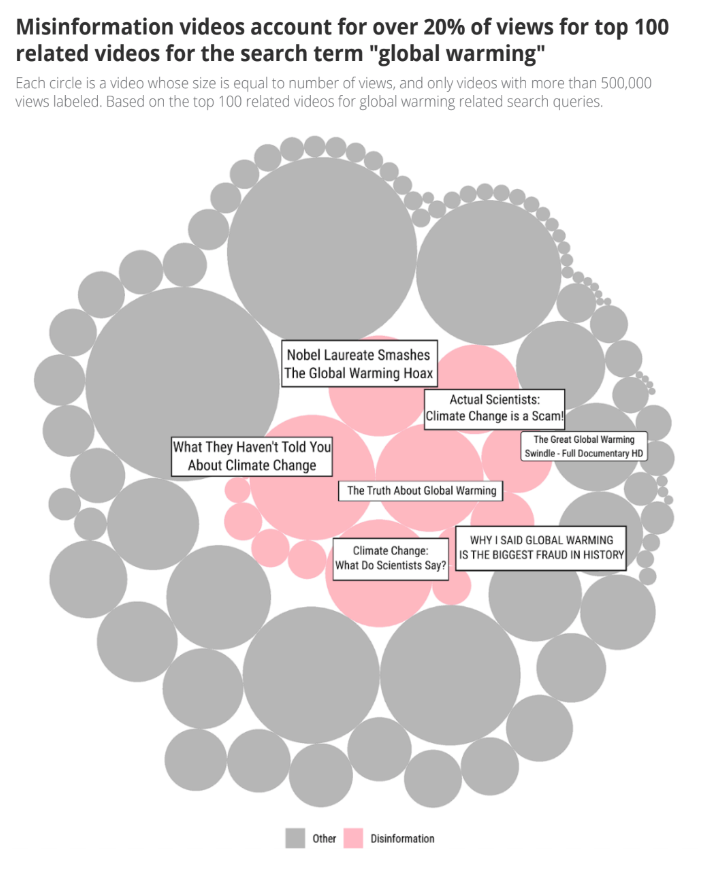 The relative number and views of the top 100 videos found searching for "global warming" on YouTube and identifying those featuring climate misinformation. Credit: Avaaz
But Avaaz says these actions are not enough.   
"Climate misinformation threatens the health and safety of our societies and our planet. YouTube has taken notable strides to act against disinformation, but our research proves that more is needed," said Julie Deruy, senior campaigner at Avaaz. "YouTube can and should immediately move to include climate misinformation in the company's borderline content policy and allow advertisers to exclude their ads from videos with climate misinformation." (Borderline content refers to videos that walk the line of violating YouTube's terms of service and has been the subject of much scrutiny.)
The Avaaz report outlines several recommendations, based on consultation with industry experts, advertisers, and legislators around the world. These recommendations, quoted here from the report, suggest the video platform:           
Detox the YouTube Recommendation Algorithms: The company must end its free promotion of misinformation and disinformation videos by extracting such videos from its algorithms, starting immediately by including climate misinformation in its borderline content policy.
Demonetize Disinformation: Add disinformation and misinformation to YouTube's relevant monetization policies, ensuring such content does not include advertising and is not financially incentivized. YouTube should start immediately with the option for advertisers to exclude their ads from videos with climate misinformation.
Correct the Record: Work with independent fact-checkers to inform users who have seen or interacted with verifiably false or misleading information, and issue corrections alongside these videos.
Transparency: Although YouTube promises to work openly with researchers, the company maintains an opaque process around its recommendation algorithms and on how effective its policies are in dealing with misinformation. YouTube should immediately release data showing the amount of views on misinformation content that were driven by its recommendation algorithms. YouTube must also work with researchers to ensure access to its recommendation algorithms to study misinformation.
DeSmog reached out to one researcher who has studied YouTube's promotion of videos containing conspiracy theories or false information on climate change. Dr. Joachim Allgaier, senior researcher at RWTH Aachen University in Germany, authored a study published last summer finding that YouTube's video recommendation algorithm boosted videos that misrepresented the scientific consensus on climate. Of the 200 videos he reviewed, more than half presented views contrary to mainstream climate science. Allgaier's findings are consistent with those of Avaaz, and he said he supports the recommendations in its new report.
"I hope [YouTube] will be more transparent on how science-related videos get recommended or not and what exactly they are doing against the promotion of misinformation/disinformation," Allgaier said via email. "And they obviously need to stop the monetization of disinformation videos! To be more transparent and respond to requests and questions from researchers and NGOs would be a prerequisite for being a reliable source of information. From this point of view there still is a lot of room for improvement."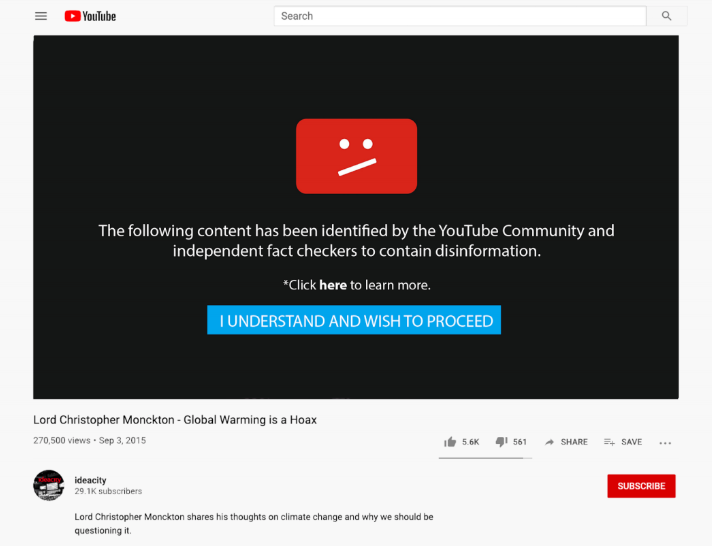 Avaaz mock up of what effective misinformation corrections could look like on YouTube videos. Credit: Avaaz
DeSmog also reached out to Google, parent company of YouTube, and a company spokesperson defended YouTube's policies, saying that false information does not necessarily violate the site's community guidelines. YouTube indicated that it is not inclined to adopt the recommendations in the Avaaz report, due to concerns on limiting free speech.
"We can't speak to Avaaz's methodology or results, and our recommendations systems are not designed to filter or demote videos or channels based on specific perspectives. YouTube has strict ad policies that govern where ads are allowed to appear and we give advertisers tools to opt out of content that doesn't align with their brand," a YouTube spokesperson said in a statement responding to the report. "We've also significantly invested in reducing recommendations of borderline content and harmful misinformation, and raising up authoritative voices on YouTube. In 2019 alone, the consumption on authoritative news publishers' channels grew by 60 percent. As our systems appear to have done in the majority of cases in this report, we prioritize authoritative voices for millions of news and information queries, and surface information panels on topics prone to misinformation — including climate change — to provide users with context alongside their content. We continue to expand these efforts to more topics and countries."
Avaaz said it stands by its findings, and criticized YouTube for knowingly promoting false information on climate change.
"YouTube is the largest broadcasting channel in the world, and it is driving millions of people to climate misinformation videos," said Avaaz's Deruy. "This is not about free speech, this is about the free advertising YouTube is giving to factually inaccurate videos that risk confusing people about one of the biggest crises of our time. The bottom line is that YouTube should not feature, suggest, promote, advertise, or lead users to misinformation." 
Main image: From the cover of the report "Why is YouTube Broadcasting Climate Misinformation to Millions?" Credit: Avaaz