Emails exchanged between an Oregon county commissioner and Pembina, the parent company of the proposed $10 billion fossil fuel export terminal Jordan Cove, raise ethics issues and may create openings for legal challenges to key permits for the controversial Jordan Cove project.
The emails, obtained via an open records request by the Energy and Policy Institute and shared with DeSmog, appear to show contacts between Pembina officials and Coos County commissioners — communications that were not disclosed during public hearings. Oregon law generally requires communications with commissioners about a pending permit to be disclosed publicly, so that those from the other side can respond.
The newly revealed documents also provide a unique window into discussions between state and local officials and representatives of the $10 billion project, showing one county-level official repeatedly soliciting sponsorships from Pembina, a Canadian energy firm, for events attended by county commissioners.
On February 3, the Trump administration's Environmental Protection Agency (EPA) announced that the county official involved in those discussions, Commissioner Melissa Cribbins of Coos County, Oregon, had been appointed to the EPA's Local Government Advisory Committee, which advises EPA Administrator Andrew Wheeler. Cribbins is also running for state office in Oregon.
In one instance, the emails show Cribbins was involved in discussions offering Pembina the chance to address state legislators and county commissioners — including a promise that Pembina could "work the crowd individually" — if the company sponsored a catered reception. Pembina accepted the offer.
Failure to disclose any so-called "ex parte" contacts — meaning contacts between a commissioner and those supporting or opposing a decision pending before the commissioner — can be the basis for an appeal of a permit. Oregon's laws can at times require permit deliberations to be re-opened so that those on the other side can respond to any information that was conveyed in private.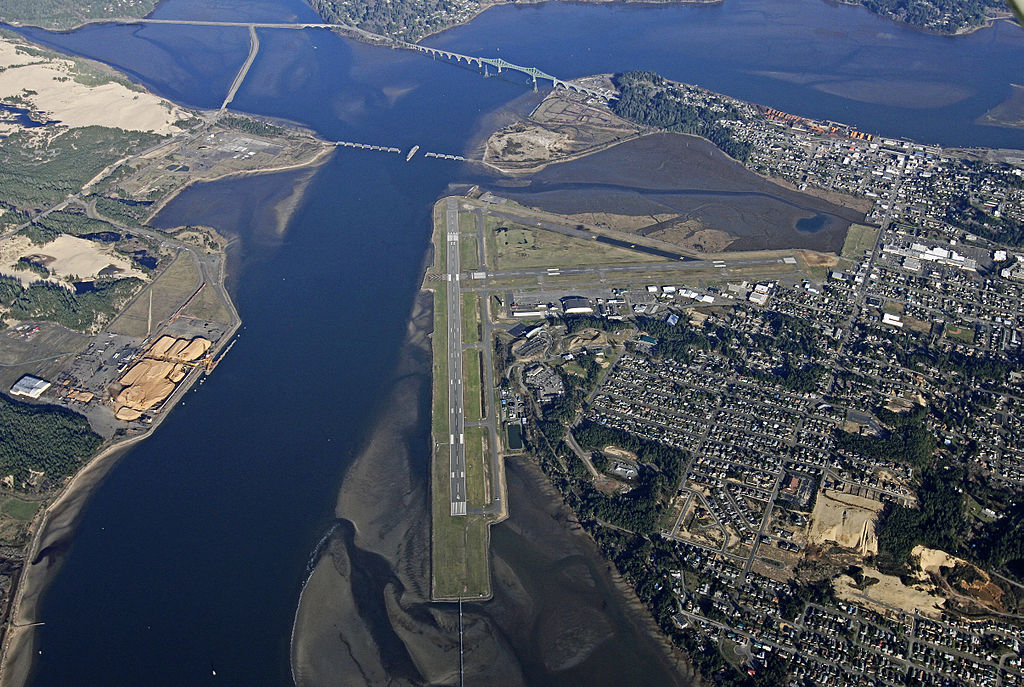 Coos Bay, Oregon, in 2012. The proposed Jordan Cove LNG export terminal site is in the lower left. Credit: RBrittsan, CC BY–SA 3.0
Last month, the proposed Jordan Cove liquefied natural gas (LNG) project — which, if built, would become the largest source of climate pollution in Oregon — suffered a major setback as Pembina abruptly withdrew its application for a key state permit.
The company has said it is continuing to seek federal approval for the project from the Federal Energy Regulatory Commission (FERC), and environmental advocates say they suspect Pembina may plan to move forward with the project regardless. Pembina had successfully obtained numerous county-level permits related to Jordan Cove over the past several months, though some of those permits are already under appeal.
'Dedicated Time'
The emails, sent by and to Coos County Commissioner Melissa Cribbins, show a number of back-and-forth exchanges between Coos County officials and Pembina representatives, often centered on the Jordan Cove LNG export terminal and related natural gas pipeline project.
They also show Commissioner Cribbins, vice president of the Association of Oregon Counties (AOC), along with other AOC officials, solicited sponsorships from Jordan Cove backers, including a request for funding for a reception during the AOC's 2019 annual conference in November and for a catered event for county commissioners and state lawmakers in February 2019. AOC is a lobbying organization that represents and advocates for Oregon's 36 counties.
Asked by DeSmog if she considered it proper for a commissioner to make such a request, Cribbins said she had no "fiscal interest" in the Association of Oregon Counties. "I have no fiscal interest in AOC, nor does any member of my family," she wrote.
At the time when Commissioner Cribbins made those requests, the company had applications for key permits necessary for their LNG project pending before the Coos County commission, several people familiar with the permit process told DeSmog.
In one instance, emails show Cribbins participated in discussions where Pembina was offered time to speak to county commissioners and lawmakers in exchange for funding a catered event.
"Do you think you can confirm Jordan Cove is able to sponsor our commissioner/legislator reception next Monday evening?" Mike Eliason of the Association of Oregon Counties emailed to Pembina representative Charles Deister in the early morning hours of February 5, 2019, copying Coos County Commissioner Melissa Cribbins and Mckenzie Farrell, also an AOC representative. "We would be more than happy to give you dedicated time to address the gathering as well as of course work the crowd individually."
"We need to confirm the Mission Mill site and caterer ASAP so if you are able to confirm by noon, that would be awesome," Eliason continued. "Also let me know if you don't think you can get approval, in that case we will likely have to cancel the reception plans. Thanks!"
Two hours later, Pembina's Deister replied to the group, writing, "I am pushing for a decision."
Roughly two hours after that, Commissioner Cribbins replied, "Thanks, Chuck. Anything I can do to help?"
The records do not show any direct reply to that question. They do show that less than 15 minutes later, Deister wrote back to the group, "Sorry for the delay. We are confirmed as the sponsor."
"Thank you, Chuck!" Commissioner Cribbins responded.
"We scored a last minute sponsor (Jordan Cove) for a Monday night reception at the Mission," Eliason announced in a group email the next day, indicating that the sponsored event would be on February 11, 2019. "We will be sending out an invitation to Commissioners and Legislators today."
Ethical Questions Arise
When a company that's applied for a land use permit offers a gift to a public official, that can create a significant ethics issue, said Craig Holman, an attorney with the watchdog group Public Citizen.
"What they're doing is essentially trying to buy favor when it comes to a basic financial reward from government officials," Holman said, speaking generally and not about the details of this case.
It's not clear to what extent any of the discussions shown in the emails would actually cross lines under Oregon's public ethics rules.
Most public officials in Oregon can usually accept gifts like anyone else — but sometimes there are limits to what they can accept. When the official has decision-making power over an issue involving the person or business that paid the tab for the gift, special rules apply.
Generally, food and drink at events aren't counted as "gifts" to public officials, but Oregon's ethics rules do draw a line in the sand when it comes to accepting certain kinds of free meals. A seat at the table during "organized, planned events" isn't the kind of meal that involves a gift, the rules say — but food and drink can be gifts when they're a part of "private meals where the participants engage in discussion." The rules detail how to tell the difference between the two kinds of events, listing factors like who was invited, whether there were printed programs for the event, and whether the event was publicized.
The day after the February 11 catered event, Commissioner Colleen Roberts of Jackson County emailed Commissioner Cribbins and Klamath County Commissioner Derrick DeGroot. "Thank you for your time yesterday to speak to the Pembina pipeline project," Roberts wrote, sparking a short back and forth about how to view Pembina and its plans to export natural gas at Jordan Cove.
The documents show that Cribbins forwarded the exchange between the commissioners to Deister at Pembina.
Another Pembina Sponsorship Request and a Request From Jordan Cove
Several months later, on June 19, 2019, Melissa Cribbins emailed Tasha Cadotte, another Pembina representative, to solicit a $7,500 sponsorship from Pembina for the Association of Oregon Counties 2019 annual conference.
"Based on your involvement last year, we are hopeful you will return at the same sponsorship level of $7,500, which included a reception hosted by Jordan Cove on Tuesday evening," Cribbins wrote, above a signature listing her titles as an Association of Oregon Counties official and as a Coos County commissioner.
A flyer listing the agenda for the AOC's 2018 annual conference shows that Jordan Cove LNG, a Pembina company, was the first listed sponsor for the conference. That flyer makes no mention of any Jordan Cove events at the conference, but an app-based schedule for conference attendees lists an evening "hospitality lounge" sponsored by Jordan Cove LNG, the event that Cribbins' email references.
2018 conference attendees included Deister, government affairs manager for Jordan Cove LNG, as well as all three Coos County commissioners and several other Coos County officials. "The Jordan Cove Project will build a safe, clean, reliable natural gas pipeline and a liquefied natural gas (LNG) export terminal in Coos County, Oregon," a description of the project provided to the 2018 conference attendees stated.
Two days after Cribbins wrote asking for a 2019 sponsorship, the documents show a lobbyist registered to represent Jordan Cove asked for a favor from the association.
"Question — would AOC be willing to send a letter to FERC supporting the Jordan Cove project?" lobbyist Ray Bucheger wrote to the AOC's Eliason. "Give me a call if you'd like to discuss." Eliason forwarded the request to Cribbins, writing, "I don't think I can do this…."
"I think you should not," Cribbins responded.
"Can't do that to Jackson County," Eliason answered, referencing a southern Oregon county whose commissioners have spoken out in opposition to the natural gas pipeline that would end at the Jordan Cove terminal.
"Well, I frankly could care less. However, it is controversial enough that you shouldn't take a position unless the counties agree on it," Cribbins replied.
Three days later, Eliason wrote back to Bucheger. "Hi Ray, Sorry, we are going to have to pass on this one. With Jackson County back in our association, and opposed to the project, we have to be careful in the way we engage on JC," Eliason wrote.
Jordan Cove was not among the listed sponsors for the 2019 AOC conference.
'Tone and Content'
The newly revealed emails also show small favors exchanged between Cribbins and Pembina representatives. For example, in April 2019, Pembina vice president and chief legal officer Harry Anderson personally arranged for Cribbins' seventh-grade son to interview a company spokesperson, Tasha Cadotte, for a project.
They show Cadotte then emailed Cribbins about Jordan Cove repeatedly in 2019 — touting voluntary agreements with landowners related to Jordan Cove, distributing fact sheets supporting construction, and asking her to review and edit an email Cadotte was drafting for other local officials for "tone and content." ("Your email looks great!" Cribbins replied, suggesting more officials to add to Cadotte's list of recipients.)
The documents also show Cribbins relaying a message from Anderson, in which the Pembina VP alleges that "security/safety" incidents related to Jordan Cove had so concerned his company's security experts that they "strongly advised that [Anderson] stay out of Oregon" during a week when Federal Energy Regulatory Commission public comment sessions were held.
County commissioners are required by Oregon law to disclose the contents of any conversation they have about issues pending before their commissions with anyone aside from the commissioners' own staff, so that those on the other side of the issue can have their views heard as well. Public hearings on land use issues in Oregon customarily set aside time for each county commissioner to describe what was said in every so-called "ex parte" contact they've had with those supporting or opposed to permits.
In a hearing on November 15, 2019, Commissioner Cribbins made two disclosures related to her emails. She described a September 3 meeting that had been arranged by Cadotte as an ex parte contact, adding that during that meeting, company officials had twice brought up the land use applications for Jordan Cove and that she had then asked them to cease.
All of the other ex parte contacts disclosed by Cribbins at the November 15 hearing appear to have involved opponents of the Jordan Cove project. At a December 4 hearing, Cribbins again disclosed the same contacts, adding that she'd received multiple emails about Jordan Cove but had not read or responded to any of the emails she was disclosing as a potential ex parte contact. The documents show that in 2019, Cribbins responded to the contents of numerous emails related to Jordan Cove that were sent by Cadotte or other company representatives.
In one August 26, 2019 email exchange, for example, William Rice of Pembina wrote to Commissioner Cribbins, following up on an in-person conversation. "It was nice meeting you last week at the Oregon Coastal Caucus in Florence," Rice wrote. Jordan Cove LNG also sponsored that conference, where Cribbins had introduced a panel titled "Hindsight is 20/20: Changing the Climate of the Carbon Reduction Conversation (Industry Perspectives)."
Rice's email noted that Cribbins had referred to one of her constituent's concerns about the Jordan Cove export terminal project and offered an answer. "Thanks for the opportunity to address concerns in the community," Rice's email concludes. "Please don't hesitate to reach out if we can help with others."
Cribbins responded that same day, writing "Thanks so much! It was great to meet you also."
Asked about the emails from Anderson, Cadotte, and Rice, Cribbins told DeSmog that the emails were not related to the land use permits, but instead were about different aspects of the Jordan Cove project. That would mean that they would not be subject to ex parte disclosure rules during land use permit hearings. "In this case, most the emails were related to the Enterprise Zone Agreement, in which I am the Zone Sponsor representative for Coos County," she wrote, adding that those meetings were public. "Again, when you refer to ex-parte contacts, they are only relevant if they involve the land use application."
However, the documents show that some of the emails from Pembina discuss themes that were also raised in comments urging Cribbins and other Coos County commissioners not to approve Jordan Cove, such as how the project might affect the local economy, impact wildlife habitat, or involve the use of eminent domain or easement agreements.
Coos County has gotten into hot water over the failure to disclose ex parte contacts related to Jordan Cove in the past. In 2017, Oregon's Land Use Board of Appeals tossed a permit for Jordan Cove that was granted by the Coos County commissioners. In their opinion, which primarily focused on other issues, the appeals board instructed Commission Chair John Sweet to disclose what was said about Jordan Cove at a 2014 luncheon he'd attended. Commissioner Sweet had failed to disclose what was said during a presentation by Jordan Cove proponents at that luncheon, the appeals board observed, noting that another commissioner present had disclosed the presentation as an ex parte contact.
'Untrue and Unfair'
The documents also show tensions growing over the timing of state and local permits for the project. "We have earmarked November 15, 2019 as our target completion date for our land use application," Pembina's Cadotte wrote in a September 19 email to the three Coos County commissioners.
"Given that the last permit submitted by Jordan Cove was not found to be complete until August 29, 2019 and the hearing is on September 30, 2019 it is not realistic to say that the process will be completed by the middle of November," Jill Rolfe, the Coos County planner, wrote to Cadotte on September 24.
Timing issues proved very important for Jordan Cove's permit process. Pembina would later withdraw its application for a key state permit after the state declined to allow it an additional extension to complete its application.
The emails suggest that not all of the communications between Coos County officials and Jordan Cove were pleasant. "There may be some complaining by the applicant regarding the hazard review as they failed to address 'Liquefaction' and I had an unpleasant conversation with Tasha (Project manager) about why they were not aware of the requirement," Rolfe wrote to Cribbins and the other commissioners in an email dated September 30. "This is an untrue and unfair statement."
In the same email, Rolfe reminded the commissioners to keep track of their ex parte contacts on Jordan Cove. "Please remember an ex parte contact should be revealed and if you have questions please contact Nat or myself," Rolfe added. "I think you guys are doing a good job of tracking but it is overwhelming at times."
Rolfe had previously warned Cadotte about causing ex parte contacts by emailing the commissioners. "Tasha, Please refrain from contacting the Board of Commissioner directly as it may cause an ex parte contact issue that will be required to be disclosed in a public hearing," Rolfe wrote to Cadotte in her September 24 email.
The documents show that Cadotte continued to correspond with Cribbins about Jordan Cove–related matters.
Commissioner Cribbins did later reply to an email about Jordan Cove, writing that she was unable to read the contents of the email because "we are in the middle of land use proceedings in Coos County, so I am concerned about ex-parte contacts."
That email, which was among the contacts disclosed by Cribbins at the November 15 public hearing, was sent to representatives from the League of Women Voters — which had opposed the project.
A representative from Pembina did not respond to DeSmog's questions about the emails.
Main image: Coos County Commissioner Melissa Cribbins testifies before the U.S. House Committee on Energy and Commerce on November 20, 2019. Credit: National Association of Counties, used with permission