A recent German news report has shed light on the inner workings of the Heartland Institute's international efforts to sow doubts about climate science using the dark money group Donors Trust. Part of those efforts include the climate science-denying organization touting its newest representative, a young German YouTube "influencer," Naomi Seibt, whom Heartland markets as the deniers' answer to breakout youth climate activist Greta Thunberg.
The U.S.-based Heartland Institute receives millions of dollars a year to fund its climate denial efforts and is looking to expand them in Germany, according to the undercover joint investigation by German outlets CORRECTIV and Frontal21.
Heartland director James Taylor revealed to the undercover journalists that much of the money is funneled through Donors Trust. Known as the "dark money ATM of the conservative movement," right-wing donors use Donors Trust to obscure their identities and make it far more difficult — at times impossible — for the American public to know who is funding messages from think tanks and PR firms.
In the U.S., Donors Trust and similar "dark money" funds operate in secrecy, having threaded the needle of American tax laws in a way that allows those with large sums of money to fund advocacy groups anonymously.
The use of Donors Trust has skyrocketed in recent years. In 2008, for example, the organization spent $11 million dollars, tax filings show. But in 2018, the most recent year for which filings are available online, Donors Trust spent roughly $145 million — more than thirteen times what it had a decade earlier.
The German news report showed how Heartland's James Taylor discussed the use of Donors Trust to funnel money to Seibt, a teenage YouTube influencer who, Heartland proposed, would highlight the downsides of German environmental rules. Heartland announced on February 11 that Seibt has joined the Institute's Arthur B. Robinson Center on Climate and Environmental Policy. 
Millions in Dark Money
Taylor, chief strategist and director of climate policy at the Heartland Institute, spoke with the undercover German reporters.
"Donors Trust is now directing between two-thirds and three-quarters of its budget to Heartland to support its climate-skeptical positions, says Taylor," according to their report, which German news site CORRECTIV published online in English as well as German.
Applying Taylor's estimates to the most recent available figures suggests that Heartland receives at least $2 million a year to support "climate-skeptical" stances. Heartland's 2018 tax filing showed gross receipts of $5.8 million (2019 annual tax filings for most nonprofit organizations are not yet due). $3 million is listed as coming directly from Donors Trust, tax filings show.
Heartland spent $1.7 million on various "public relations" efforts, plus an additional $1.17 million on "research, writing and distribution of publications," as well as $769,000 on "government relations" or lobbying, Heartland said in its 2018 tax filing. Heartland claims an audience of 113 million readers and 3.2 million podcast listeners, the 2018 filing says.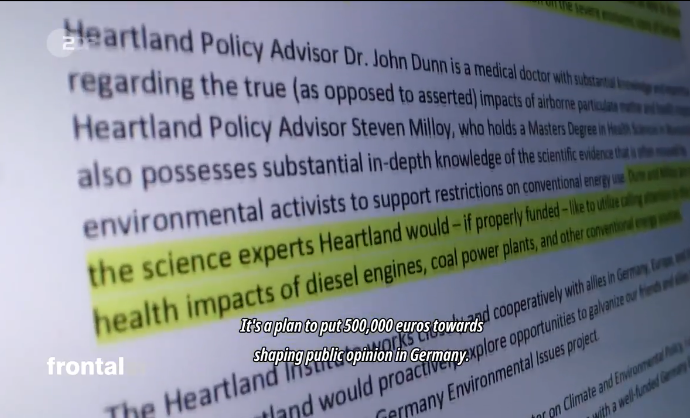 German public television program Frontal21 showed viewers what Heartland proposed to reporters posing as public relations executives. Credit: Screenshot from ZDF broadcast.
Heartland Funding Proposal Targets German Environmental Laws
Other news sources have reported on U.S. "dark money" right-wing organizations pouring money into European politics, focusing on efforts by a dozen far-right U.S.-based Christian organizations to support Brexit and "to shift power away from women and LGBTQI people," as the New York Review of Books put it.
It's not clear how much of the Heartland Institute's public relations work on climate change is directed towards European audiences, nor is it clear how much of Donors Trust's overall spending aims to influence European attitudes toward climate science.
To document Heartland's climate change efforts in Europe, German reporters went "undercover," presenting themselves as PR executives from Berlin representing automotive and energy clients.
They received a "funding proposal," shown in video aired by Germany's ZDF public television, from Heartland that outlined a plan to combat "restrictive environmental programs" in Germany.
"Worse, other nations — including the United States and European Union nations — are increasingly being influenced by unwise German policy," the document warns.
At the top of Heartland's plan: a German teen with a YouTube channel.
"The Heartland Institute in December 2019 began working with popular young German YouTube personality Naomi Seibt," the funding proposal states. "Funding for our Germany Environmental Issues project will enable Heartland to provide Naomi with the equipment and resources she needs to present a series of effective videos calling attention to the negative impacts of overreaching environmental regulations."
Framing a Fight
This past year, Naomi Seibt, a 19 year-old from Germany, started a YouTube channel airing short videos in German and in English, including her thoughts on climate change and other topics. Her most-watched video, posted seven months ago, has 176,000 views, according to YouTube, and is titled "CLIMATE CHANGE – Just hot air..?"
Heartland and others have recently worked to promote Seibt as the "anti-Greta," CORRECTIV reported. "A few weeks after the Madrid conference, a video appeared on Heartland's YouTube channel. It shows fragments from the speech given by the 19-year-old influencer at the conference in Madrid, intermittent with statements by Greta Thunberg," CORRECTIV reported. "The video ends with a question: Who do you believe more?"
No matter what your answer to that question is, Heartland benefits.
That's because the framing — on the one side: well-known teen climate activist Greta, on the other: rising teen climate skeptic Naomi — itself is the victory that Heartland attempts to claim.
Instead of talking about the role that fossil fuels play in causing the climate crisis or what humans have to do to prevent catastrophic warming, Heartland's video asks viewers to consider one teen versus another teen.
That framing also asks viewers to overlook the fact that one lone teenage climate activist isn't the only person urging international action to ward off climate change.
When Heartland promotes its YouTuber as, say, calmer and more rational than Greta, there are fights that Heartland's setup dodges. The framing dodges the fact that, when it comes to rationality, the debate could be Heartland's young YouTuber versus the Intergovernmental Panel on Climate Change, a scientific coalition studying climate change assembled by the United Nations that warns nations have just one decade remaining to reduce emissions to the point of effectively preventing catastrophic climate impacts.
The setup also dodges a debate between Heartland's YouTuber and the insurance industry, which as Deloitte notes, has found that "[w]ith losses mounting, insurers can no longer avoid or postpone addressing the impact of changing climate on their underwriting, pricing, and investment decisions, as well as their bottom lines."
It dodges a debate between Heartland's YouTuber and everyone whose personal and professional judgment has left them convinced that human actions are causing the world's climate to warm rapidly and that it's worth taking action now to ward off the worst effects of that change.
Reasons Climate Consensus Clear
Heartland ally Seibt has previously rejected the label climate science "denier," saying that she finds the label offensive and that she just wants people to think for themselves about climate science.
There is, of course, nothing at all wrong with approaching received wisdom with a healthy dose of skepticism. But there's a big difference between asking new questions that don't yet have good answers, and demanding answers to questions whose answers are already available.
When it comes to climate science — as with many other science questions — those answers can even sometimes be found on YouTube.
In less than 10 minutes, you can learn the basics about climate models and how we know which ones work. And for example, you can hear climate scientist and University of Georgia professor Dr. Marshall Shepherd, former president of the American Meteorological Society, give a TEDx Talk on climate science "zombie theories" — theories that scientists have disproven again and again but which continue to live on anyway.
Because the thing about the questions posed by climate "skeptics" is that scientists haven't ignored their questions. Climate scientists have closely examined explanations for the world's warming climate that would have nothing to do with fossil fuels or human activities, like volcanic activity and solar cycles, and they've examined the data showing small places where, for example, glaciers are expanding rather than shrinking. And those scientists have concluded that alternative explanations for why the climate is warming unfortunately cannot hold water. At the same time, for decades now, the theory that carbon dioxide and methane emissions from fossil fuels are warming the planet has stood the test of time.
"The communication practiced by the Heartland Institute has nothing to do with science," Kathleen Mar, a scientist at the Institute for Advanced Sustainability Studies in Potsdam, told CORRECTIV. "These are definitely politically motivated statements."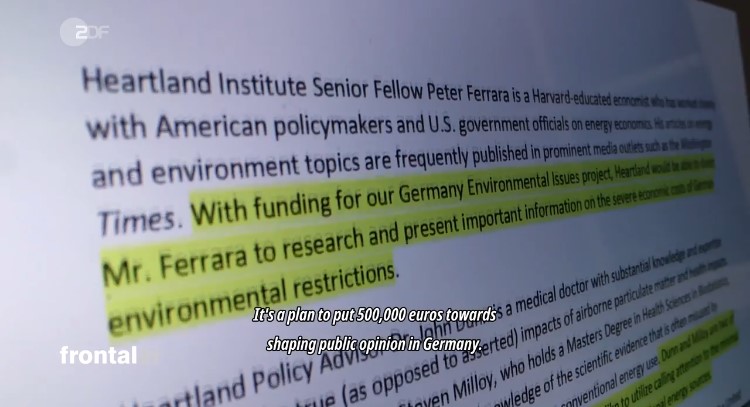 Another segment of Heartland's proposal, as aired by German public television ZDF's Frontal21 program. Credit: Screenshot from ZDF broadcast. 
German Sting Shines More Light on Heartland Institute's Tactics
Undercover journalism is often frowned on in American journalism circles — in no small part because of folks like James O'Keefe, who used a blend of undercover-style antics as well as other unethical and illegal tactics to, as The Atlantic pointed out, deliberately mislead not only his subjects, but also his audience.
However, undercover methods have been used to some acclaim in the U.S. in the past. In 1977, the Chicago Sun-Times nearly won a Pulitzer after buying up a Chicago bar and letting reporters pose as bartenders, catching city inspectors taking bribes. But the prize was famously blocked by The Washington Post's editor Ben Bradlee, who argued that any use of deception fundamentally undermines reporters' credibility.
The German Press Code, which covers ethics obligations for reporters in Germany, arrived at a somewhat different conclusion, citing the public interest in information that may be obtained when using undercover reporting as a last resort. "Undercover research may be justifiable in individual cases if in this way information of particular public interest is gained which cannot be procured by other means," the German Press Council's guidelines for journalistic work say.
And that may mean that while dark money flows freely through the American political system, funders may soon discover that in some democracies abroad, there's at least a chance that a little more light will shine through.
Main image: Screenshot from ZDF broadcast