The huge bipartisan energy bill currently stalled in the Senate would fast-track exports of fracked gas, offer over a billion dollars in subsidies to "clean coal" efforts and make available hundreds of millions in tax dollars for a geoengineering pilot project.
Called the American Energy Innovation Act, the 600-page bill is a compilation of 50 bills previously introduced by members of Congress. It appeared destined for quick passage until hitting a roadblock on amendment language calling for regulations on the globe-warming hydrofluorocarbons used in refrigerators and air conditioners. The legislation failed to gather the majority support needed to close debate on the bill in a March 9 vote.  
The debate continues, then, on the legislation. U.S. Sen. Lisa Murkowski (R-AK), the bill's co-sponsor, expressed irritation over the bill's status.  
"It is beyond frustrating to have our bill, which contains priorities from more than 70 Senators, held up by an unrelated dispute that was never part of our discussions in the lead-up to this floor process," she said in a press release. "We will regroup and look for a path forward, but finding one will require members to be more reasonable and accommodating than they have been in the last week, and certainly more so than they were today."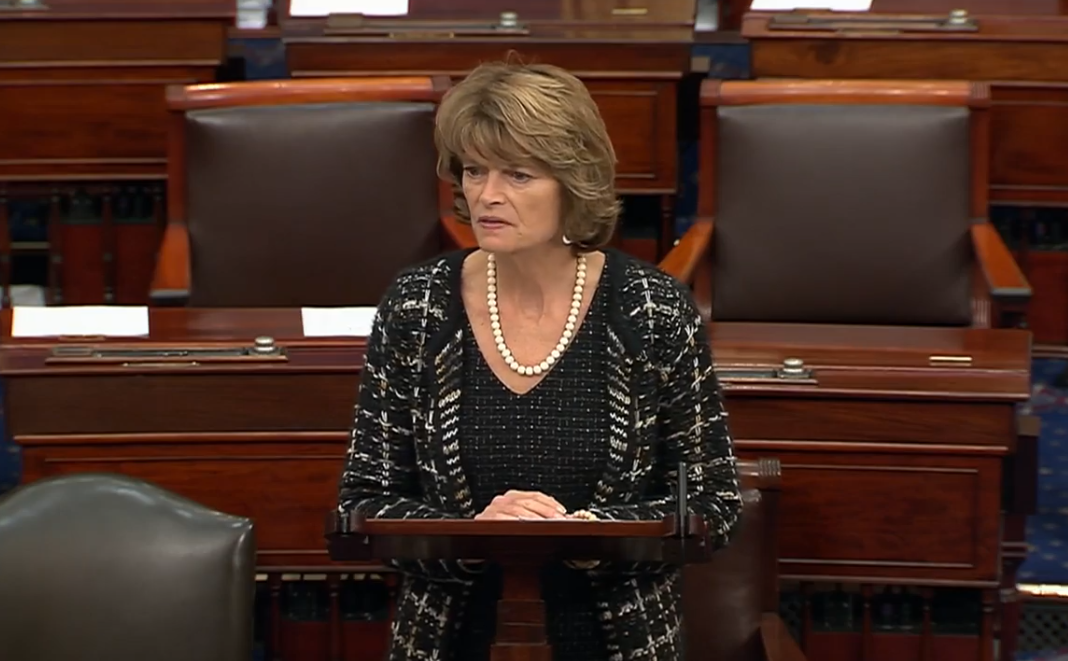 Alaska Sen. Lisa Murkowski speaking in support of the Senate energy bill on March 8, 2020. Credit: Sen. Lisa Murkowski on Facebook
Bipartisan Uptake, Industry Praise
The legislation has thus far received bipartisan support because it contains subsidies for renewable energy sources including wind, solar, and geothermal. It also creates federal financial incentives for creating energy-efficient buildings and boosts funding for energy storage. For that, it has garnered lobbying support from the likes of the American Council on Renewable Energy, the Nature Conservancy, and the Environmental Defense Fund. 
Minority Leader Chuck Schumer (D-NY) called for support of the bill during March 2 remarks on the Senate floor.
"This bill provides a real test for Senate Republicans," said Schumer. "Will they join Senate Democrats in fighting for and passing bipartisan legislation that will address climate change in a significant way, or will our Republican friends continue to do what they have done for the last several years — do the bidding of corporate polluters and Big Oil?"
Majority Leader Mitch McConnell (R-KY) praised the legislation, too, while deriding the Green New Deal. 
"The Green New Deal sought to have Washington, D.C. micromanage everyday life in this country to a degree that the 20th-century socialists would have drooled over," he said in a March 3 speech made on the Senate floor. "Instead, this bipartisan legislation will create better policy and regulatory conditions for American workers, American innovators, and American job creators to thrive."
The act has garnered widespread fossil fuel industry approval from organizations such as the American Gas Association, American Petroleum Institute, industry front group the Consumer Energy Alliance, the petrochemical trade association the American Chemistry Council, the National Mining Association, the U.S. Chamber of Commerce, and a slew of others. 
Dirty Details
Outside of the renewable energy, energy efficiency, and energy storage clauses, the energy bill contains provisions aiming to ease the way for exports of so-called "small scale" LNG export terminals, which rely on slightly smaller tankers and keep the LNG in liquid form instead of re-gasifying it.
The Senate bill also offers over $367.8 million in federal funding through 2024 to test out a geoengineering pilot project for a technique called direct air capture, which involves vacuuming carbon dioxide from the atmosphere. Geoengineering is a proposal to use various technologies with goals of either removing greenhouse gases already emitted or reversing global warming.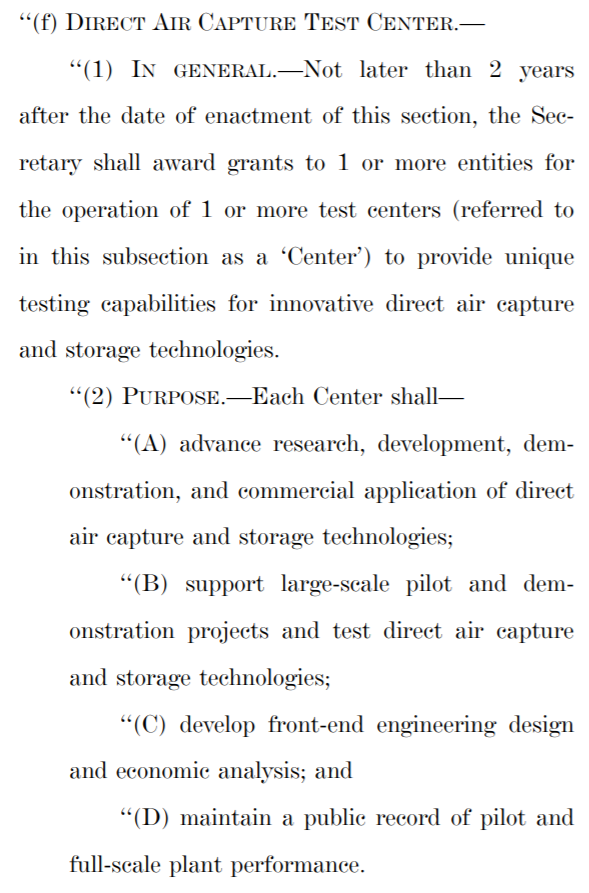 Credit: Energy.Senate.Gov
The LNG exports provision in the bill, originally introduced as the Small Scale LNG Access Act in March 2019, has received lobbying support from the Independent Petroleum Association of America, Siemens, and the gas production company EOG Resources, according to disclosure forms. Siemens is a producer of small-scale LNG equipment through its subsidiary, Dresser Rand, with much of the small scale LNG exports currently destined for Puerto Rico. Puerto Rico contracted out its post-Hurricane Maria electricity sector assessment completed in early 2019 to none other than Siemens. 
The legislation contains another provision calling for $1.472 billion in subsidies for a "large scale" carbon capture and sequestration (CCS) project for a coal-fired power plant. Originally dubbed the Fossil Energy Utilization, Enhancement, and Leadership Act, the bill received lobbying support from the Coal Utilization Research Council. The group's members include coal giant Peabody Energy; utility giants Edison Electric Institute, Southern Company, and Duke Energy; the American Coal Council, and others.
Carbon capture and sequestration (CCS) is an expensive endeavor linking power plants to the capture and burial of carbon emissions underground, known in industry lingo as sequestration. Despite numerous attempts at development and billions of dollars poured into research, most CCS projects have failed. One of them, owned by Coal Utilization Research Council member Southern Company, went out of business in 2017 after receiving more than $700 million in federal subsidies. Existing CCS projects, which are energy-intensive, primarily use captured carbon dioxide to pump more oil out of old wells. A 2018 Reuters poll of the top 10 U.S. utilities found little interest in investing in CCS projects, even with federal incentives.
Beyond CCS, the bill also has a provision calling for the U.S. Department of Energy to study the potential creation of a petrochemical storage hub near the Marcellus Shale basin in Appalachia. The Appalachian Energy for National Security Act provision calls on the "Secretary of Energy to conduct a study on the national security implications of building ethane and other natural-gas-liquids-related petrochemical infrastructure" in the Appalachian region. The bill, which received lobbying support from the U.S. Chamber of Commerce, was first introduced by West Virginia Democratic Senator Joe Manchin, a long-time promoter of such a project and co-sponsor of the larger Senate energy bill. 
Bakken Petrochemical Hub
Senators have also introduced 220 different amendments to the bill, which include the one calling for a phase-out of hydrofluorocarbons from cooling and refrigeration devices. Three of the amendments, if passed, would greatly expand drilling in North Dakota's Bakken Shale basin.
Two of them received an introduction by U.S. Sen. Kevin Cramer (R-ND), who served as an energy policy aide for President Donald Trump's 2016 presidential campaign. One of these amendments, successfully inserted into the bill, calls for the U.S. Department of Energy to do a "Bakken and Three Forks Natural Gas Liquids Report" to study the potential for a petrochemical storage hub in the Bakken. The other, titled "Bakken Energy for National Security," calls for the Energy Department to do a similar study with the U.S. Department of Defense and U.S. Treasury Department to "assess … the potential national and economic security impacts of building ethane and other natural-gas-liquids-related petrochemical infrastructure in the geographical vicinity of the Bakken."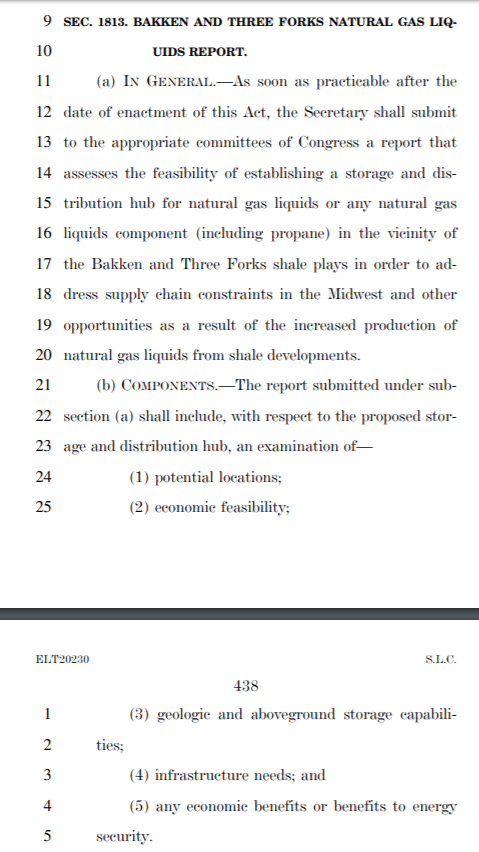 Credit: Energy.Senate.Gov
The third amendment, introduced by U.S. Sen. John Hoeven (R-ND), calls for expedited permitting for drilling on U.S. public lands located within the Bakken. The provision is known as the Bureau of Land Management (BLM) Spacing Act.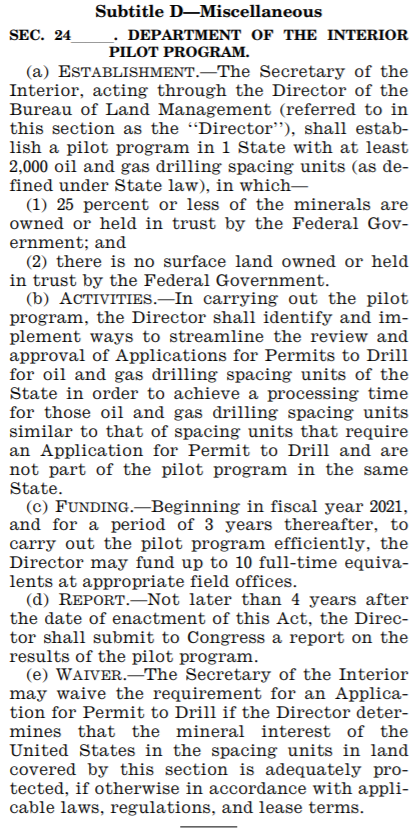 Credit: Congress.gov
The North Dakota Pipeline Authority is currently teaming up with the University of North Dakota's Energy and Environmental Research Center to study the potential for a petrochemical hub in the region, as well. That study is set for release on May 1, the publication Prairie Public Broadcasting reported.
"The petrochemical industry is the number one consumer of those natural gas liquids," Justin Kringstad, Executive Director of the North Dakota Pipeline Authority, told Prairie Public Broadcasting in October. "As investors and companies look at North Dakota for opportunities, we need to have good, solid scientific data we can point to, and have a good understanding of this resource potential."
The oil and gas industry sees the growth of plastics manufacturing, as well as exporting LNG and building gas power plants in the U.S., as a profitable lifeline to continue fracking in places like the Bakken Shale and the Marcellus. For climate advocates, pointing to the threat of potent methane emissions from the supply chain, this presents a major problem.  
"From petrochemical facilities to gas-fired power plants and liquefied natural gas export terminals, these new projects would commit America to another generation of dependence on fossil fuels," the advocacy group Food and Water Watch wrote in a March 2019 report. "These projects aren't just associated with health and safety risks: if even a fraction of them come to fruition, they will condemn the planet to a future of climate chaos."
Main image: Mississippi's Kemper County coal gasification plant, under construction in 2013, was supposed to capture and sequester carbon emissions. Credit: XTUV0010, CC BY–SA 3.0