As this week the U.S. Senate tries to advance stalled bipartisan energy legislation, the American Energy Alliance (AEA) last week announced its latest initiative opposing any tax credit extension for electric vehicles (EV) in that bill.
Through a series of digital ads, the group, which receives a substantial share of its donations from an oil refinery trade group, is calling on Senate Republicans to squash a proposed amendment expanding the number of vehicles eligible for the credit.
That amendment, introduced by Senator Ron Wyden (D-OR), would raise the per-manufacturer cap on electric vehicles eligible for tax credit from 200,000 to 600,000 and would extend a tax credit for fuel-cell vehicles through 2024, among other clean energy incentives.
Wyden proposed the amendment as a part of the American Energy Innovation Act (AEIA), a package of around 50 bills aimed at spurring research and development for technologies like energy storage, carbon capture and storage, and advanced nuclear. Senators Lisa Murkowski (R-AK) and Joe Manchin (D-WV) introduced the AEIA legislative package on February 27.
In a March 3 statement announcing his amendment, Wyden referenced the uneven playing field between clean energy and fossil fuels — which continue to receive billions in government subsidies each year. "We're facing a climate emergency, but Big Oil continues to be showered with tax breaks while incentives for clean energy are held up again and again. My amendment would help reduce carbon emissions, lower electricity bills for American families, and advance us down the path toward a clean energy future," Wyden said.
He acknowledged his amendment would likely not pass muster in the Republican-controlled Senate. However, the American Energy Alliance immediately pushed back with digital ads and an accompanying press release on March 5.
"Some Senate Democrats are once again focused on expanding the EV tax credit. It's now time for all Senators, especially Republicans, to stand up for their constituents and stop this obvious handout. No amendments, no deals, and no extensions." @TomJPyle https://t.co/gOfD69tK8T

— American Energy Alliance (@AEA) March 8, 2020
"Some Senate Democrats are once again focused on expanding the EV tax credit despite its gross inequities," AEA president Thomas Pyle said in the press release. "They are using the American Energy Innovation Act as a tool to enrich two auto companies, GM and Tesla, along with wealthy coastal elites, mainly from California and New York. It's now time for all Senators, especially Republicans, to stand up for their constituents and stop this obvious handout. No amendments, no deals, and no extensions of the tax credit."
AEA has consistently fought against the policy that offers a tax credit of up to $7,500 towards the purchase of qualifying electric vehicles — an incentive that helps offset the higher upfront cost of these vehicles and is especially beneficial for middle- and lower-income Americans.
The argument that mostly wealthy Americans buy EVs ignores this reality and the fact that a significant number of EVs are leased rather than purchased. According to Bloomberg New Energy Finance, nearly 80 percent of non-Tesla electric vehicles are leased. Leasing is generally a more affordable financing option, and the tax credit helps lower that cost even more.
But the AEA's claim that electric vehicles are expensive "luxuries" for the rich has been picked up by some Republican lawmakers.
Senator Mike Braun (R-IN), for example, recently introduced a pair of bills aimed at eliminating the EV tax credit for higher-income families and limiting it for vehicles costing less than $45,000. According to a press release from Braun's office, "The amendments will save taxpayers hundreds of millions in subsidies used by millionaires to buy luxury cars." Senator Joni Ernst (R-IA) is joining Braun in sponsoring these bills. Both Braun and Ernst have benefited from oil and gas money. According to the Center for Responsive Politics, the oil and gas industry has contributed $194,988 to Braun and $249,492 to Ernst for the 2020 campaign cycle.
The American Energy Alliance is also largely funded by the petroleum sector. According to the most recently available tax data, AEA receives more than three times as much grant money from the American Fuel and Petrochemical Manufacturers, a trade group for oil refiners, than any other group. Additionally, AEA has received $3.8 million from Freedom Partners, a group directed by close associates of the Kochs, and AEA president Thomas Pyle is a former Koch Industries lobbyist.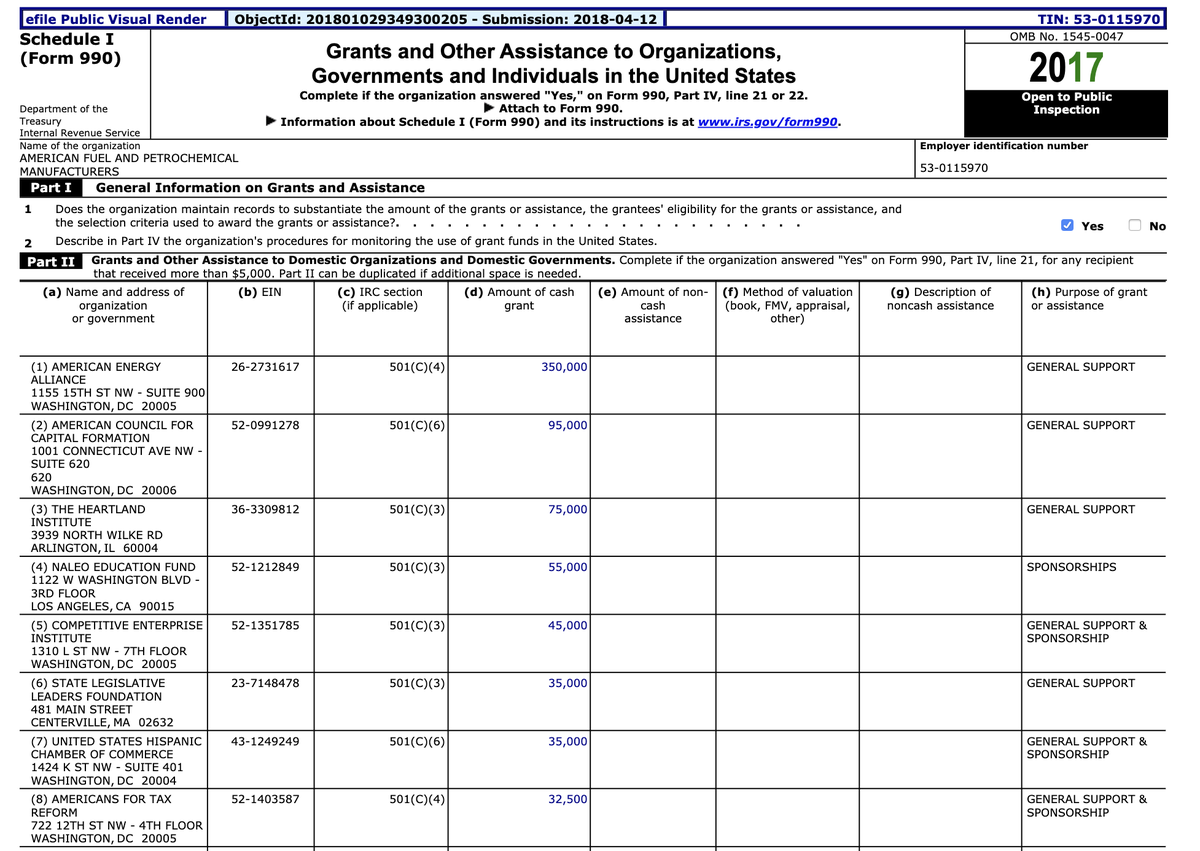 The American Fuel and Petrochemical Manufacturers' 2017 tax form disclosing that it donated $350,000 to the 501(c)(4) nonprofit, the American Energy Alliance. Credit: 990 form
The oil and gas industry uses groups like AEA to advocate for its interests, and the incumbent industry that fuels conventional vehicles would benefit from slowing the transition to electric vehicles.
What promotional ads like AEA's fail to mention is that electric vehicles threaten the billions of dollars the oil industry makes in profits, and that American taxpayers help subsidize this industry despite its many negative impacts on public health and the climate.
Main image: EV.network, used with permission