After Congress declined to allocate $3 billion of the recent economic stimulus package to fill the government's emergency stockpile of oil, the Trump administration has taken its own steps to provide short-term relief to the U.S. petroleum sector. 
The Department of Energy announced last week it would be making arrangements to immediately store 30 million barrels of oil in the Strategic Petroleum Reserve (SPR), a backup reserve created in the 1970s as a buffer against oil supply disruptions. Now, instead of supply shortages, oil markets are facing what consulting firm Rystad Energy is calling "one of the biggest oil supply gluts the world has ever seen."
The oversupply problem is only partially a result of current market imbalance and actually has been building long before the coronavirus pandemic forced widespread shutdowns that crashed demand. But the Trump administration is nevertheless using the COVID-19 crisis as a main reason for aiding an ailing petroleum sector, and it is turning to the SPR as a critical tool for helping U.S. oil companies.
Without somewhere to store or sell the increasing glut of oil amid dropping demand, drillers otherwise would be forced to cut back on production.
President Trump last month directed the Department of Energy (DOE) to fill up the SPR to its maximum, which would mean adding about 77 million barrels of crude oil to the reserve. Absent funding from Congress, at least for now, to buy that oil, DOE has devised an alternative strategy. The agency will be acquiring the oil through a solicitation process without purchasing it.
Instead, DOE is leasing SPR storage capacity through an exchange, whereby petroleum producers pay in oil rather than dollars. The arrangement is basically a contract involving temporary storage of excess crude in the SPR, which consists of underground caverns at four sites along the Gulf Coast.
At the direction of @POTUS, @ENERGY has made space available in the Strategic Petroleum Reserve for domestically produced crude oil to help alleviate market pressure.

— Dan Brouillette (@SecBrouillette) April 3, 2020
According to DOE's solicitation letter, all crude stored in the SPR that's delivered between May through the end of June must be moved out of it by March 31, 2021. The scheduled return period starts in August for three storage sites and October for one other site. The solicitation calls for an exchange of up to 22.8 million barrels of sweet crude and up to 7.2 million barrels of sour crude.
"We expect the first crude oil deliveries to arrive in late-April or early-May depending on producer logistics. The SPR will be ready to receive up to 685,000 barrels per day," Assistant Secretary for Fossil Energy, Steven Winberg, said in a statement.
DOE said the storage solicitation is an urgent measure to support "struggling" U.S. oil producers. "The Department continues to work with Congress to find ways to make funding available for DOE to buy American oil," Secretary of Energy Dan Brouillette said. "However, we must move with a sense of urgency to support an industry that underpins the U.S. economy and supports our national security. Making some of the SPR's storage capacity available to industry, without purchasing the oil, provides this immediate benefit to the industry and its hard-working employees."
Petroleum industry trade associations welcomed this short-term storage strategy. The DOE press release included statements, all praising the Trump administration, from the American Petroleum Institute (API), the Louisiana Oil & Gas Association, the Permian Basin Petroleum Association, the Petroleum Equipment & Services Association, and the Texas Alliance of Energy Producers.
"As American energy producers navigate uncertain market conditions, we welcome the Administration's announcement that they will make 30 million barrels of the SPR's oil storage capacity available for private leasing and look forward to reviewing the details of today's solicitation," API's Frank Macchiarola said. "Congress gave the president and the Department of Energy broad authority to manage the SPR and DOE has historically leased SPR capacity to the private sector."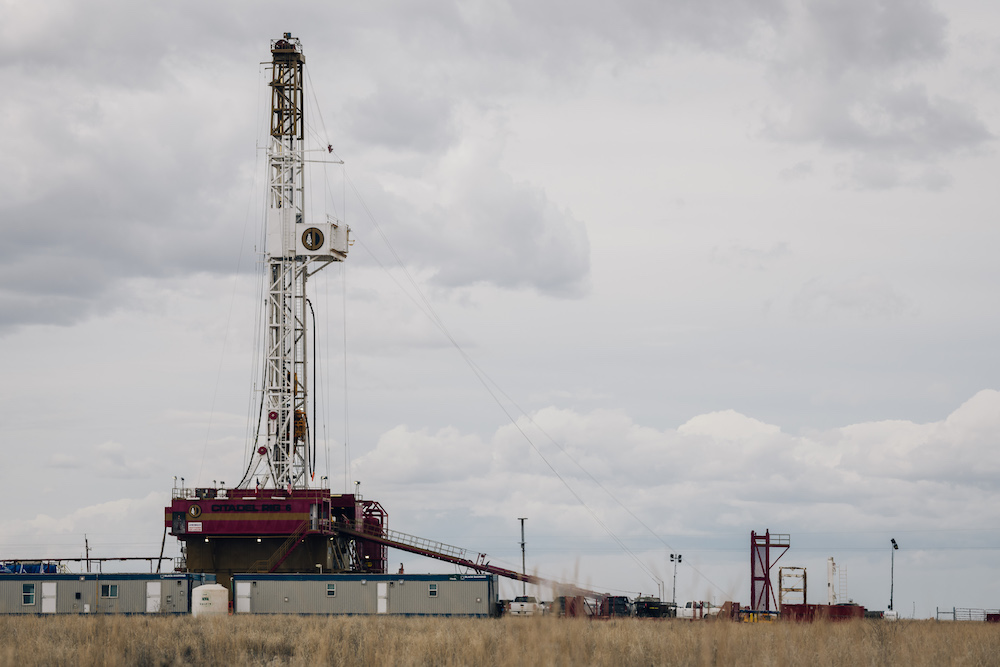 Canadian operator Citadel drilling in the Alpine High region of the Permian Basin. Citadel moved into the Permian Basin after a downturn in Alberta. Reeves County, Texas. Credit: Justin Hamel © 2020
A Novel Strategy?
Contrary to API's assertion, initial news reports questioned whether this type of SPR leasing has been done before, and whether DOE actually has "broad authority."
"It was not clear if the DOE has ever before leased space in the caverns to private companies," Reuters reported. According to a Bloomberg story, "It was not immediately clear whether the Energy Department, which manages the Strategic Petroleum Reserve, could act unilaterally, without an additional authorization from Congress."
Friends of the Earth (FOE) has also raised concerns about DOE acting unilaterally to fill up the SPR, saying it is "likely illegal." According to FOE's Lukas Ross, who wrote an analysis on the legal and logistical questions surrounding this initiative, leasing space within the SPR is a "novel" thing and it is unclear whether the legal authority exists to support this strategy to bypass Congress.
Ross's analysis does describe a "royalty-in-kind" approach for acquiring SPR oil that does not require Congressional approval and is still written into the regulations governing SPR acquisitions. That approach involves oil companies making royalty payments in oil instead of cash. As Ross described, it was a "convoluted process whereby oil was accepted as royalty, transferred to the Department of Energy, and then traded again for the exact kind of oil needed for the SPR."
NEW ANALYSIS: Trump just started phase one of his plan to bail out Big Oil using the coronavirus as an excuse. Is it even legal?#BigOilBailouthttps://t.co/vypANECOAf

— Friends of the Earth (@foe_us) March 17, 2020
Adding oil to the SPR through a royalty-in-kind exchange is legal, but it is not entirely clear that this is what the Trump administration is doing. DeSmog reached out to DOE with several questions including one that asked specifically about royalty-in-kind. DOE responded but did not answer this particular question. Instead, a DOE official cited the Energy Policy and Conservation Act, saying the statute gives the Secretary of Energy "broad authority to conduct exchanges such as this program."
While DOE's current storage solicitation is clearly labeled as an "exchange," it does not appear to be the kind of exchange that DOE typically does relating to the SPR. A DOE webpage detailing the history of SPR releases offers the following description of exchange agreements: "Oil can also be released from the Strategic Petroleum Reserve under exchange arrangements (similar to loans) with private companies. Exchange contracts provide for a loan of crude oil to be repaid, in kind, within a date certain, with additional premium barrels (similar to interest)."
In other words, DOE offers a short-term loan of SPR oil to private companies in the aftermath of a hurricane, for example, and then in return DOE gets more oil to add to the reserve at a later date.
The exchange that Trump's DOE is now pursuing could be a variation of this, but in reverse. Instead of loaning out or releasing oil, the SPR is taking it in for temporary storage purposes.
Will Congress Step In?
DOE's initial storage solicitation is for 30 million barrels of oil, though the department says it "intends to make an additional 47 million barrels of storage capacity available thereafter." It is possible that DOE could get funding from Congress to purchase those additional barrels. "Since we are conducting the exchange program in tranches, the first tranche being for 30 million barrels, the opportunity will continue to exist to work with Congress to fund the purchase oil at a future date," a DOE official explained via email.
Although leading Democrats in Congress succeeded in axing $3 billion in funding for filling up the SPR from the recent stimulus package, that funding could still come through. Several House Democrats from districts dominated by oil and gas are pushing for this funding to be made available in the next stimulus bill.
According to the National Journal, "Rep. Henry Cuellar of Texas, a fossil-fuel-industry ally … is spearheading a letter to pressure congressional leadership to authorize a Strategic Petroleum Reserve purchase in the phase four rescue package." Other Democrats signing onto the letter include Reps. Lizzie Fletcher and Vicente Gonzalez of Texas, Rep. Xochitl Torres of New Mexico and Rep. Kendra Horn of Oklahoma.
"Rep. Cuellar and his friends' self-serving desire to pump more taxpayer money into Big Oil just cost Speaker Pelosi a lot of leverage. The coronavirus is an unprecedented public health crisis, not an excuse to throw polluters a lifeline," FOE's Ross said in a statement responding to news of the letter.
I'm leading bipartisan, bicameral legislation to provide $3B in funding to purchase crude oil produced here in the United States for the Strategic Petroleum Reserve. Thx to @RepFletcher & Rep. @michaelcburgess for intro'ing in the House. https://t.co/qpV8aGpAPn

— Senator John Hoeven (@SenJohnHoeven) April 7, 2020
Cuellar and Fletcher have also joined with a group of Republicans in the House and the Senate to introduce legislation providing for the $3 billion funding for SPR purchasing.
"Domestic production of oil and natural gas is essential to our national security, our economy, and our energy future, including our ability to drive innovation and production of cleaner energy," Fletcher said in a statement announcing the legislation. "The COVID-19 pandemic has created an unprecedented economic crisis, greatly impacting the energy sector in Texas and across the nation … Replenishing the SPR will not only strengthen our economic well-being, but also our national security," Cuellar added.
Bailout for a Failing Industry?
While fossil fuel allies in the federal government appear intent on using the SPR as a "band-aid" fix, the reality is that the oil and gas industry overall is subject to volatility and has been showing signs of financial distress long before the current twin crises of the pandemic and the Russia-Saudi Arabia price wars.
As DeSmog has reported repeatedly, the shale sector is plagued with debt. Rapid expansion and rampant production in recent years have contributed to the current supply glut problem, and now that excess supply and the debt that financed it are crushing the industry. More than 70 upstream oil and gas operators are likely to go bankrupt this year, according to Rystad Energy.
"The problems of the industry predate the virus and the debt issues are a decade or so in the making," Tom Sanzillo, director of finance at the Institute for Energy Economics and Financial Analysis, said via email.
Despite attempts to prop up the industry, Sanzillo said oil and gas is unlikely to make a long-term recovery.  
"I would say that it is unlikely that any amount of money from the federal government can change the fundamental market dynamics faced by the industry," Sanzillo said. "If money is provided on terms that are acceptable to some of the companies it could forestall bankruptcy. However, the companies will simply use the same business model that produced an oversupply of oil and gas for the last number of years. So, the money would probably wind its way through the companies and business cycle — forestalling bankruptcy but basically doing nothing to change the fundamental negative outlook for oil and gas. This outlook preceded the virus and Russia and Saudi price war."
It is plain that the coronavirus pandemic has substantially curtailed oil demand. But the recent demand shock from the economic fallout over the virus compounded an already existing long-standing oversupplied market. https://t.co/oskv5i3x2m

— IEEFA.org (@ieefa_institute) April 7, 2020
The Department of Energy described its SPR storage solicitation as an intervention to help U.S. oil producers that are "struggling with catastrophic financial losses." But since much of the financial hardship is the industry's own making, it raises a fundamental question: Should the government be throwing a lifeline to an industry deep in debt, especially considering that the climate crisis requires a rapid decline in fossil fuel use?
"If you believe as I do that the oil and gas industry is getting smaller and will need to extract less oil and gas, any federal money that is not supporting this direction is a waste," Sazillo said. "If money were being used to manage the decline of the industry it would be useful."
Main image: President Donald Trump attends a tax reform for energy workers event at Andeavor Refinery, September 6, 2017, in Mandan, North Dakota. Credit: White House/D. Myles Cullen, public domain