In the three years after countries signed the landmark Paris Agreement, the UK nearly doubled its public finance support for fossil fuel projects.
A new report shows the UK spent an average of £1.3 billion annually on the projects since countries agreed the climate deal. In contrast, in the same period to the end of 2018, it spent just £148 million a year on supporting clean energy. 
Export credit agencies and development finance institutions throughout the wider G20 group similarly provided more than three times the support to fossil fuels than they did to clean energies, the report claims, raising questions around the likelihood that new COVID-19 stimulus packages will deliver sustainable recoveries.
"We need to be on high alert to new investments in fossil fuels from public finance institutions," Bronwen Tucker, research analyst at Oil Change International and co-author of the report written with Friends of the Earth U.S, told DeSmog.
"We're in a period where public finance is going to take on a much stronger role and if there's not a clear mandate for just recovery then we'd expect institutions to stay in the same patterns as usual – where finance is heavily misaligned with a liveable future," she said.
---
---
Agency financing
The G20 group is responsible for about 80 percent of global greenhouse gas emissions, which countries need to reduce urgently in order to limit warming to an agreed target of 1.5°C. 
Yet fossil fuel projects in the 2016-2018 period received over half of the total public finance for energy projects from these countries and the major multilateral development banks they control, worth around $65 billion a year, according to the report.
Despite the Paris Agreement's pledge to reduce emissions, the report also notes that the total portion of this flow of public finances to oil, gas and coal has remained relatively steady compared to the equivalent figures for 2013 to 2015.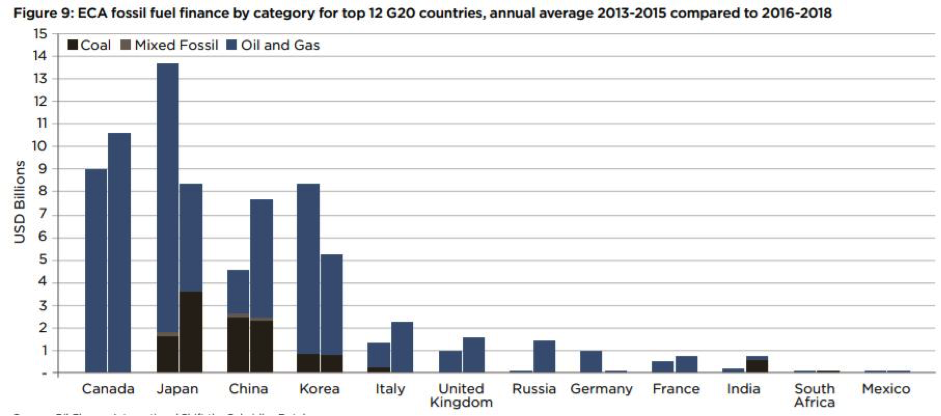 Credit: Still Digging report, Oil Change International and Friends of the Earth US
Recent data suggests the trend has not improved in the UK since the end of 2018.
DeSmog previously reported that CDC had given more than £120 million to coal projects since 2012, according to NGO Global Witness. But of the three UK institutions looked at by the report, the government's export credit agency UK Export Finance (UKEF) contributed the most – with an annual average of £1.2 billion.
UKEF is responsible for helping British companies secure contracts abroad by offering credit, loans, guarantees, and insurance. In June 2019, DeSmog reported that official annual figures showed it had given over £2 billion of support to fossil fuel projects in the preceding year alone.
The investments have been controversial. In 2018, Parliament launched an investigation over UKEF's ongoing support of fossil fuel projects.
Public pressure
There is some indication that public pressure is helping squeeze investments in dirty projects, the report suggests.
In Canada, public outcry may have helped reduce the size of the fossil fuel bailouts initially proposed in response to COVID-19. And the European Investment Bank now has a near complete commitment to exclude support for new oil and gas.
In the UK, Boris Johnson has also pledged to end foreign aid for coal mines and power plants. Despite this, Tucker is not optimistic. "The UK is in a position where it could really lead, but so far they're choosing to do the opposite," she said. Regardless of Johnson's promise, the UK hasn't financed any coal power plants since 2002, she pointed out. The UK's support for foreign coal projects in general between 2016-2018 was also limited to just £11 million.
The figures show the UK is a long way from being a climate leader as it goes into a critical period of negotiation in advance of hosting the UN's annual climate talks in Glasgow in November 2021, Adam McGibbon, Senior Campaigner at Global Witness, told DeSmog.
"The Powering Past Coal Alliance that the UK and Canada founded has shown the power of a few countries getting together to be first movers, and the massive impacts that can have," he said. 
"Until the government shows some leadership as COP26 hosts and ends all overseas fossil fuel support, they will look like hypocrites in the eyes of the world."
Image © Petr Kratochvil, Public Domain Pictures.