Tortoise, a media organisation that produces "slow news", has again come under fire for its commercial relationship with BP. 
Tortoise took part in a rebranding workshop held by BP in January, a document leaked to Drilled News shows. Tortoise's participation in the workshop raises further questions about its ability to report impartially, given its commercial relationship with the oil giant. 
The briefing shows that the oil company was targeting "a new CEO, a new ambition and new style" with the central message of "re-imagining energy for people and our planet" – while continuing to invest in oil and gas. It has already achieved one of those goals, with Bernard Looney becoming BP CEO on 5 February 2020, and immediately making bold promises to change the company's approach to climate action.
---
Like what you're reading? Support DeSmog by becoming a patron today!
---
Tortoise Media was founded by James Harding, BBC's former director of news, and launched in 2019. The organisation is funded both by memberships and commercial partnerships with businesses. Tortoise receives money from BP in exchange for certain benefits, including appearances at "think-ins" – regular discussion groups held on a variety of topics. 
The exact amount of funding received each month is dependent on the extent of these benefits. Pushed on this commercial relationship, Tessa Murray, a partner at Tortoise Media, said that BP was not its largest sponsor, but neither was it the smallest.
Its decision to accept funding from BP and offer the oil company a platform on the grounds that it should be part of the conversation around tackling climate change has made it a target for student activists and other campaigners that argue it is complicit in the company's greenwash. 
Despite campaigners' concerns, Tortoise is adamant that its relationship with BP is legitimate and that its funding model does not undermine its impartiality.  
Murray confirmed that the company's co-founder Katie Vanneck-Smith held a session at the BP workshop. But Tortoise did not make a major contribution, she stressed.
"[Vanneck-Smith] joined in the morning, did an hour on who Tortoise is, what we do with BP for people who don't know, what we've done so far and what we're doing for the rest of the year. That was our sole contribution to the two-week jamboree," Murray said. 
"We were not there to contribute to the future of branding debate. We were there to inform them about Tortoise, so we took them through our membership numbers, the make-up of our membership and why James and Katie set it up in the first place, as a different type of media, what a think-in is."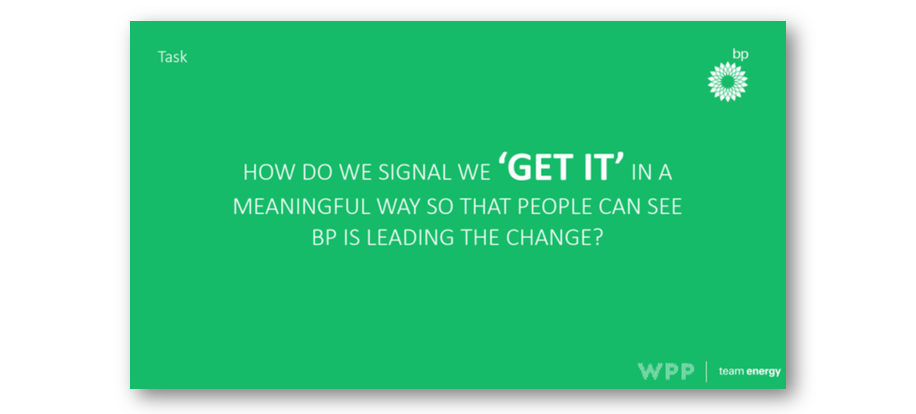 Image: A leaked slide from the BP Creative Workshop briefing. Credit: Drilled News
A spokesperson from BP Or Not BP, an activist group focusing on oil sponsorship of the arts, argued that the closeness of Tortoise to its Big Oil sponsor remains problematic, however.
"Tortoise has repeatedly claimed its partnership with BP doesn't undermine its independence. But it knew this workshop was all about helping the oil giant to project a false image of itself and yet it still took part," they said.
"The slides clearly show that BP views its partnership with Tortoise as a tool for persuading the public that it is 'accelerating the energy transition' when, in reality, its core strategy is 'investing in more oil and gas'. Tortoise proudly says that 'now more than ever it's important to have journalism you can trust' but until it stops brazenly backing BP's business, how can people trust Tortoise?"
BP did not respond to a request for comment.