On June 3, just hours before New Orleans police tear-gassed a group protesting racial violence, Jesse Perkins, a Black veteran, called out the many shades of racism and violence his community faces daily.
"What they inflicted on us was a slow violence. What is happening every day to these Black men on the street every day is violence. But it is all relative," said Perkins, who lives in a house built on a toxic Superfund site in the Upper 9th Ward's Gordon Plaza, a Black neighborhood. "That is why I'm here connecting the dots. Violence is violence. Racism is racism, whether it is environmental racism, whether it is racial profiling, whether you walk on the streets and get your brains knocked out by some guy who has taken an oath to uphold the law."
Perkins was among the New Orleans activists connecting environmental racism and police brutality during a week of local protests sparked by the death of George Floyd at the hands of the Minneapolis police and focused on the Black Lives Matters movement. These protests, and the many others like it around the country, are taking place in the midst of the COVID-19 pandemic, whose death toll has disproportionately affected African Americans and illuminated racial disparity in the United States.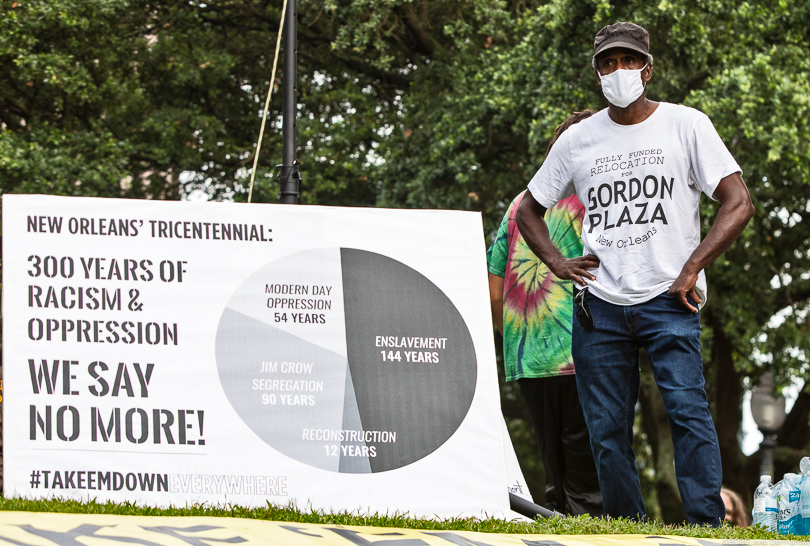 Jesse Perkins, a Gordon Plaza resident, speaking at a George Floyd solidarity rally in New Orleans' Duncan Plaza on June 3.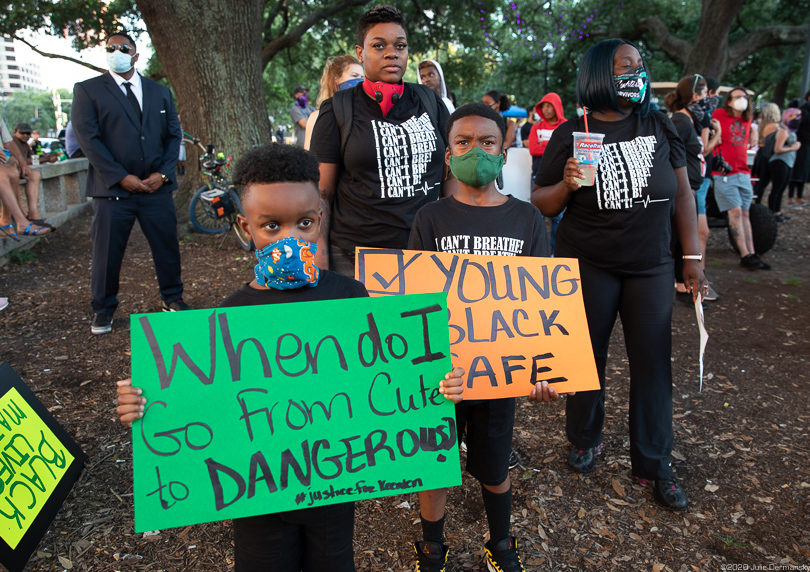 Relatives of Keeven Robinson, who died in police custody, taking part in the George Floyd Solidarity protest.
From May 30 to June 6, a coalition of social justice groups, led by Take 'Em Down NOLA and the New Orleans Workers Group, took to the city's streets, protesting Floyd's murder and raising awareness of the many injustices plaguing people of color. 
Later that evening after Perkins spoke to a rally across from New Orleans City Hall, over a thousand people tried to cross the Crescent City Connection, the pair of long bridges spanning the Mississippi River in New Orleans. The crowd was confronted by the New Orleans police, who like many other police departments across the country, used tear gas to stop the group's progress. That's despite health experts warning that the use of tear gas, a toxic irritant that can cause long-term lung damage, may worsen the spread of coronavirus. Tear gas was first deployed as a chemical weapon during World War I.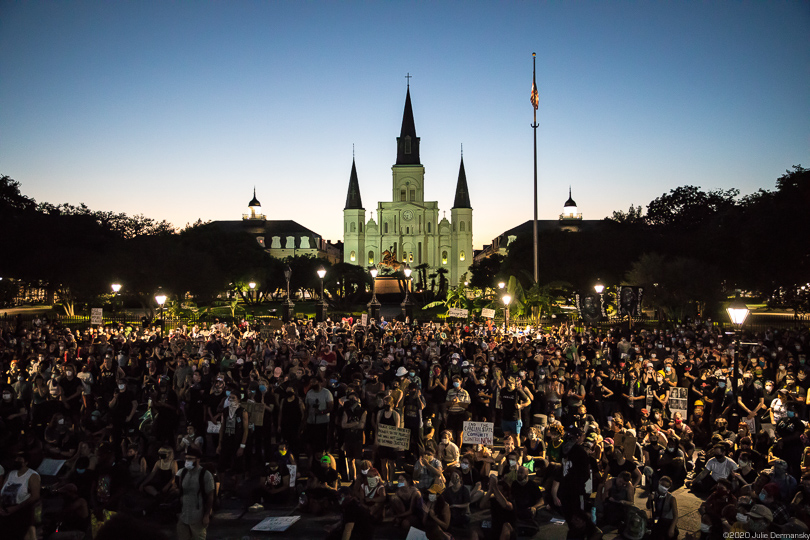 Thousands gather in New Orleans' Jackson Square on the last day of a seven-day protest event in solidarity with protests across the country over the killing of George Floyd, an unarmed Black man.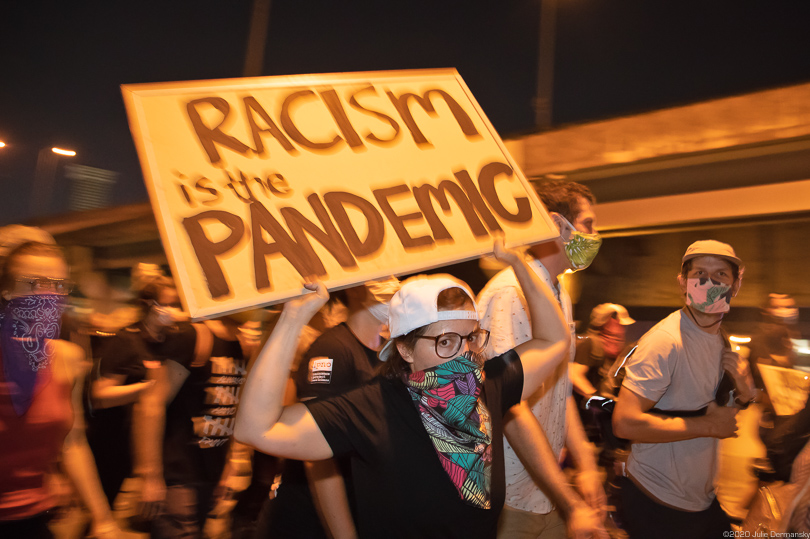 Protesters march up a ramp leading to the Crescent City Connection bridge on June 3.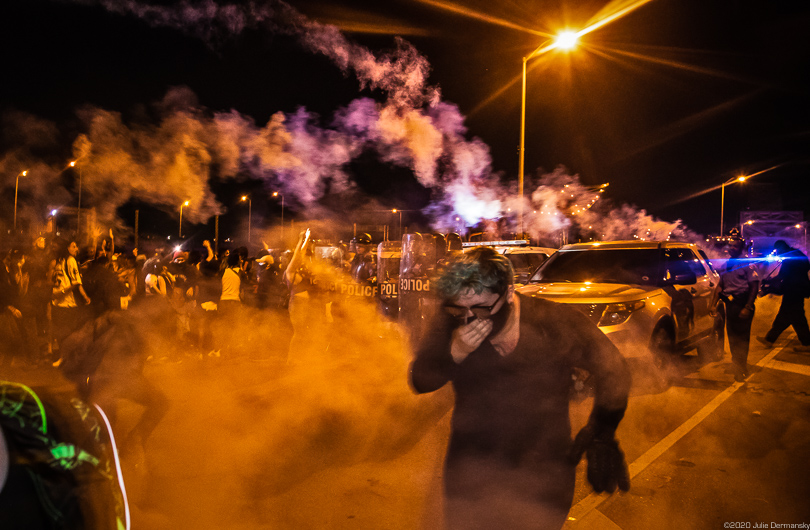 On June 3, protesters flee from a line of police on the Crescent City Connection, a pair of New Orleans bridges, after police began firing tear gas and projectiles at them.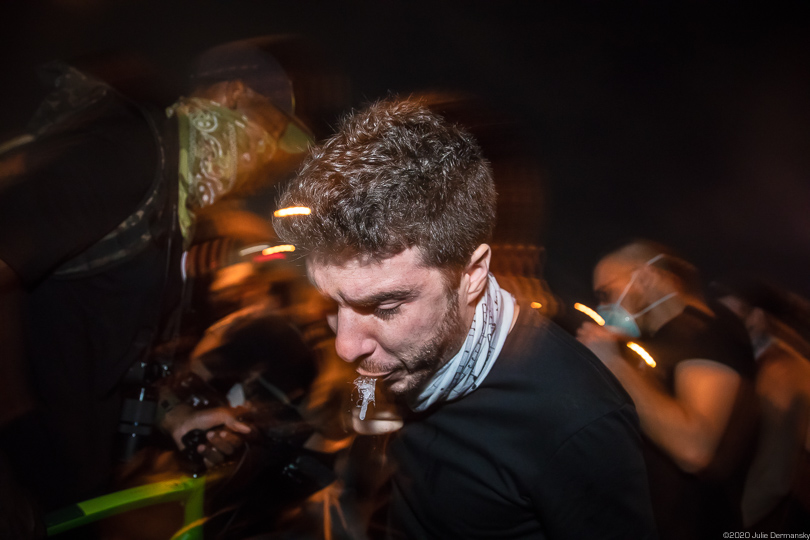 A protester who spits after taking off his face covering following the police launching tear gas into the crowd on the Crescent City Connection.
Gordon Plaza, where Perkins lives, is part of a subdivision developed by New Orleans in 1981 on top of the Agriculture Street landfill, which had served as a dump for decades. In 1994 the U.S. Environmental Protection Agency (EPA) added the site to its Superfund list for cleanup due to the contaminated soil and groundwater. At the time of its development, however, no one disclosed to the buyers that their brand-new homes were built on top of a dump that was closed permanently in 1965. 
New Orleans activists are demanding police reform as well as a fully funded relocation for residents of Gordon Plaza, who aren't satisfied with the EPA's cleanup and remediation efforts of the 1990s. "Most environmental issues are human made and must be corrected and prevented," their platform states. New Orleans has never taken responsibility for its role in building low income housing on land that residents say the city knew was toxic. Despite winning a partial class action lawsuit in 2015, the Gordon Plaza community was unable to secure enough money to relocate.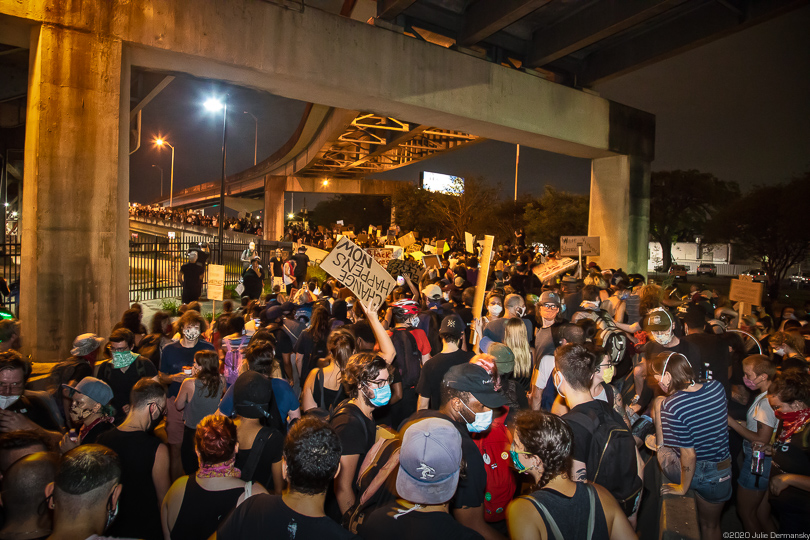 Protesters in New Orleans head onto the Crescent City Connection on June 3.
On June 3, protesters overtook a couple police cars blocking a ramp leading to the westbound side of the Crescent City Connection. Once on the bridge, the protesters were met with a line of New Orleans police in riot gear who shot tear gas and rubber bullets into the crowd after a few of the protesters pushed through the police line. 
After the clash on the bridge, New Orleans Police Department Superintendent Shaun Ferguson denied the claim that officers fired projectiles at the protesters, and defended the department's use of tear gas.
Katie Schwartzmann, a civil rights attorney and head of Tulane University's First Amendment Law Clinic, pressured the police department to disclose what officers shot at the protesters. "It is indisputable that [New Orleans Police Department] officers unleashed serious and potentially deadly force onto peaceful people seeking to exercise their First Amendment rights," Schwartzman wrote in a letter to the police. She demanded that the police reveal who issued the orders to fire the projectiles and why.
Schwartzmann also pointed out that this scene on the bridge evoked memories of another racially charged incident in 2005 when police from Gretna, a city across the Mississippi from New Orleans, and the Jefferson Parish Sheriff's Office blocked a mostly Black group on foot trying to flee Hurricane Katrina flooding. While trying to cross the bridge out of New Orleans, the evacuees were met by armed officers telling them to turn around.
"People sought to cross a bridge that is a glaring reminder of racial injustice in our community. The Crescent City Connection is a marker for many New Orleanians of the attempted evacuation post-Katrina that was met with fire by the Gretna police," wrote Schwartzmann. "It also is a marker of our unity with our neighbors in Jefferson Parish in the recent death of Modesto Reyes. Many in our community dispute the idea that force was justified at all on the bridge."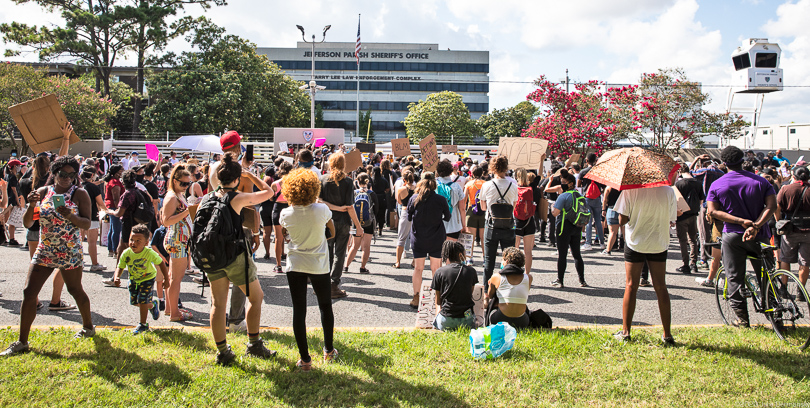 Hundreds gathered on June 4 in Jefferson Parish, on the west bank of the Crescent City Connection bridge, demanding the release of video related to the death of Modesto Reyes while in the custody of the Jefferson Parish police. They also called for the department to use body cams.  
On June 8, Superintendent Ferguson admitted he was misinformed about what happened during the June 3 protest on the bridge and said that officers had fired rubber bullets. However, he insists that he had authorized only the deployment of tear gas. 
Ferguson apologized and said that he is investigating what happened on the bridge. Today at a press conference he showed exactly which instruments police used on the protesters, including devices that scatter hard rubber balls and tear gas.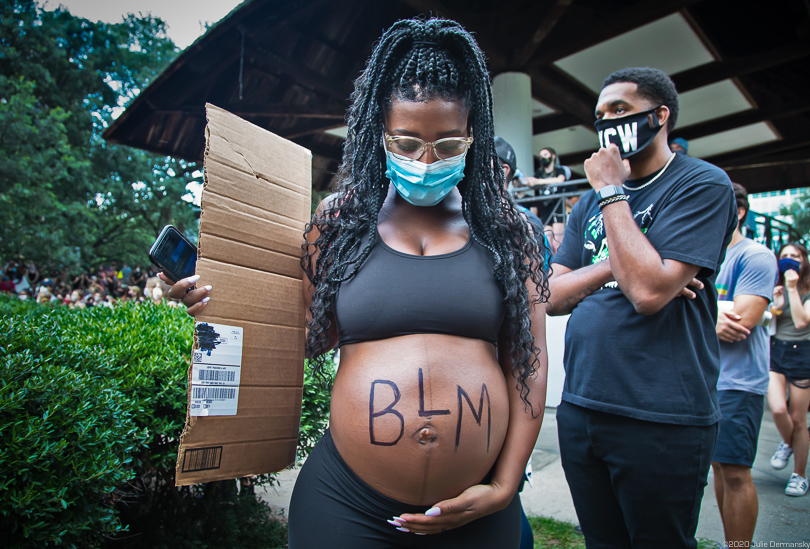 A pregnant woman at a rally in Duncan Plaza in New Orleans on the first of seven days of protest in solidarity with George Floyd. 
Last week while nationwide anti-racism protests raged, President Donald Trump issued an executive order lifting the legally mandated environmental review of major projects including oil and gas pipelines and petrochemical plants. This move, he claims, will stimulate the U.S. economy damaged by the pandemic. 
Environmental advocates see the latest executive order as a gift to the oil and gas industry and warn that forgoing environmental reviews will further hurt the communities of color who are disproportionately impacted by polluting industries.
As the Hill recently pointed out, researchers have documented again and again that communities of color and low-income groups unequally bear the brunt of air pollution, chemical releases, and siting near hazardous waste sites, and often experience higher rates of asthma and cancer.
On June 6, the last night of the week-long protest in New Orleans, thousands met outside of Jackson Square, in the city's historic French Quarter. A few hours before the gathering, the city locked the gates of the square, which happened after protesters had called for the removal of the controversial monument of President Andrew Jackson, a slaveholder notorious for his racist comments and actions, which stands at its center. Since George Floyd solidarity protests began, activists have pulled down Confederate monuments elsewhere, while some cities, from Indianapolis, Indiana, to Jacksonville, Florida, have removed such monuments on their own.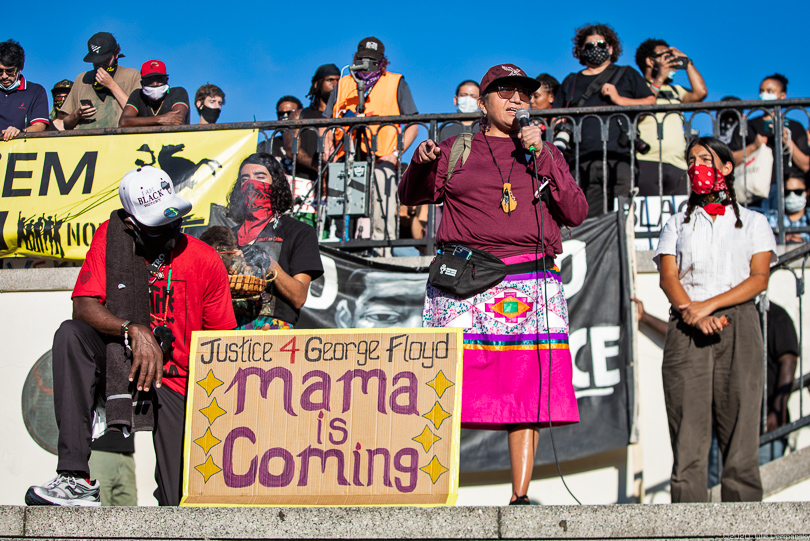 Anne White Hat, one of the Indigenous leaders of the L'eau Est La Vie Camp that fought against the Bayou Bridge pipeline, speaking at a rally across from Jackson Square on June 6 in New Orleans.
Anne White Hat, an Indigenous activist, was one of the featured speakers. While advocating for the monument's removal, she reminded the crowd that oppressed slaves and American Indians came together to fight Andrew Jackson in the past and called on everyone to embrace their warrior spirit to continue fighting back. 
"We know state-sanctioned violence," White Hat said, referring to her time fighting against both the Dakota Access pipeline in North Dakota and its tail end, the Bayou Bridge pipeline in Louisiana's Atchafalaya Basin. "We know how that feels. We ain't afraid," White Hat proclaimed to loud cheers.  
Quoting another Louisiana-based Indigenous leader, Jeffery U. Darensbourg, White Hat told the crowd, "Indigenous people of this place say, 'Black lives matter. We are your friends and cousins.'"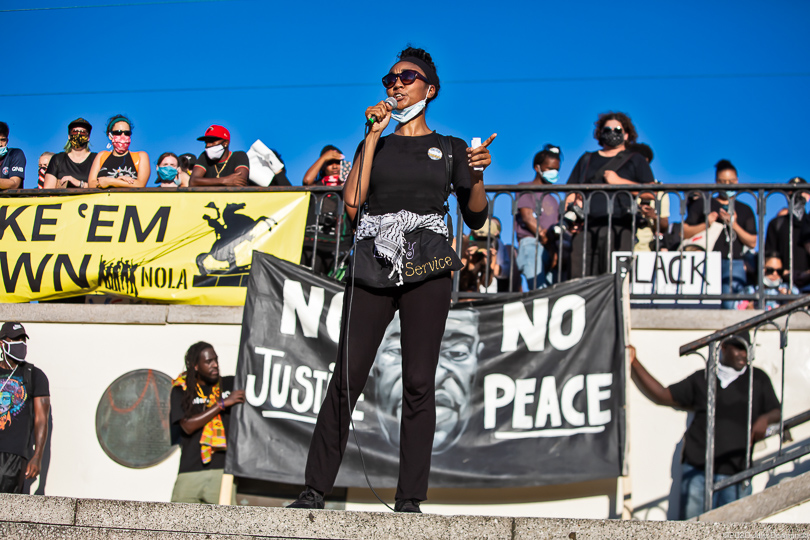 Angela Kinlaw, a social justice activist, speaking at a George Floyd solidarity rally across from Jackson Square on June 6.
Angela Kinlaw, one of the event's organizers and a social justice leader in New Orleans, asked those gathered on the last night of the protest to carry on in the fight for justice. She invited everyone to join her in reflection and laying down of their burdens by the Mississippi River to prepare for the work ahead. She closed out the rally with a message: "There will be peace when our demands are met. If our demands are not met, there will be no peace."
After a long round of applause, many in the group made their way to the river, while numerous police cars in the area flashed their lights, making their presence known.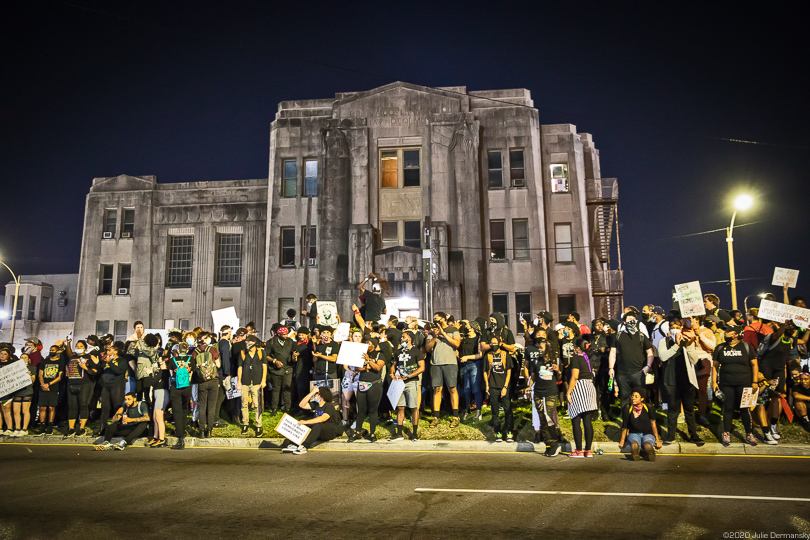 George Floyd solidarity protest on June 5 in front of the New Orleans Court House.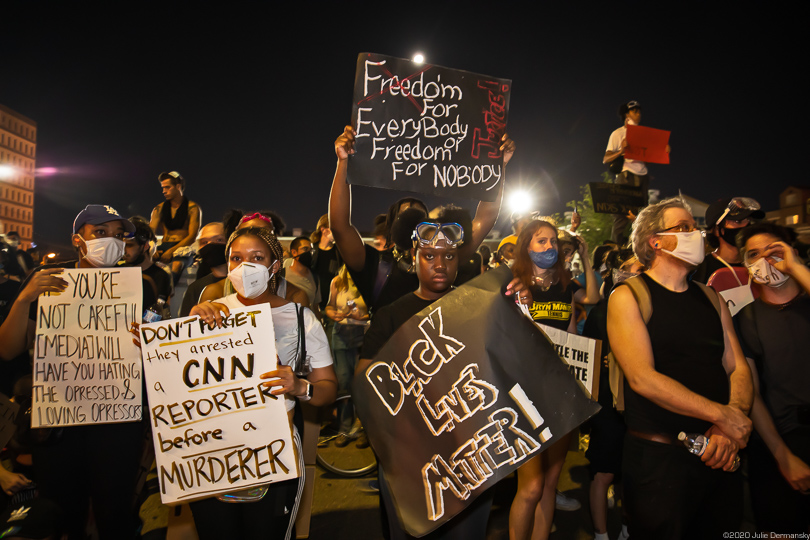 Protesters show support for Black lives outside the New Orleans Court House on June 5.

Children at the close of a George Floyd solidarity protest on June 5 in front of the New Orleans Court House.
Main image: Crowd gathered outside of Jackson Square on June 6, the last night of a seven-day protest in solidarity with the Black Lives Matter movement. Credit: All photos by Julie Dermansky for DeSmog