In April, U.S. Environmental Protection Agency (EPA) Administrator Andrew Wheeler, a former coal lobbyist, proposed maintaining, rather than strengthening, national air quality standards for soot, a type of air pollution with serious impacts for heart and lung health. This week, an independent panel of experts who previously advised the EPA on these air standards slammed the current agency's decision in the New England Journal of Medicine, pointing out it's literally a matter of life or death, especially for communities of color.
Mustafa Santiago Ali, former head of the EPA's environmental justice office, also highlighted in congressional testimony how the effects of air pollution are just another form of the same systemic racism that ends up hitting people of color particularly hard, and even more so during the current pandemic:
"Front-line communities are under attack from multiple emergencies happening at the same time. Black communities are dealing with the systemic racism that has infected the policing in our communities that is literally choking us to death. The rolling back of environmental rules and regulations has us gasping for air due to the cumulative public health impacts from the burning of fossil fuels in our communities. COVID-19 continues to devastate Black, brown and Indigenous communities both in infections and deaths. When we say, 'I Can't Breathe' we literally can't breathe."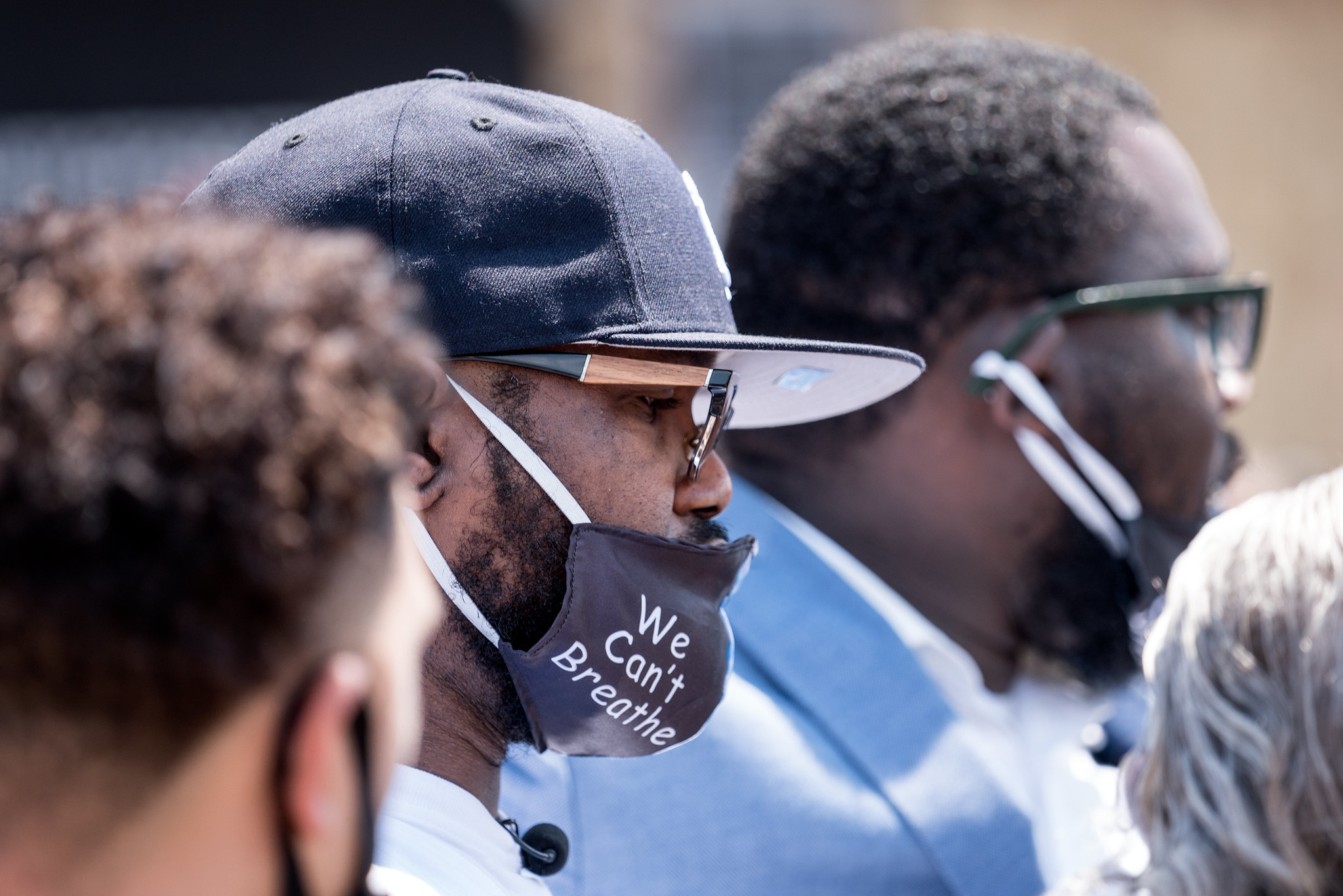 Terrence Floyd, George Floyd's brother, visits the location where his brother was killed, now a memorial, in Minneapolis on June 1. Credit: Lorie Shaull, CC BY–SA 2.0
Indeed, in the months leading up to recent uprisings against police brutality and systemic racism across the nation, marginalized communities of color long plagued by toxic air pollution were becoming coronavirus hotspots. In places from Louisiana's Cancer Alley to Massachusetts' industrialized suburbs, the populations in these hotbeds for COVID-19 all suffer from particularly high exposure to poor air quality.
Initial studies, including one from Harvard's T.H. Chan School of Public Health, suggest that higher exposure to air pollution like soot, or fine particulate matter (PM2.5), is linked to higher coronavirus death rates.
Environmental Justice and the
EPA

Decision on Air Quality

H. Christopher Frey, an air pollution expert at North Carolina State University who chaired EPA's Clean Air Scientific Advisory Committee from 2012 to 2015, has been speaking out against the Trump EPA's proposed soot standards, which would keep in place the current allowable soot pollution levels that were set in 2012.

He led the independent panel that on June 10 outlined in the New England Journal of Medicine why the soot standards should be strengthened. This panel formerly served as special advisors on soot pollution to the EPA's Clean Air Scientific Advisory Committee but were "dismissed by press release on October 10, 2018." They continued that work of reviewing the science and forming advice for the EPA and public as a nongovernmental panel.

According to Frey and the 18 other environmental and public health experts on this panel, "the risk of premature death is unacceptably high" at the current standards and leaving them in place would result in tens of thousands of premature deaths each year. They also recommended that the "disparities in health risk borne by minority communities" factor into setting those standards.

Frey said that EPA largely ignored the environmental justice issue in its proposed rule this year. Administrator Wheeler "does not mention environmental justice in his rationale," he said during a June 11 webinar hosted by North Carolina State University.

"There is evidence that Black people have three times the hazard from long-term exposure to fine particles [soot] than the general population. Other groups, such as Hispanics and Asians, also face higher risk for a given exposure compared to the general population," he further explained via email.
In today's New England Journal of Medicine:

"In the interest of environmental justice, we advised the administrator that disparities in health risk borne by minority communities need to be taken into consideration in choosing a margin of safety"https://t.co/WusC95HqXh

— H. Christopher ("Chris") Frey (@H_C_Frey) June 10, 2020
The current chair of the EPA's Clean Air Scientific Advisory Committee, Louis Anthony (Tony) Cox Jr., leads the advisory committee, which Frey formerly led, that's charged with reviewing the soot air quality standards that Wheeler's EPA recently decided not to strengthen. In May, Cox bashed the Harvard study tying soot exposure to risk of death from COVID-19 and has dismissed other studies showing strong connections between air pollution and health risks. Dr. Cox is a consultant who has worked for the oil, gas, and chemical industries.
Based on his committee's review of the soot standards, Wheeler issued the proposed rule on April 30 to retain the current levels. This proposal has faced backlash as experts in air quality and epidemiology say the current soot standards are inadequate to protect public health and will result in thousands of premature deaths each year.
The proposed rule is one of a number of environmental rollbacks and deregulatory actions the Trump administration has undertaken in recent months under the cover of the coronavirus pandemic. And because experts say these policy decisions will have the most devastating impacts for communities of color already burdened with pollution, environmental organizations such as the League of Conservation Voters and Moms Clean Air Force are calling them out as part of an overtly racist agenda.  
Gretchen Goldman, research director for the Center for Science and Democracy at the Union of Concerned Scientists, also pointed to the disproportionate impacts of air pollution on marginalized communities. Refusing to strengthen the soot standards "is likely to harm Black communities [and] communities of color," she said during the June 11 webinar.
'I Can't Breathe': The Racial Injustice of Pollution and the Pandemic
The injustices that minority communities face due to higher levels of air pollution and higher COVID-19 infection and death rates are making their way into public policy discussions.
On June 9 the House Energy and Commerce Committee held a virtual hearing to discuss the way pollution and COVID-19 both disproportionately affect communities of color, with Democratic committee members, including Committee Chair Frank Pallone Jr. (D-NJ), acknowledging these inequities.
#COVID19 is killing people of color at disproportionately high rates, due in part to their communities bearing the health risks of higher levels of air pollution. Enough. We cannot allow this injustice to continue. pic.twitter.com/w8B2DuGaGv

— Rep. Frank Pallone (@FrankPallone) June 9, 2020
It was during this hearing that environmental justice expert Mustafa Santiago Ali was underlining the many simultaneous crises — police violence, systemic racism, the pandemic, and air pollution — that coalesce and conspire to keep people of color from literally being able to breathe.
These same issues were raised in an environmental justice brief released last month by the Massachusetts Attorney General. Politicians and community leaders across the state issued supporting statements in response to the brief that highlight how pollution affects people of color more than white people and how the Trump administration is exacerbating these racial inequities.
"The White House rollbacks of environmental and public health standards, especially those loosening air quality standards, seems especially cruel as the coronavirus is a respiratory illness," said Jack Clarke, Mass Audubon's Director of Public Policy and Government Relations. "Those most vulnerable, as the brief shows, live in environmental justice communities where contaminated air, land, and water already place residents at risk."
"Pollution is segregated, too," added Iván Espinoza-Madrigal, Executive Director of Lawyers for Civil Rights.
EPA

's Current Soot Standard: 'Thousands of Americans Would Unnecessarily Die'

Politicians and health experts say Black and brown Americans are likely to be among the worst affected by EPA's decision not to strengthen the standards for soot pollution, which comes from sources like factory smokestacks and vehicle tailpipes.

Rep. Nanette Diaz Barragán, a Democrat representing California's 44th District, called attention to the disproportionate impact of air pollution on communities of color in her district in a May 20 letter to Administrator Wheeler, urging him to set a stronger soot standard.

"The asthma rate in my district is twice the national average," Barragán wrote. "Children regularly walk around with inhalers around their necks. This public health crisis is part of a pattern of injustice. Black and brown communities, which make up more than 85 percent of my district, are disproportionately impacted. This is a racial justice and environmental justice issue."

According to Frey, EPA is "egregiously ignoring its legal obligation to protect populations that are highly exposed and highly at risk to adverse effects from particulate matter, including Black communities."
Frmr @EPA Reg Administrator @HeatherMcTeer blasts @EPAAWheeler's refusal to update particle pollution standards "Not strengthening national standards for this pollution will have a deadly & devastating effect on families, especially in my home state of Mississippi." pic.twitter.com/M5OIGSVaxE

— Moms Clean Air Force #BlackLivesMatter (@CleanAirMoms) May 27, 2020
EPA has not yet finalized the soot standards, but once it has, the agency will likely face legal challenges. That will take time for the courts to sort out, and as Frey explained, people will face deadly consequences until a stricter air quality standards is in place.
"The [EPA] Administrator will not go to jail for failing to follow the science and the law, even though in so-doing he will be hurting real people," Frey said via email. "Thousands of Americans would unnecessarily die prematurely between this Administrator's proposed decision to keep an outdated standard and future promulgation of an appropriate standard. The timing of the latter depends in part on the courts."
EPA's proposed rule on air quality standards for soot is open for public comment through June 29.
Main image: A protester wearing an #ICANTBREATHE face mask in front of the 3rd Police Precinct on May 28 in Minneapolis, Minnesota. Credit: Lorie Shaull, CC BY–SA 2.0