The Bank of England's emergency bailout scheme is "inconsistent" with the government's pledge to 'build back better' towards a fairer and greener economy, a new report argues, calling for strings to be attached to central bank bailouts for airlines and other large companies.
The COVID Corporate Financing Facility (CCFF) is an emergency facility implemented by the Bank of England on behalf of the Treasury in response to the economic fallout of Covid-19. Campaign group Positive Money has said the scheme as it stands is the very opposite of the kind of green recovery package the government should be implementing.
As of 25 June, 63 companies have taken out £18.6 billion in loans from the CCFF, says Positive Money's new report. 
---
Like what you're reading? Support DeSmog by becoming a patron today!
---
The analysis shows that of the £3 billion handed out so far to transport companies, £1.8 billion has gone to airlines, namely Ryanair, Easyjet, British Airways and Wizz Air. Meanwhile, the same airlines have collectively announced up to 21,000 layoffs.
"We think it's fine that these loans were made, but the process should have been far more transparent and conditions should have been attached," says David Barmes, an economist for Positive Money and co-author of the report.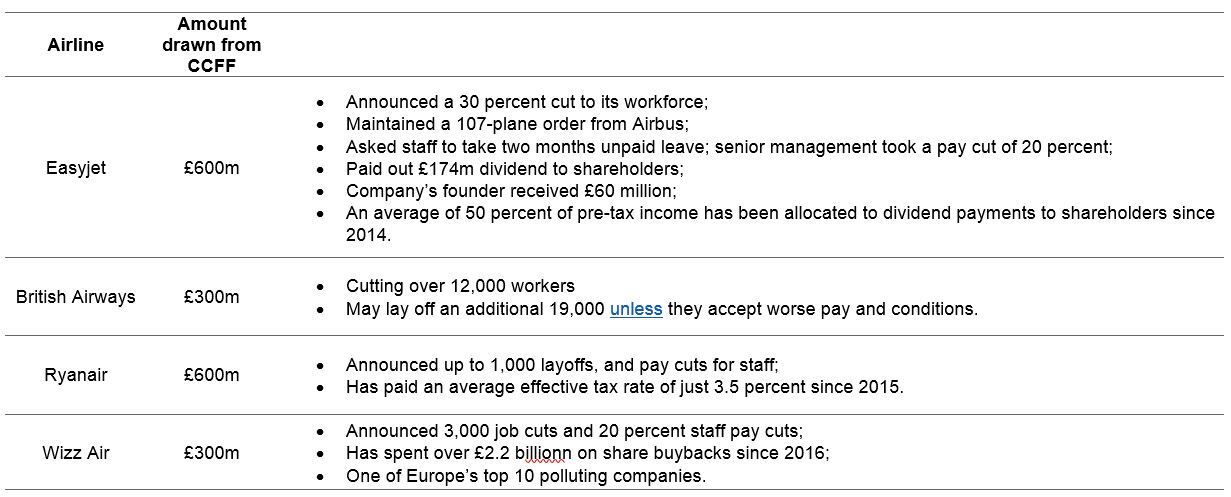 Source: Positive Money, The Covid Corporate Financing Facility (CCFF) Where are the conditions for the billion £ bailouts, 2020
The Bank of England only published public information on how much money was going to the airline industry two months after the scheme began, adds Barmes. Meanwhile, the decision-making process behind how the size of these loans was determined has still not been disclosed, he adds.
Positive Money is calling for conditions on CCFF loans, including delivery of credible climate plans and climate risk disclosure, stricter requirements on dividend payments and senior pay, and a clear requirement to prioritise the protection of workers. 
"There is no precedent at the Bank of England for this kind of direct financial support to non-financial companies," says Barmes. "The money is newly-created by the Bank of England, and is backed by the Treasury, meaning that if any corporations fail to repay their loans, the Treasury will be on the line to pay that money to the Bank. So far the only condition is that companies borrowing for over a year are required to show restraint on senior pay and the payment of dividends and senior pay."
Aviation is the mode of transport with by far the highest climate impact per passenger, and the industry has repeatedly underpaid corporation tax and prioritised shareholder interests over workers and environment, Positive Money says. "Airlines' unconditional participation in the CCFF represents the antithesis of a just transition for the aviation industry," the report says.
Despite promises from the industry, there is "no credible evidence" that any airline is transitioning to a zero-carbon model, it adds. For example, it notes that EasyJet's "net-zero" plan is composed of carbon offsetting in the short-term and research into unproven technologies in the long-run. 
"We explicitly state 'credible' net-zero carbon plans [are required] because many companies – airlines in particular – have so far relied solely on controversial carbon offsets and technologies that are non-existent or untested, undermining the credibility of their environmental commitments," says Barmes. "Credible net-zero carbon plans would have to involve bolder measures such as support for a frequent flyer levy and the winding down of short-haul flight operations." 
In a YouGov poll commissioned by Positive Money, 63 percent of respondents said they think large corporations should only receive bailouts if they agree to protect jobs and cut emissions.
CCFF offers loans of up to £1 billion for any single company with interest rates far lower than those charged to the rest of the country's businesses under the government's other lending programmes, says Barmes. 
Other airlines may be eligible for the scheme in the future. The report notes that Dart Group, the holding company which owns Jet2, Europe's fastest growing airline, is eligible for £300 million, which it expects to make use of in August 2020.
Prime Minister Boris Johnson has promised a green recovery but has been criticised for his failure to set out clear policies to cut emissions and increase the UK's resilience to climate change.
Image © DMCA pxfuel