"Renewable natural gas," or RNG, is an alternative gas fuel that comes from landfills, manure, or synthetic processes. That's opposed to the fossil gas that drillers traditionally pump out of underground reserves in oil and gas fields.
With "renewable" in the name, it may sound like a promising alternative to the fossil-based "natural" gas commonly used for heating and cooking in buildings. According to a new report from Earthjustice and Sierra Club, however, these fuels pitched as "renewable " and environmentally friendly alternatives to fossil gas amount to a PR campaign meant to distract from efforts to convert the building sector to all electric power.
The report, published July 14, argues that RNG is an example of fossil fuel industry greenwashing and is not a viable solution for simply replacing fossil gas in buildings. According to the report, RNG is touted by gas utilities for the purpose of countering building electrification policies that restrict the use of gas in buildings for uses like heating, hot water, and cooking. Converting buildings to all-electric usage is recognized as a key climate strategy to shift away from fossil fuels, because electricity can be generated from a variety of sources that do not produce globe-warming emissions.
In this report, Earthjustice and Sierra Club, groups that advocate for climate action including building electrification policies, examine the potential for what the gas industry promotes as "renewable" natural gas to actually decarbonize buildings. The environmental groups' report finds that RNG, or what they call "fossil gas alternatives" (FGAs), are limited in supply, have generally high production costs, can exacerbate air and water pollution during production, and result in the same health impacts as any combustion-based fuel.
The gas industry acknowledges the shortcomings of these fuels, as internal documents reveal. But as the report explains, the industry is publicly promoting them as a clean alternative to the electrification of buildings in order to maintain their core gas business, which is threatened by building electrification broadly.
"We find a pattern of talking points and lobbying efforts that leverage [fossil gas alternatives] as a means of maintaining a gas-based heating system and stalling the transition away from fossil fuels," the report's executive summary states.
"This is not unfamiliar territory: The tactics come from the same energy industry playbooks that have dismissed and obfuscated the threat of climate change," the summary continues. "In this case, the widespread adoption of a proven and cost-effective means of fighting climate change is being attacked and stalled in order to protect fossil fuel financial interests … Policymakers must see beyond the gas industry's rhetoric around FGAs and acknowledge the reality of their high costs, limited supply, and environmental risk."
What is 'Renewable Natural Gas' and Is it Carbon Negative?
The two types of fossil gas alternatives, or "renewable natural gas," are biogas and synthetic gas.
Biogas is derived from organic materials like crops or animal waste and generally produces methane — a potent greenhouse gas — from processes such as anaerobic digestion. Biogas also goes by "biomethane." Synthetic gas, on the other hand, comes from electricity that is converted into gas. That process involves adding carbon dioxide to hydrogen molecules through a step called "methanation."
In other words, a lot of renewable natural gas involves intentionally producing methane. A small amount of RNG captures methane that would otherwise escape into the atmosphere (from landfills, for example). As a result, RNG promoters, such as the southern California gas utility SoCalGas, claim it is "carbon negative."
Emily Grubert, a researcher at Georgia Tech who is studying RNG from a methane standpoint, recently authored a study showing that scaling up RNG could actually result in more methane leaking into the atmosphere, rather than having the desired "carbon negative" effect.
Arg 1:

At scale, most RNG is likely to come from intentionally produced methane (even if it's produced from waste).

That means manufacturing a potent GHG. Thus: leakage = climate additional.

We know these systems will leak.

— Emily Grubert (@emilygrubert) May 14, 2020
"A very small amount of RNG could be carbon negative. I think the missing piece of the story is that there isn't enough carbon negative RNG to meaningfully displace fossil natural gas, so for systems at sizes advocates are discussing, a lot of the renewable methane would need to be produced on purpose," Grubert told DeSmog by email. "That means you're manufacturing a potent greenhouse gas. We know that gas systems leak, so putting intentionally produced methane into a leaky system will contribute to climate change. The overall climate intensity of the system ultimately depends on the balance of intentionally produced vs. waste methane inputs, but it's pretty clear that we can't replace the entire fossil natural gas system with carbon negative, or probably even carbon neutral, RNG."
The Earthjustice and Sierra Club report also points to this potential methane problem with renewable natural gas. "Generating new sources of methane where none would ordinarily occur can lead to an overall increase in [greenhouse gas emissions]," the report explains.
Other Limitations of
RNG
Despite its "renewable" label, non-fossil gas is currently limited in its capacity to fully swap out conventional gas. According to the new report, "Even the gas industry's own analysis finds there is an insufficient supply of carbon-free gas to meet anything more than a small portion of current gas demand. According to a study by the American Gas Foundation ('AGF'), even after fully ramping up the production of renewable gas, FGAs could supply between just 6 percent to 13 percent of current gas demand, clearly falling short of the goal of net-zero emissions and requiring fossil gas to make up the difference."
RNG is also relatively expensive to produce, according to the report. These types of non-fossil gases further "contribute to local air pollution through continued emissions of NOx [nitrogen oxides] and other combustion byproducts," the report notes.
Earthjustice and Sierra Club argue that renewable natural gas is better suited for uses in harder-to-decarbonize sectors such as high-heat industrial production or heavy-duty transport like aviation and shipping.
"Under closer scrutiny, what we see is that fossil gas alternatives might be able to play a role in certain segments of our society to decarbonize them," Sasan Saadat, a research and policy analyst at Earthjustice and a co-author of the report, told DeSmog in an interview. "Scaling them to heat all of our buildings in the way we use fossil gas now is not a viable solution."
'
PR

Campaign' to Protect Gas Industry Profits

Internal documents reveal the gas industry acknowledges the shortcomings of RNG but is publicly promoting it anyway as part of a broad strategy to fight building electrification.

An internal set of American Gas Association meeting notes from March 2018, obtained by watchdog group Climate Investigations Center (CIC), describes the gas industry trade association's interest in promoting RNG to environmental advocates who are opposed to gas expansion in order to "mitigate the opposition's fervor."

Another internal document that CIC obtained reveals that a gas industry insider acknowledged in an email to other gas utility employees that he believes RNG "will not sustain our industry at its present size."

According to the Earthjustice and Sierra Club report, the gas industry and gas utilities have pushed misleading claims about the promise of RNG while railing against the costs of electrifying buildings.

The southern California gas utility SoCalGas, for example, last year claimed in a press release: "Using renewable natural gas in buildings can be two to three times less expensive than any all-electric strategy …" The report explains that this claim may not be true, referencing California Energy Commission analyses finding that "electrification is the cheapest and lowest-risk option to decarbonize the state's buildings."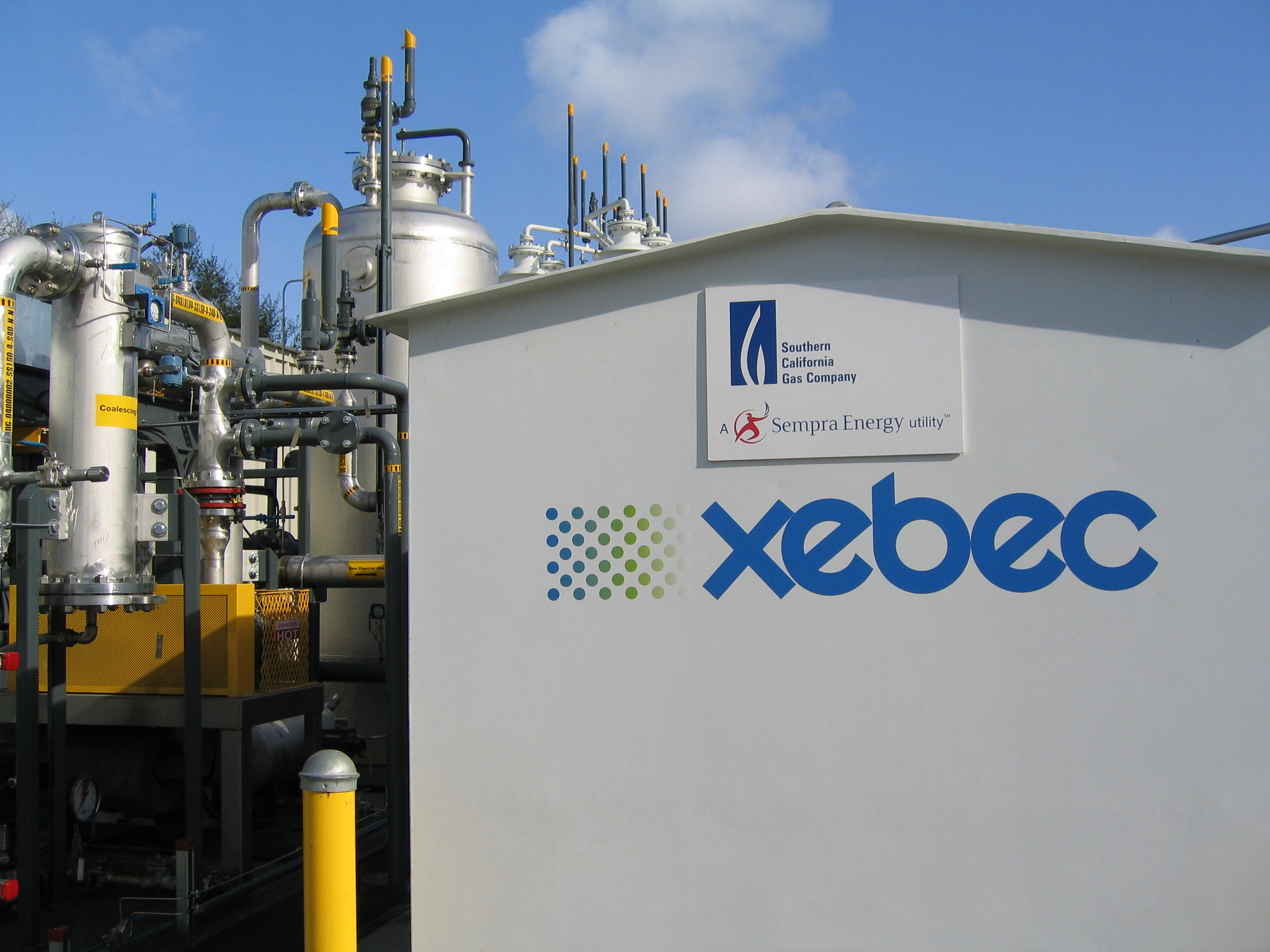 February 8, 2011, Southern California Gas Co. and the city of Escondido announced the official start-up of a renewable natural gas project using wastewater biogas. Credit: Genevieve Prentice, CC BY–SA 2.0
Electrification of buildings, however, directly threatens the business model and profits of gas utilities, as the report points out. The risks are particularly existential for gas-only utilities, as opposed to utilities that service both gas and electric. "The movement towards all-electric buildings … poses a new long-term financial threat to the gas industry," the report argues.
The gas industry has mobilized against this perceived threat by initiating front groups, using a strategy known as "astroturfing," or creating fake grassroots support, in this case for gas use in buildings. Some of these front groups, as the report notes, have cropped up in California, the Pacific Northwest, Hawaii, and Massachusetts.
Advocating for RNG use in buildings appears to be part of this broader strategy to counter the trend towards electrifying buildings, concludes the report. After all, if the building sector phases out gas usage for heating and cooking, the gas industry stands to lose profits.
Dominion Energy and SoCalGas, gas utilities that both promote RNG, did not immediately respond to a request for comment on this characterization of gas utilities' strategy.
"In order to insist that we continue to rely on their business model, [gas companies] are going to tell us about things like renewable natural gas," Earthjustice's Sasan Saadat said. "We need to take a close look at what these greenwashing tactics actually have to offer."
As the Earthjustice and Sierra Club report concludes: "The gas industry's well-documented campaign of skewing facts, misleading consumers, and branding [fossil gas alternatives] as a renewable, sustainable energy source must be recognized for what it is: a PR campaign to protect the industry's financial interests and preserve a business model that is incompatible with achieving a net-zero emission society."
Energy politics writer David Roberts made the same argument in a Vox story published earlier this year. "RNG is not a viable alternative for decarbonizing buildings," Roberts wrote. "It is a desperate bid by natural gas utilities to delay their inevitable decline. Policymakers would be foolish to fall for it."
Main image: February 8, 2011, Southern California Gas Co. and the city of Escondido announced the official start-up of a renewable natural gas project using wastewater biogas. Credit: Crop of original by Genevieve Prentice, CC BY–SA 2.0