Having no nationwide testing and contact tracing protocol several months into the pandemic is taking its toll in Louisiana, and especially in its predominantly African-American communities in Cancer Alley.
It pains retired Lt. General Russel Honoré to watch the United States lose the war against COVID-19, but it does not surprise him. A federal disaster response expert, Honoré coordinated military relief efforts in New Orleans and across the Gulf Coast following Hurricane Katrina in 2005, and is credited with restoring order to the city. He has advocated for the federal government to tap the military to set up COVID-19 testing and contact tracing nationwide since the pandemic began spreading rapidly across the United States. 
President Trump put the responsibility of testing and contact tracing on the states, which would then report those results to the Centers for Disease Control and Prevention (CDC). However, on July 15, his administration quietly ordered hospitals to send all COVID-19 patient data directly to a central database managed by a private firm instead of the CDC. Some worry that with the Trump administration controlling this data through a non-public database, it could downplay the pandemic. But the administration said the change was made to speed up the reporting of cases.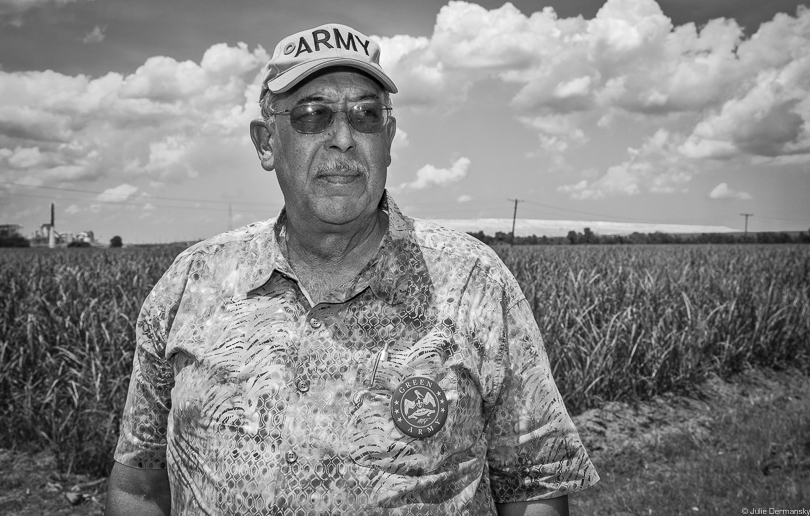 Retired Lt. General Russel Honoré on farmland next to gypsum pile at Mosaic's Uncle Sam Plant on on June 14, 2019.
Honoré didn't comment on the administration's motive for shifting control of coronavirus data, but said: "At this point, as we hit 140,000 deaths, trying to downplay the problem will only backfire. At a certain point you can't hide the bodies." 
Louisiana, which was identified in mid-March as a hotspot with the steepest curve of COVID-19 infections in the country, managed to flatten its curve with a statewide shutdown. But after the state's economy gradually reopened starting May 15, early gains have been lost, as is the case in many states across the country. Now, the infection and death rates are climbing at a rapid rate again.
At an April 5 press conference, Louisiana Gov. John Bel Edwards identified the African-American communities in St. John the Baptist Parish as a having an alarming death rate. Nearby St. James Parish's death rate was not far behind. Both parishes are located in Louisiana's Cancer Alley, an 80-mile stretch along the Mississippi River between New Orleans and Baton Rouge that is lined with refineries and petrochemical plants.
Local activists in both communities worry that the area's ongoing emissions of toxic air pollution will help make them more vulnerable to the effects of the coronavirus by weakening their immune systems. 
While both parishes had free testing sites, but those sites have been closed for weeks, even though the number of cases throughout the state is on the rise. The question of cost is critical in these areas, where the poverty rate is 15.6 percent in St. James and 17.9 percent in St. John the Baptist. With many out of work due to the pandemic, every dollar counts for those with low or fixed incomes.
"How incoherent can it be that citizens in Cancer Alley can't get a free test, but in Baton Rouge and St. Tammany Parish you can?" Honoré said. "It is an extension of Trump doctrine — if you don't test, we won't have more cases." Honoré, the founder of the Green Army, a loose coalition of environmental groups in the state, is not surprised that Cancer Alley communities are being hit hard by the virus. 
For years, Cancer Alley communities have been exposed to high levels of industrial air pollution, and some scientists are now looking at how that pollution could make communities like these more vulnerable to the virus.
"Temporary testing sites were available in St. John the Baptist and St. James Parishes between April 14-June 30," Alyson Neel, the communications director for the Louisiana Department of Health, wrote to DeSmog in a July 6 email. The "low volume of individuals showing up at the tent or mobile testing sites drove the decision to close these sites, and that parish leadership was engaged as part of this decision."
"A core part of our state's testing plan is making sure that we are not just increasing test volume," Neel wrote, "but also doing our best to make testing accessible to vulnerable populations, including congregate settings, communities with insufficient access to testing, and populations that require specialized approaches to testing. This is something we do indeed care deeply about. The highest levels of testing per population has been conducted in the St. James (22.29%) and St. John the Baptist (19.75%) Parishes." 
Neel directed me to a link on the Louisiana Department of Health's website where the public can find information on current testing sites throughout the state, and pointed out that there are still COVID-19 testing sites in St. James and St. John. But many households in fence-line communities in Cancer Alley have slow internet connections, if they have internet at all, meaning access to information can also be a barrier.
As of July 17, the website showed three sites in St. James Parish and three in St. John the Baptist Parish. None of those sites offer free testing, however, despite information provided that indicates the Teche Action Clinic- Edgard in St. John the Baptist Parish has no-fee testing. When I called to check, I was told the fee is $12 for low-income residents who are uninsured. At all of the sites, those with insurance will be responsible for any co-pay their policy requires.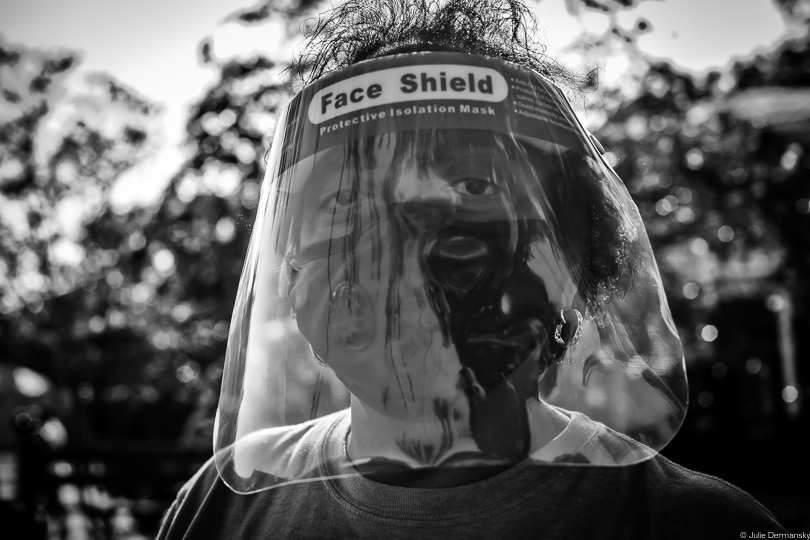 Sharon Lavigne, the founder of RISE St. James, wearing a face mask and shield. 
Sharon Lavigne, the founder of RISE St. James, a community group fighting against the expansion of the petrochemical industry, told me she thinks a lot more people in her neighborhood would get tested if there was a free testing site nearby. Cost is a definite factor. She received a free test at one of the mobile sites early on, but since learning a couple people she has come in contact with recently tested positive for the virus, she would like another test. "I shouldn't have to drive to Baton Rouge to get a test," Lavigne, a retired special education teacher, said. "I want testing to be available in St. James again." 
Courtney Baloney, the owner of the Treasures of Life Center for Life Funeral Services in St. James Parish, is convinced that the number of deaths due to the coronavirus is being undercounted, and that not having free testing sites in the area is a disservice to the community. He prepares numerous bodies that were never tested or examined by the coroner, so there is no way to determine if the people he helps lay to rest died of COVID-19 or not. Baloney and his staff don't take any chance of getting infected themselves and treat all the bodies they work on as if they are positive for the coronavirus.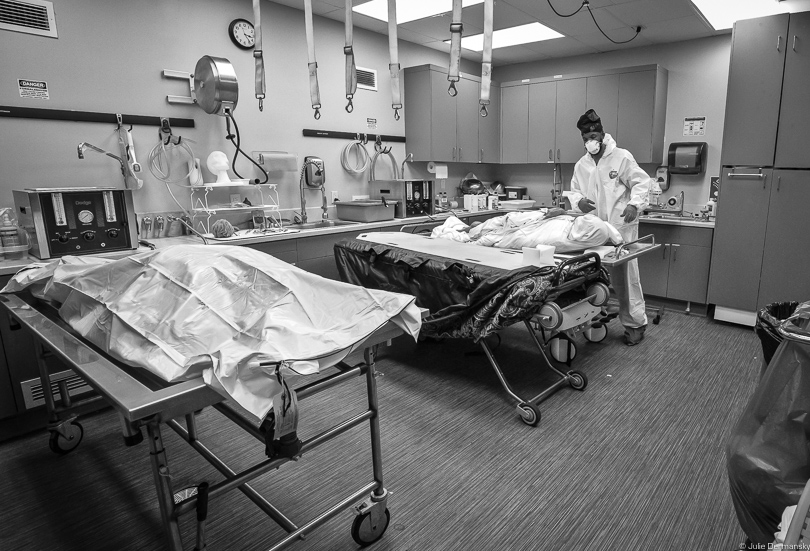 Courtney Baloney, the owner of the Treasures of Life funeral home, ready to start work on the body of a confirmed COVID-19 victim on May 30.   
At the start of the pandemic, Baloney picked up bodies of the deceased from a veterans' home in the town of Reserve, where the first cases in St. John the Baptist emerged. He asked the coroner's office for test kits so he could test the bodies after the fact. He never received an answer. 
"Testing the deceased would be a good thing to do to stop community spread," said Wilma Subra, an environmental scientist and technical advisor with the Louisiana Environmental Action Network (LEAN). Testing those who die outside of a hospital could help stop community spread by giving health workers an opportunity to flag COVID-19 exposures to those who may have cared for the recently deceased.
On July 14, Louisiana Attorney General Jeff Landry, who had not experienced any symptoms of COVID-19, was tested before a planned meeting with Vice President Pence, and had to forgo the meeting when his test came back positive. The next day Landry issued a lengthy rebuke to new public health measures that Gov. Edwards had issued — including a mandate to wear face coverings or masks in public. Landry questioned the governor's authority to enforce such mandates.
In a scathing reply to Landry the next day, Gov. Edwards accused the attorney general of abandoning their bipartisan approach from March when Landry had a different constitutional interpretation of the governor's authority to take actions to stop the virus's spread. He also pointed out Landry was not permitted to enter his own office building without a face covering.
Landry's response frustrates Honoré: "Landry signs up for all kinds of stuff that hurts the state's poor people, like pushing back against Obamacare." 
"We have got to socialize the idea that everyone in the state has to get on board with the message that the only way we are going to defeat the virus is to do these things: wear a mask, test, and contact trace," Honoré said. "The attorney general needs to get on the same page with the governor. People fought back against the law requiring seatbelts, but over time people started wearing them."
Many Louisiana citizens' "obstinance to wearing a mask — because 'it violates my rights' — and obstinance to contact tracing — 'because I don't want the government to know any more about me' — is the epitome of ignorance," Honoré added. 
It alarms him that several months into the pandemic, the end is nowhere in sight. In his view, the ad hoc handling of the pandemic is a losing battle plan.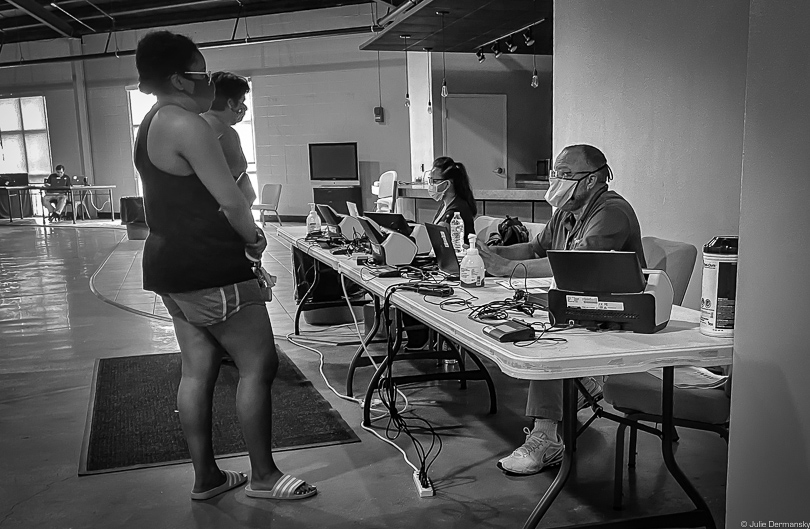 No fee COVID-19 testing site at a church in St. Tammany Parish on July 6.  
In Louisiana, COVID-19 testing sites do not have a uniform protocol — from what type of test is administered, how long you have to wait for results, to whether you are tested in your car, a cubical in a medical facility, or a large room at a non-medical facility. At a free testing site at a church in St. Tammany Parish, I waited in line under the blistering sun for over an hour, then inside for another hour. Though everyone was wearing a mask, I had to give my driver's license to an Ochsner hospital worker who wasn't wearing gloves, and stand what I felt was dangerously close to the man taking my information before I could be tested. He explained that he was setting me up as a new patient in Ochsner's hospital system. When he asked my religion, I declined to answer. That didn't seem like information necessary for a COVID-19 test.
I felt less safe at the testing site than I do at a supermarket because in all the markets, cashiers are behind sheets of Plexiglass put up as a protective barrier. The test site I visited in St. Tammany was set up with fewer protective measures than found at Costco, Walmart, or Trader Joe's. Two days later, my test result came back negative, but I can't shake the feeling that I was at risk at the test center and should perhaps get another test. A friend of mine needed faster results, so he went to a test site at an urgent care center in the same parish where the fee for uninsured was $160. He waited in his car, and then was able to enter a doctor's office for a rapid test. His results came in less than 15 minutes. 
In Honoré's view, every testing site should have the same protocol, and no one should be put at risk to receive a COVID-19 test, as I felt in my case. 
When he learned that contractors hired by the state to do the contact tracing are using a 1-800 number to call people potentially exposed to the virus, he warned the health department that many won't answer a call from such a number, and advised that the agency use a number that clearly shows the call is from the health department.
HUB Enterprises, a private security company, is one of four companies Louisiana hired to hire, train and pay hundreds of contact tracers. In 2018, HUB was contracted by Bayou Bridge Pipeline LLC when the company was installing its controversial oil pipeline across the state. The security company, along with law enforcement officials, are being sued by activists who were monitoring the pipeline's construction from kayaks on navigable waterways. They allege their arrests were illegal, and that they were assaulted in the process of being arrested in an operation in which HUB employees took part. 
"As a water protector, I was surveilled by HUB for over a year, and it is both scary and funny to imagine them being in charge of contact tracing," Cindy Spoon, a human rights activist, wrote to me in an email, "They were largely incompetent at their job and completely lacked any experience or formal training. The HUB agents who followed me and my friends were like mall security. I can't count the number of times we caught them sleeping on the job. Several of the HUB agents admitted to having no experience in security and being hired off the street."
HUB Enterprises did not immediately respond to a request for comment regarding allegations that the company surveilled activists or that their employees lacked security experience and training.
According to Honoré, the Trump administration helped spur a situation where mask-wearing is a political statement, and "once something becomes politicized, nothing changes," he said. "Things have gotten worse. We still don't have stockpiles of PPE, enough tests or equipment for hospitals, and contracts for testing and contact tracing are going to friends of Trump. Six months into this pandemic, other countries are getting back on track, but in the United States, there is no end in sight."
Main image: Courtney Baloney removing a flag from the casket of a veteran, who died from the coronavirus, to give to a family member after carefully folding it. Credit: All photos by Julie Dermansky for DeSmog