When a new Massachusetts think tank housed at Tufts University launched earlier this year, Boston-based media described it as a "CBO-like center" (referring to the Congressional Budget Office) that would offer an "independent analysis" of proposed state policy and legislation.
But one of the main funders of this think tank, called the Center for State Policy Analysis, is a program tied financially to the petrochemical billionaire Koch family. This apparent Koch-linked funding raises questions about just how independent the center's policy analyses may be.
The Center for State Policy Analysis (CSPA), established in February 2020 and located at Tuft's Tisch College of Civic Life, says it offers "rigorous, timely, nonpartisan analysis of live legislative issues and statewide ballot initiatives." In addition to examining the state's ballot questions for the upcoming November election, CSPA plans to review options for addressing rising prescription drug costs and to undertake an analysis of a proposed regional plan to tackle carbon emissions from vehicles called the Transportation and Climate Initiative.
Initial funding for this think tank, as CommonWealth reported, has come from one of the state's largest private health insurance companies and from a program called Emergent Ventures, which is based at the Koch-funded Mercatus Center at George Mason University.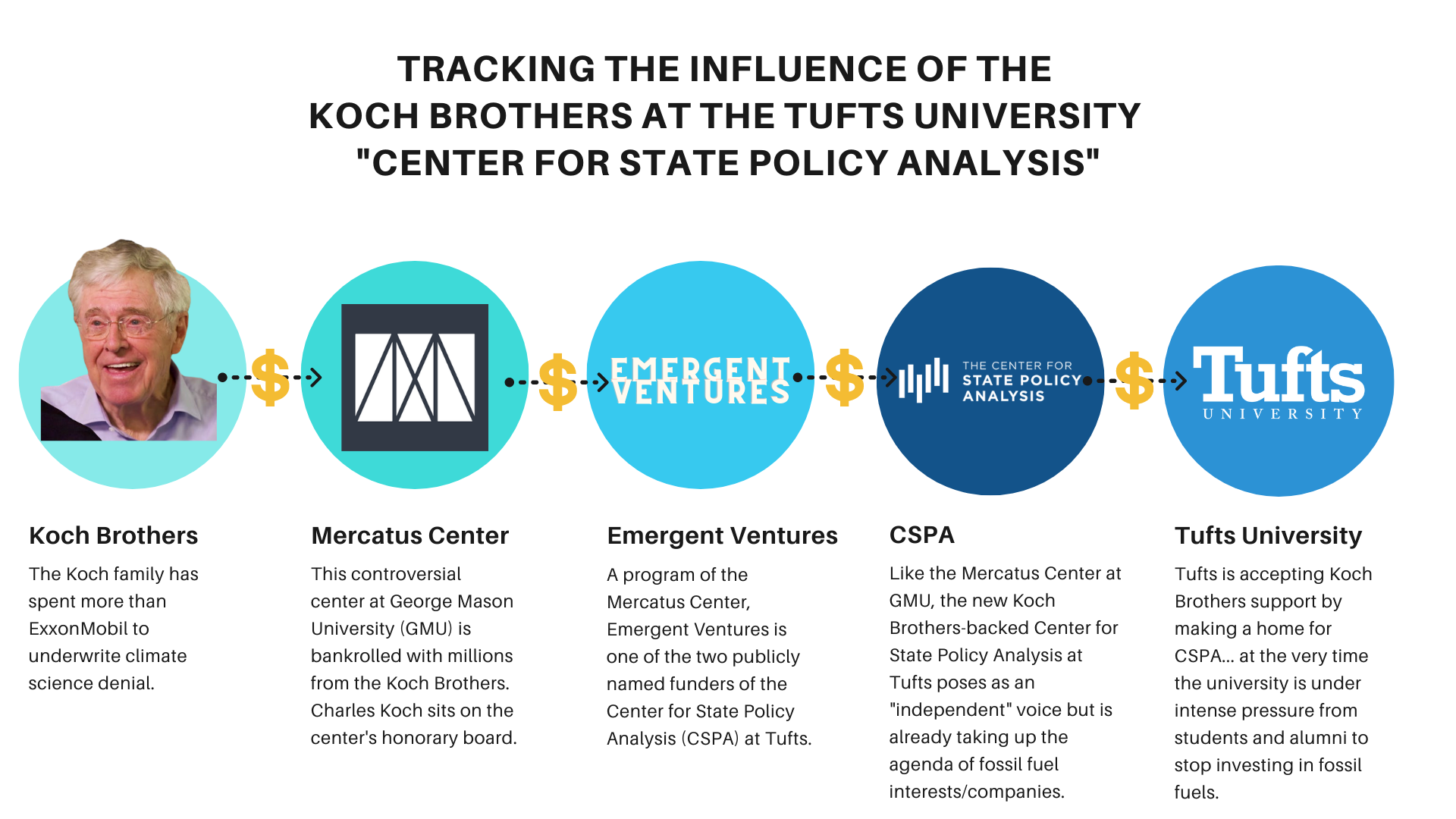 Emergent Ventures is a grant program of the right-wing Mercatus Center, and Mercatus is directly tied to Koch Industries and Charles Koch. Charles is on the board of directors at the Mercatus Center, which was founded by Richard Fink, a former executive Vice President and board member of Koch Industries.
Mercatus also is connected with the State Policy Network, a network of free-market think tanks around the country tied to Koch funding that tend to oppose climate action and clean energy. One of these SPN-affiliated groups, the Beacon Hill Institute, published an analysis in March this year—and recently touted by the climate denying Heartland Institute—claiming the costs of the Transportation and Climate Initiative would outweigh the benefits. This is an argument that Koch and oil industry allies have repeatedly raised in attacking the "cap-and-trade for cars" program.
The Beacon Hill Institute was hosted for years at Suffolk University in Boston, until 2016 when the school's leadership changed policies to restrict from whom BHI could take money. Today, Koch-funded policy analysis once again has a veneer of academic credibility in the Bay State, with the CSPA at its new home in Tufts' Tisch College.
It is unclear at this point whether the CSPA will produce an analysis similar to the one from Beacon Hill Institute on TCI, but given CSPA's and BHI's shared funding ties to Koch foundations, it is not far-fetched to wonder.
Koch Industries is, after all, in the oil refining business, one of the main industries that stands to lose profits from initiatives like TCI aimed at cleaning up the transportation sector, now the largest source of carbon pollution in America.
Main image: Tufts University by Pete Jelliffe (CC BY–ND 2.0)