At an August 30 briefing in Orange, Texas, during a visit to tour damage from Hurricane Laura, President Trump answered a question about climate change and hurricanes. Texas has had big storms for a long time, he said, and "that's the way it is."
The phrase carried echoes of his remarks on COVID-19 — made at a time when the coronavirus had killed over 156,000 and infected over 4.7 million in the U.S. — that the virus's death toll "is what it is."
In the month since Trump spoke those words to Axios, over 26,600 more people have died in the U.S. from COVID-19, federal numbers show. Each death represents its own specific tragedy for those close by and, for those tasked with responding to the pandemic, each one represents another difficult reminder that the novel virus's death toll yesterday is not what it is today.
Similarly, when it comes to the climate crisis, the questions the world faces aren't only about what natural hazards like droughts and hurricanes looked like yesterday. Nor are they simply about how those hazards, now worsened by the climate crisis, are affecting us today — as wildfires continue to blaze in California and forecasters keep tabs on tropical storms Nana and Omar.
The question President Trump was asked in Texas was about the risks that stronger hurricanes pose to the fossil fuel industry and the ways that climate change is beginning to endanger the oil refineries and petrochemical plants clustered along the U.S. Gulf Coast, that is, the industry responsible for a sizable contribution to the climate emergency itself.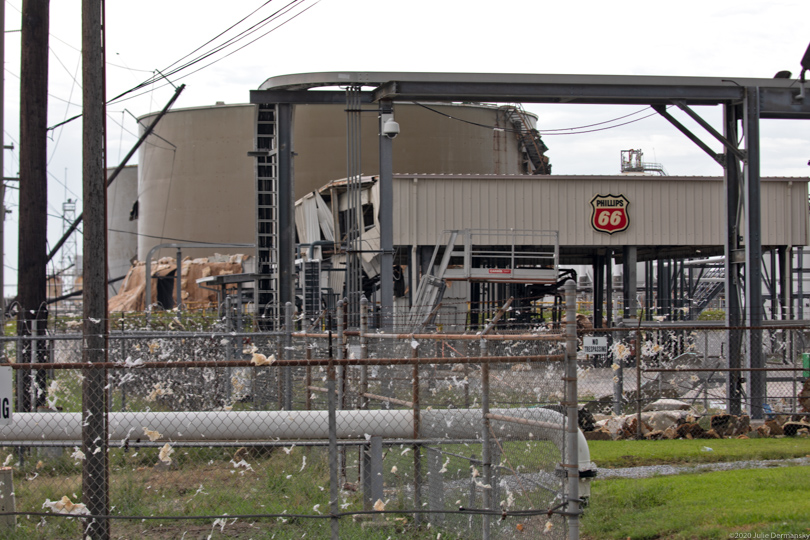 Damage from Laura could be seen at the Phillips 66 complex in Westlake on August 30, 2020.
"Mr. President, one question about Laura," a reporter can be heard asking off-camera in press conference footage aired by C-SPAN. "So, in June of this year, NOAA [National Oceanic and Atmospheric Administration] issued a report indicating that climate change is at least in part responsible for increasing sea temperatures, which then, in turn, lead to storms like Laura and Harvey. In an area where petrochemicals and the energy industry are so critical, how do you balance that with, at the same time, attacking climate change so that storms like this don't continue to ravage the Gulf Coast?"
The President's answer was short. "Well, I tell you, you've had tremendous storms in Texas for many decades and for many centuries, and that's the way it is," he said. "We handle them as they come. All I can do is handle them as they come, and that's what we do, and nobody has ever done a better job of it."
To be sure, hurricanes themselves are nothing new — and neither is the scientific research showing that the storms' capacity to cause damage is on the rise as the world's climate heats up.
"The trend is there and it is real," James P. Kossin, a NOAA researcher and the lead author of a study on hurricanes and climate change published this year in the peer-reviewed journal the Proceedings of the National Academy of Sciences, told The New York Times in May. "There's this remarkable building of this body of evidence that we're making these storms more deleterious."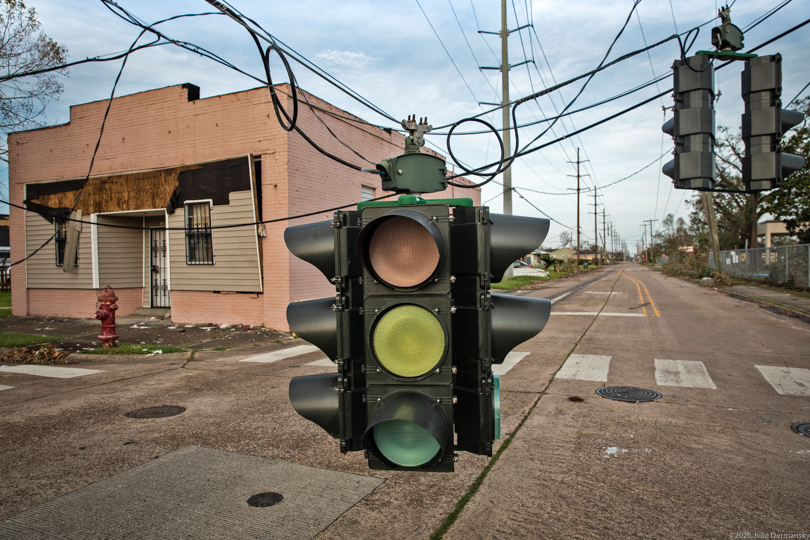 A damaged traffic light in Lake Charles, Louisiana on August 30.
Laura transformed from a Category 1 storm into a strong Category 4 storm overnight, spurring National Hurricane Center officials to issue a warning that the storm surge in some places could be "unsurvivable."
In the coastal Louisiana towns near its landfall, Hurricane Laura reduced some homes to rubble, with The Washington Post reporting cases where houses were leveled to their concrete slabs.
"The houses that remained standing seemed far beyond repair, and most were still surrounded by — or fully submerged in — murky floodwaters. Concrete foundation slabs were all that remained of other homes," the Post reported from Cameron, Louisiana. "There often was no rubble to sift, as winds strong enough to smash brick coupled with a towering storm surge to wash away structures and their contents as if they had never existed."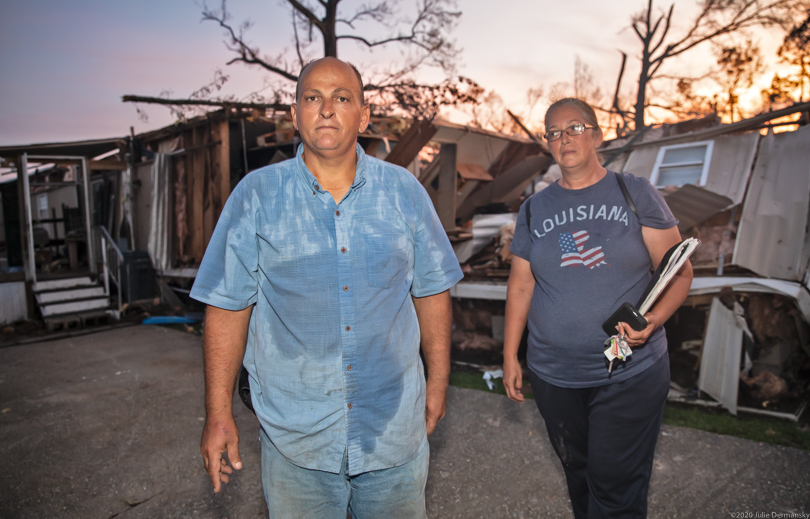 Steven and Mandy Lavergne stand in front of their home of 25 years, which was destroyed by Hurricane Laura. On August 30, they said they had not encountered FEMA and had no place to stay.
Hurricane Laura upended countless lives as 1.5 million people confronted dire warnings from officials and evacuation orders as the storm raced towards the coast. Many found themselves unable to evacuate, amid the COVID-19 pandemic, financial difficulties at a time of record-smashing unemployment nationwide, and the rapid pace at which the situation escalated.
Thousands of evacuees arrived in New Orleans, while the city recalled the anniversary of Hurricane Katrina 15 years prior.
Claude Curtis, a pipe-fitter, discovered that he'd lost the tools he needed for an upcoming refinery job in the storm, the Washington Post reported. "Lord, I don't know what we gonna do," he told the paper. "We're in bad shape, I tell ya."
As of August 31, the death toll from Laura stood at 16, most from carbon monoxide poisoning related to the use of generators.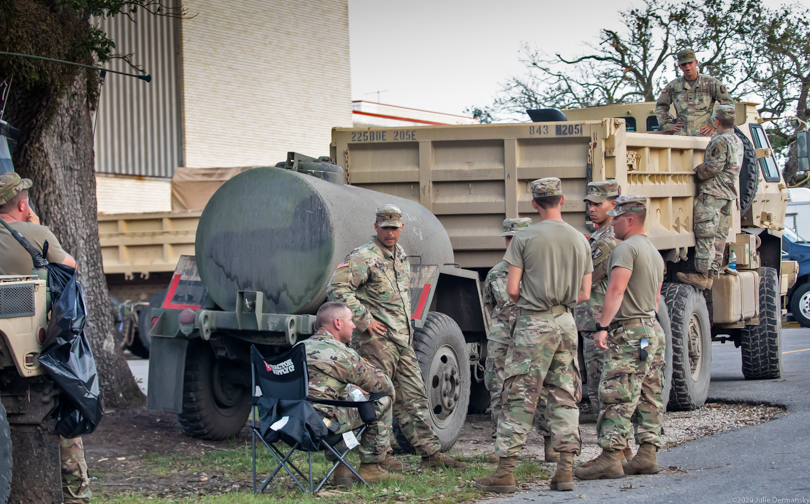 National Guardsmen, deployed in the aftermath of Laura, are seen gathering without masks on August 30.
Those in Hurricane Laura's path also had to contend with the pandemic, whose toll continues to mount.
"I've been in the hospital three times in the last year, and we're both very worried about being out in crowds and getting the virus. But we couldn't stay home with a Category 4 hurricane coming at us. What are we supposed to do?" Mary Gutowski, a Lake Charles, Louisiana, resident told Voice of America.
---
Read the DeSmog report COVIDeniers: Anti-Science Coronavirus Denial Overlaps with Climate Denial
---
Medical experts expressed concern that the hurricane was also making the response to the pandemic more difficult.
"We haven't had the testing to give us the ability to know which direction we're going in," Louisiana Office of Public Health head Dr. Alex Billioux told NOLA.com. "That's concerning because we're flying blind."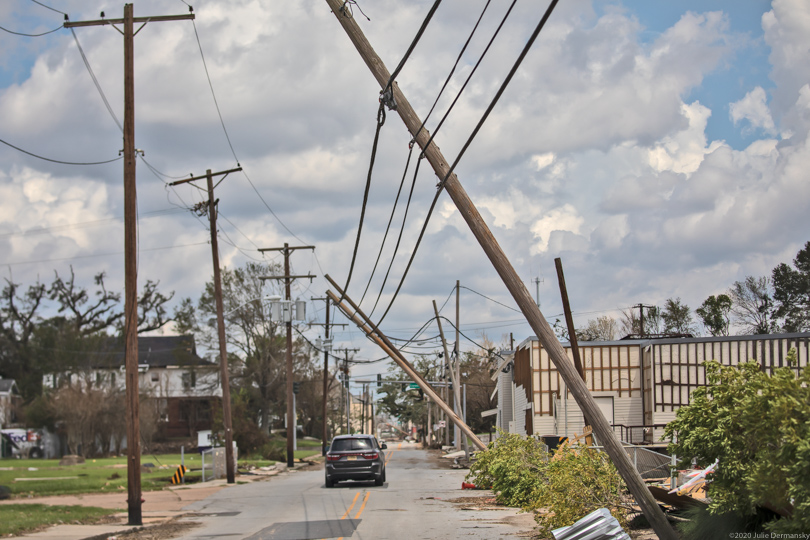 A street in downtown Lake Charles, Louisiana, on August 30.
On September 1, over a quarter million power customers in Lousiana remained without power, according to the Department of Energy (DOE), and another 36,000 customers in Texas still lacked electricity. Officials warned that restoration would take over a week in some places — and multiple weeks in the hardest hit locations.
More than half of the United States' offshore oil production remained shut in, the DOE reported, and workers had not yet returned to nearly 120 of roughly 560 offshore platforms. Four Gulf Coast refineries remained shut down.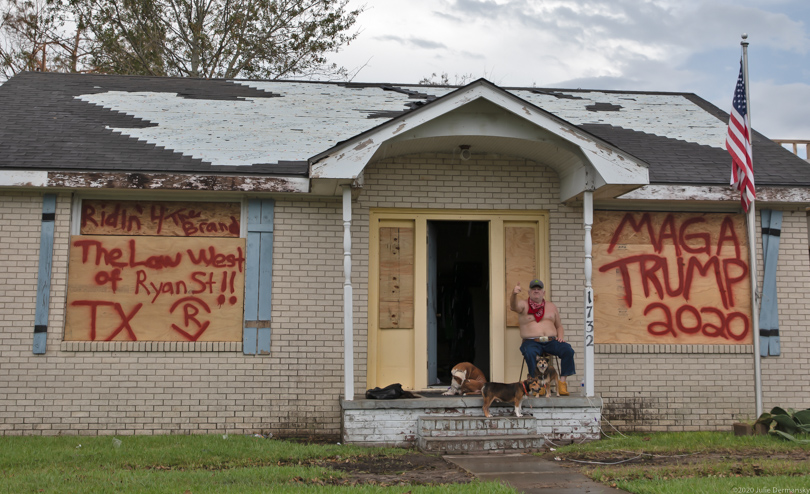 A Trump supporter in Lake Charles, Louisiana.
The region where Laura struck is home not only to active chemical plants and refineries, but also to networks of pipelines, oil wells, and abandoned infrastructure. It's not yet clear how much pollution seeped into the region's waterways and soils as a result of flooding and wind damage.
A West Hackberry, Louisiana Strategic Petroleum Reserve storage site sustained "considerable" damage from Laura, the Department of Energy said on Monday, adding that power was knocked out at the facility but that the underground caverns where 220 million barrels of crude oil can be stored remained intact.
Laura also wreaked tremendous damage in the city of Lake Charles, Louisiana, where residents were told to "shelter in place" — despite the storm's severe damage to buildings — due to a chlorine leak linked to a fire at a Biolab chemical manufacturing plant. The U.S. Chemical Safety Board has launched an investigation into the damage at that plant.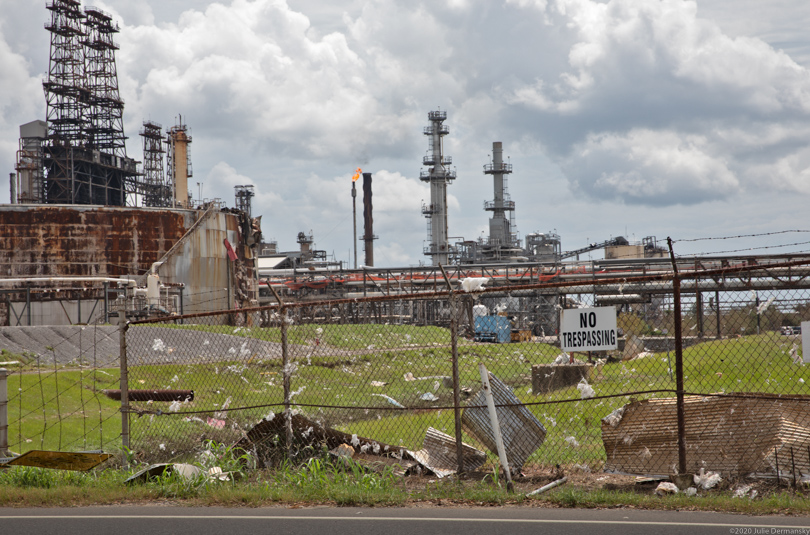 Damage to Phillips 66 facility in Westlake, Louisiana, on August 30.
In a twist of fate, Laura made landfall relatively far from densely populated places like New Orleans, striking at its most fierce in an area rich with wetlands, swamps, and marshes — though it's also home to towns, the city of Lake Charles, and to a latticework of oil and gas industrial sites.
It wasn't immediately clear how severe the storm surge wound up at the height of the hurricane, NOLA.com reported on August 27, because of a lack of permanent tide gauges in the wetlands-laden parishes of Cameron and Vermillion. Researchers expected that it might take weeks to collect data from temporary monitoring devices deployed by the U.S. Geological Survey. But many densely populated parts of the Gulf Coast saw less from Laura than they would have if the storm had struck elsewhere along the coast.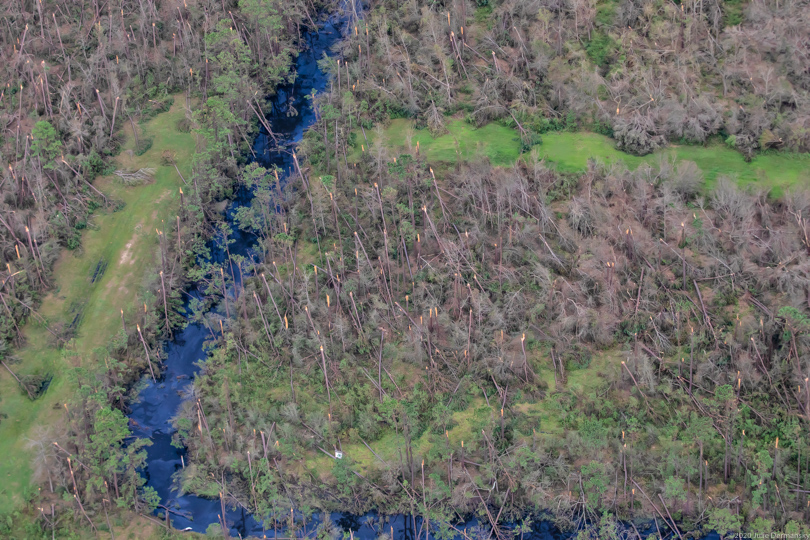 Broken treetops and an oily sheen on a waterway can be seen near Lake Charles, Louisiana on August 30.
"Even though Laura was devastating because of wind damage, in terms of storm surge, we were actually incredibly lucky because the area that was hit hardest by the storm surge is probably the least populated part of the entire Gulf Coast," said Torbjörn E. Törnqvist, a Tulane University geology professor who has studied marshes in the Mississippi Delta, storms, and sea level rise. "We also know that the area immediately to the east of where the center of the storm made landfall is where the storm surge is and fewer people live in that area."
Those wetlands areas, the marshes and swamps, help to protect coastal communities against damage from storm surge during major hurricanes like Laura.
But the wetlands themselves are at risk from the impacts of climate change. In May, Törnqvist and other researchers published a study looking at how sea level rise will erode the marshes that protect the Mississippi delta region. They looked for lessons from the end of the last ice age, finding that when sea levels rise at very fast rates, marshes can disappear within decades, faster than previously believed.
"The big question that we're interested in, not just here, but in coastal areas around the world is what kind of rates of sea level rise can these marshes keep up with," Törnqvist said. "What we found was that in the Mississippi Delta, that rate of sea level rise is actually a rate that we have already surpassed, we have already exceeded."
But, he added, it is still possible to slow the destruction of marshes by slowing the pollution that causes the climate to change.
"Time is still a little bit on our side," he said, "but it's especially on our side if we prevent the rate of sea level rise from ramping up much further."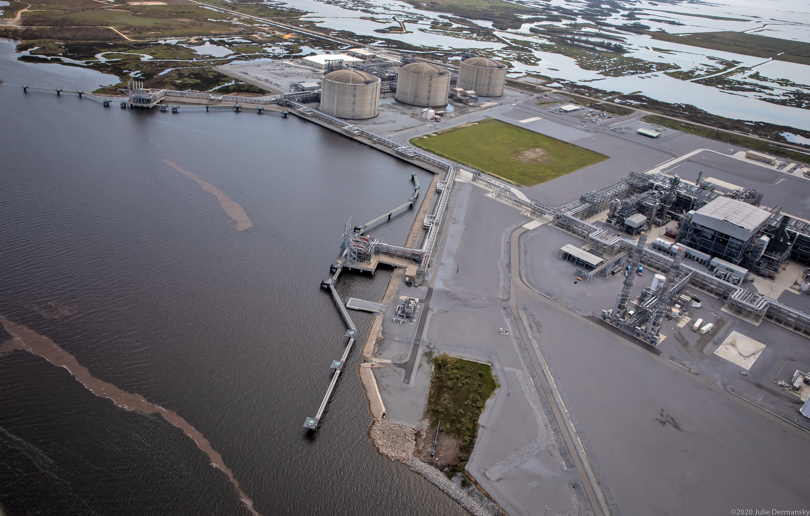 The Cameron LNG facility on August 30.
And when hurricanges strike in parts of the country with a long and ongoing history of fossil fuel production, they can also stir up old pollution — and cause more emissions as industry moves to protect itself from the storms' force.
"All the focus at first was on that chlorine leak from BioLabs and the fire they had there, but a number of other facilities have had small leaks," said Wilma Subra, a chemist and technical advisor for the Louisiana Environmental Action Network, and a recipient of the MacArthur Fellowship Genius Award. She said that while industrial sites are required to report information to state agencies, that information has not yet been made public.
She added that legacy pollution from the oil industry's operations in the region in the 1940s have been stirred up by the storm — but it was too early to know for sure what those impacts would be. "After we're able to really get in there and assess what's going on, we probably can look at some of the sediment sludge" to see if chemicals were moved around by the tidal surge, she said.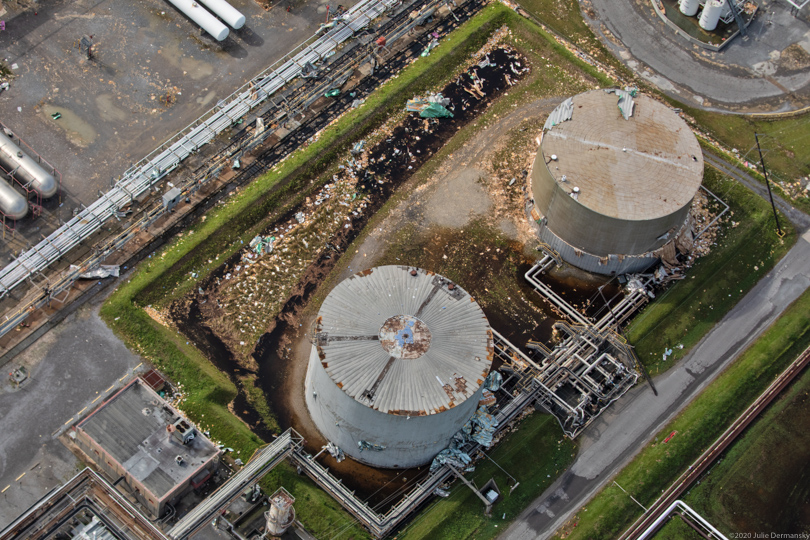 Damaged tanks at Sasol's Westlake, Louisiana, facility  on August 30.
Shutdowns of the region's refineries and petrochemical plants in advance of Laura's arrival caused an estimated 4 million pounds of greenhouse gas emissions in Beaumont and Port Arthur, the Houston Chronicle reported, citing notices filed to state regulators — including a massive burst of carbon dioxide, a major greenhouse gas, from a Beaumont methanol plant.
And it's those greenhouse gases that will play a major role in how severe hurricane seasons are in coming years.
Already, 2020 is shaping up to be a record-breaking year for powerful storms and other impacts of the climate crisis.
The most important unknown element, when it comes to how bad things could get, scientists say, is what actions we take today to curb the worst effects of climate change down the road.
"A number of decades ago, people like me would still talk about climate change as something in the future that we could prevent with appropriate action," said Prof. Törnqvist. "Now we're at the point where we can still prevent the worst outcomes, but there are certain things we are not going to be able to prevent any more."
"There's still many things that we can save, but that's going to require action," he said, "and that action is going to have to happen soon."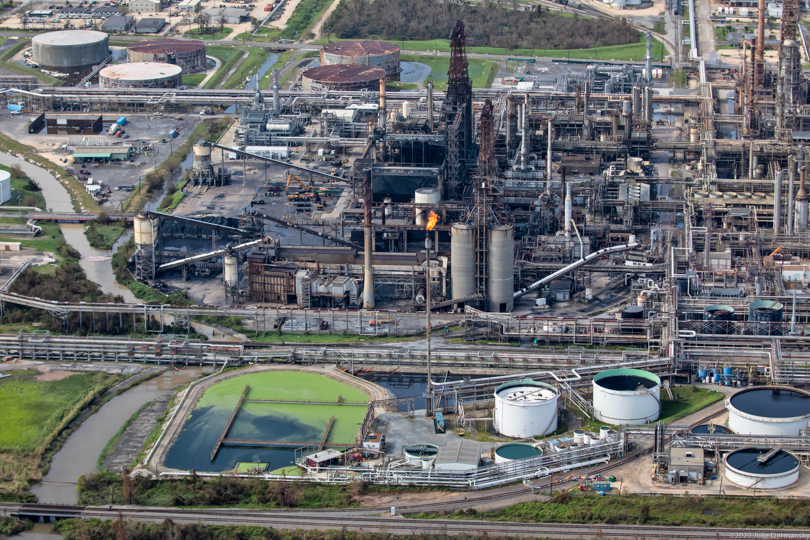 A flare burns at a facilty in a Westlake, Louisiana, chemcial complex. Flight made possible by David Levy of Petrotechnologies.
Additional reporting by Julie Dermansky.
Main image: Aerial view of a hurricane-damaged house on August 30, decorated with a Trump flag. Credit: All photos by Julie Dermansky for DeSmog