In the heart of the Permian oil patch in West Texas, a massive $416 million solar array began converting sunshine to electricity this summer. One of the project's main financiers has a very familiar name — Facebook.
The social media corporation helped make possible the 379-megawatt Prospero I solar array, located about 18 miles west of the city of Andrews and covering an area five times larger than New York City's Central Park. The project represents a model initiative for Facebook, which is striving to become a leader on climate change. A June 2019 Associated Press article about Prospero I repeatedly implies its energy will power Facebook's data centers, where photos, videos, and other information is stored. The article quotes CEO Mark Zuckerberg in saying that, "These new solar projects will help us reach" a goal "for all our data centers and offices to use 100% renewable energy by 2020."
But the admirable renewable energy commitments and corporate bluster belie a simple truth about the Prospero I solar project. The energy produced here will not directly power a Facebook data center; it will, in fact, be routed to Shell Energy North America to power the oil and gas giant's fracking operations in the Permian, the nation's most booming and polluting oil play.
"For all of our renewable energy projects, we work closely with local utilities and renewable project developers to find new projects that meet our needs," said Melanie Roe, who works in Technology Communications at Facebook. "Important factors for us include when the project will be constructed, how progressed the project is from the perspective of securing required permits and grid access agreements and how much energy it can generate once constructed."
DeSmog asked Facebook to explain how in the present time of perilous climate change, linked to the production and combustion of fossil fuels, the social media company could finance a project that directly powers additional fossil fuel development. Roe did not answer the question directly, but stated, "Investing in the Prospero 1 Solar project offered us a flexible solution for meeting our renewable energy goals."
She added, "Shell Energy North America will be buying most of the power generated by the [Prospero I] project." Facebook is the sole tax equity investor in the project, a relationship that enables them to invest in the project and receive renewable energy credits. Other investments came from two Danish pension funds, PKA and PenSam. The project itself was developed by Longroad Energy, a large U.S.-based renewables firm.
"Shell Energy signed a long-term solar Power Purchase Agreement (PPA) with Longroad Energy," says Jim Appleby, a Shell external relations advisor. "This PPA and the associated renewable energy credits will increase the supply of renewable power into the grid and help to offset our carbon footprint in the Permian Basin."
Facebook did not reply directly to questions about the details of the financial relationship. Shell did not reply directly to questions about exactly how the energy would be transmitted to the company, or which specific parts of its oil and gas operations would be utilizing the energy.
But while Facebook touts Prospero as a model project, at least some members of the Texas environmental community are not impressed.
"This is definitely a real tarnish on Texas's renewable success," says Luke Metzger, Executive Director of Environment Texas, a nonprofit that advocates for clean air, water, and energy. "Oil and gas companies trying to green up their reputation in this way when in fact their actions are quite destructive to the environment and public health is ridiculous. It is disappointing that a company like Facebook would be involved in such a project."
Using Solar to Extract Oil
The Prospero I solar project is not the only large array to rise out of the oil well–dotted scrub of the West Texas desert. In fact, a number of major oil and gas companies operating in the Permian oil patch have chosen to power their operations with renewable energy. "As the thirst for electricity to power drilling rigs in West Texas drives the state's energy needs to new highs, oil and gas companies are increasingly relying on wind and solar power to ensure that the shale boom continues," states a 2019 Reuters article.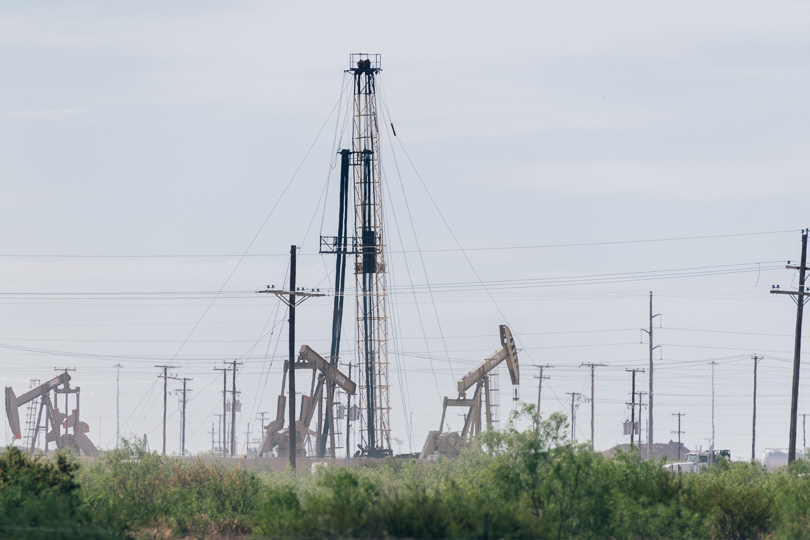 An active oilfield near a new housing development in Midland, Texas, part of the Permian Basin. Credit: ©2020 Justin Hamel
A year ago, Occidental Petroleum Corp. announced the launch of a solar facility to help power its Permian oilfield operations. In August 2019, Chevron signed a deal to source Permian operations with wind. And in November 2018, ExxonMobil signed a multi-year supply contract with the Danish renewable firm Orsted for 500 megawatts of wind and solar energy in Texas.
"The whisper of wind across the desert of West Texas means a lot more now than a cool break from the summer heat," reads a post on Chevron's website. "It also means more affordable, reliable, and cleaner energy to support our growing asset base."
The oil and gas industry has learned that large wind and solar farms are a good way to safeguard electricity supplies. For example, using renewables might save an oil and gas firm from having to rely on diesel fuel, which can be problematic and dangerous. Fracking requires a tremendous amount of energy and is flourishing in a remote desert rich in wind and sun. These factors, along with key financial incentives, have helped inspire the seemingly odd union, between large renewable firms and large oil and gas companies.
Globally, the oil and gas industry first started deploying large-scale renewable projects in the early 2000s, according to the information firm IHS Markit. But the uptake was slow. There were fewer than 15 projects before 2017, after which there was an explosion of growth. "IHS Markit now tallies more than 45 announced projects in its Oil and Gas Field-based Renewable Energy database, with 13 announcements made in 2018 and 15 made in 2019," the firm reported in July.
"Stakeholder pressure to reduce emissions is a factor," stated Judson Jacobs, executive director for upstream energy at IHS Markit, in a company press release. "It is also about steeply declining costs for renewables and the industry's growing familiarity and experience with these technologies. And there are tangible improvements to operational performance that go along with using them."
Jacobs added, "Energy efficiency efforts and reductions in flaring can only do so much to lower greenhouse gas emissions, so some companies are turning to zero-carbon sources to power their upstream, midstream, and downstream operations."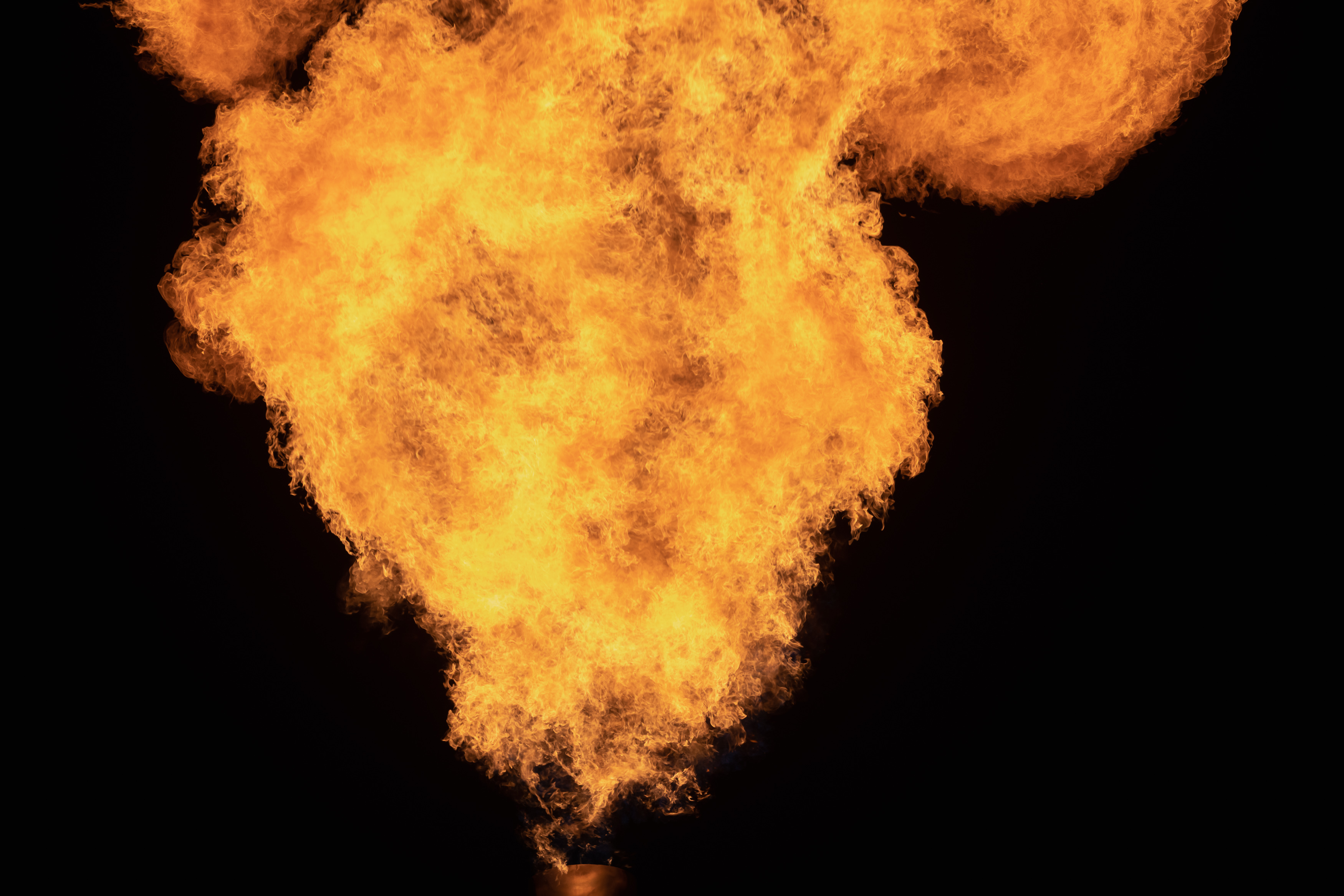 Flaring, or burning excess natural gas, which is mostly methane, is a widespread problem in the Permian Basin in West Texas and New Mexico. Credit: ©2020 Justin Hamel
Dr. Leah Stokes, an assistant professor of political science at the University of California, Santa Barbara and an energy policy expert, says the main avenue for financing renewables has been through the tax code. Renewables have enjoyed tax credits since the early 1990s, and in 2005 an investment tax credit, referred to as the ITC, was passed which allowed companies with tax liability to pay less back to the federal government if they made an investment in solar energy. "If you think building renewables is a good thing, then we need some way for the federal government to do it, and this is one way," says Stokes.
But the system appears to have been captured by the market. "What has happened with the ITC is there are companies who basically take tax liability and sell it off to other companies," says Stokes. "There are marriages between people who owe the federal government money and people who are building projects." She adds, "In a weird way it is almost like a fossil fuel subsidy, because you are making the solar power cheaper with an investment tax credit, then using the solar power to extract oil."
This creates a seemingly disjointed cycle where resources and space are used to create renewable energy in order to then produce additional energy in the form of fossil fuels, whose production has put the life-support system of the planet in jeopardy.
"We should be thinking about siting renewable energy facilities in a way that can power our homes and cities and farms," says Stokes, "not in a remote area to power more extraction."
Facebook Speaks on Renewable Energy, Sponsored By Chevron
In the last year, Facebook has repeatedly been in the crosshairs over the issue of climate change. The journalist Emily Atkin, in a September issue of her popular newsletter, HEATED, pointed out that although Facebook has set up a Climate Science Information Center to feature credible news and promote personal climate actions, the site continues to be a bullhorn for science deniers.
"Facebook is one of the planet's largest purveyors of climate disinformation," wrote Atkin. Stories and videos claiming climate change is a hoax or that humans are not responsible have received millions of views on the social media platform.
The company's efforts to put on a climate-friendly face are extensive. "Renewable energy [is] incredibly important, we believe in it strongly," Peter Freed, the Head of Energy Strategy at Facebook, stated in a talk in June for Stanford's Precourt Institute of Energy. Freed works on a team that makes sure that for each amount of energy used by the company's massive energy-hungry data centers, an equivalent amount of energy has been procured from a renewable source. But that renewable energy need not necessarily be used by Facebook itself. It is this accounting that allows a company like Facebook to make claims of 100 percent renewable energy.
The U.S. Energy Information Administration told DeSmog it did not have statistics that specifically addressed the issue of how much of the renewable development in West Texas, or elsewhere in the country, is going towards directly supporting fossil fuel production.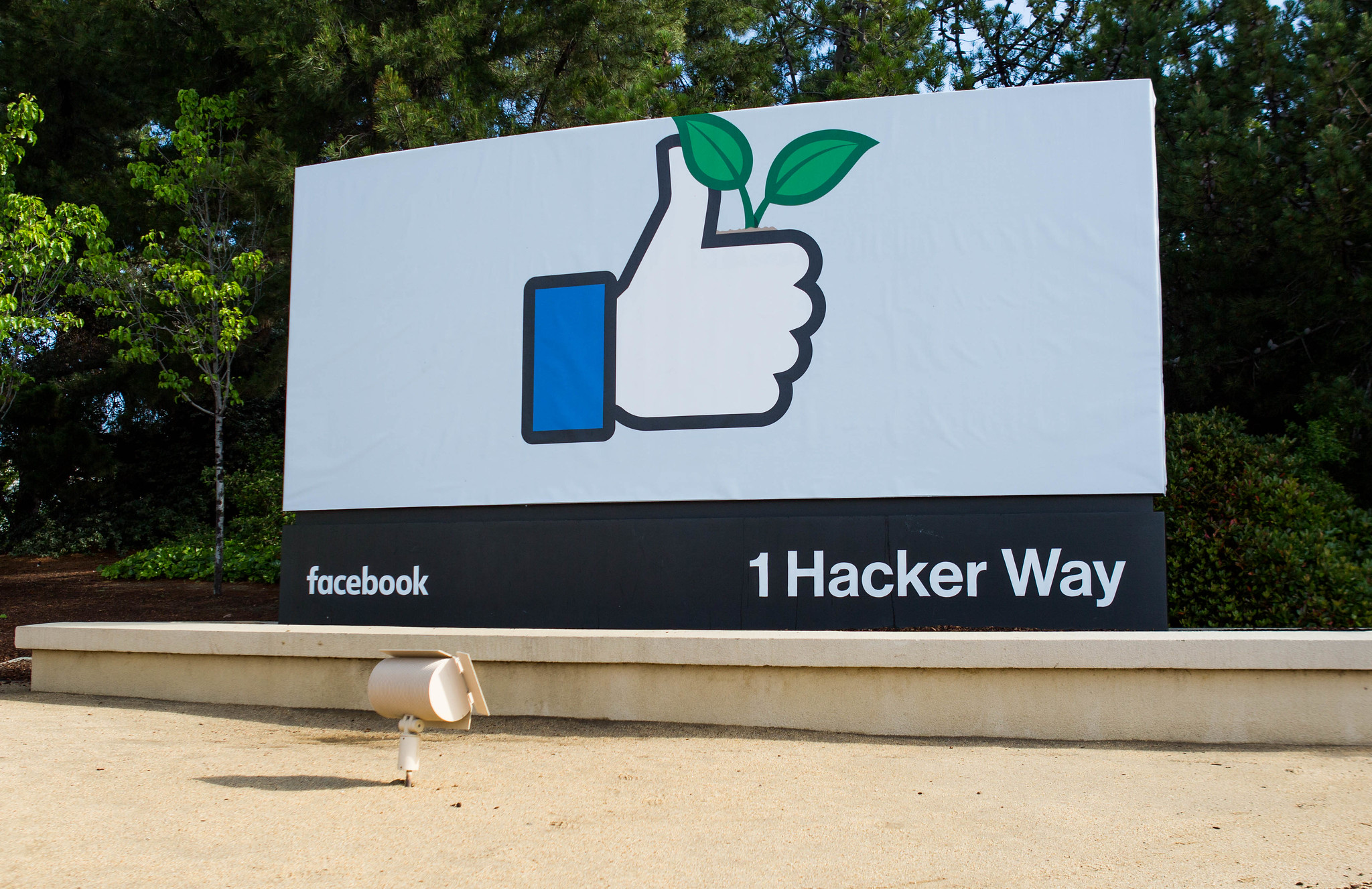 Facebook Headquarters located at 1 Hacker Way, Menlo Park, California, on April 20, 2017. Credit: Anthony Quintano, CC BY 2.0
Either way, the trend and its implications do not seem to concern Facebook. "I have been hearing more and more frequently, even in the folks that care about renewables…'Hey, like we got to slow down corporate procurement because we're going to get too much renewables on the system and then it's going to drive more fossils,'" said Freed, in the Stanford talk. But it appears to be a view with which he pointedly disagrees. "We should just be plowing as much renewables onto the grid as possible," Freed exclaimed. "I think none of the corporate buyers should slow down."
This manner of renewable procurement again highlights an uneven reality. Major tech companies like Facebook get to claim they are powered by 100 percent renewable energy, a boast that carries valuable public opinion capital, even if some of the energy procured is actually going to power more fossil fuel development.
Peter Freed's June talk for Stanford's Precourt Institute of Energy did little to disavow the idea that Big Tech and Big Oil were in bed together — it was sponsored by Chevron.
Facebook is not the only big tech company to make a flashy climate commitment and then partner with oil and gas firms. In a striking 2019 investigation for Gizmodo, journalist Brian Merchant reported that Amazon has actively sought business from oil and gas corporations under its cloud computing subsidiary, Amazon Web Services, or AWS.
"The irony is, in this case, twofold," writes Merchant. "Amazon's massive cloud operation appears to once again be getting dirtier, powered by a growing share of fossil fuels" and "AWS is then selling its fossil-fueled cloud to oil, gas, and coal companies, to help them better find and extract more fossil fuels." Clients include the likes of BP, Shell, Halliburton, and Chesapeake Energy. At the same time, Amazon has managed to put forth a façade of climate leadership, and in 2019 co-founded The Climate Pledge, a commitment, according to their Sustainability page, "to be net zero carbon across our business by 2040, 10 years ahead of the Paris Agreement."
And it is these sorts of lofty media announcements that keep coming from Facebook too.
In September, Facebook announced that not only would it eliminate or offset 100 percent of its own emissions by the end of 2020, but it would completely decarbonize its entire supply chain by 2030.
Back in Texas, not everyone is holding their breath.
"In terms of carbon emissions, our hole is getting deeper," says Metzger, with Environment Texas. "We have had increased renewable development in Texas, but at the same time total emissions have actually increased and that is largely because of the Permian. So we are taking one step forward, but two steps back."
Main image: The sun sets on a solar panel in the Permian Basin. Oil and gas companies are increasingly building solar panels to power their remote operations. Loving County, Texas. Credit: ©2020 Justin Hamel