Parler is fast becoming a conservative echo-chamber but big name climate deniers don't seem to be abandoning mainstream social media for the fringe platform — at least not yet.
An analysis by DeSmog to determine how many profiles featured in our comprehensive climate database have accounts on Parler suggests that many prominent science deniers aren't currently active on the alternative social platform.
Our research suggests there is only a limited overlap between leading climate science deniers and Parler use, with just 11 percent of the 611 unique U.S. science denial profiles and 15 percent of the 149 UK profiles included in DeSmog's database appearing to have accounts on Parler. A closer examination of the top 10 most prominent names from the U.S database that appear active on the new platform — including outgoing President Donald Trump and Vice President Mike Pence — reveals around half of them are unverified, or uncredible accounts.
But experts caution this could quickly change. "[It's] good news for now, but I wouldn't pop open the Champagne just yet," Eric Heinze, Professor of Law and Humanities at Queen Mary's University of London and author of a book on hate speech and democratic citizenship, told DeSmog. "I would remain very sceptical. Parler is still young."
'

Free Speech' Hub 

Parler was launched in 2018 as a "free speech" hub and antithesis to the "ever increasing tyranny and hubris of our tech overlords," according to conservative billionaire and co-founder Rebekah Mercer — whose family has funnelled millions of dollars into climate science denial groups.

After only a moderate take-up, the start-up emerged into mainstream consciousness this summer as Twitter users announced they were rejecting the platform's censoring of election and COVID-19 misinformation in favour of Parler's less-regulated sphere. 

Since then, user numbers have reportedly risen to more than ten million, ballooning after a tranche of Trump supporters turned to the platform following Joe Biden's presidential win; Parler flew to the top of Apple's App Store almost overnight.

Parler's multiple verification modes, however, prompt questions around whether they promote or hinder transparency on the site. 

The equivalent of a Twitter "blue tick", the yellow "Verified Influencer" badge, can be awarded to users with a large following to prove their authenticity and identity to the community. Meanwhile, a red badge "Parler Citizen" or "Real Member" status can be achieved by submitting photos of a driving licence and selfie, though the site confirms this "does not necessarily confirm the user is who they claim to be, just that they are Real Users." In addition, there are "Media" and "Private" accounts, as well as ones for Parler employees and early adopters.
Climate Denial 
Climate science denial has been well documented on the relatively unmonitored site, appearing alongside U.S. election conspiracy theories, racism, xenophobia and misogyny – as climate journalist Emily Atkin explored in her HEATED newsletter last month.
One of Parler's largest climate sceptic accounts, created by "RealWeather", alleges "Greta Thunberg is a fraud!" and "Climate Change Is Not Causing Extreme Weather", while users "Climate Realists" and "Watts Up With That" routinely post on subjects such as "fake climate guilt" and "climate alarmists".
But while misinformation is prevalent, there appears to be a limited level of engagement with climate denial content — in the form of likes, comments, "upvotes"  and the retweet equivalent known as "echoes" — in contrast to more mainstream social media platforms. 
"Watts Up With That", which claims to be the world's most-viewed climate website founded by longtime climate science denier and Heartland Institute senior fellow, Anthony Watts, has just 1,500 followers on Parler, compared to over 29,000 on Twitter. It is not clear whether the unverified account really belongs to Watts, or if it's run by a copycat. Meanwhile "Climate Realists", also an unverified account, has a strong presence on Twitter (over 48,000 followers), but only around 850 followers on Parler.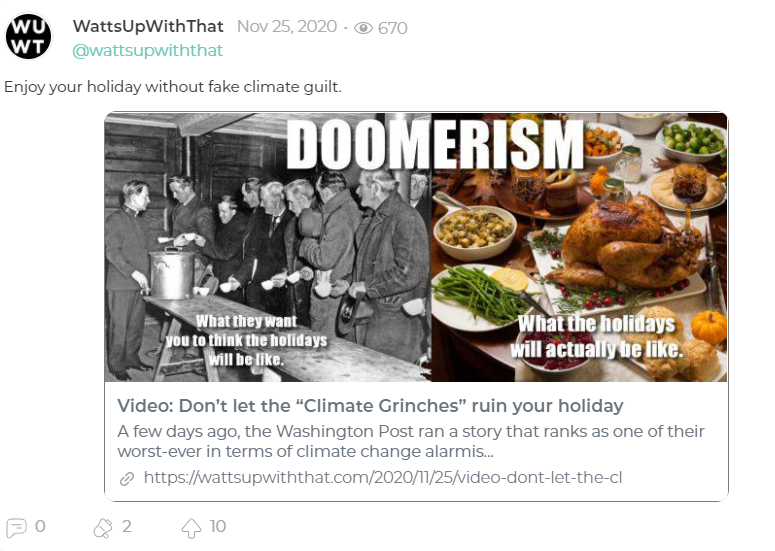 U.S.

 Impact

Alongside a slew of climate denial accounts seemingly set up by your average user, dozens of accounts on Parler are also managed by high-profile individuals or organizations who have been actively working to mislead the public on climate change or have been involved in the global warming denial industry for years.

Trump, who last year said climate change "goes both ways", might be expected to be one of these. But while his fans flocked to Parler to support him in his election fight, Trump's own distinctive voice is nowhere to be seen. 

A "Team Trump" account has 2.4 million followers and appears to be a real account run by the actual Trump campaign, but all the many accounts under his own name seem to be fake. Conversely, while Trump has repeatedly criticised Twitter's perceived anti-conservative bias, he continues to rely heavily on the platform to communicate to his 88 million followers. 

Meanwhile, former White House Chief Strategist Steve Bannon was permanently suspended from Twitter for violent comments made on his podcast last month. His Twitter account, @WarRoomPandemic, was also suspended for violating the website's "policy on the glorification of violence". Now Bannon, or at least his fans, appear to have found a new home on Parler, where his "Steve Bannon's War Room" account, which in recent days acquired a "Real User" red badge, has over 230,000 followers.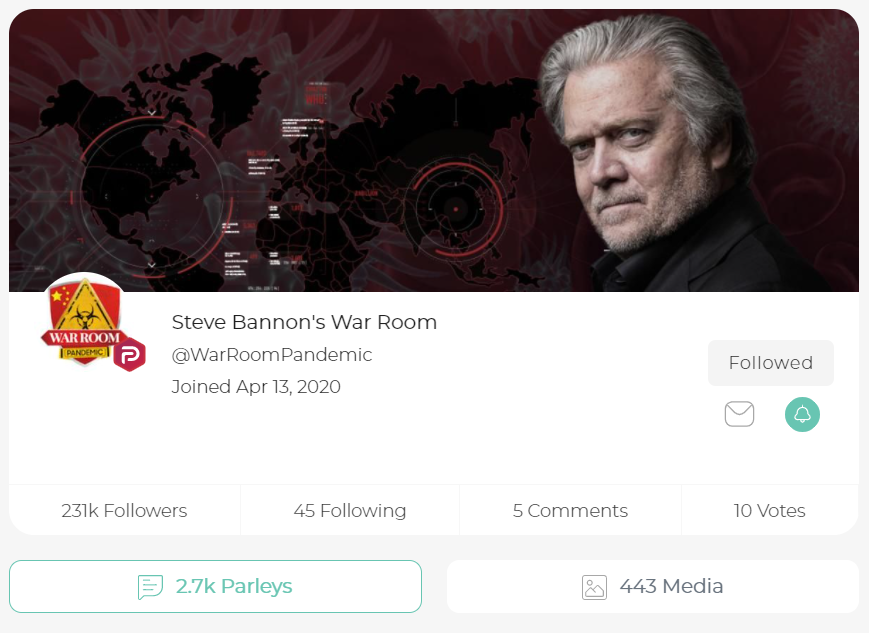 Dr Jonathan Bright, Senior Research Fellow at the Oxford Internet Institute, explores ways in which new digital technologies are changing political participation. He said the tougher regulations which larger social sites are starting to enforce may be having a knock-on effect, pushing some of the worst misinformation offenders into less influential spheres.
"I think it's a very positive thing, when people who are pushing hateful content are relegated to a smaller platform," he told DeSmog. 
"Undoubtedly there will continue to be smaller sites that continue to host these things. But that's not even a terrible thing from a democratic standpoint."
Bright added: "Free speech equates to not being put in prison for what you say, and no one's advocating locking up anti-vaxxers or climate sceptics … But the point is, do you need to provide them with a platform for their views? I think that's something that the big platforms should be encouraged to think carefully about."
Shock Factor
Conservative politicians with links to climate science denial are certainly visible on Parler, but appear to be the exception, rather than the rule. In the U.S., one such notable exception is Trump's personal lawyer Rudy Giuliani, dubbed by Time magazine as "Texas' honorary coal lawyer", whose "Verified Influencer" Parler account has 1.2 million followers. 
And the U.S. Environmental Protection Agency (EPA) appears to be one of the more prominent mainstream entities to have set up a Parler account, along with EPA administrator and former coal lobbyist Andrew Wheeler. Wheeler's enthusiastic tweet about joining the platform in early December would suggest both accounts are legitimate. But it is unclear whether the agency — which has continually rolled back environmental regulations under Trump — will maintain a loyal audience, or active account, under Biden's presidency.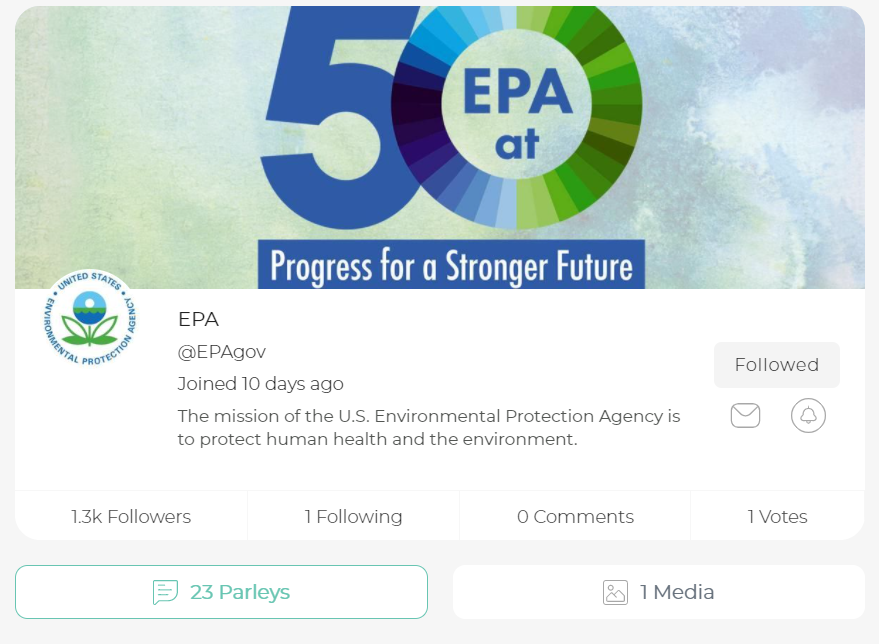 Of the organisations listed in DeSmog's database, just a handful were found to hold Parler accounts. In the U.S., "Verified Influencers" include conservative thinktank Heritage Foundation, with 47,000 followers, and conservative advocacy organisation American Conservative Union, with 31,000. The Global Warming Policy Foundation, the UK's most prominent climate science denial group, has an unverified account with just over 500 followers, dwarfed by its 12,000 Twitter following.
Others with known ties to the fossil fuel industry — including conservative thinktank Cato Institute and giant global strategic consulting firm FTI Consulting — have yet to join the conspiracy theory-laden website.
Parler's apparent lack of appeal to some of the most influential of mainstream climate science sceptics may be explained by the platform's lack of shock factor, explains John Cook, a research assistant professor at the Center for Climate Change Communication at George Mason University.
Cook says there are two main variables determining the activity of online trolls: "How hard is it to troll and how much can they enflame (or misinform) people."
"While Parler lowers the barrier to trolling – by failing to fact-check misinformation – the capacity to enflame is reduced because the platform is only inhabited by like-minded conspiracy theorists," he said. "Relative to larger platforms like Twitter, Parler is a small echo chamber and the inability to gain widespread attention makes it less attractive to science deniers."
'

Real User'

Parler's reputation as a fringe platform may be exacerbated by the challenges of verifying fake and genuine accounts on the network. To navigate this, DeSmog has recognised a post as "appearing real" if the content, followers, and language used on the site seem to accurately reflect the user, while also taking into account its verification status. 

DeSmog contacted all of the individuals and organisations referenced in order to help further verify their account, however, none of them responded to repeated requests for comment at time of publishing. Parler has also not responded to repeated requests for comment.

One example of the challenges in distinguishing who is behind a Parler account is Fox News host Laura Ingraham. Ingraham's unverified account appears legitimate and has over 150,000 followers, while a verified account in her name with 2,500 followers appeared to be a fake, and was deleted in early December.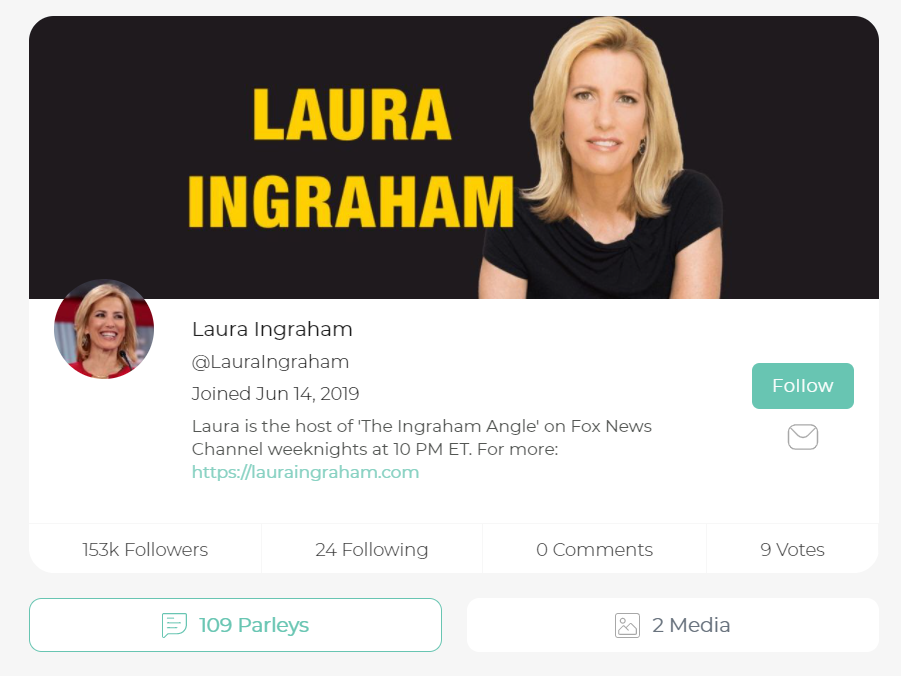 This issue of verification exists across all social media platforms, but appears more pronounced on Parler, where rules appear less likely to be implemented, and misinformation less penalised.
Heinze, the hate speech expert, says that this won't be of concern to Parler, which he says has built a "rather self-heroic" image of itself.
"As far as they're concerned, it's all free speech," he told DeSmog. "Since they focus their policies entirely on non-censorship of content, I'm not sure why they would care about someone posting like any other user, but under a false profile." 
"In their member guidelines," he continued, "they repeat several times, policies to the effect that 'We prefer to leave decisions about what is seen and who is heard to each individual,' so I'm not sure why that would not include identities."
Parler in the
UK
In the UK, Parler appears even less entrenched among organisations and individuals who have expressed scepticism about climate change, though again, there are influential exceptions. 
These include right-wing commentator Katie Hopkins, who set up her account on June 20, one day after she was permanently suspended from Twitter. Hopkins, who once described the Paris Agreement as an "absolute fraud", now regularly mocks the efficacy of the emerging COVID-19 vaccination effort to over 437,000 followers from her "Verified Influencer" and "Verified Real Member" account.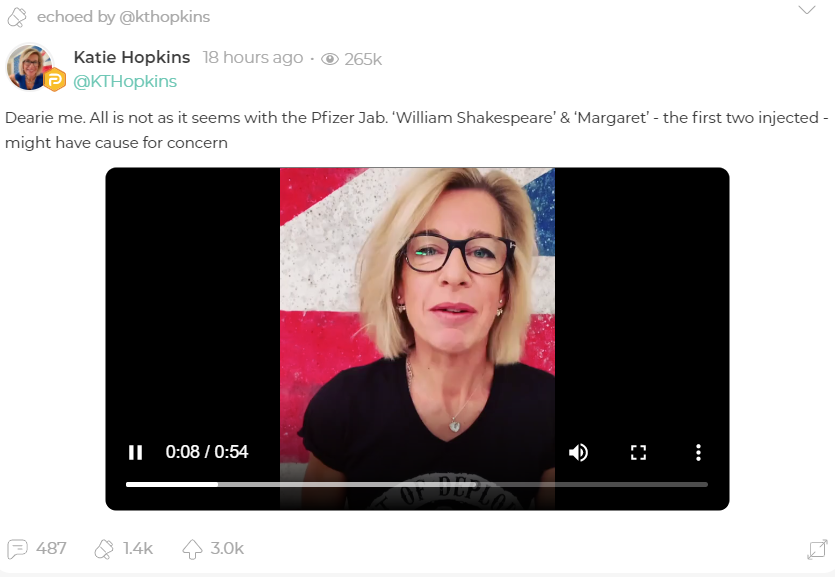 An unverified account under the name Andrew Montford, a well-known climate sceptic who's written reports for the Global Warming Policy Foundation, routinely claims "there is no climate emergency". However, his low number of followers and sporadic posting suggests the handle may not be real or that he isn't dedicating much time to the new platform.
Despite evidence that Parler operates on the fringe of UK debate, a number of British MPs appear to be using the platform, including Conservative MPs Steve Baker and Ben Bradley. Other unverified accounts exist under their colleagues' names — Michael Gove, Greg Smith and Henry Smith — though none responded to requests from DeSmog for verification.
Baker, who once described climate change as a "medium to long-term problem", has publicly justified his presence on the conservative platform, telling The Critic in June: "There seemed to be a demand for MPs on Parler and I've always felt people of goodwill should be everywhere."
The MP for Wycombe also defended the site's controversial censorship features, saying he hoped that "competition and innovation from Parler may inspire Facebook and Twitter to implement features to exclude hateful words from our timelines and post comments."
Bright, Senior Research Fellow at the Oxford Internet Institute, says he sees little incentive for UK MPs to take up Parler at the moment.
"A few might be experimenting with it, but I'd be dubious about whether there is a very big and engaged UK audience on the platform," he told DeSmog.
"Until I see major players in a political party investing lots of time in social platforms and spending money on adverts, doing it quite a lot, I'd be dubious about it being a major part of the UK political landscape."
'

Form and Fester'

Heinze notes that Trump's "killing" of environmentalism has led to the issue becoming a lower priority for his most dedicated supporters, who have generally focused on more domestic issues such as the so-called "stolen election".  

When it comes to Twitter and Facebook, Heinze argues the greater volume and breadth of climate and environmental content present on these platforms are more likely to provoke deniers into responding. There are currently few, if any, environmentalists on Parler with whom denialists would be able to pick a fight, said Heinze.

But this could all change when Trump makes way for Biden in just a month's time, he says. "As soon as Biden starts to breathe a few words about the U.S. taking action on climate change, then we'll see if we're getting the same encouraging results [regarding lower levels of climate denial] … I'm not optimistic."

Cook, the disinformation researcher, agrees that it is premature to dismiss the potential of Parler to spread climate science denial.

QAnon conspiracy theories, he said, which originated in "dark corners of the web" before going on to be voiced at Trump rallies and supported by elected congress members, could provide a warning to those doubting the unpredictable power of misinformation.

"Science denial and extremist views can often form and fester in these marginalized corners of the internet," he said, "then grow to penetrate mainstream consciousness."

Main image credit: Sam Witham/DeSmog UK