Four environmental groups sued Environmental Protection Agency (EPA) chief Andrew Wheeler last week, alleging that the agency stood by while Texas failed to enforce the nation's federal environmental laws and adequately control air pollution in the state.
"For too long, EPA has turned a blind eye as Texas has routinely violated the federal Clean Air Act by rubber-stamping weak permits for the state's biggest polluters," Gabriel Clark-Leach, senior attorney for one of the groups, the Environmental Integrity Project (EIP), said in a statement as the lawsuit was filed on January 4.
EIP is joined by the Sierra Club, Environment Texas, and the Port Arthur Community Action Network as plaintiffs in the case. The lawsuit alleges that air pollution permits for eight fossil fuel sites, issued by the Texas Commission on Environmental Quality (TCEQ) without objection from the EPA, fall short of national standards. The sites include some of the largest individual air polluters in Texas, including coal-fired power plants, oil and gas refineries, and processing plants.
The lawsuit shines another spotlight on Texas' enforcement of federal air pollution standards. Pollution from the Permian basin, for example, is so notorious (often the result of venting and flaring that Texas regulators assert is legally permissible) that in October, the French government moved to block a $7 billion deal intended to allow the export of Permian gas from Texas to France.
The state has long faced questions from environmental groups about its capacity and willingness to penalize polluters and to police the oil and gas industry. In October, the environmental group Earthworks reported that the TCEQ had failed to respond to 45 percent of their public complaints about oil and gas pollution in the state from 2015 to 2020. Texas acted on just 12 of the group's 141 pollution complaints, which Earthworks had supported with optical gas imaging video and other materials, the report said.
"Making matters worse," Clark-Leach told DeSmog, "Texas writes permits that omit federal requirements, create illegal exemptions to federal requirements, and make federal requirements unenforceable by members of the public by making the requirements confidential."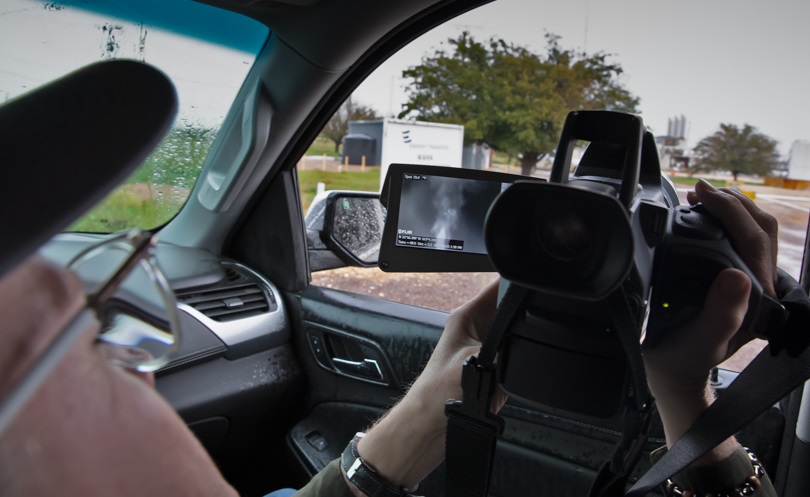 Earthworks' Sharon Wilson documented emissions from a Waha gas plant, one of the sites named in last week's lawsuit, in December, 2018 . Credit: Julie Dermanksy
The case represents an opening volley for 2021 in what may be one of the most consequential environmental issues of the incoming Biden administration's first year in office: how will federal regulators respond if states like Texas repeatedly fall short on enforcing the nation's environmental laws — particularly when it comes to climate change?
The lawsuit also looms large for residents of some of the most heavily polluted regions of the oil producing and refining state. By failing to enforce federal air quality standards at the eight oil, gas, and coal sites, the lawsuit alleges, Texas has undermined the health of those living nearby.
"This unlawful disorder is what leads to the creation of sacrifice zones where people are forced to fend for themselves," Bryan Parras, a Sierra Club Healthy Communities environmental justice advocate, told DeSmog. "What good are laws if they aren't enforced?"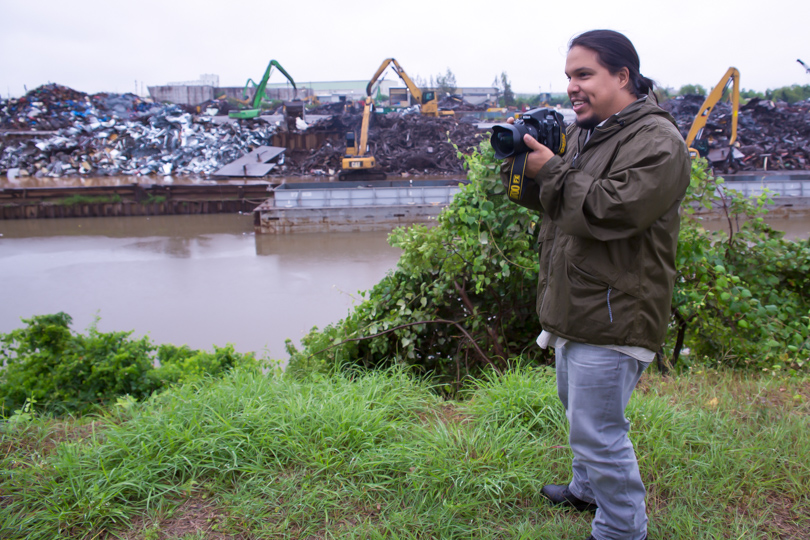 Bryan Parras, across from Sims Metal Management's Proler Southwest recycling facility, while leading a tour of toxic places in East Houston on June 4, 2016. Credit: Julie Dermansky.
A spokesperson for the EPA declined to comment on the pending litigation, as did representatives for several companies holding the challenged permits. The majority of decisions about how the government will defend the lawsuit as it progresses are expected to be made by the incoming Biden administration (whose announced pick for EPA chief, Michael Regan, will face confirmation following Mr. Biden's inauguration).
In previous correspondence with Texas, largely before the Trump administration took office, EPA had raised concerns that some of the practices challenged in the lawsuit "are contributing to ambiguous and unenforceable permits" but did not prevent the permits from being issued.
Many of the facilities named in the lawsuit are located in predominantly Black and Latino communities in Texas, including the Premcor Port Arthur Refinery in Port Arthur, Texas, which has a childhood asthma rate that's double the national average.
Hilton Kelley, a 2011 Goldman Environmental Prize recipient from Port Arthur and head of the Community In-Power and Development Association, said that those plants have amplified health impacts because so many in those communities face not only pollution from the plants, but also a wide range of health issues that stem from racism, both present and historic.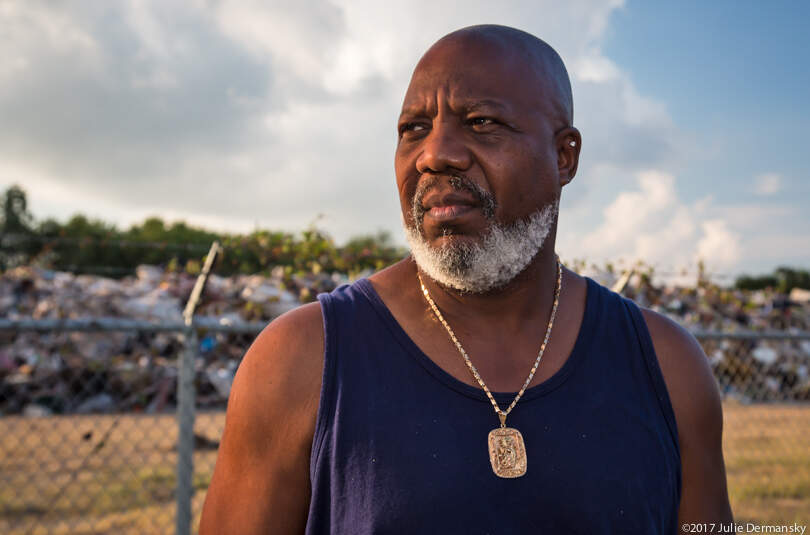 Hilton Kelley on 19th Street in Port Arthur, Texas, following Hurricane Harvey in 2017. Credit: Julie Dermansky
"And now we're talking about how preexisting conditions are further being exacerbated," he told DeSmog. "And why is that again? Because we are still the majority, even though the minority in this country, but we're still the majority living in undesirable communities in which to live because of the industries, because of the amount of toxins that people will be exposed to in those areas."
"So until we get control of the emissions in those disproportionate areas or overburden areas," Kelley continued, "I think all permitting should be stopped until we get a handle on it."
Not all of the facilities named in the lawsuit are in densely populated areas. One of the other sites is the Waha Gas Plant in Pecos County, on the outskirts of the Permian basin oilfield. Waha might be best known for the Waha hub, where West Texas natural gas prices are benchmarked.
The lawsuit alleges that since 2012 the Waha gas plant illegally released more than 100 tons of sulfer dioxide "during emissions events and unauthorized maintenance" each year. Sulfer dioxide can cause harm to people's respiratory systems, according to the EPA, and contributes to the formation of particulate matter (PM) pollution, acid rain, haze, and damages tree foliage and plant growth.
In November 2017, Earthworks documented flaring with black smoke at Waha. "TCEQ took no action due to a loophole in the law," Sharon Wilson, an Earthworks videographer told DeSmog.
During a February 2020 visit to the Waha Gas Processing plant, black smoke was also seen coming from flares at the plant.
The lawsuit alleges that in 2019, "ETC operated its acid gas flare for 551 hours during emissions events and unauthorized maintenance." In 2018, it adds, the flare burned for 1,253 hours — despite, the groups allege, a 335 hour-per-year limit for the acid gas flare established in the site's permit.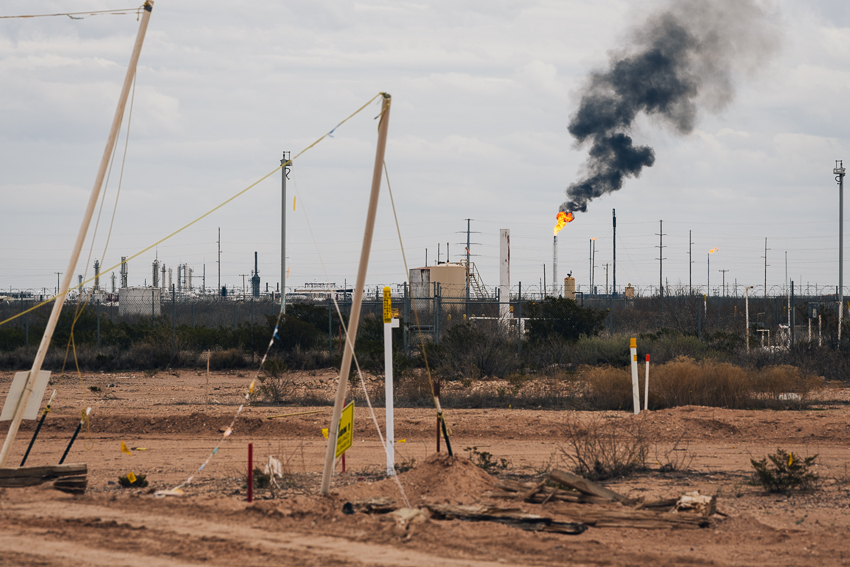 A black flare can be seen above the Waha Gas Plant in February 2020. Credit: Justin Hamel, 2020.
Clark-Leach, the EIP attorney, called on the incoming administration to take action on that pollution and to push Texas to fully enforce federal clean air standards.
"We are hopeful that the Biden administration will take action to address these known deficiencies by: 1) stepping up federal enforcement against polluters; 2) exercising its duty to make sure that Texas Title V permits actually require compliance with the law; and 3) addressing provisions in Texas's laws that conflict with and undermine the enforceability of federal requirements," he said.
Main Image: Motiva's refinery in Port Arthur shut down during Hurricane Harvey in 2017. Credit: Julie Dermansky.