"The president has not conceded — the president said he has got us," I heard a voice blare out over a loudspeaker as I walked toward the Louisiana State Capitol building in Baton Rouge at a "Stop the Steal" rally on January 9. Once there, I found a few dozen people gathered listening to a handful of speakers consoling themselves about the imminent end of the Trump administration.
Some spoke about their experience  on January 6 in Washington, D.C., when thousands of Trump supporters gathered at the president's behest to try and stop the certification of the 2020 election for Joe Biden. They marched to the U.S. Capitol after Trump encouraged them to do so.
Many insisted that the riot that ensued as Trump supporters took over the  U.S. Capitol — leading to the death of five people, including a Capitol police officer — was not what it looked like on TV. For the most part it was peaceful, many at the Baton Rouge rally claimed.
Views expressed by the speakers in Baton Rouge echoed a chorus of right-wing conspiracy theories and misinformation shared by Republican politicians and supporters on social media: false claims about Trump winning the election; Biden's relationship with China; forced inoculations; and Antifa, rather than Trump supporters, being responsible for the violence at the Capitol that led to the deaths of five people and the destruction of federal property. This separation from reality and evidence is echoed in Louisiana's science denial regarding the climate crisis and pandemic.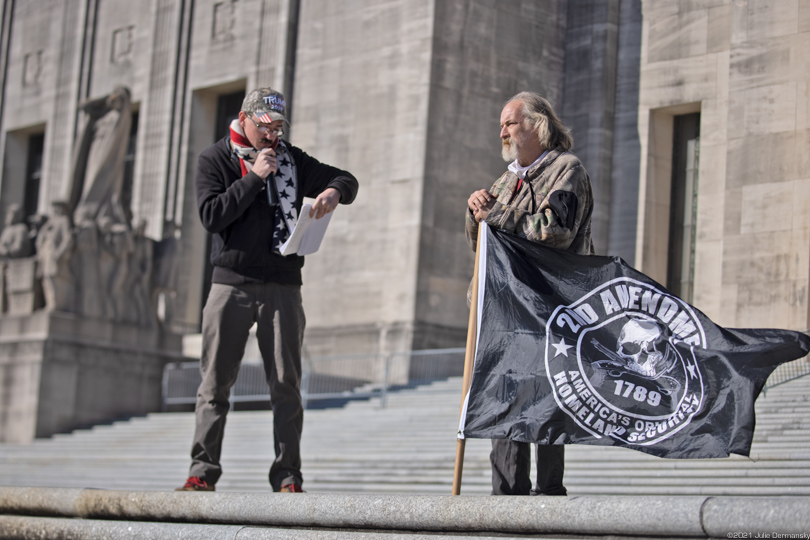 Vaughn Gordon holding a flag, next to Robert Besson who he went to Washington D.C with, on the steps of the Louisiana Capitol  on January 9.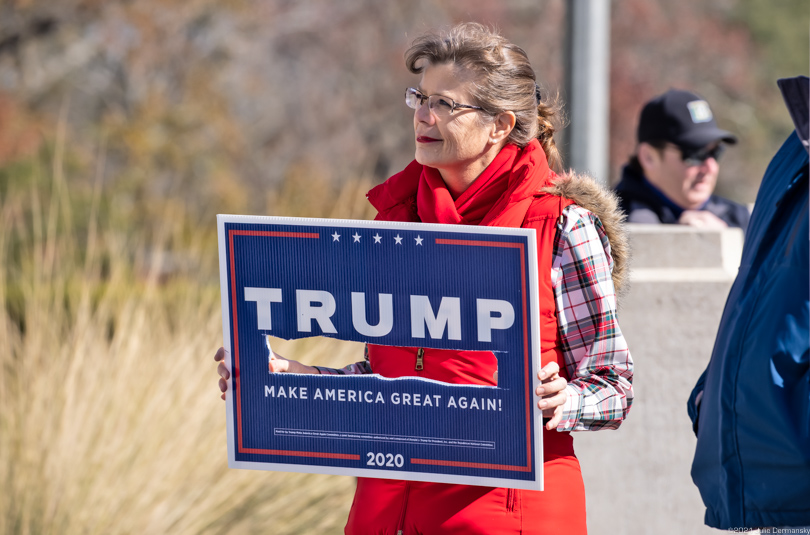 Trump supporter with a Trump Pence campaign sign with Pence's name removed at the  January 9 rally in Baton Rouge.
Vaughn Gordon, a veteran holding a black flag with a skull and crossbones and a message supporting second amendment rights, took the mic and called for a moment of silence for Ashli Babbitt, a retired Air Force veteran who was caught on film being shot to death as she tried to get into an inner chamber of the Capitol.
Speaking on the LA Capitol's steps, Gordon identified himself as a felon since he was one of the many that entered the U.S. Capitol during the riot but claimed he didn't vandalize anything. He further downplayed responsibility for his actions during the insurrection, claiming that he entered the Capitol building because tear gas from law enforcement drove him inside.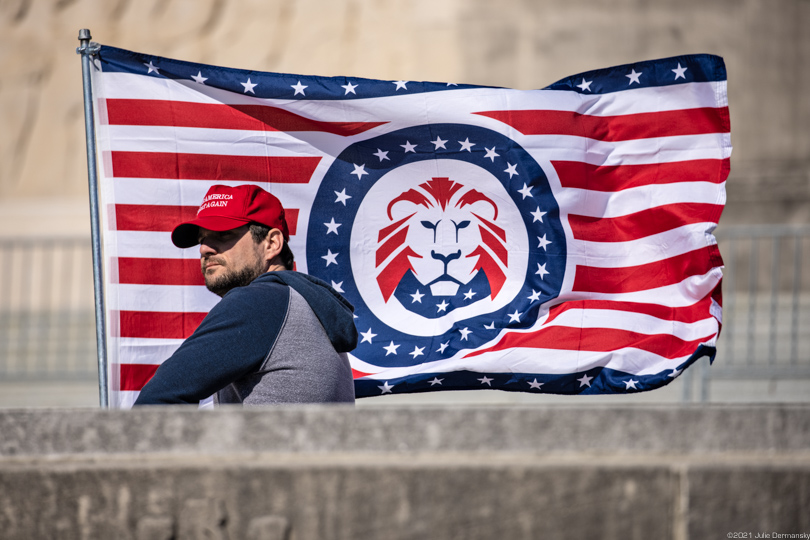 Trump supporter with a flag for the  Partiot Party, a political organization that  hopes to challenge the two party system.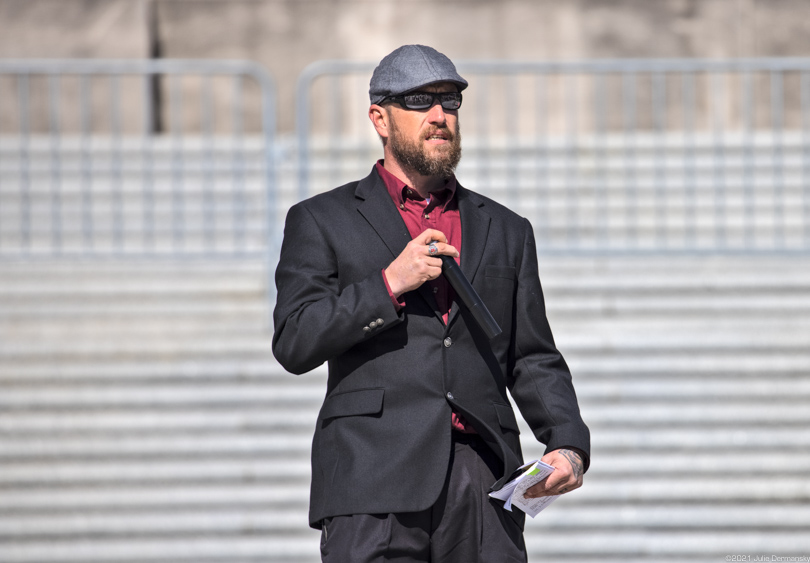 Michael "Sauce" McComas speaking at a "Stop the Steal" in Baton Rouge on January 9.
At the January 9 rally, Michael "Sauce" McComas, a self-identified leader of the Louisiana Cajun Militia (LCM) warned, without evidence, that once in office, President Biden will lock down the country in his first 100 days, taking away everyone's freedom. 
"I'm a proud patriot — I'm a Three Percenter," he told those gathered, referring to the loose group of far-right militants, before confessing that he has done things that are not legal in the last four years. McComas went on to explain that he and other members of the LCM come out to events like these so everyone can go home safely — "and if we are able to throw some elbows and throw some fists and everything else — we have fun doing it."
At the Baton Rouge rally, McComas warned of violence to come if anyone laid a hand on him or those who support his values. He went on to proclaim, "We are about to go to World War III."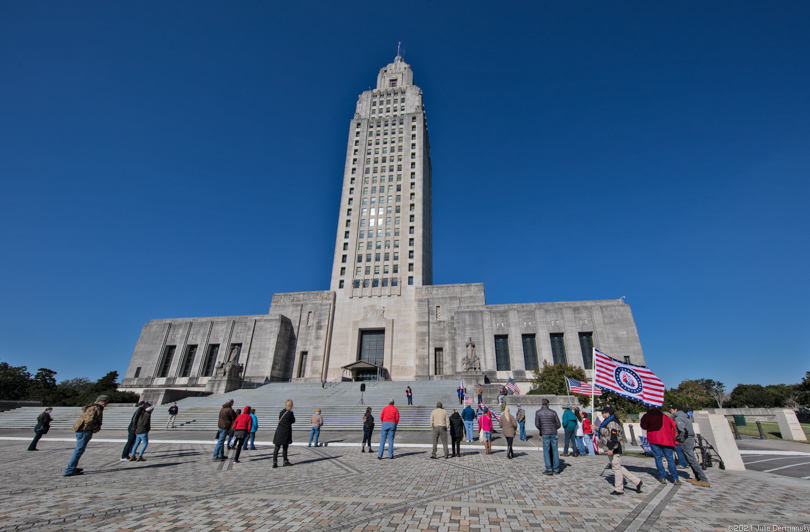 A small group of Trump supporters in Baton Rouge on January 9.
His threat should not be taken lightly. ABC News reported that the FBI expects armed protests at all 50 state capitols, as well as the U.S. Capitol again, in the lead up to the January 20 inauguration of Joe Biden.
An investigation by Justin Nobel for DeSmog revealed that the Three Percenters is one of many right-wing militia groups that sprang up during Barack Obama's rise to the presidency. Many in the loosely organized group work in the oil and gas industry and have the knowledge and access to take over critical infrastructure sites, such as energy pipelines and processing plants.
They are often outspoken climate science deniers and believe the COVID-19 mask mandates and stay at home orders are a way for the government to take away people's rights. Three Percenters have participated in protests against regulations called for to control the pandemic. And some flags bearing Three Percenters symbols were seen during the January 6 riot in Washington D.C.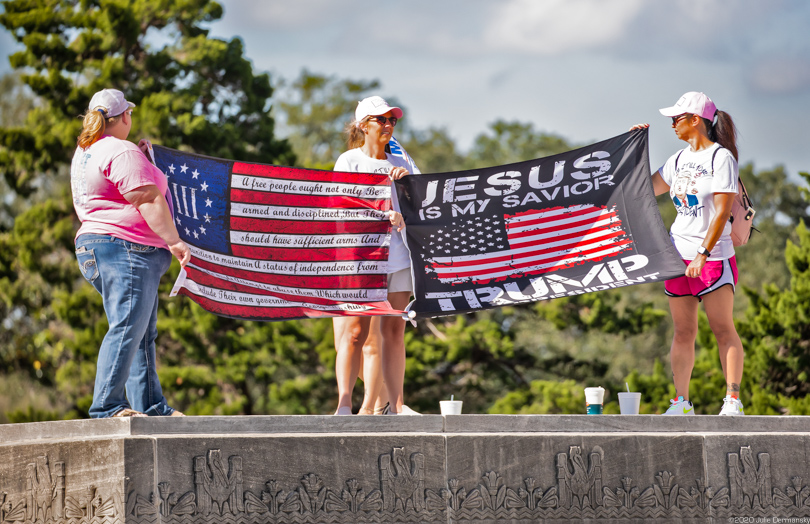 Trump supporters with a Three Percenter's flag on November 14, 2020, at a 'Stop the Steal' rally in Baton Rouge.
Louisiana Congressman Clay Higgins — who continues to stand by Trump despite the riot in D.C. — referred to himself as a member of the Three Percents at a seminar for oil and gas industry members in 2018. "My role as your representative is to be not just your ally, but your warrior," he told them, according Nobel's report. "Please allow the service of my office to represent the point of the spear that you wield. We'll knock down every bureaucratic wall. We'll kick down every federal barrier." 
Daryl Johnson, a former Department of Homeland Security analyst, described the Three Percenters as "a hybrid organization which blends the tactical elements of a militia, the logistical expertise of the prepper community, and the 'off the grid' mindset and outdoors resourcefulness of survivalists." It has a command structure and claims chapters in every U.S. state.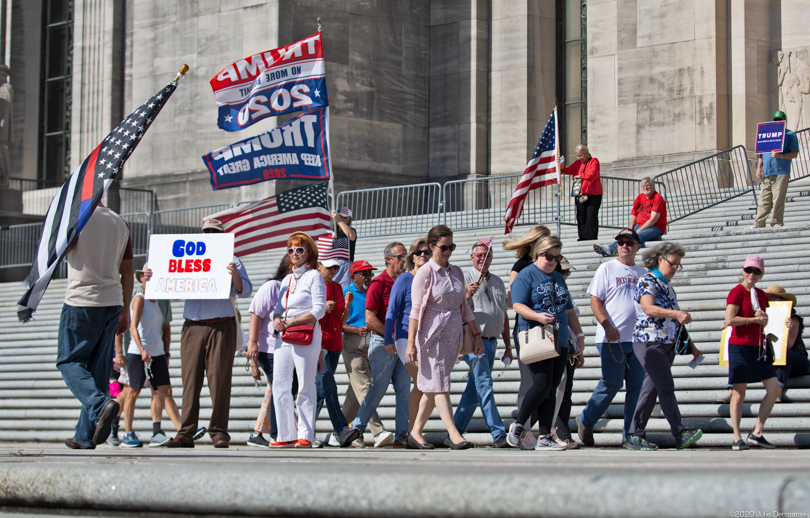 "Stop the Steal" rally in Baton Rouge on November 14, 2020.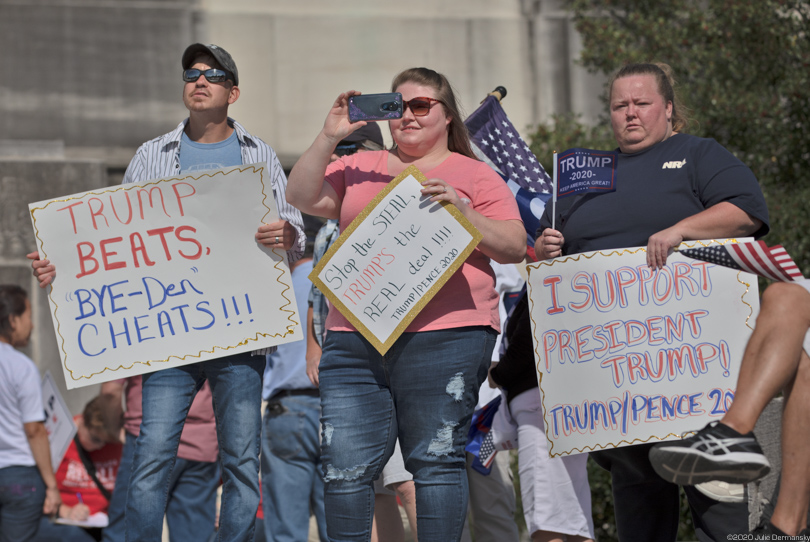 Trump supporters  in Baton Rouge on November 14, 2020.
A group of Trump supporters have been meeting at the Louisiana Capitol every Saturday at noon since Biden was announced as the presumptive winner for a "Stop the Steal" rally. Though their numbers have been small since the first  "Stop the Steal" protest, those who gather are not alone in their fervent support of Trump.  Five state Republican lawmakers and the State Attorney General continue to support Trump's claim that the election was illegitimate regardless of the failed insurrection in Washington D.C. on January 6.
U.S. Senator John Kennedy of Madisonville, and U.S. Representatives Steve Scalise of Jefferson, Mike Johnson of Benton, Garret Graves of Baton Rouge, and Clay Higgins of Lafayette, were included in the 138 Republicans in the House and eight in the Senate who voted last week against certifying certain states' electoral votes for Biden in what many characterize as a thinly veiled attempt to deny him the presidency.
Louisiana Attorney General Jeff Landry supported Texas Attorney General Ken Paxton's December 10 legal challenge claiming the election results in Pennsylvania, Georgia, Wisconsin, and Michigan were unlawful. The Supreme Court refused to hear the case, which was a fatal blow for those hoping the courts would side with President Trump, despite no credible evidence of election irregularities. Landry also joined other attorneys general in filing a brief of support for a similar challenge in Pennsylvania in November.
After the failed Capitol insurrection, Landry found himself in the spotlight when the watchdog group Documented exposed his ties to the events leading up to the violent attack in D.C. Landry is on the executive committee of the Republican Attorneys General Association (RAGA), which has supported efforts to overturn the election results, and, according to the most recent available tax filings (2017), he has served on the board of the Rule of Law Defense Fund (RLDF), the dark money policy arm of RAGA. RLDF  helped lead, finance, and organize the January 6 "Save America Rally" on behalf of President Trump and sent out a robocall message on January 5, encouraging "patriots like you [to] join us to continue to fight to protect the integrity of our election." 
Landry has claimed that he was not aware of the call and condemned the violence at the Capitol. And RAGA likewise put out a statement condemning the violence, destruction, and lawlessness of January 6. However, Landry has not disavowed the role RAGA played in amplifying Trump's call to action in D.C., by propagating the lie that the presidential election was "stolen" from Trump.
A couple days after the mayhem in D.C., Landry announced a new initiative, dubbed "Save and Defend," on Fox News. The initiative will mimic the playbook of Republican attorneys general against the Obama administration, seeking to block presidential initiatives, including anything to do with the Green New Deal — a sweeping proposal to rapidly and equitably decarbonize the economy.
Landry's refusal to accept Biden's victory echoes his anti-science stance when it comes to the climate crisis and the pandemic. In 2018, he claimed the science behind climate change and sea level rise is a hoax and has challenged Democratic Gov. John Bel Edwards' restrictions to control the spread of COVID-19. 
But while Landry and the lawmakers continue to challenge Biden's victory and voice support for Trump, many corporate donors and trade groups are starting to publicly distance themselves from the president and condemn the violence that has happened. This includes the American Petroleum Institute, the American Gas Association, and the National Association of Manufacturers.
As Sharon Kelly reported for DeSmog, organizations that condemn the violence in D.C. risk being slammed by some longtime climate science deniers who "directly expressed support for the attackers and called for more violence."
Support for Trump in Louisiana during both of the last presidential elections was overwhelming — as were symbols from militia groups on flags and patches.
Driving on the interstate just outside of New Orleans, I passed a car with an American flag billowing in the wind alongside one with long guns and text daring anyone to "Come and take it."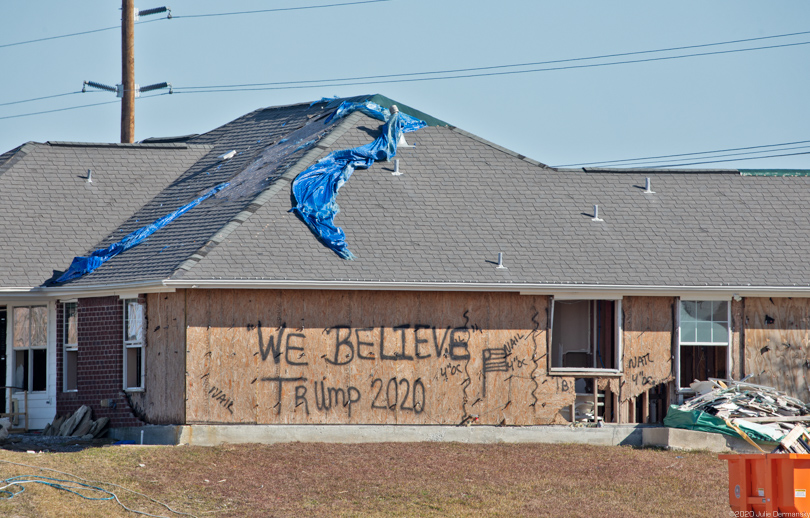 Home that was badly damaged during the 2020 Hurricane season in Cameron Parish  on December 29, 2020.
Trump flags and messages of support for him remain commonplace in Louisiana, including the devastated landscape of Cameron Parish on the Gulf Coast, which was pummeled by two hurricanes in only a few weeks last year and is starting to show signs of recovery.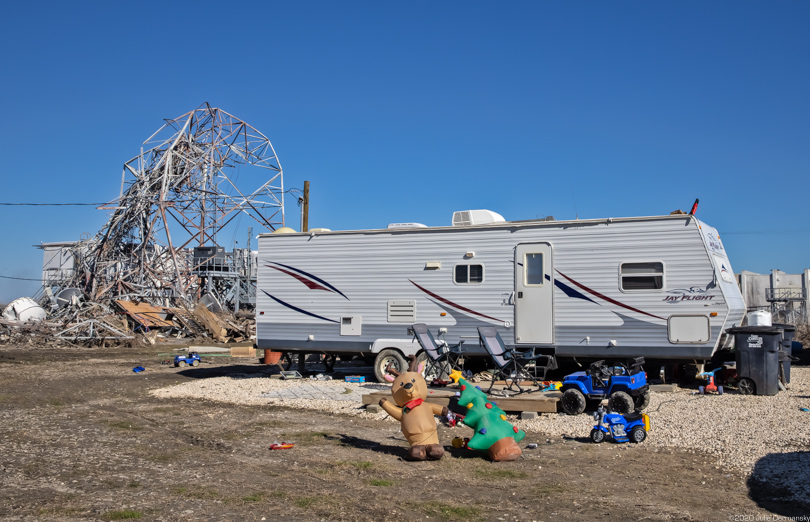 An RV Motor Home in Cameron Parish where Hurricane Lauara and Delta took aim.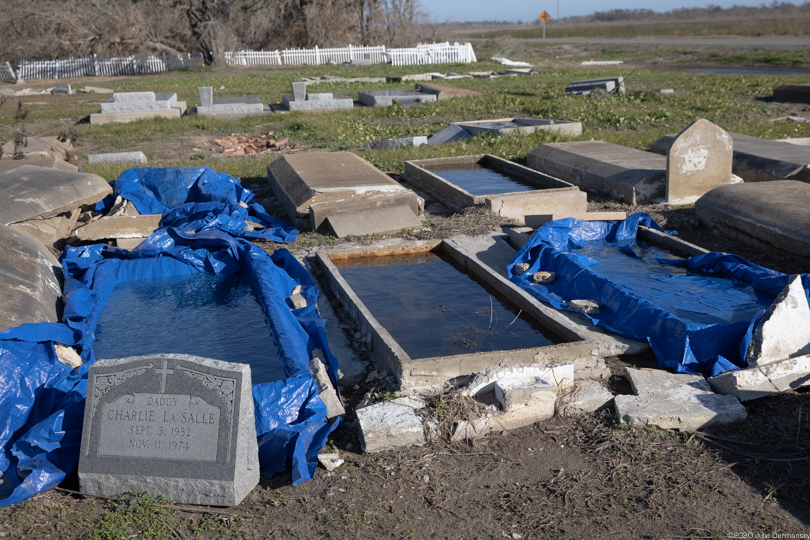 Cemetery in Cameron Parish badly damaged during the 2020 hurricane  season.
In this part of the nation, the dual threats of rising sea levels from climate change and the pandemic continue to grow. Also expected to grow is the size of the "Stop the Steal" protests in Baton Rouge — another one is scheduled for this coming Saturday.
A Louisiana State Police spokesperson told WAFB: "In coordination with Capitol staff and the Department of Public Safety Police, LSP will have personnel in place to ensure a safe environment and to protect the rights of our citizens to hold a peaceful gathering."
Main image: Photo Trump supporter at a "Stop the Steal" rally in Baton Rouge on Jan. 9, 2021. Credit: Julie Dermansky.