Polluting industries are overwhelmingly represented on the boards of the UK's banks by directors with past and current connections to high-carbon and environmentally damaging companies, a new DeSmog analysis has found, prompting concerns that the boards' personnel pose a systemic obstacle to climate action.
Research by DeSmog shows that 80 percent of board members at the UK's five biggest banks have affiliations with environmentally damaging companies, either as current or previous advisors or employees.
The analysis of 64 current directors at Barclays, HSBC, NatWest, Lloyds and Standard Chartered comes as shareholders prepare to meet to consider a range of progressive environmental resolutions at the banks' AGMs.
Board positions are generally part-time, but board members can reportedly receive compensation in the region of £100,000 for attending around 26 meetings a year.
---
Like what you're reading? Support DeSmog by becoming a patron today!
---
Established industry figures tend to be appointed to the roles, with decades of experience under their belt. DeSmog's analysis shows that many of the directors have long histories of working in or advising the fossil fuel industry, as well as other polluting sectors including agribusiness, aviation, plastics and investment vehicles known to support fossil fuel extraction, among others.
Campaigners say the analysis shows there is a "revolving door" between banks and the fossil fuel industry, which could undermine the banks' claims to be environmentally progressive actors.
Jeanne Martin, Senior Campaign Manager at responsible investment charity ShareAction, told DeSmog: "This is startling evidence of worrying possible conflicts of interest within bank boardrooms, many of which are currently facing critical decisions related to their financing of carbon emissions."
Fossil fuels
DeSmog's analysis shows that almost a quarter of the directors currently sitting on the banks' boards have a current or past connection to the fossil fuel industry.
For instance, Standard Chartered director Gay Huey Evans sits on the board of Conoco Phillips, which has produced more than 15 billion tonnes of carbon dioxide emissions since 1965. Fellow board member Byron Grote also has a long history of working in the oil industry, including for BP, responsible for emitting around 34 billion tonnes of carbon dioxide in the same timeframe. He is also a current director of mining company Anglo American.
Barclays group finance director Tushar Morzaria also has a seat on the board of BP – where fellow board member, Brian Gilvary, served as CFO until last year. Gilvary, whose career at BP spanned 34 years, is now executive chair of INEOS Energy, a new unit that has taken on the company's oil and gas assets. Their Barclays colleague Mary Francis was also a director of big energy company Centrica, which still owns a number of North Sea fossil fuel assets.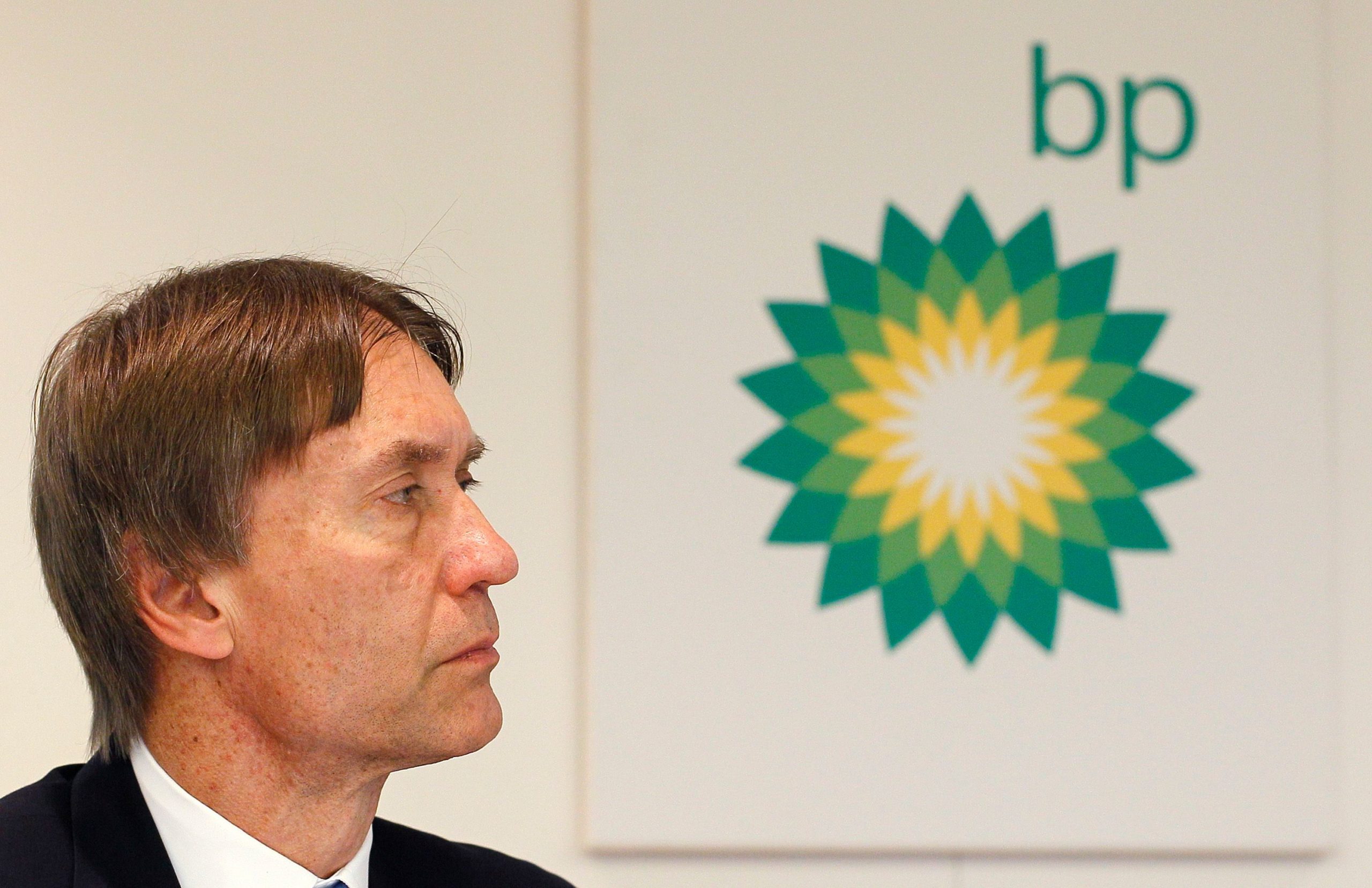 Image: Standard Chartered direcror Byron Grote, formerly of BP. © Alastair Grant/​AP/​Shutterstock
HSBC director Jose Antonio Meade Kuribrena, who came third in Mexico's presidential elections in 2018, is a director of Mexican company Alfa, which is involved in oil exploration and production. Fellow board members Pauline Van Der Meer Mohr and Irene Lee have been employed by fossil fuel companies Shell and Noble Group respectively. Conservative peer Lord Lupton, one of Lloyds' 11 directors, holds shares in Shell and mining company Rio Tinto, as well as some wind energy companies. And Mark Seligman, who sits on NatWest's board, was a director of oil company BG Group, which was bought by Shell in 2015.
DeSmog approached all five banks and the directors named in this article for comment.
In a statement for Lloyds Banking Group, Group Sustainable Business Director Fiona Cannon said banks had a "critical role to play in tackling climate change and protecting the planet for future generations". The bank would "continue to accelerate our support throughout 2021 to help finance a greener, cleaner recovery for the UK", she added.
A spokesperson for NatWest told DeSmog tackling climate change was "central to our purpose-led strategy". They added: "While we understand that we have to think long term, we also know that we have to act quickly and in partnership with both the private and the public sectors," noting there were "huge opportunities to create jobs and transform communities".
Standard Chartered, Barclays, HSBC declined to comment.
High-flyers
DeSmog's analysis shows that directors' connections to polluting companies extend well beyond the fossil fuel industry, with the aviation sector being particularly strongly represented.
While aviation accounts for just 2.5 percent of global carbon dioxide emissions, the industry remains a laggard in decarbonising due to its continued reliance on high-carbon petroleum-based fuels, with a lack of viable alternative cleaner fuels. Despite the coronavirus pandemic, demand for flying is expected to double over the next few decades, with aviation companies trying to make their activities more environmentally friendly through a growing dependence on controversial carbon offsets.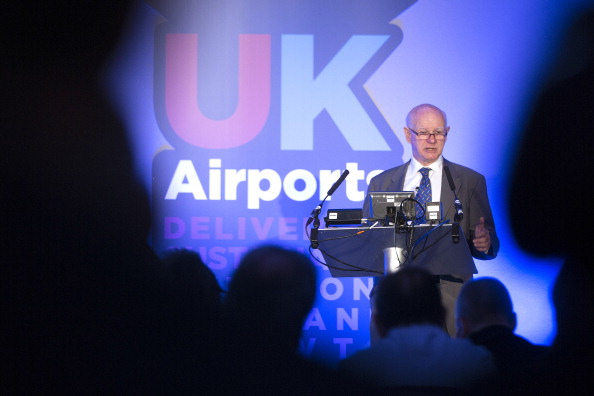 Among those with ties to the industry is NatWest chair Howard Davies, who chaired the Airports Commission that recommended Heathrow proceed with a third runway. Standard Chartered director Jasmine Whitbread, who was Chief Executive of Save the Children between 2005 and 2015, became CEO of London First in 2016, an advocacy group that lobbied the government to approve plans for the expansion.
Whitbread's Standard Chartered colleague Carlson Tong is currently an observer to the board of airline Cathay Pacific, for which HSBC director Irene Lee was a director until 2019. In a statement, Tong told DeSmog he was "personally committed to [fighting] climate change" and that he would "support any socially responsible actions on climate change".
Another HSBC director, Jackson Tai, was a director of Singapore Airlines for three years until 2014. And Lloyds director Amanda Mackenzie previously worked for British Airways.
Banks
Nearly half of the banks' directors also have strong ties to other international banks known to support the fossil fuel industry, including Citigroup, Goldman Sachs, Morgan Stanley, UBS, and JP Morgan.
Barclays director Tushar Morzaria, for instance, has previously been employed by JP Morgan Chase and Credit Suisse, both of which are among the biggest financiers of the fossil fuel industry. JP Morgan alone invested nearly $269 billion in fossil fuels between 2016-2019.
Morzaria was the top finance chief at JP Morgan's Corporate and Investment Bank, before joining Barclays in 2013. Morzaria's fellow Barclays board member Jes Staley worked for 34 years across JP Morgan's group of companies, ultimately becoming the investment bank's CEO. HSBC's Jackson Tai was an investment banker at JP Morgan for 25 years, before later becoming a board member of Bank of China, which has helped finance a wide range of fossil fuel projects including the controversial Trans Mountain Pipeline Expansion Project in Canada. HSBC director Irene Lee also served as an advisor at JP Morgan Australia.
The analysis also showed a number of directors were employed by or had advised Credit Suisse, which invested a total of $74.3 billion in fossil fuels between 2016 and 2019, of which $23 billion went to global firms actively expanding their fossil fuels businesses. HSBC director Eileen Murray was a member of Credit Suisse's executive and management boards. Ewen Stevenson, HSBC's finance chief who also serves as the board's executive director, was previously employed as the co-head of Credit Suisse's EMEA Investment Banking division, as well as a chief financial officer for RBS.
Under pressure
Banks are increasingly facing public pressure to become responsible social actors and tackle the climate crisis by removing their support for high-carbon industries. All five banks listed – the UK's only independent retail banks – have pledged to align with the Paris Agreement target of limiting global warming to "well below" pre-industrial temperatures, but all have faced criticism for not doing more to boost climate commitments.
Lloyds, the UK's largest domestic bank, last year pledged to halve the amount of carbon emissions it finances through personal and business loans by 2030. NatWest, formerly RBS, has pledged to reduce its climate impact by 50 percent by 2030.
Standard Chartered was in May 2020 forced to defend the bank's environmental credentials after climate campaigners criticised its funding of fossil fuel companies. Also in 2020, Barclays rejected a climate motion to end fossil fuel financing, but is due to face a second shareholder resolution on its response to climate change in May 2021. Meanwhile HSBC's directors are currently considering a shareholder motion, backed by major investors, requesting that the bank decrease its exposure to fossil fuels, starting with coal.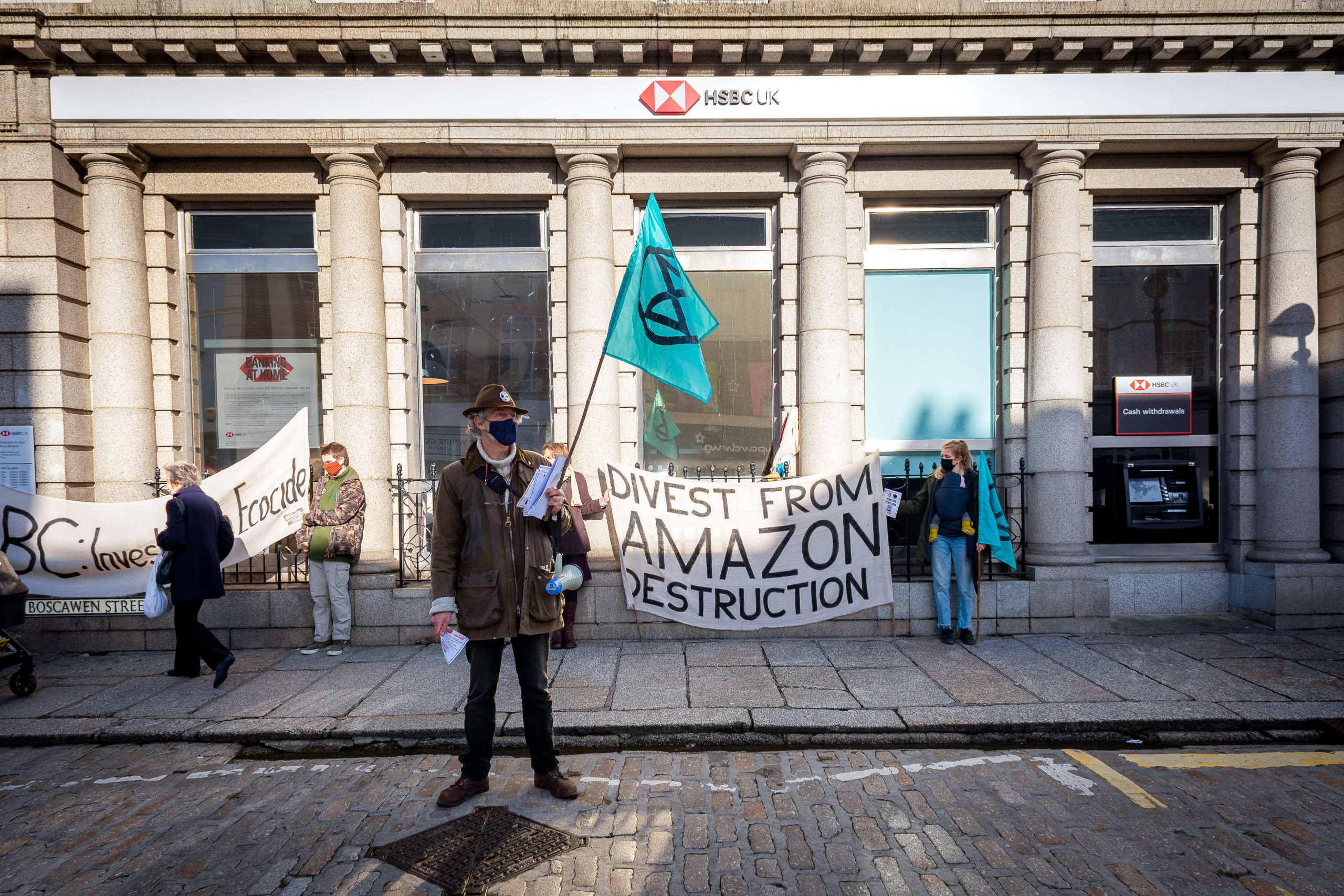 Image: Extinction Rebellion protestors outside HSBC in Truro, Cornwall. Credit: James Pearce
However, campaigners remain sceptical about whether banks are truly serious about effecting change, given the existing makeup of boardrooms.
Adrienne Buller, Senior Research Fellow at Common Wealth, a thinktank dedicated to a democratic and sustainable economy, said banks' governance practices meant polluting industries were currently likely to be represented on the boards, which could affect the banks' ability to address the climate crisis.
"Quite frankly, ties to industry are almost inevitable in the corporate governance structures that dominate today," she said. "I can't see how a banking system with such extensive ties to this powerful industry could be expected to approach these decisions with the urgency required."
ShareAction's Martin agrees that with the current personnel on the board, banks may be too slow to react to the threat of climate change. "How can we possibly expect those at the very top of banks such as Barclays and HSBC to make difficult, yet necessary, decisions on fossil fuels given their close links with fossil-fuel dependent industries?" she asked.
"Investors should take note of the revolving door between banks and the fossil fuel industry and use their voting rights to discharge climate-conflicted directors."
Additional research by Richard Collett-White and Michaela Herrmann. Graphics by Sam Whitham.
Right-aligned image: Natwest director and former chair of the UK airports commission Howard Davies. © Getty Images