NORCO, LOUISIANA ​​— For over a century, the Shell Norco Manufacturing Complex has dominated Norco, Louisiana's skyline as it refines up to 10.1 million gallons of oil a day and produces up to 3.33 billion pounds of ethylene a year.
Shell's Norco refinery was one of multiple Louisiana oil refineries that shut down on Friday, August 27 as Hurricane Ida gained strength crossing the Gulf of Mexico's unusually warm waters. Ida made landfall on Sunday, August 29 as a Category 4 hurricane — and remained a hurricane for 16 hours after its official landfall, maintaining strength as it passed over the swampy southern Louisiana coastline.
After Ida passed, black smoke darkened the skies over Norco, rising from bright red flares.
Refinery flares can add to air pollution in the wake of natural disasters. "Some of the area's refineries started shutting down operations leading up to Harvey, including ExxonMobil, Petrobras, Shell, and Chevron Phillips Chemical," DeSmog reported in 2017. "This process adds to air pollution because it leads to flaring off excess toxic gases, together with natural gas and oxygen, to keep the chemicals from building up to dangerous pressures."
Black carbon released by flares can be a powerful — if short-lived — greenhouse gas in its own right.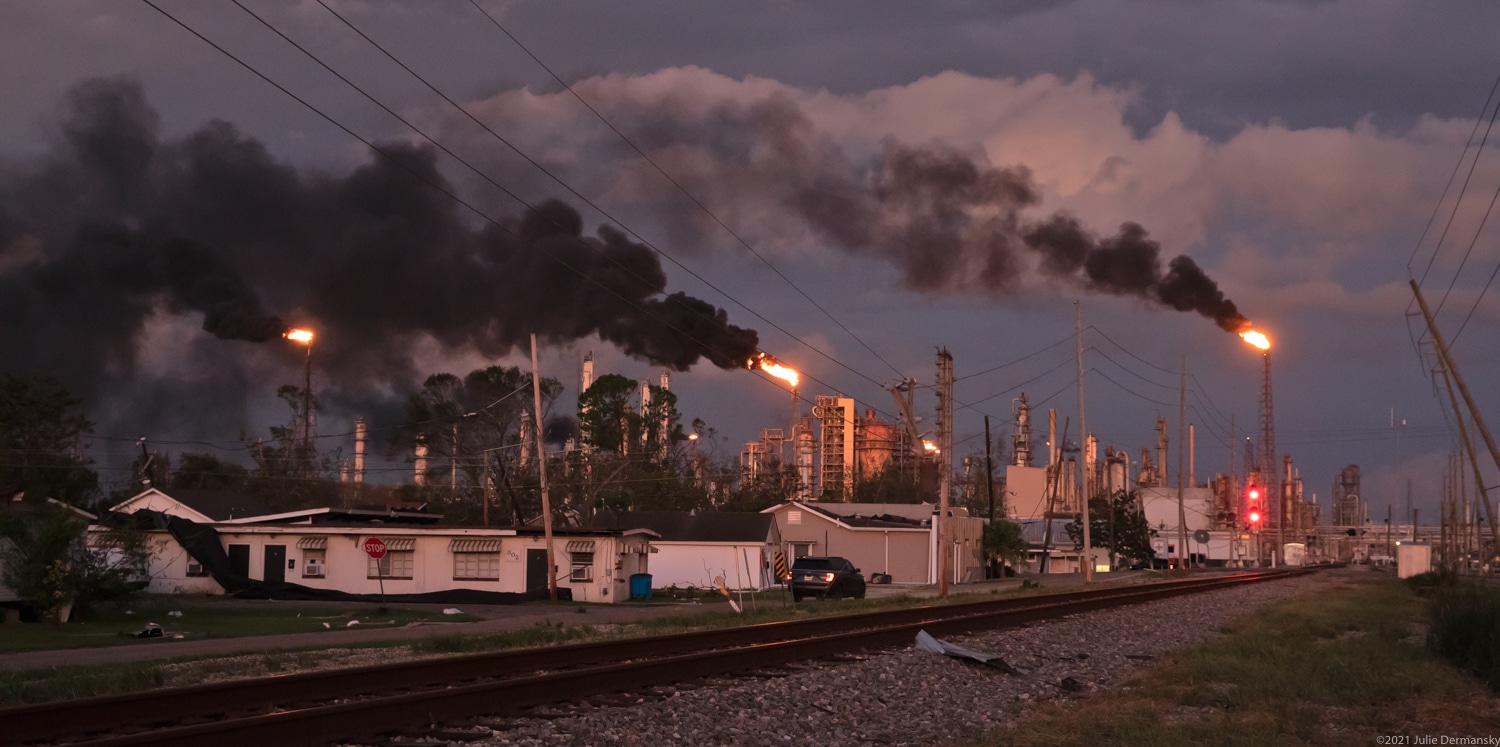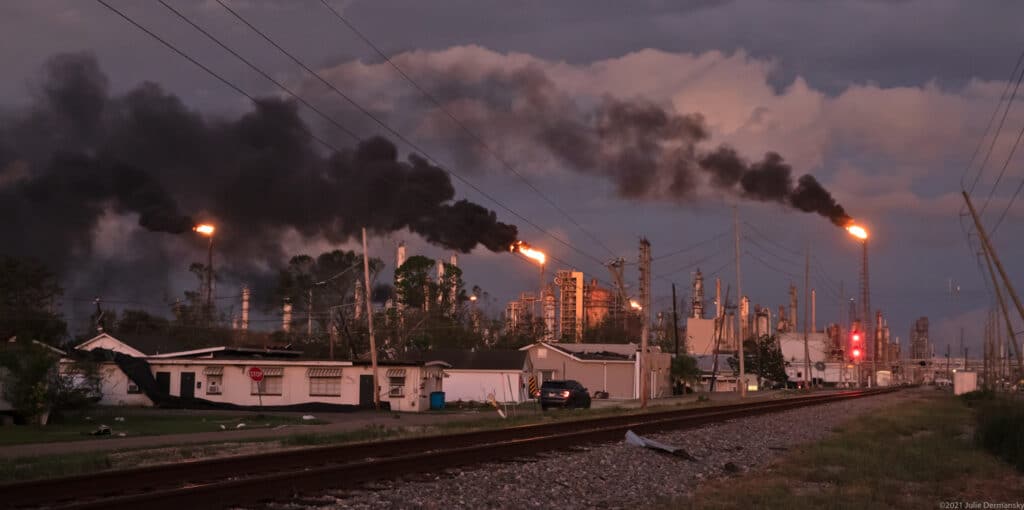 "This is bad," Peter Anderson, who was born and raised in Norco, told DeSmog. "I have never seen this many flares."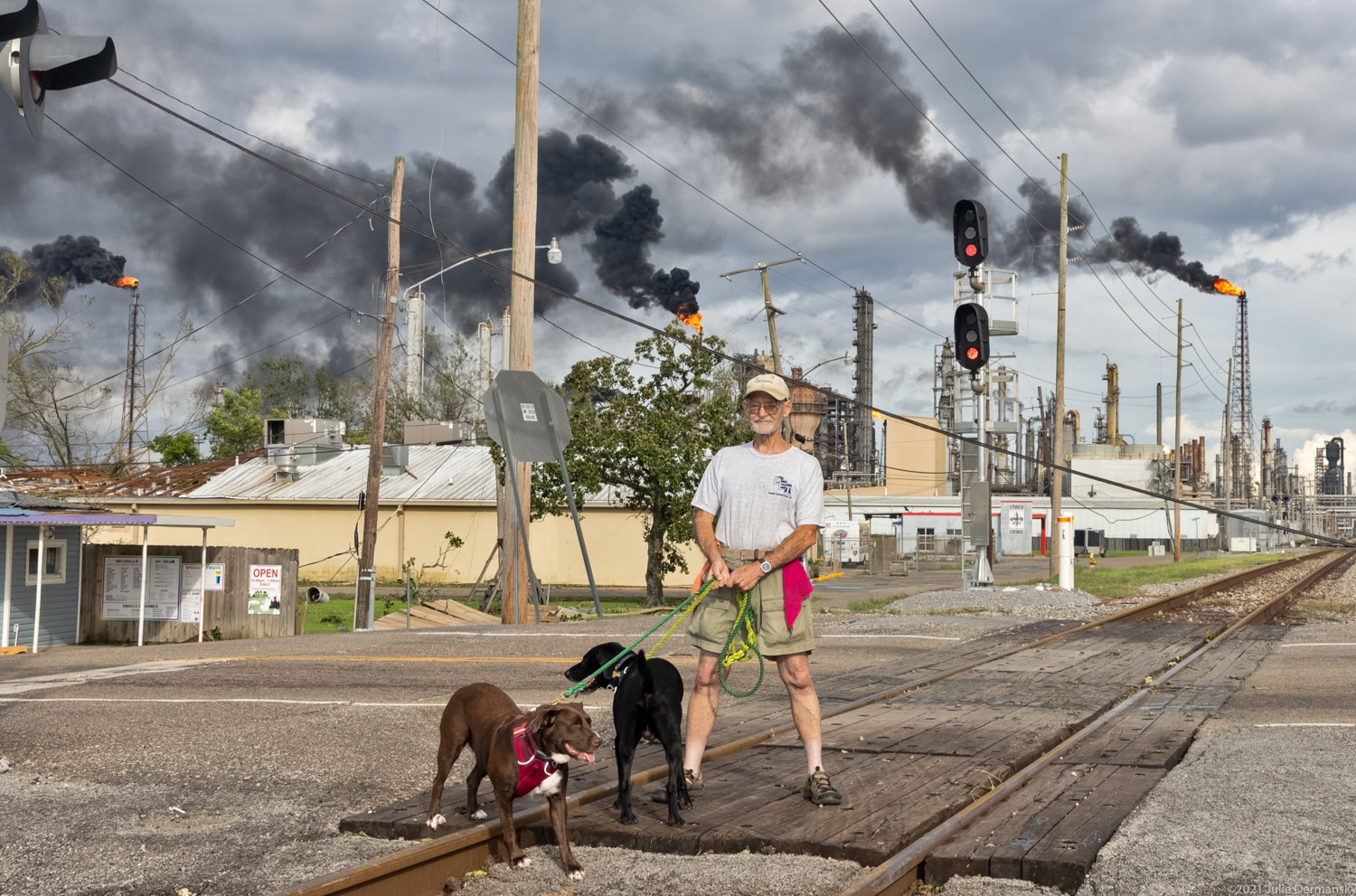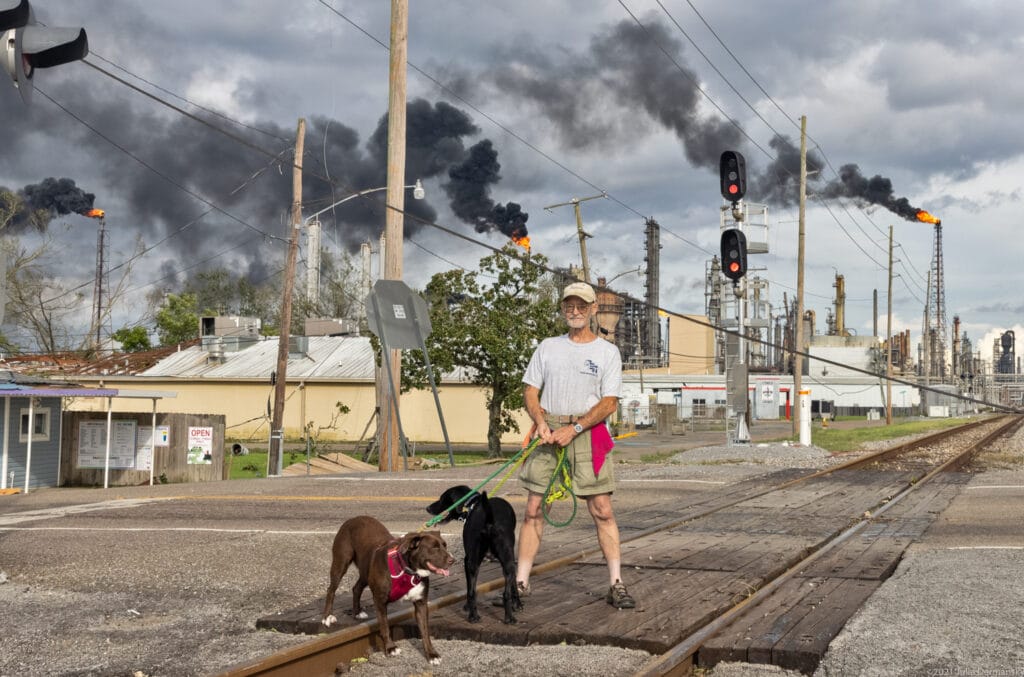 He told me that he worked at Shell years ago and was the first computer foreman on the catalytic cracker, key equipment in an oil refinery.
His sentiment was shared with everyone I met on the streets of Norco.
It's a sentiment I share.
I could see the black smoke coming from Norco when I got on the Lake Pontchartrain Causeway, a nearly 24-mile bridge that crosses the lake connecting Mandeville to Metairie. I have been able to see flares from mid-way across the bridge before, but never from that far away.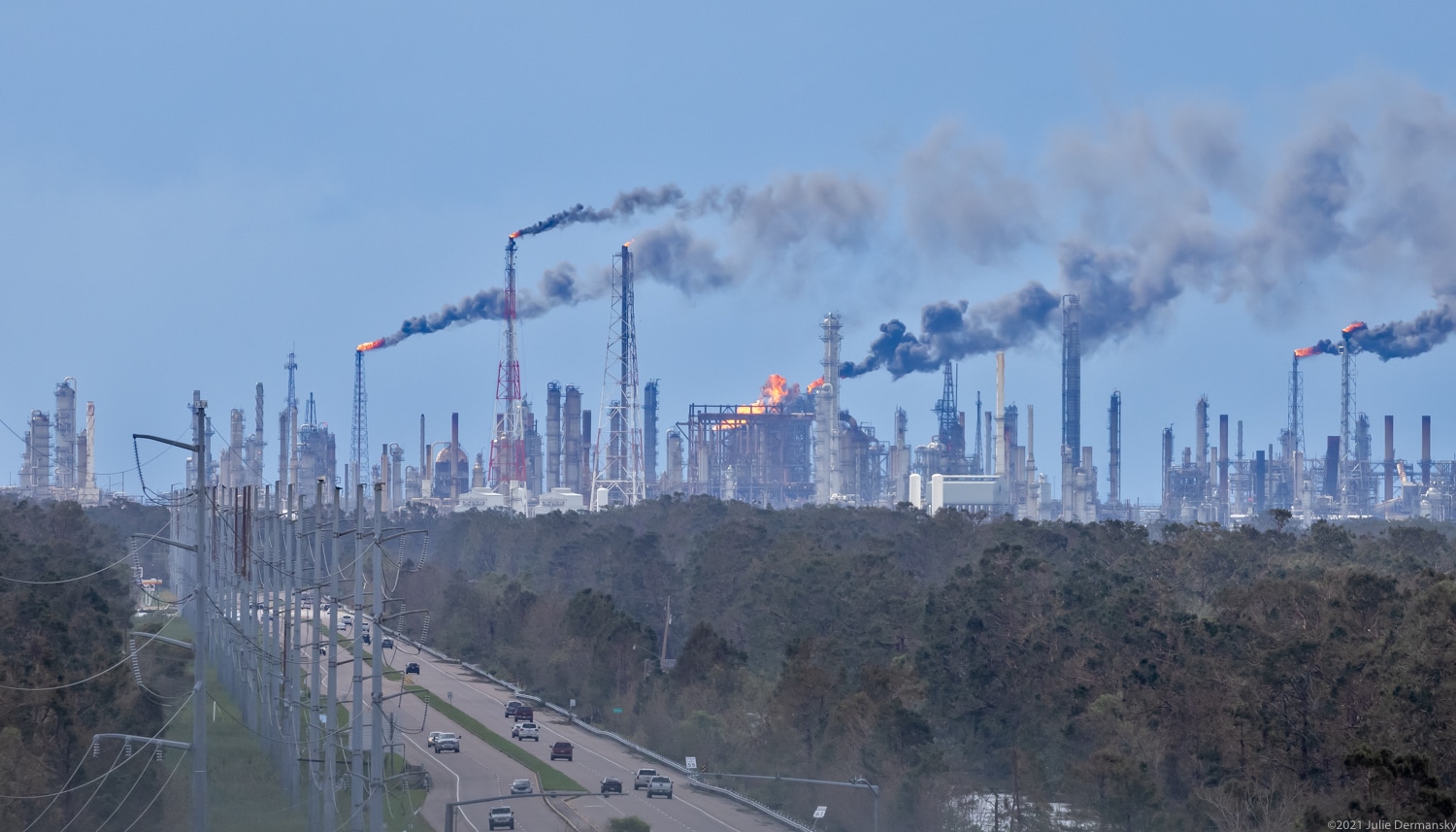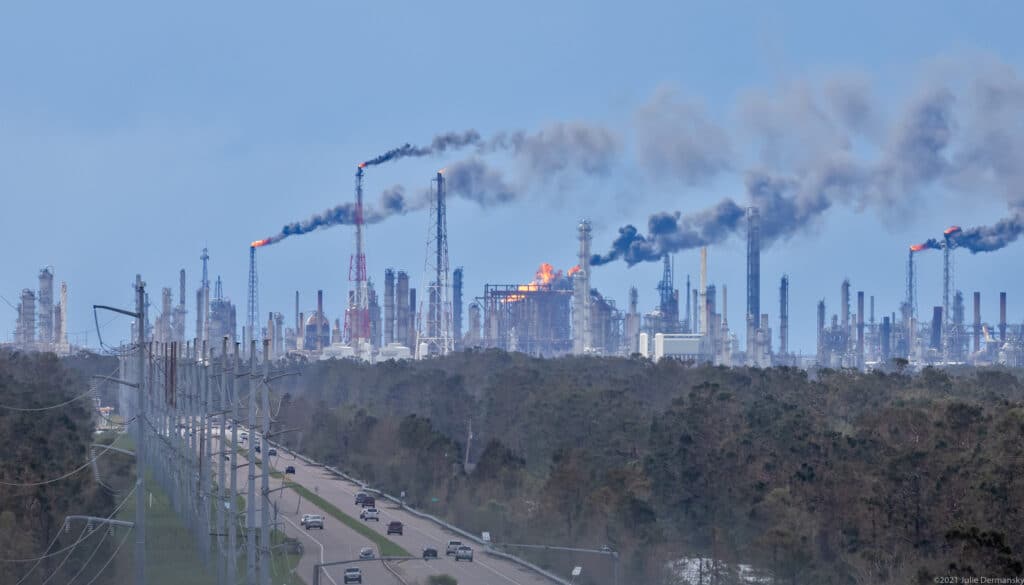 Norco, Louisiana, sits on the east bank of the Mississippi River, about 25 miles west of New Orleans, in a region known as the "Petrochemical Corridor" to some and to others, including the United Nations, as "Cancer Alley." The town's very name stems from a Shell affiliate that was known over a century ago as the New Orleans Refining Company, or NORCO.
I've spent time in Norco before, photographing the town's Christmas parades in the shadow of the industrial complex and under plumes from the plant's stacks.
The plumes I captured before are white and gray in color, very different from the black smoke visible after Ida.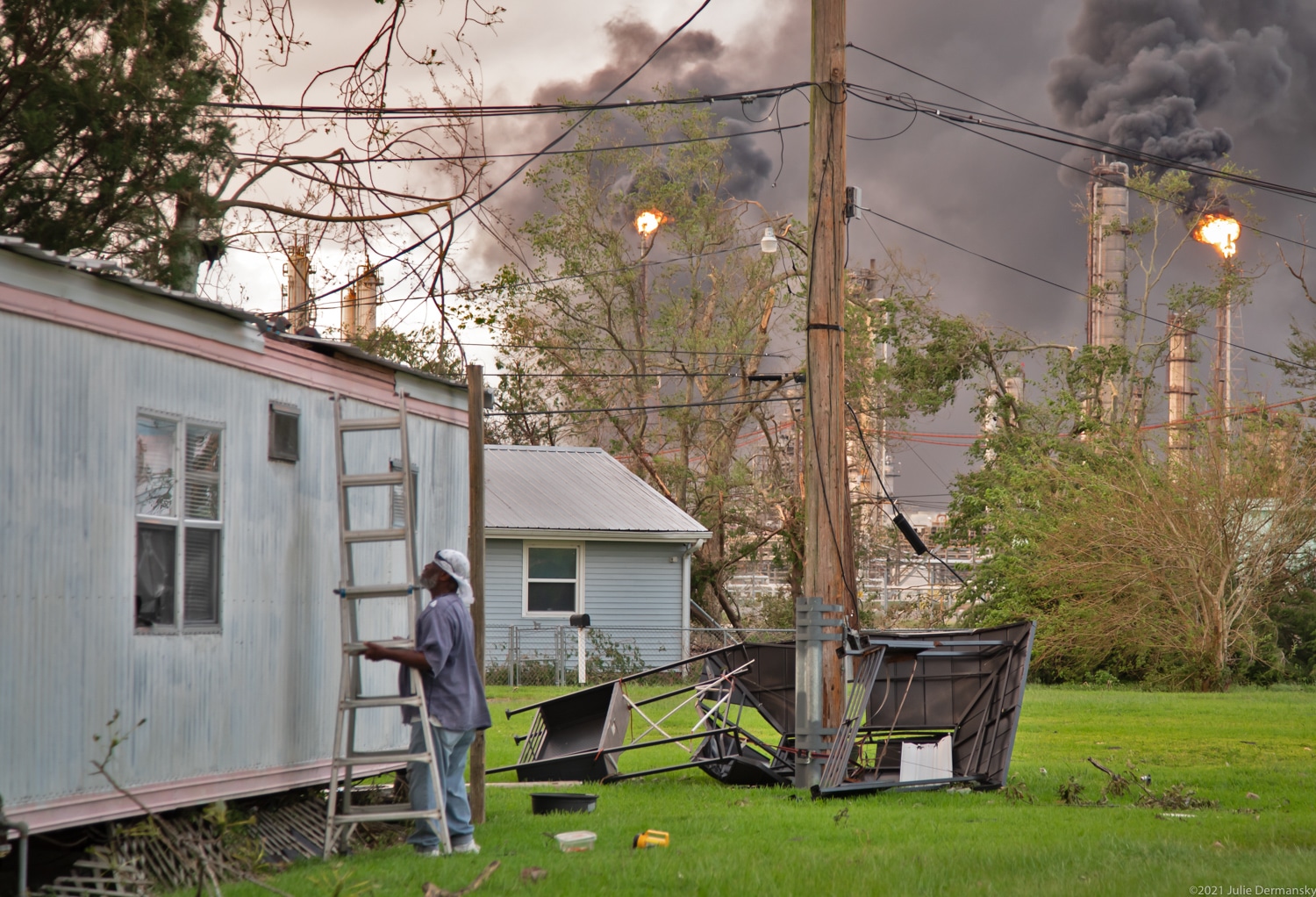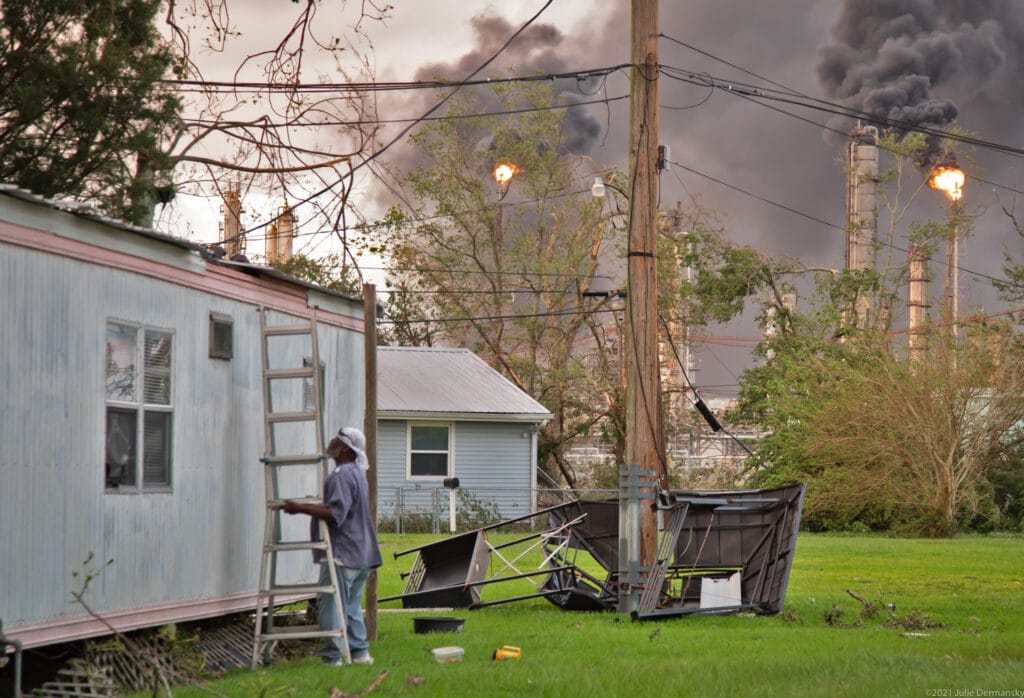 In 2018, the U.S. Environmental Protection Agency reached a settlement with Shell over allegations that flaring at the site violated the Clean Air Act and state law. Shell agreed to pay a $350,000 civil penalty as part of the settlement and to take a series of steps to reduce the amount of waste gas it flared and the pollutants released during flaring.
A security guard who said he worked for Shell spotted me taking pictures of the flares and asked what I was doing.
I told him I was reporting on Ida, and that the flares are part of the story since I had never seen them so bad. He concurred.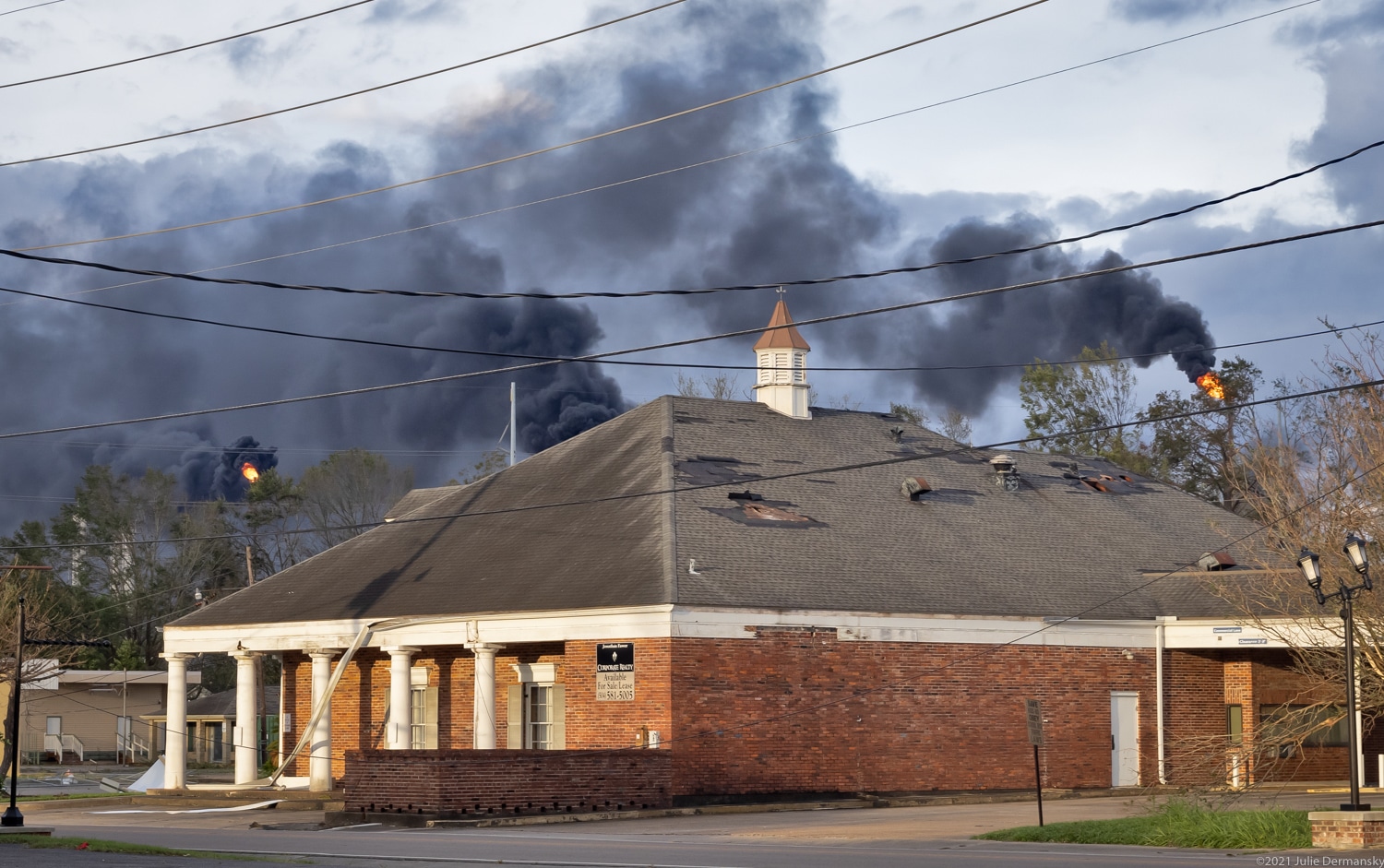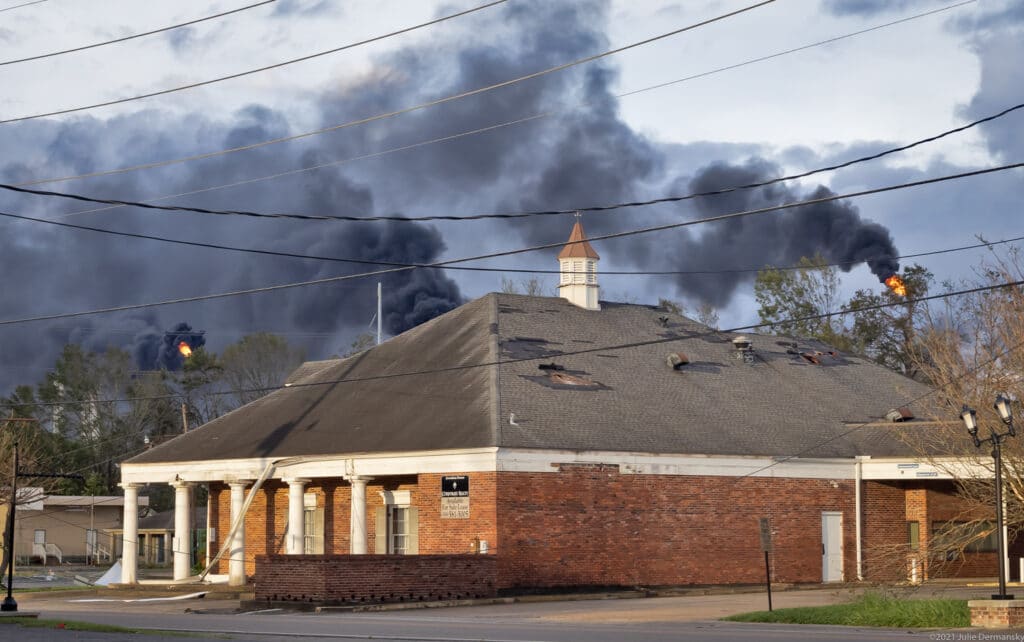 We chatted about the storm and he said no one was ready for a Category 4 hurricane. Everyone thought it would hit as a Category 2, he said.
He took out his cell phone and took a few pictures of the billowing black smoke pouring from the flares before driving off.
Riley Guillory, another Norco resident, told me that the flares turned the sky an eerie orange color after Ida hit.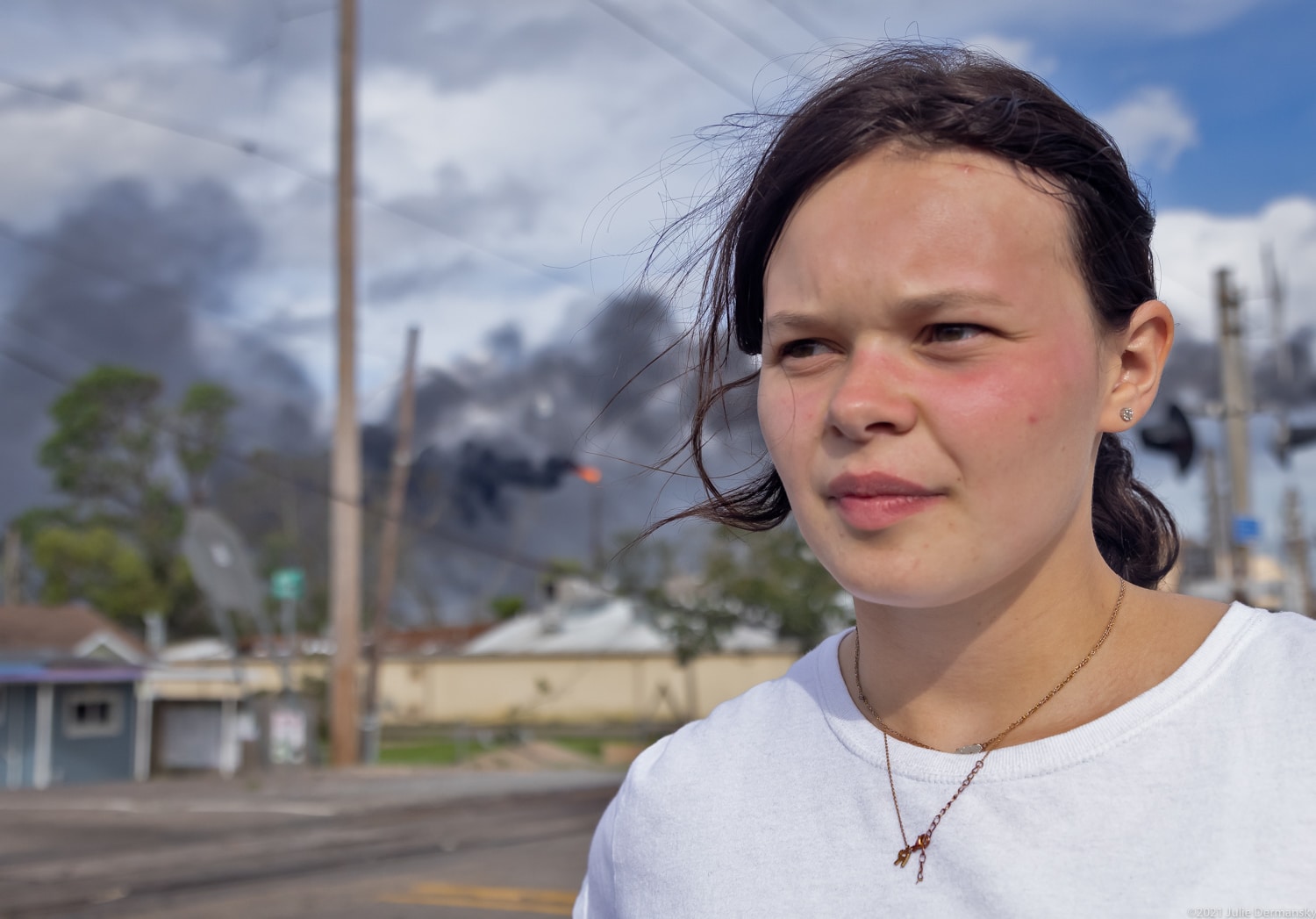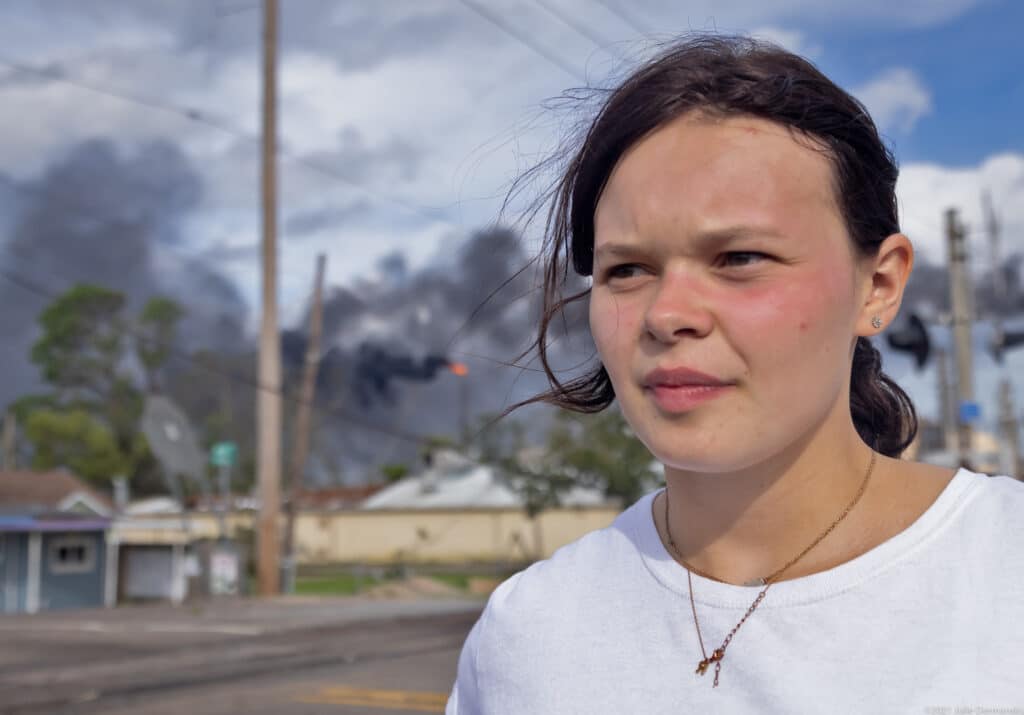 Her parents never worry about flares from the plants, she told me — but they seemed worried to her this time, since they said the flares had never been this big before.
I asked if she was worried about the air quality. She said she was but while we spoke the wind was taking the smoke away from us so it wasn't too bad.
She hadn't heard any warning about issues with the air quality, so she said she wasn't thinking about it much.
The fumes from the flares smell strongly on top of the levee and when I drove by the Norco plant on River Road. The emissions gave me a headache that went away as I drove out of the area.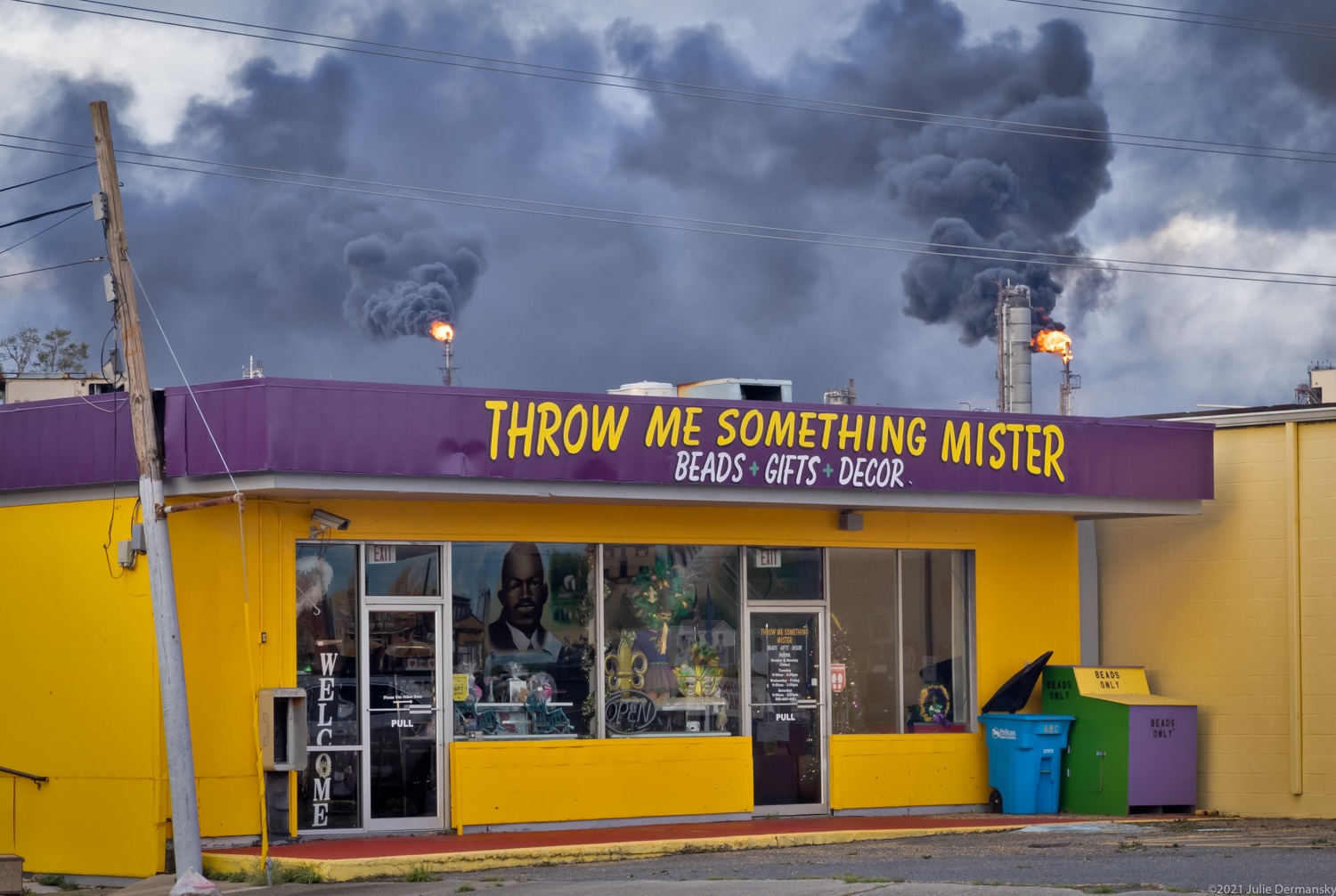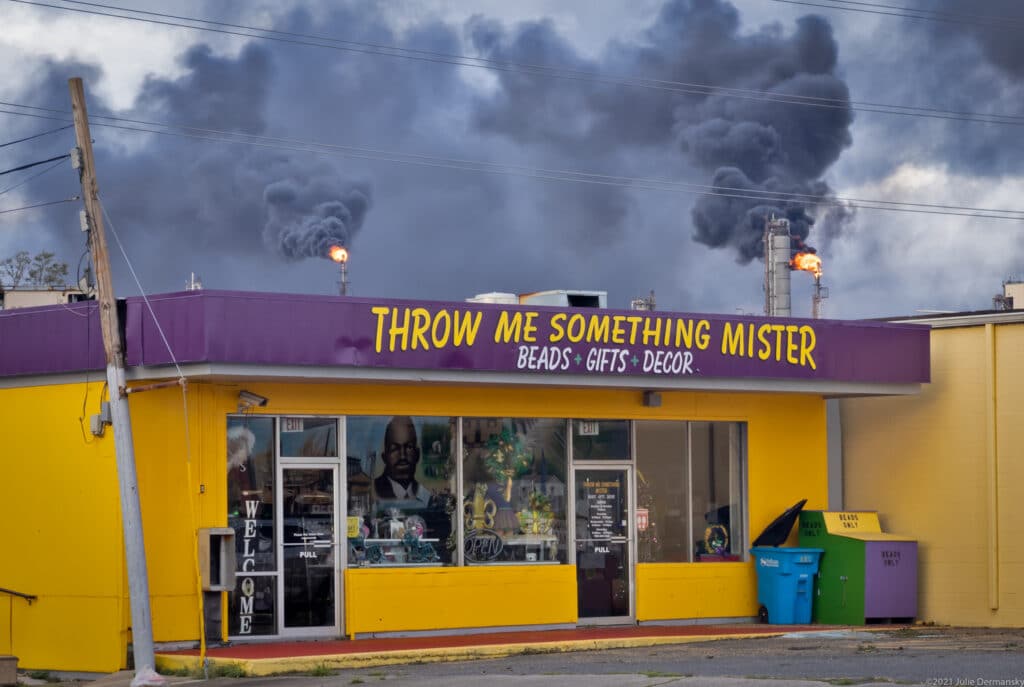 "I am extremely concerned about the flaring events, leaks, spills, and other accidental releases that occur at the Shell facility," said Wilma Subra, a scientist with the environmental advocacy group Louisiana Environmental Action Network. Subra added that the hydrocarbons flared by the Shell complex, which refines oil and uses fossil fuels to make petrochemicals, can cause coughing, asthma attacks, and other respiratory problems in the short term and, over the long run, cause cancers, teratogens (which can cause birth defects and fetal abnormalities), and negatively impact people's internal organs.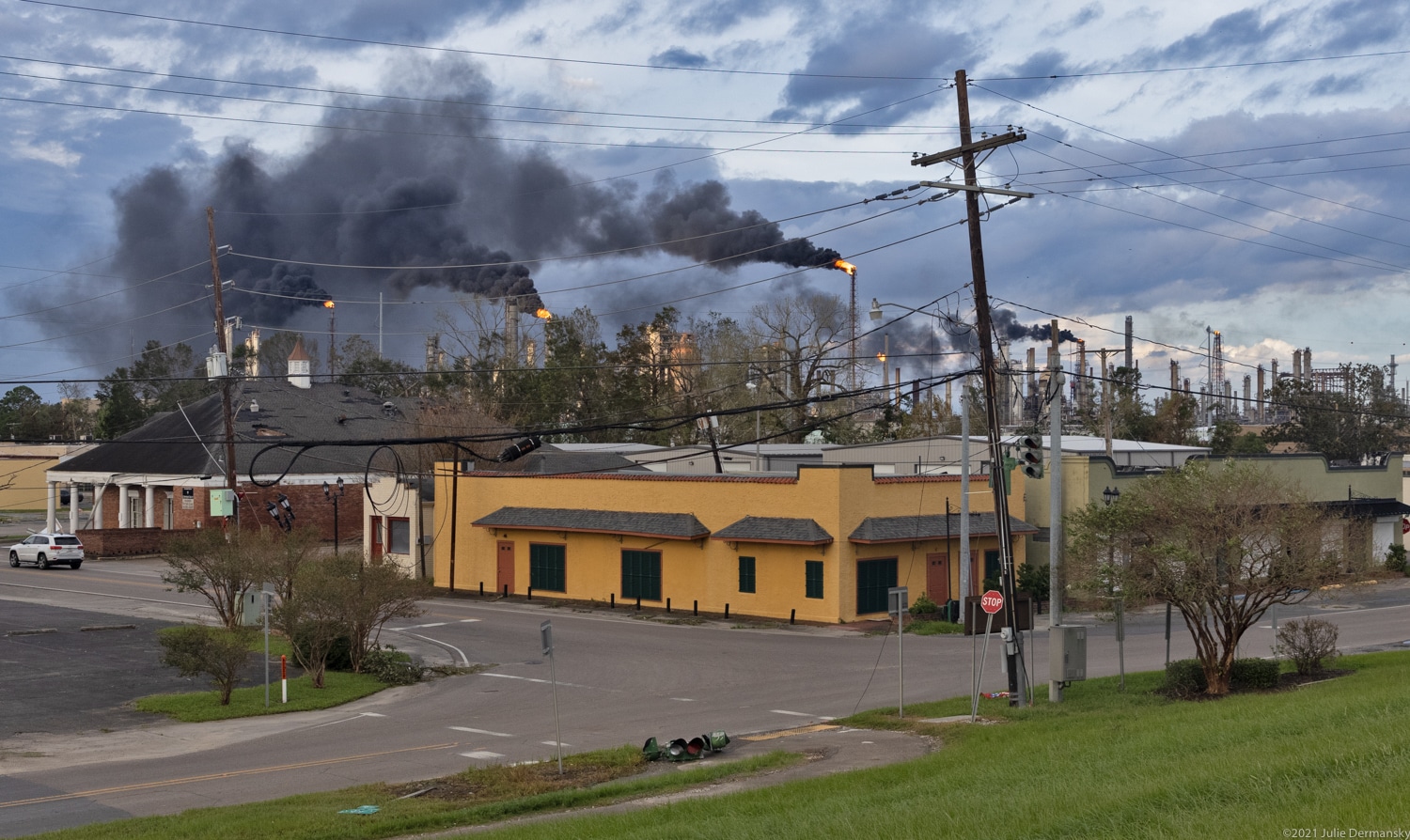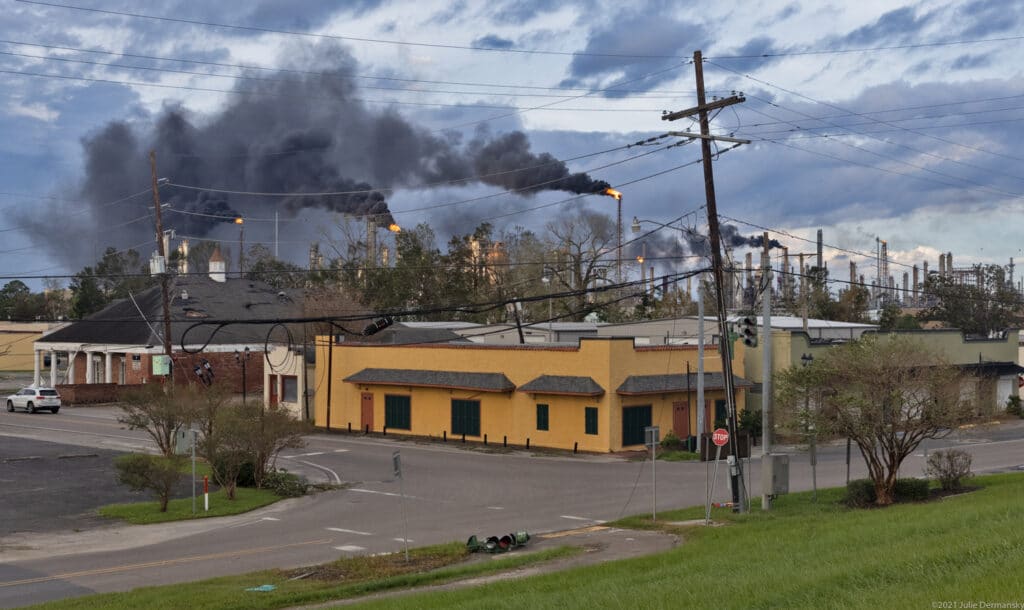 "To avoid health impacts associated with visible plumes that are contaminating the ambient air, community members must move out of the area, move into homes or other structures, and if extremely sensitive, move out of the area," she said.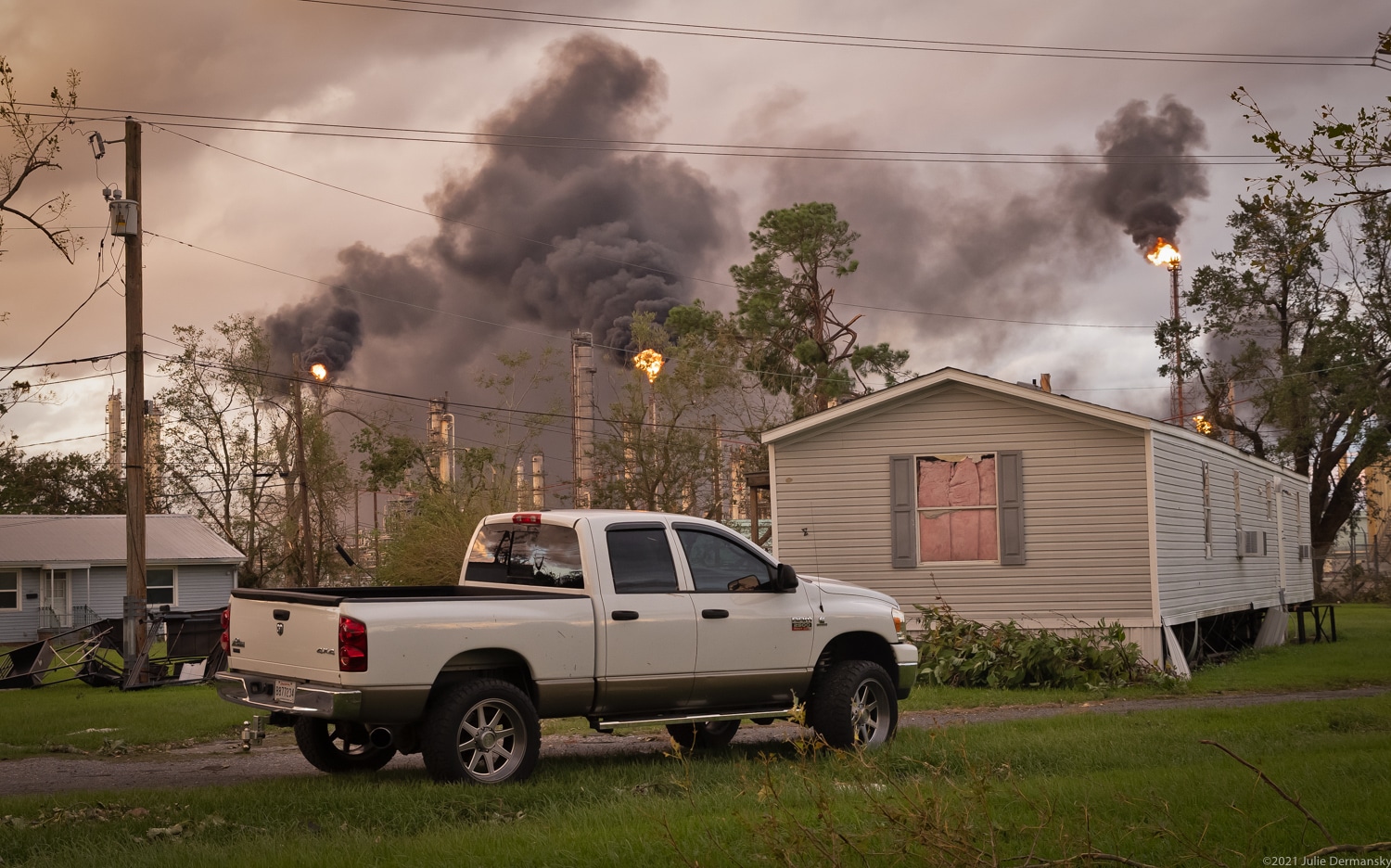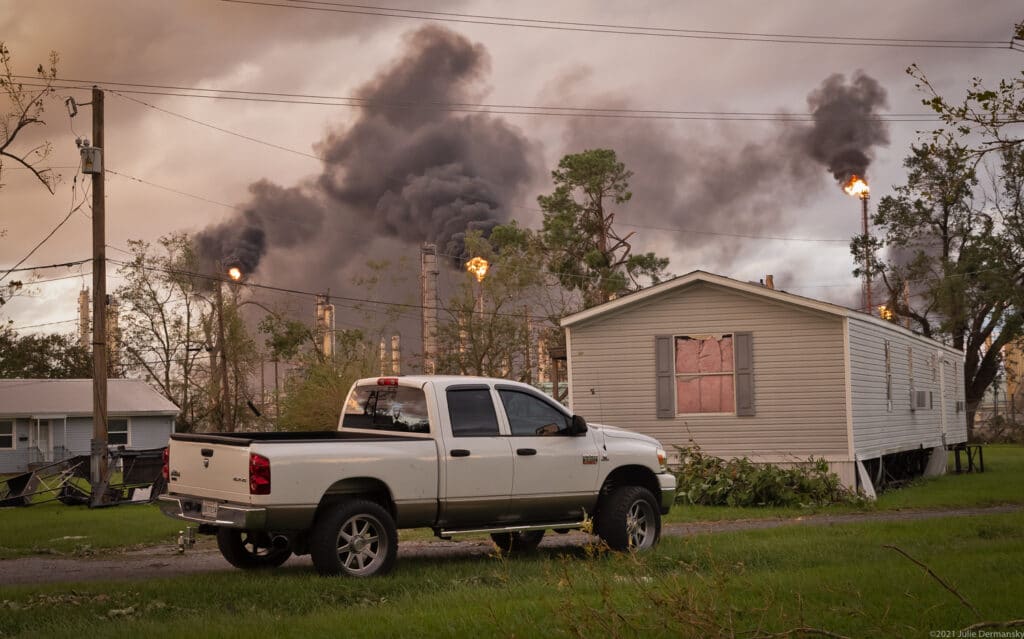 Workers at the site face particularly acute health risks, Subra said. "Hopefully Shell required the workers to move out of the area where the smoke is collecting along the ground," she added. "If they are not provided respirators, they will have extensive negative health impacts."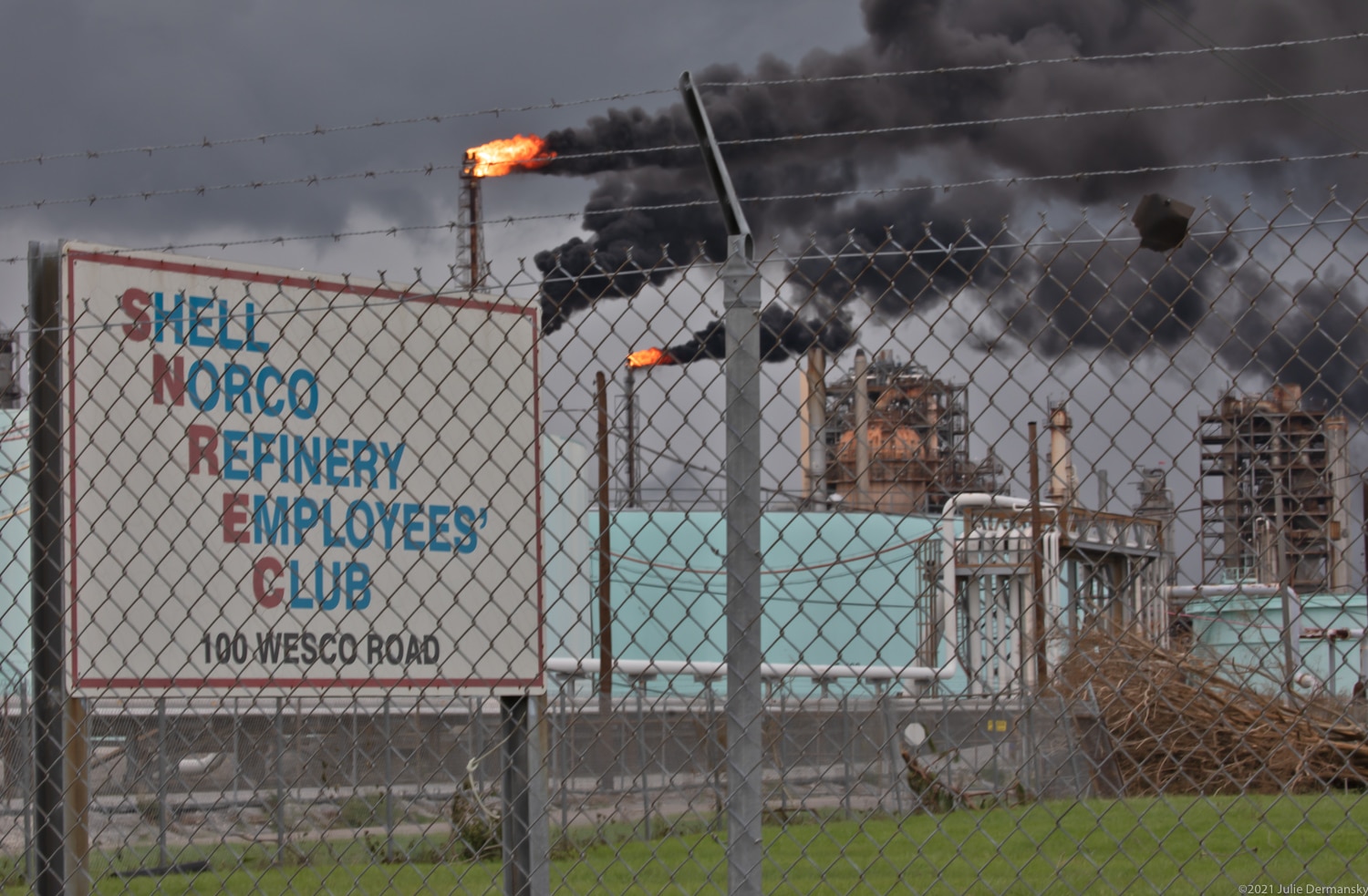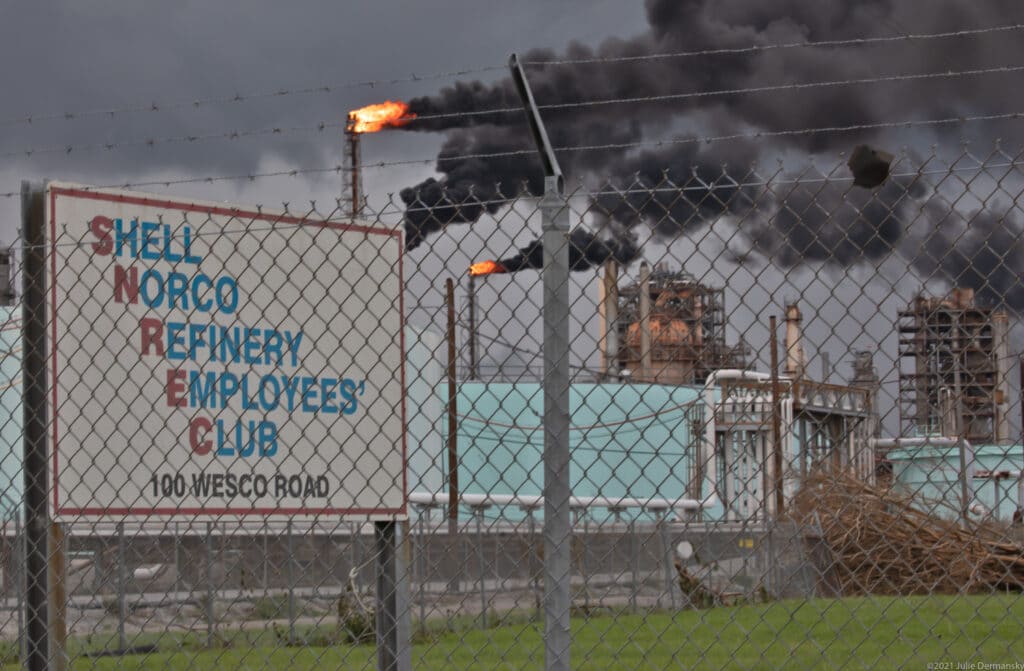 She said that she was interested to see the chemical emissions figures that Shell reports to Louisiana's Department of Environmental Quality. "But we will not get that information for quite a few days," she added.
"As a result of impacts related to Hurricane Ida, Shell's Norco Manufacturing site is without electrical power," Curtis Smith, a spokesman for Shell said. "While the site remains safe and secure, we are experiencing elevated flaring. We expect this to continue until power is restored."
Smith said that the company's Louisiana assets were shut down in anticipation of Ida and the company was "still assessing" impacts from the storm. "Shell Norco and Shell Geismar have essential personnel on site to ensure around-the-clock safety and security as well as to provide ongoing assessments of the storm's impact. It's still too early to know when we will resume full operations."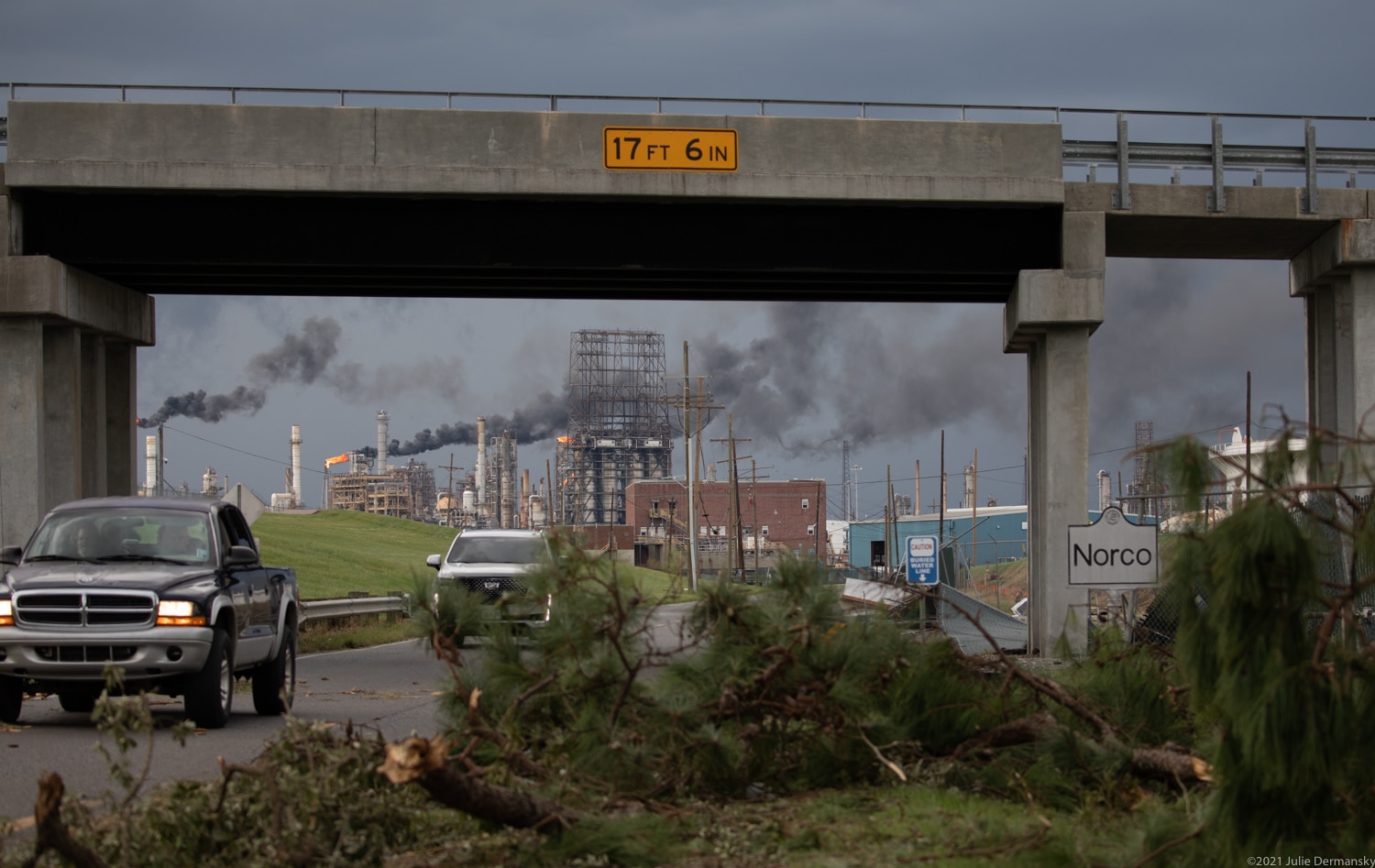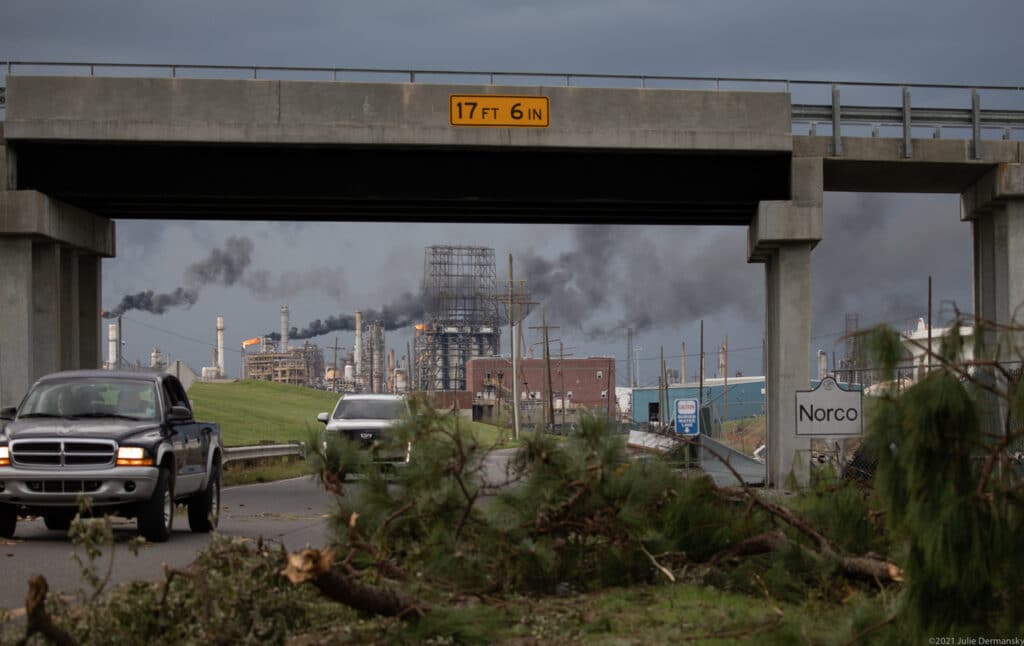 "In the meantime, we will continue to monitor the weather and respond accordingly," Smith continued. "Shell's top priorities remain the safety of our people, the environment, and our assets."
Environmentalists say that Ida highlights the risks of failing to transition away from fossil fuels.
"Oil and gas equipment is vulnerable to the weather they have created," said Sharon Wilson, senior field advocate for the environmental watchdog Earthworks.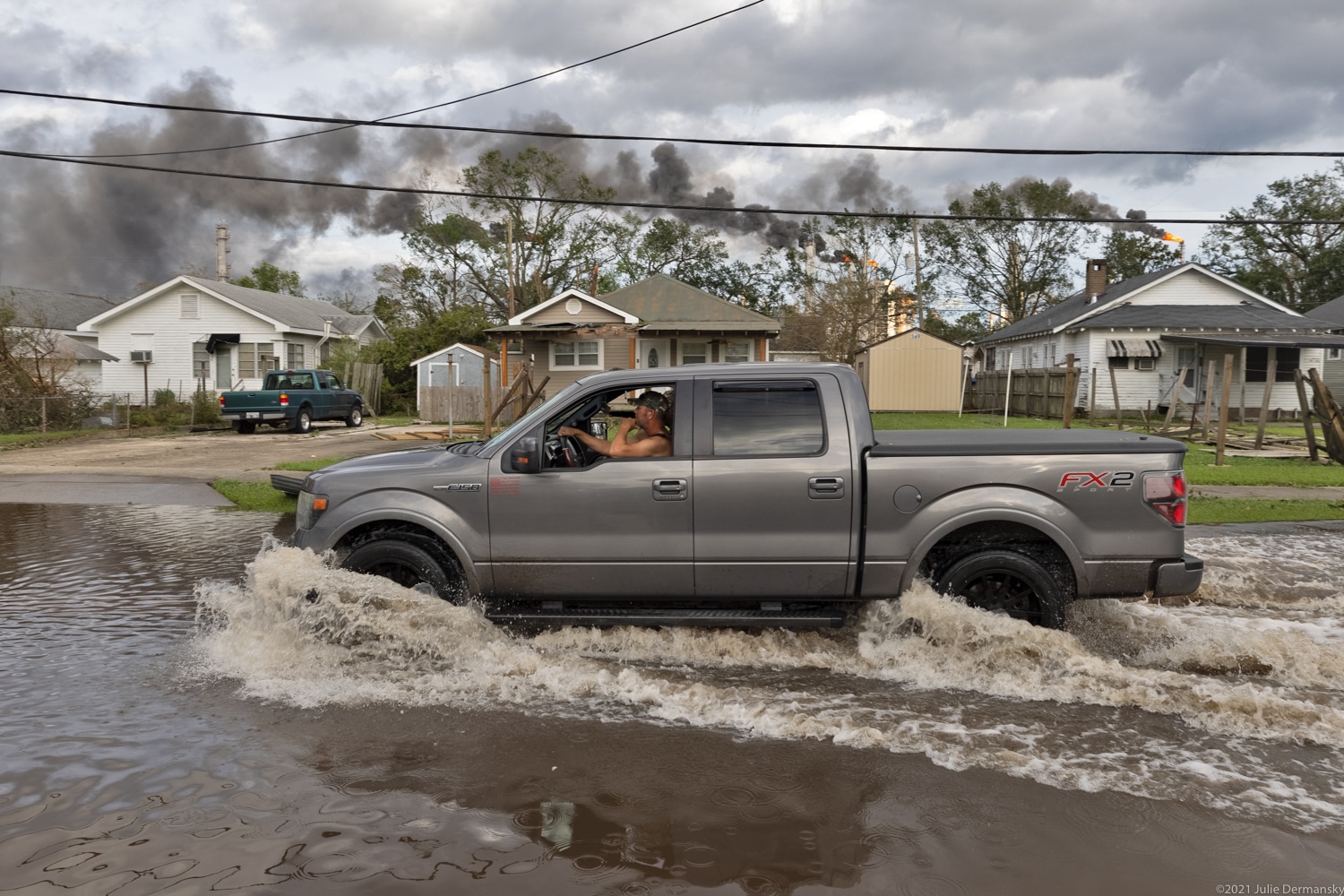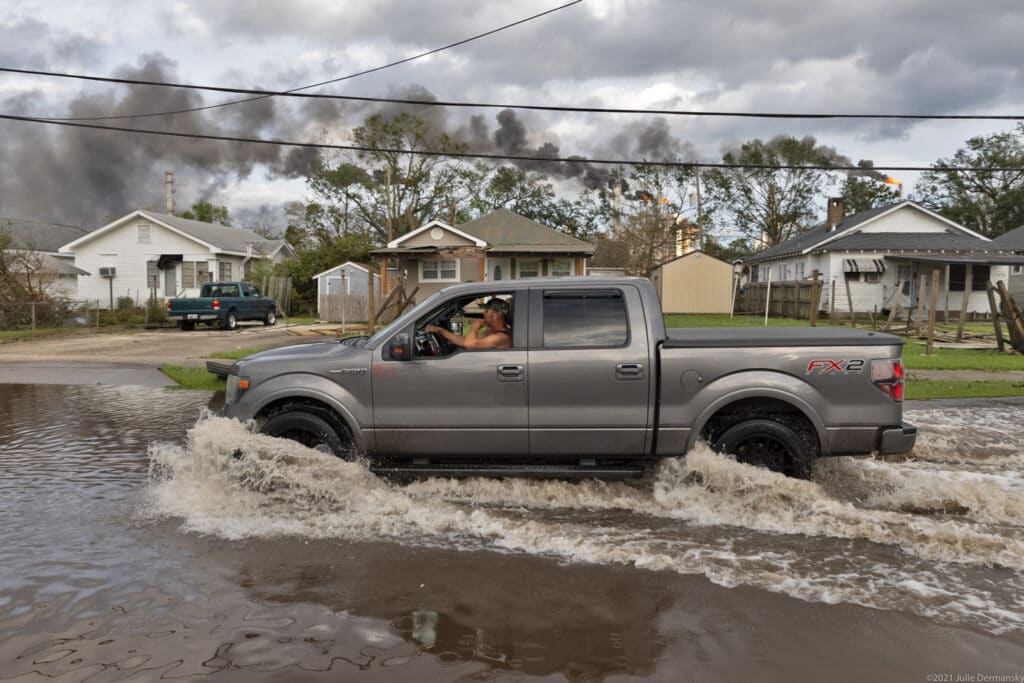 "Methane from oil and gas is an accelerant for climate change and it's causing more intense storms and weather," Wilson added. "Texans saw how fragile the oil and gas supply system is to intense weather during the Texas Freeze when hundreds of Texans died because gas was frozen in the pipes."
She condemned the flaring in Norco and called on the Biden administration to act on climate.
"President Biden can keep his promises to take bold climate action," Wilson said. "He can and should declare a national climate emergency and use those expanded powers to lead our country and the world away from oil and gas before it's too late."
Additional reporting contributed by Sharon Kelly.