The Noble Globetrotter II's lower marine riser package and "several" riser joints detached as the ship was out in the Gulf of Mexico during Hurricane Ida, Noble Corp. confirmed in a press release on Thursday, September 2.
"Initial findings from the ship's ongoing condition assessment confirm that several riser joints and the lower marine riser package separated from the rig during the storm and sank to the seabed," Noble wrote.
The company said "Efforts are underway to locate and recover that equipment," and it added, "the Company believes that, if necessary, it can replace any missing or damaged equipment promptly."
The kind of equipment that fell from the ship is massive. A typical ultra-deepwater riser joint is 75 feet long, with a steel pipe at its center, potentially weighing tens of thousands of pounds. A lower marine riser package can itself weigh hundreds of thousands of pounds.
It's not clear where the drill ship equipment that fell to the sea floor may have landed.
An analysis by SkyTruth, provided to DeSmog, shows below that the ship's track during Ida took it over multiple oil and gas pipelines on the seafloor.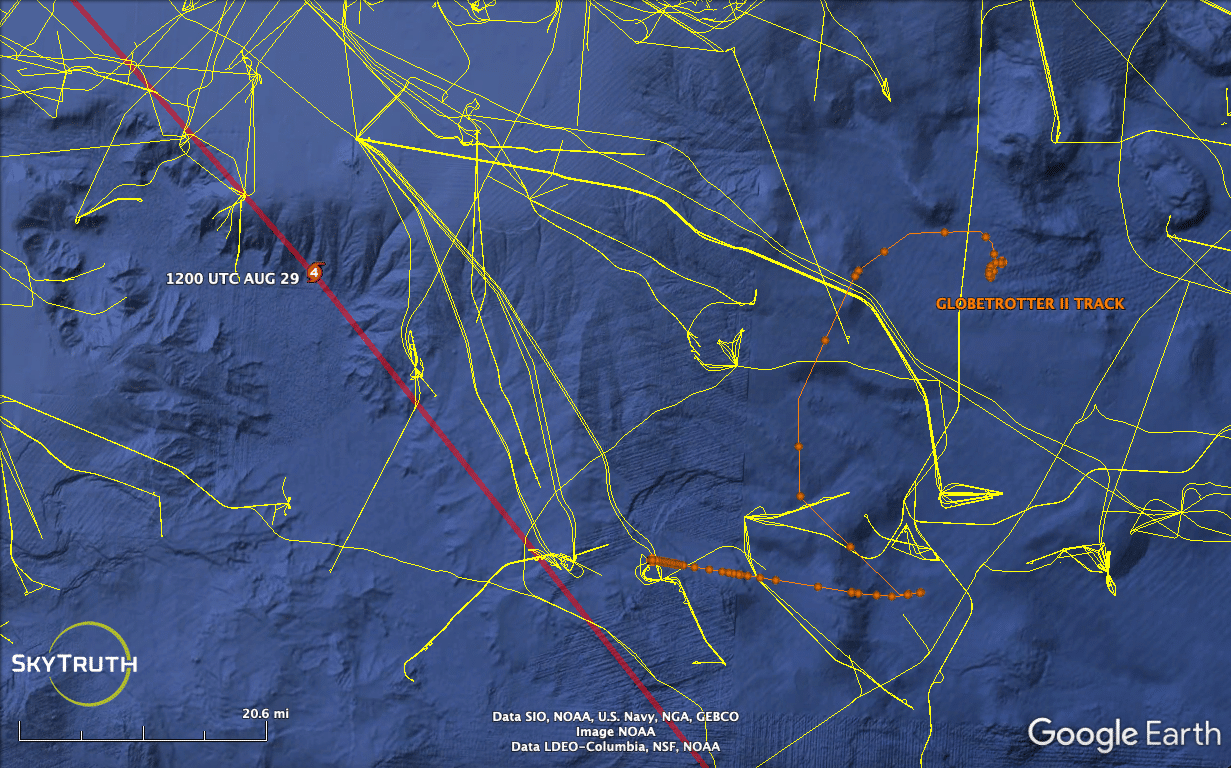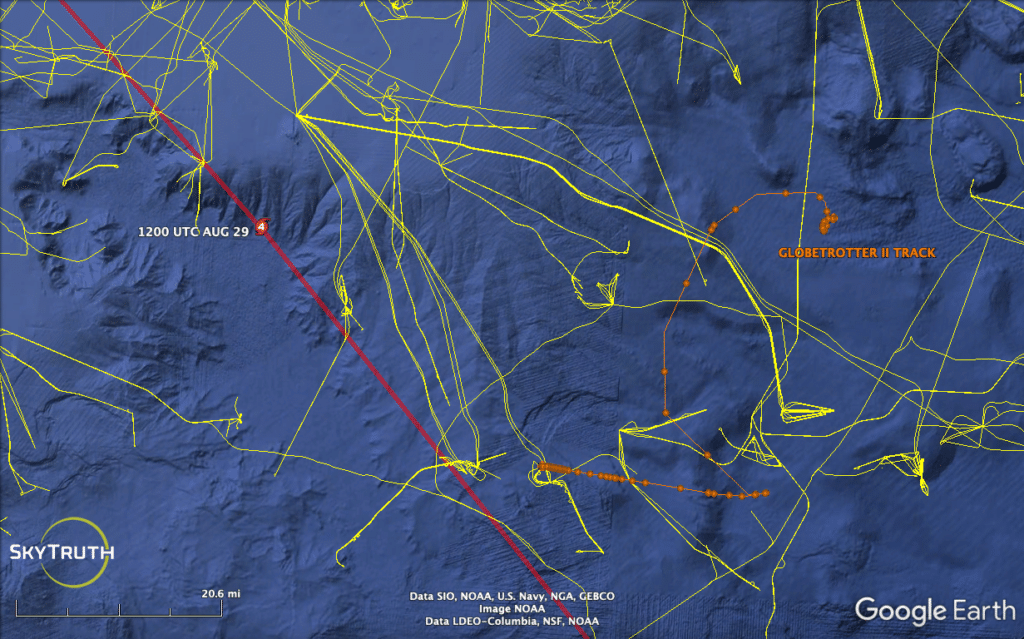 As the Category 4 hurricane Ida raged, crew members experienced 80-foot waves and winds of 150 miles an hour — and those conditions persisted for hours, according to local news reports. "I mean I was watching grown men with life jackets hold on for dear life crying in the hallway. It was bad," one anonymous crew person told CBS affiliate KLFY News Ten.
The company was still working on getting some of those aboard the ship during Ida back to shore, Noble's Sept. 2 statement indicated. "Noble management is in frequent communication with the ship's crew and is working to facilitate additional transport for some crew members to shore, as may be needed," it said, "as well as replacement personnel to support marine operations."
DeSmog also obtained a Sept. 1 letter, signed by Robert W. Eifler, on Noble Corp. letterhead. "Noble made the call to secure the well and evade far in advance of the storm based on the forecast track," that letter reads. "Some of the work we needed to complete to ensure the integrity of the well took longer than expected and, simultaneously, Hurricane Ida advanced more quickly than was forecast," that letter states. Robert W. Eifler is the CEO of Noble Corp. DeSmog previously reached out to him and to Noble Corp. for comment on that letter but received no response.
Noble also said that it had provided Shell, the oil and gas giant that contracted the Globetrotter II, with a "force majeure notice." Force majeure clauses are used in contracts to cover "acts of God," and Noble's statement asserted that its contract with Shell does not give Shell the right to terminate the contract for force majeure events.
Texas-based Noble Corp. emerged from Chapter 11 bankruptcy in February, after erasing $3.4 billion in debt from its books.
The Bureau of Safety and Environmental Enforcement (BSEE), which regulates the offshore drilling industry, has "initiated an investigation" after receiving a damage report on the drill ship, a spokesman said in an email to DeSmog earlier today.
Much of the 140-person crew that was aboard the Globetrotter II during Ida remains aboard.
"A Coast Guard representative said on Thursday that inspectors had deemed the Globetrotter II stable," DeSmog reported on Thursday afternoon. "There was no rising water, the Coast Guard said, adding that the phrase usually means a ship had previously taken on water but is not currently taking on any additional water. Crew movements would be coordinated by the company, the Coast Guard said, adding that no requests for medical evacuations had been made."
It was not clear precisely how many crew members were injured, with Noble referring to the number treated for "minor injuries" as "small."
The company's Sept. 2 report also listed parts of the Globetrotter II that remain functional. "The living quarters of the vessel continue to operate normally with food service, climate-control, water, power, and internet systems functional," Noble said. "The vessel's helideck is fully operational and teams are working through logistical challenges across the Gulf Coast region to resume normal levels of transportation to and from shore."
The Noble Globetrotter II is not the only oil and gas vessel whose crew was left out at sea in hurricane conditions in the past year. During the 2020 hurricane season, the Transocean Deepwater Asgard, an ultra-deepwater rig, remained connected to the wellhead during Hurricane Zeta — until the ship was forced to activate its emergency disconnect system while under sustained 109 mile per hour winds, as DeSmog previously reported.
Family members of those left aboard the Globetrotter II have reportedly begun talking anonymously with local media.
"They just left people out there to fend for themselves, and it just makes me so angry," the anonymous spouse of one crew member told an ABC News affiliate. At one point, she said, her husband told her that "'the damage is bad. I don't know how to tell you, but it felt like that was it. It felt like I wasn't going to see you again."
"I'm angry most of all," she told ABC. "If my husband is gone, that's it. All they're going to tell me is sorry."