The oil industry has launched an all-out pressure campaign to kill an attempt by Congressional Democrats to tax methane – an extremely powerful greenhouse gas – for the first time.
The American Petroleum Institute (API), the oil industry's most powerful lobbying group, enlisted over 130 state-level chambers of commerce, oil lobbying outfits, and labor groups, and together they wrote a letter on September 7 to U.S. Senate Committee on Environment and Public Works, which is considering the methane fee as part of the $3.5 trillion budget reconciliation bill. 
This is despite top oil companies and their trade associations earlier this year claiming they were in favor of carbon pricing as their preferred policy choice to address climate change. 
In the same month as the industry made headlines for supporting carbon pricing, U.S. Senators Sheldon Whitehouse (D-RI), Cory Booker (D-NJ), and Brian Schatz (D-HI) introduced a bill in March 2021, the Methane Emissions Reduction Act of 2021, which would impose a $1,800 per ton fee on methane emissions beginning in 2023, and rise by 2 percent per year above inflation going forward.
The senators saw the bill as having the potential to end methane emissions from the oil and gas sector, taking a large bite out of potential warming. 
That bill, or some version of it, now has a chance of getting folded into the budget package that Congressional Democrats are currently writing. The House Energy and Commerce Committee included a lower fee in its portion of the package working its way through the House.
With details still murky and Congress working at a blistering pace to put the sweeping budget bill into place, things could still change. But over the next few weeks or months, a methane fee has a real chance of being signed into law by the President.
Faced with the reality of a price being put on methane, the oil industry has begun mobilizing to attack the idea, claiming that regulation is preferred instead. The about-face is consistent with longstanding efforts by the fossil fuel industry to oppose environmental regulations and derail any action on climate change.
"[T]he industry has a long history of opposing whatever's on the table by saying it supports something else (e.g., it wants cap and trade when a carbon tax is on the table, and it wants a carbon tax when cap and trade is on the table)," said Ben Franta, a JD/PhD candidate at Stanford University's Law School and Department of History who studies the history of climate denial.
"The end result," he told DeSmog via email, "is nothing getting passed."
Congress Eyes Methane Fee
Methane is over 80 times more potent a greenhouse gas when released into the atmosphere than carbon dioxide over a 20-year period. Due to this shorter lifespan compared to CO2, it is seen as a low-hanging fruit for climate action. Scientists say urgent and deep cuts to greenhouse gas emissions are needed to slow the rate of global warming, and slashing methane offers one of the most immediate and impactful ways of achieving this.
The oil and gas industry is one of the largest emitters of methane, which leaks at every stage of the production and distribution process. Methane seeps out from drilling sites, pipelines, compressor stations, storage tanks, and liquefied natural gas terminals. The problem is also not geographically isolated, but is common across the entire global oil and gas industry.
Cutting methane could have an enormous impact. Eliminating 50 percent of methane from oil and gas operations could achieve the equivalent climate benefit of shuttering all of the coal plants in China, according to environmental group Clean Air Task Force.
"Putting a price on methane pollution that discourages oil and gas companies from continuing their practice of virtually unfettered methane pollution is one of the most effective immediate steps we can take to keep global temperatures from rising more than 1.5 degrees Celsius," Senator Whitehouse said in a statement in March. "We believe our new bill would put a stop to virtually all methane emissions from the industry."
But the oil industry is scrambling to prevent such a scenario from playing out.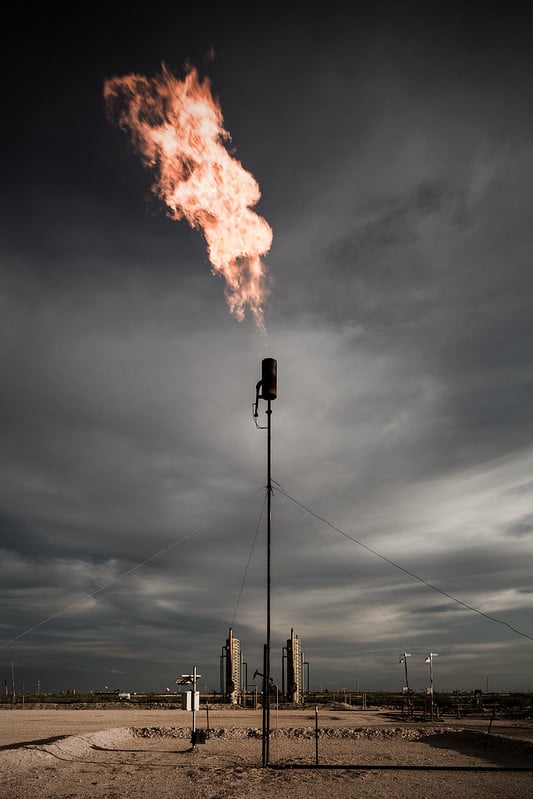 Oil Industry's Lobbying Frenzy
In its letter last week to the Senate committee weighing a methane fee as part of the budget bill, API called the proposal a "punitive fee" that could "jeopardize affordable and reliable energy with likely little reduction in greenhouse gas (GHG) emissions."
But research suggests the penalty may not be steep enough.
"We're effectively subsidizing fossil fuels relative to renewables by picking up the tab for the climate change they cause, for the air pollution they cause, and so on," Drew Shindell, a professor of Earth Science at Duke University, and contributor to the UN's Global Methane Assessment, told DeSmog in an email. He said each ton of methane causes roughly $4,300 in damages.
"So that's the subsidy that fossil fuel companies (and other methane sources) currently are receiving," he said.
On the same day that the API sent its letter, the American Gas Association (AGA), a lobby group for gas utilities, wrote a separate letter to the House and Senate leadership from both parties in opposition to the methane fee. AGA said it would be a "regressive tax on low-income" families, a line of argument that has been a particular favorite of the industry in recent years.
It isn't just the major D.C.-based national oil lobby groups, however, that have launched a media campaign on this issue. Many state-level equivalents fanned out across the country, writing op-eds in local newspapers and pressing their congressional delegations to kill the methane fee. The arguments are often mirror images of each other.
In the Kansas City Star, the Kansas Oil Independent Oil & Gas Association made the case that a methane fee is "duplicative, punitive, and costly," echoing API's talking points. It was also unnecessary, the Kansas lobby group said, because reducing methane is already "a top priority for the oil and gas industry."
The Marcellus Shale Coalition, a lobby group for Appalachian gas drillers, said the fee is an "unreasonable, punitive tax."
The Independent Petroleum Association of America (IPAA) has been leaning on lawmakers from both parties, decrying provisions in the budget bill that would "decimate" the oil and gas industry, referring to the potential removal of subsidies and the methane fee.
The Gas and Oil Association of West Virginia sent a letter in early September to Senator Joe Manchin (D-WV) and other members of the state's congressional delegation, arguing the methane tax would "raise costs for all Americans … and provide virtually no environment benefit."
Senator Kevin Cramer (R-ND) joined in on the action, writing a letter to Democratic leadership on the same day as API launched its effort. Sen. Cramer urged Democrats "to resist the insatiable demands from the environmental left and do what is right for all Americans by opposing a new fee on methane emissions from oil and natural gas facilities."
He called the tax "punitive" and "unnecessary," echoing industry talking points. "One would be hard-pressed to find an oil and gas company not committed to reducing methane emissions," he said.
Various oil lobbies, including IPAA and the American Exploration & Production Council, a lobbying outfit for large U.S. oil drillers, were quick to promote Sen. Cramer's letter on Twitter. Notably, during his last election cycle in 2018, Sen. Cramer received more than $540,000 in donations from the oil and gas industry; the sector represented his largest source of fundraising.
While some are focused on the Senate, other opponents of the methane tax are trying to block action on the other side of the Capitol. "I actually believe our best chance to stop these tax hikes is not in the Senate, they're in the House. Speaker Pelosi has a razor thin majority," Congressman Kevin Brady (R-TX) said on Energy Policy Watch, an industry-friendly podcast put on by Hart Energy, an oil industry research firm, and Cornerstone Government Affairs, a D.C.-based lobbying firm.
"I think we can alter what those significant tax hikes look like if we engage now over the next several weeks in the House," he said. He called on the oil and gas industry to apply pressure to the dozen or so House Democrats who were waffling on the budget bill.
Meanwhile, Energy Citizens, a front group created by API, has been running ads on Facebook targeting Democrats seen as vulnerable in the 2022 midterm elections, according to E&E News.
API launched a seven-figure campaign — both TV and online ads — aimed at killing the methane fee.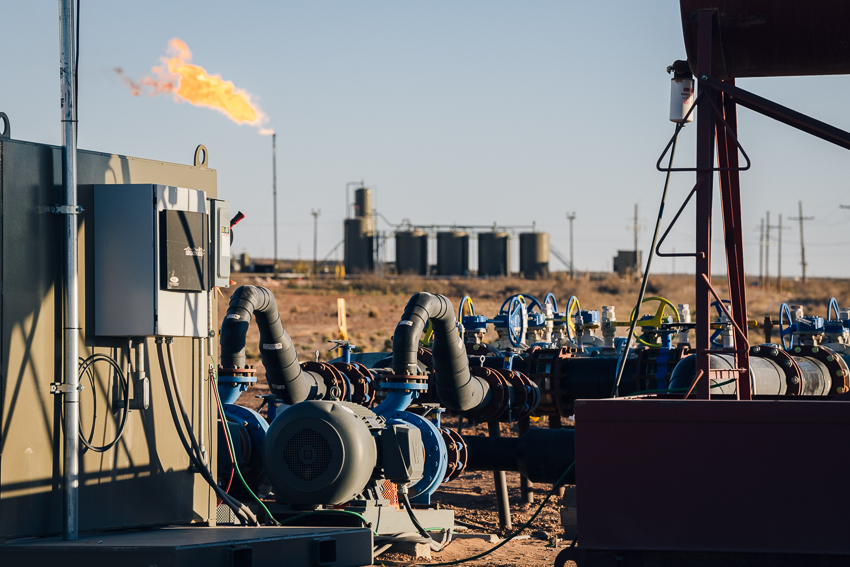 Oil Lobby's Shifting Positions
Revelations of Exxon's lobbying strategy as exposed in June by Unearthed and Channel 4 news has obvious echoes to the oil industry's current predicament.
Keith McCoy, ExxonMobil's lobbyist who was caught on tape, said the company publicly professes support for a carbon tax because it knows one will never occur. "Nobody is going to propose a tax on all Americans and the cynical side of me says, yeah, we kind of know that, but it gives us a talking point that we can say, well what is ExxonMobil for? Well, we're for a carbon tax," he said.
API, it appears, is taking a similar approach.
"Thanks to the ExxonMobil lobbyist caught on tape, it's confirmed that Big Oil opposes behind closed doors the climate policies they publicly support," Lauren Pagel, national methane co-chair at Earthworks, told DeSmog in an email. "What's different here is that new methane rules definitely will happen, and oil companies think they'll have a better chance to weaken them if they publicly support them."
"API claims to support carbon pricing, and methane pricing is simply a subset of carbon pricing," Senator Whitehouse said in a statement to DeSmog. API said in March 2021 that they support carbon pricing. "API's ever-shifting and contradictory positioning on methane pollution is a clear indication that the industry is desperate to escape any accountability for the massive damage it's knowingly doing to our planet."
Instead of a fee, the oil industry says it prefers federal regulation from the Environmental Protection Agency (EPA). "If the objective is to reduce methane emissions, direct regulation of methane is the best method to implement such a government policy," API said in its September 7 letter.
In fact, the EPA does plan on announcing new federal regulations on methane, on both new and existing oil and gas sites. On September 8, over 70 community, health, tribal and environmental organizations sent a letter to the EPA, urging the agency to craft strong rules.
But critics see hypocrisy and opportunism in API's new position, which is nothing more than the latest tactic in a long history of blocking climate legislation.
An April 2021 report from Oil Change International looked at API's newfound interest in regulation, and identified the countless times that API in fact opposed methane regulation over the past decade.
The oil lobby "has apparently abandoned more than a decade of opposition to the regulation of the climate super-pollutant methane, to suddenly being all about it," the report said, adding that the new position in favor of regulation is "akin to more smoke and mirrors than a genuine change of policy position."
Over the past decade API consistently stated that methane regulation by the federal government was not needed because companies were already capturing methane, they had every incentive to capture it, they were implementing innovative technologies, and any regulation would be costly. In any case, the industry argued, methane emissions from drillers were already declining.
Many if not all of those assertions were misleading at best, if not outright untrue. Studies show that methane emissions have soared and are growing at an alarming rate, and that the oil and gas industry is one of the largest sources. Methane emissions in the Permian basin, for example, are back to pre-pandemic levels.
Studies also show that the industry could eliminate as much as 75 percent of its methane emissions using technologies that already exist, and two-thirds of that could be done at no additional cost.
But much of the industry hasn't been taking the steps needed to cut emissions – such as detecting and plugging leaks, and conducting regular upkeep to ensure equipment operates properly – because there is little scrutiny or regulatory requirements to do so. Oil companies face virtually no penalty for letting methane leak into the atmosphere.
"You can't both claim that you're going to take care of the problem but that you don't need anyone to kind of force your hand on it," said Shannon Heyck-Williams, senior director for climate and energy policy at the National Wildlife Federation, referring to the oil industry's shifting positions on methane. "It's just not going to work to say that any longer given the stage of the climate crisis we're in."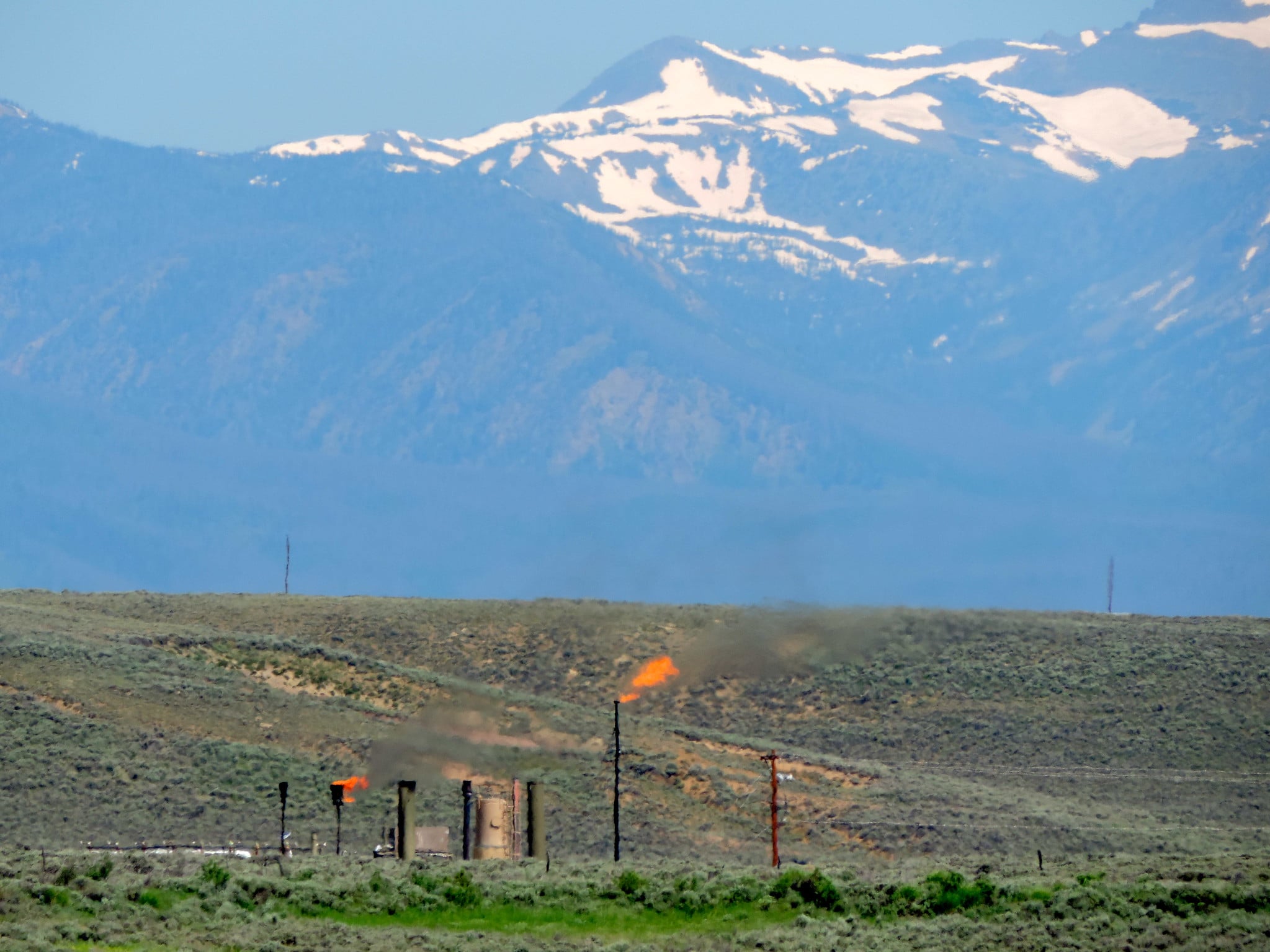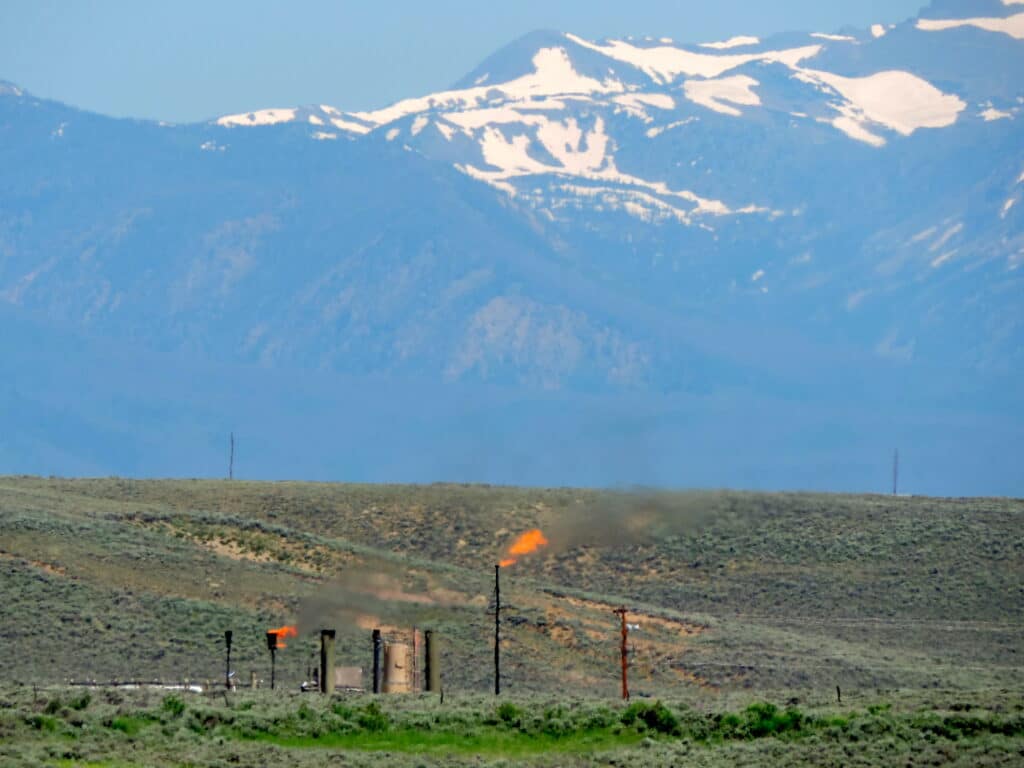 In 2016, API sued EPA to block methane regulations being implemented under President Obama, which would have only impacted new facilities, not existing ones. Shortly after, however, President Trump was in office, and API urged him to roll back these rules. 
In August 2020, the Trump administration finalized the rollback of the Obama-era regulations on methane, leaving in place little oversight for methane pollution. Even some in the oil industry were uneasy about unfettered methane pollution – BP, Shell, and ExxonMobil opposed the rollback. But API supported the move.
In the early days of the Biden administration, API changed course, and voiced support for regulation, which appeared to be a sea change. But as Oil Change International notes, API offered no specifics, no stated targets, instead simply issuing statements of support for "cost-effective" regulation.
According to Franta's research, the API's climate denial dates back to at least 1980. He said that when API says it supports regulation, "that could mean anything."
Federal regulations also take time to craft and implement, and are subject to litigation. Even if they are finalized, they can be rolled back by the next administration. If a methane fee becomes law as part of the budget bill currently under consideration, on the other hand, it will become much harder to undo — rather than being able to use an executive order, a separate law would have to be passed by Congress to remove the tax.
API did not respond to a list of questions from DeSmog. When DeSmog requested access to a press call API hosted on methane on September 9, API did not respond. The Marcellus Shale Coalition and the Independent Petroleum Association of America did not respond to questions.
Senator Whitehouse, one of the methane tax's main proponents, denounced the oil lobby group. "API has zero credibility on this issue. While it now claims to support methane regulations, it opposed them during the Trump years," he said. "It's obvious that API's newfound support for regulations is just a smokescreen to try and tank a pricing regime where companies would face a price if they continued to pollute."