Efforts by oil and gas companies to build massive liquefied natural gas (LNG) facilities on B.C.'s west coast have faced prohibitively high costs, scathing critiques from climate activists, and fierce opposition from some Indigenous communities.
But LNG producers have a strategy for navigating those barriers: make First Nations the public face of support for new fossil fuel infrastructure.
"Honestly, I believe it is the magic sauce," explained David Nikolejsin, a former senior bureaucrat in the B.C. government who helped lead the development process for LNG Canada, a major gas project currently under construction on the northwest coast by the likes of Shell, Petronas, and PetroChina.
Investors in Toronto and New York are looking for projects that are environmentally and socially responsible, said Nikolejsin and other attendees at a recent "Beyond Net-Zero" conference sponsored by pipeline builders like Enbridge and Coastal GasLink. And enlisting pro-industry First Nations as partners makes those projects easier to finance and build, they say.
A co-panelist Robert Johnson concurred. "I think we're looking at a possible scenario here where there's a big opportunity for Canadian natural gas," said Johnson, a special advisor to a New York-based consultancy called Eurasia Group which focuses on oil and gas and other energy sectors.
With "credible First Nations partners," Johnson said, "then I think you have a very unique set of assets that would be hard to find elsewhere in the world."
Their comments came during an early June conference touted as bringing "together Indigenous leaders, industry experts, policymakers, civil society organizations, scientists, engineers and investors to discuss and advance the strategies that take us 'beyond zero' into negative emissions and a recovering climate."
But in practice much of the discussion was about how to accelerate gas exports to Asia.
That may sound like a jarring disconnect, but using the language of empowering First Nations while fighting climate change is now central to the oil and gas industry's expansion strategy.
"This is a shapeshifting innovation in the position of industry," said Hayden King, executive director of the Indigenous-led public policy think tank the Yellowhead Institute.
In an environment where Canada is moving to implement the United Nations Declaration on the Rights of Indigenous Peoples, and financiers are increasingly talking about the importance of social responsibility in their investments, oil and gas producers are now realizing that if they want to build new gas pipelines and export terminals they have to market their projects to Canadians with the language of First Nations sovereignty, said King, who is Anishinaabe from Beausoleil First Nation.
"The writing is on the wall for industry," King told DeSmog. "First Nations are going to assert and enforce their own versions of consent. So the smart play for industry now is to get on board and attempt to manipulate what that consent means. I think that's what you're seeing happening now."
Climate Science Denial and Government Funding
The virtual event was organized by the First Nations Climate Initiative, an organization created in 2019 by the leadership of the Lax Kw'alaams, Metlakatla, Nisga'a and Haisla First Nations with the stated objective of battling climate change and Indigenous poverty.
But as a Vancouver Sun story points out, the organization's primary function is "to promote natural gas."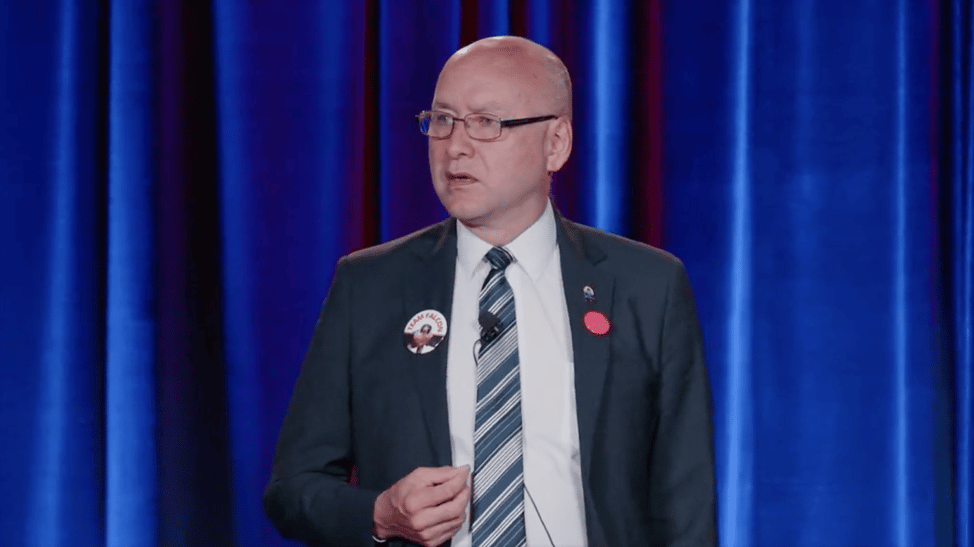 It is aided in that mission by federal funding. The Liberal government of Justin Trudeau last year directed $1 million towards the First Nations Climate Initiative. The Canadian Association of Petroleum Producers, the oil and gas industry's top lobbying group, celebrated the decision, saying the funding will assist in "developing climate change policies that increase Canada's contribution to mitigating climate change globally."
Yet one of the keynote speakers at the First Nations Climate Initiative event was former Haisla Nation chief councillor and current BC Liberal MLA Ellis Ross, who questioned whether the scientific consensus on climate change is real at a 2019 event in Alberta, saying "even the scientists and experts can't agree what's really going on."
He reportedly stood by those remarks during a 2021 debate during his unsuccessful run for the leadership of the BC Liberal Party.
'Indigenous Values' and 'Corporate Values'
The dissonance between the corporate marketing language of First Nations empowerment and environmental sustainability versus the reality of what is actually happening on the ground was also on display at the Indigenous Partnerships Success Showcase, a Vancouver conference sponsored in part by the Canadian Association of Petroleum Producers.
During a panel about the Coastal GasLink pipeline, a major natural gas project currently being built in Northwest B.C., Jesse McCormick of the First Nations Major Projects Coalition described a growing "alignment" between "Indigenous values" and "corporate values."
His organization last year received $2.6 million in federal government funding, and is currently supported by the bank CIBC and several other corporate partners. The First Nations Major Projects Coalition in turn helped facilitate a deal where 11 First Nations bought an equity stake in the natural gas pipeline.
That deal was framed by the pipeline's builder, TC Energy, as a victory for Indigenous sovereignty. "This is one of the ways we can advance reconciliation," the company's CEO Francois Poirier said at the time.
But no one at the Vancouver panel on Coastal GasLink mentioned that the pipeline will be terrible for the climate. It is the primary gas supply link for LNG Canada, a project that in its first phase will emit four megatonnes of carbon dioxide equivalent each year, making it one of the country's biggest climate polluters. 
Nor did anyone mention that the Coastal GasLink pipeline has faced years of high-profile protest and civil disobedience from Wet'suwet'en Nation members and hereditary leaders in Northwest B.C., at point leading to national Indigenous blockades.
Instead, the focus of the conference was on how "leading-edge relationships between Indigenous business and corporate Canada are making reconciliation a reality for the whole nation."
"It's really difficult to generalize," King said of the Indigenous organizations loudly advocating for oil and gas expansion. "But I think those interests are in the minority. Most large scale resource projects do not have the support of First Nations."