On March 9, the Senate held the first congressional hearing on rail safety following the February 3 Norfolk Southern rail disaster in which a nearly two-mile-long train carrying hazardous materials derailed and caught fire in East Palestine, Ohio. If the people of East Palestine were hoping to see the wheels of justice start to turn in their favor with this hearing, they may be sorely disappointed. The hearing began with some troubling revelations from a first responder, before senators went on to grill Norfolk Southern CEO Alan Shaw, who dodged questions and refused to commit to any meaningful changes to his company's safety strategy.
It likely wasn't a pleasant experience for Shaw, especially when Senator Sheldon Whitehouse (D-RI) informed him mid-hearing that another of Norfolk Southern's trains had just derailed. However, even this painful irony could not nudge Shaw toward specific commitments to financially support East Palestine residents or to back new rail safety regulations.
Some of the worst fears over public and environmental health in the East Palestine disaster, which is unfolding in a region long-plagued by industrial pollution, centers on vinyl chloride, a colorless gas associated with various cancers and used to make plastics. The derailed Norfolk Southern train was carrying five rail tank cars of this chemical, and worried about a potential explosion, the emergency response performed a controlled burn of those five rail cars. This controlled burn created a massive cloud of toxic smoke that hung over the region for hours due to a weather phenomenon that held it low in the atmosphere.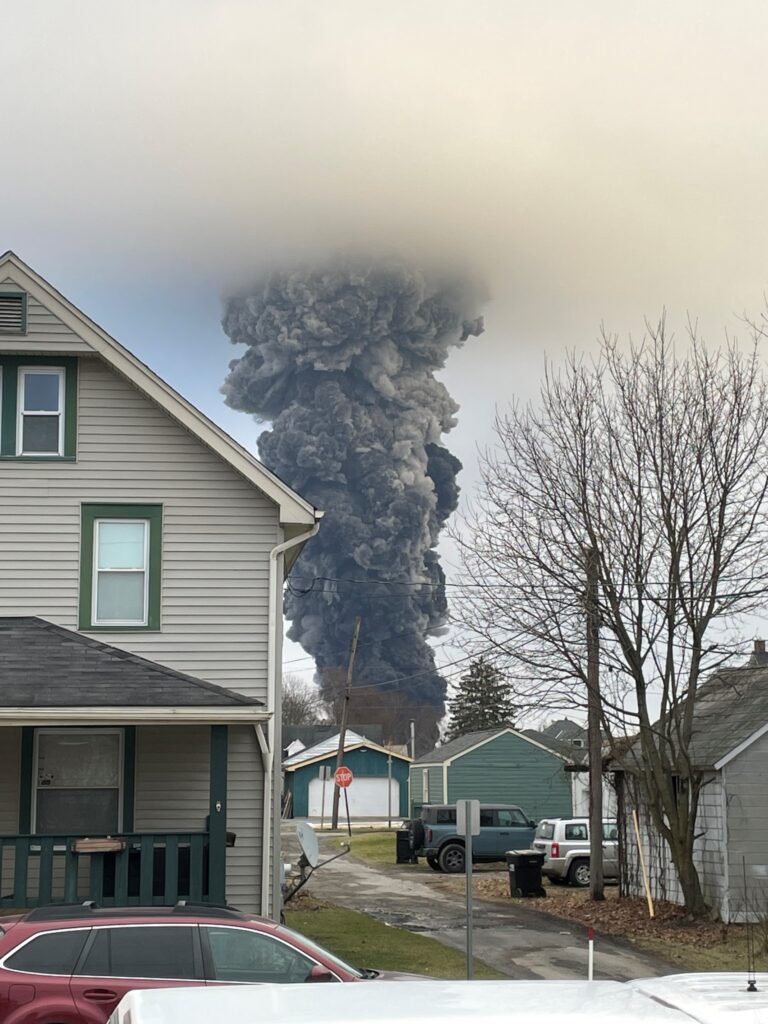 On February 6, Norfolk Southern said this controlled burn was necessary because the temperature in one of the tanks was rising and there was risk of an explosion that likely would have sent shrapnel flying in a mile radius and exposed the town to the vinyl chloride. Ohio Governor Mike DeWine corroborated this report, saying he was given "two bad options" for the outcome in East Palestine.
However, shortly after the accident, Sil Caggiano, a hazardous materials specialist and former Battalion Chief with the Youngstown, Ohio fire department, told WKBN that, "We basically nuked a town with chemicals so we could get a railroad open."
Eric J. Brewer, Director of Emergency Services for Beaver County, Pennsylvania, was one of the first responders on the scene in East Palestine and testified at the Congressional hearing. During questioning, he described learning of the decision to switch from a controlled burn of the one vinyl chloride car that was heating up to all five cars as "jaw-dropping." He was not involved in this decision, according to his testimony.
Brewer also noted how the emergency response changed once Norfolk Southern management showed up. "The boots-on-the-ground crews were great to work with," Brewer said. "It seems as bosses or management get there, that's where the communication failures start."
In Brewer's opening statement, he explained that Norfolk Southern pushed the decision to burn all five tanks holding vinyl chloride and made this change in strategy outside of the coordination process involving first responders:
"We learned that Norfolk Southern wanted to do a controlled detonation of the tank car in question. We were assured this was the safest way to take care of the railcar that was causing the problem. This was to occur around the noon time frame on Monday. When we were in one of the planning meetings we learned from Norfolk Southern officials that they now wanted to do the controlled detonation on five of the tank cars rather than just the one that everyone was thinking. This changed the entire plan because it was going to be a bigger impact to the area. This confusion was because Norfolk Southern officials did not communicate and were not in the room when the planning process was happening."
If only one tank car was heating up, why were all five intentionally burned? This decision potentially released up to five times more toxic contamination into the surrounding air. On March 2, Shaw explained to the Associated Press why responders ultimately burned all five rail cars.
"The factors on the ground at that time were that the safety valves on the rail cars had failed and the temperatures inside the railcars were heating up," Shaw told the AP.
However, the Norfolk Southern CEO's explanation stands in contrast to the claim that only one car was experiencing a temperature rise, which is what Brewer explained under oath at the March 9 Senate hearing and what the National Transportation Safety Board (NTSB) initially concluded in a preliminary report published on February 23. According to that NTSB report, "five derailed DOT-105 specification tank cars (railcars 28–31 and 55) carrying 115,580 gallons of vinyl chloride continued to concern authorities because the temperature inside one tank car was still rising."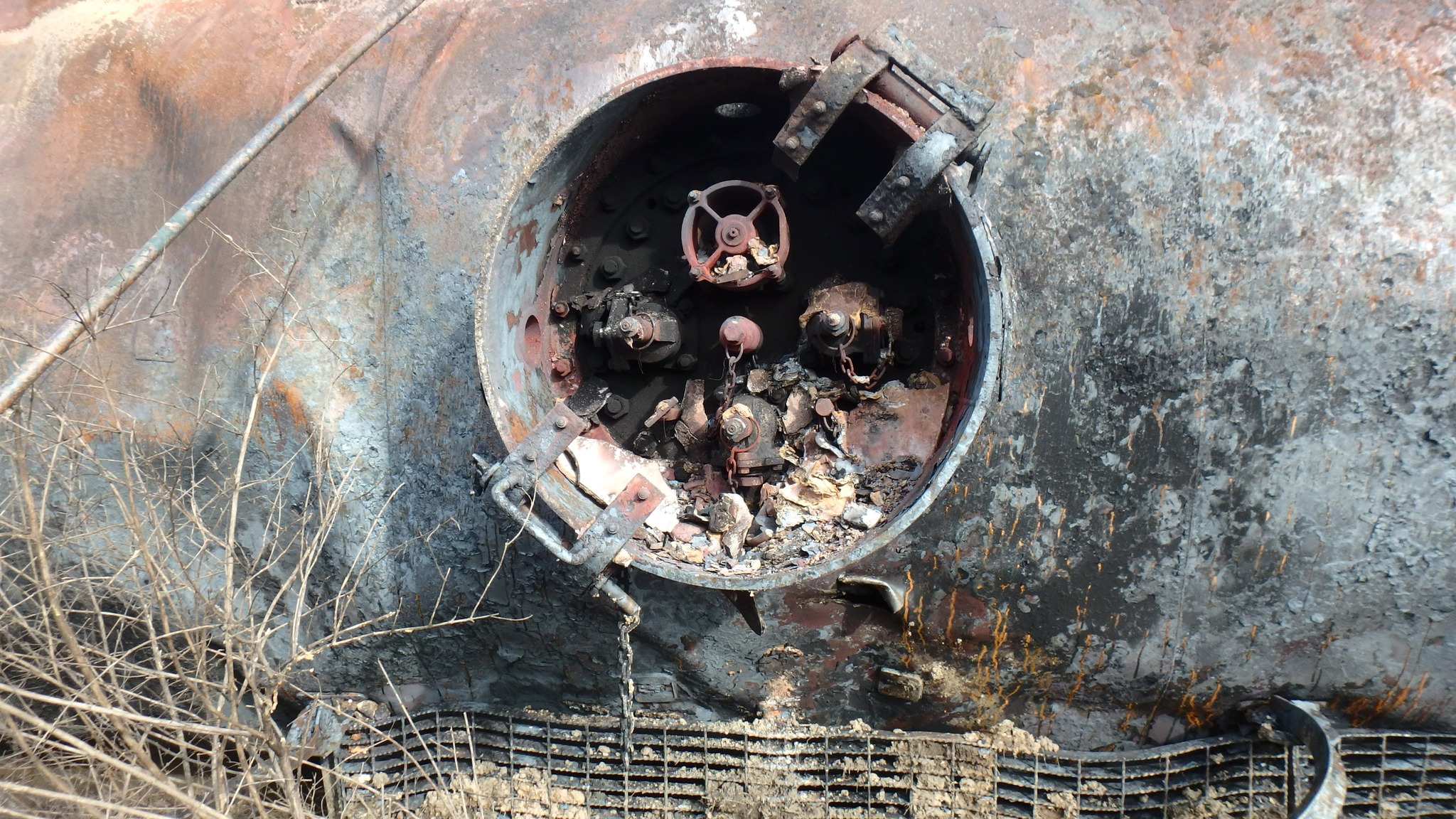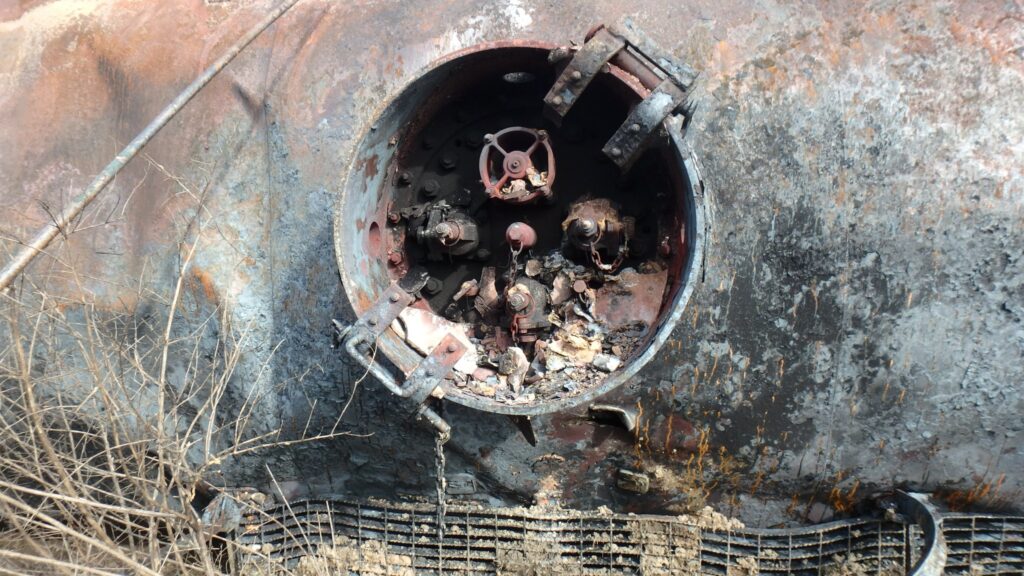 Since that time, the NTSB has said that three of the five pressure relief devices on the rail tank cars may have been compromised when their aluminum covers melted in the fire that resulted from the derailment, but offered no definitive evidence that this had affected the release valves' performance. The agency will be investigating further. The other two cars' valves had steel covers, which don't melt in fires. The main purpose of these pressure relief devices is to release pressure inside tank cars due to fire. Currently, there are no regulations requiring the rail industry to have steel covers on these devices. That's not surprising because the rail industry resists regulation whenever possible and is very successful at rolling back or weakening even the few safety rules that its regulators have enacted.
At least one senator appeared skeptical of the decision to burn all five tanks of vinyl chloride. "Someone may need to be held responsible who made the decision to burn this off, because some of this, a lot of this could have been prevented," said Senator Markwayne Mullin (R-OK).
The people of East Palestine and the broader region will be dealing with the consequences of that decision for a long time. Meanwhile, the tracks damaged by the derailment are back in place, and trains were traveling through East Palestine on February 10, just a week after the accident darkened the skies of the Ohio River Valley.
Norfolk CEO Refuses to Support New Proposed Rail Safety Regulations
In response to the East Palestine disaster, on February 21 the Biden administration announced plans for "pursuing further rulemaking, to the extent possible under current statute, on high-hazard flammable trains (HHFT) and electronically controlled pneumatic brakes (ECP)." As DeSmog has explained, the addition of electronically controlled pneumatic brakes is likely the most important and immediate measure that would significantly improve rail safety.
In 2015, the Obama Department of Transportation issued regulations requiring modern ECP brakes for trains carrying hazardous materials, but just two years later, the agency, then under President Trump, repealed them.
In the March 9 hearing, Senator Whitehouse noted that Norfolk Southern was on the record saying that the 2015 safety regulations were "not in the public interest." Whitehouse told Shaw that he wasn't looking for any further comment from the CEO on ECP brakes at this time but formally requested from him, "All communications between your company and trade association with the Trump administration relevant to that repeal." If those communications become public, they could provide new insight into the rail industry's ongoing attempts to fight safety regulations that could protect the public.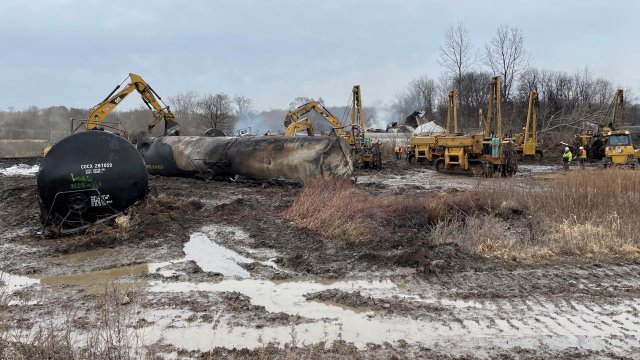 The senators at the hearing also took aim at Norfolk Southern's corporate financial priorities. Senator Jeff Merkley (D-OR) asked Shaw if he would "commit to no more stock buybacks until you invest in safety." In his comments, Merkley noted that in 2016 a Union Pacific oil train had derailed and exploded in a near-miss not far from a school in Mosier, Oregon. He went on to express confidence that "if we can put people on the moon, we can put brakes on every train car." 
"I hope you support the coordinated electronically controlled system you've been fighting against for years," the Oregon senator finished to Shaw.
In response, the Norfolk Southern CEO did not commit to any concrete actions, such as halting stock buybacks. Instead, Shaw said only, "We are committed to the legislative intent to make rail safer."
During the hearing, Senator Ed Markey (D-MA) made the important point, also reached by the NTSB, that this accident was "preventable" and "a disaster waiting to happen." He attributed the cause to "corporate greed" and called "outdated railway safety regulations" fuel for "the toxic fire that was ready to combust."
In closing his comments, Senator Markey asked Shaw if he would make the residents and business owners of East Palestine financially whole. The rail CEO responded with a variation of a phrase he used at least five times in the hearing: "Senator, I'm committed to do what's right." Markey replied emphatically that making the residents financially whole was "the right thing to do!"
History Rhymes in East Palestine
The recent congressional hearing was reminiscent of many similar hearings after 2013's deadly Lac-Mégantic, Quebec oil train disaster, which was followed by a string of other major oil train derailments across North America that caused large fires and oil spills. At that time, there was a lot of talk about how to improve rail safety and eventually the Department of Transportation rolled out new but weak regulations in 2015. Yet even those were subsequently gutted as a result of industry lobbying efforts.
Much is being made of how the rail safety proposals coming from Congress today are bipartisan. However, some Republicans in Congress are already speaking out against new regulations.
Representative Troy Nehls (R-Texas) told Politico he did not want "more burdensome regulations" in response to the East Palestine disaster. Senator John Thune (R-SD) told The Hill, "We'll take a look at what's being proposed, but an immediate quick response heavy on regulation needs to be thoughtful and targeted." This is a consistent position for Thune. As DeSmog reported in 2015, "Sen. John Thune (R-SD) was adamant that the proposed new [hazardous train] regulations were 'unattainable.'"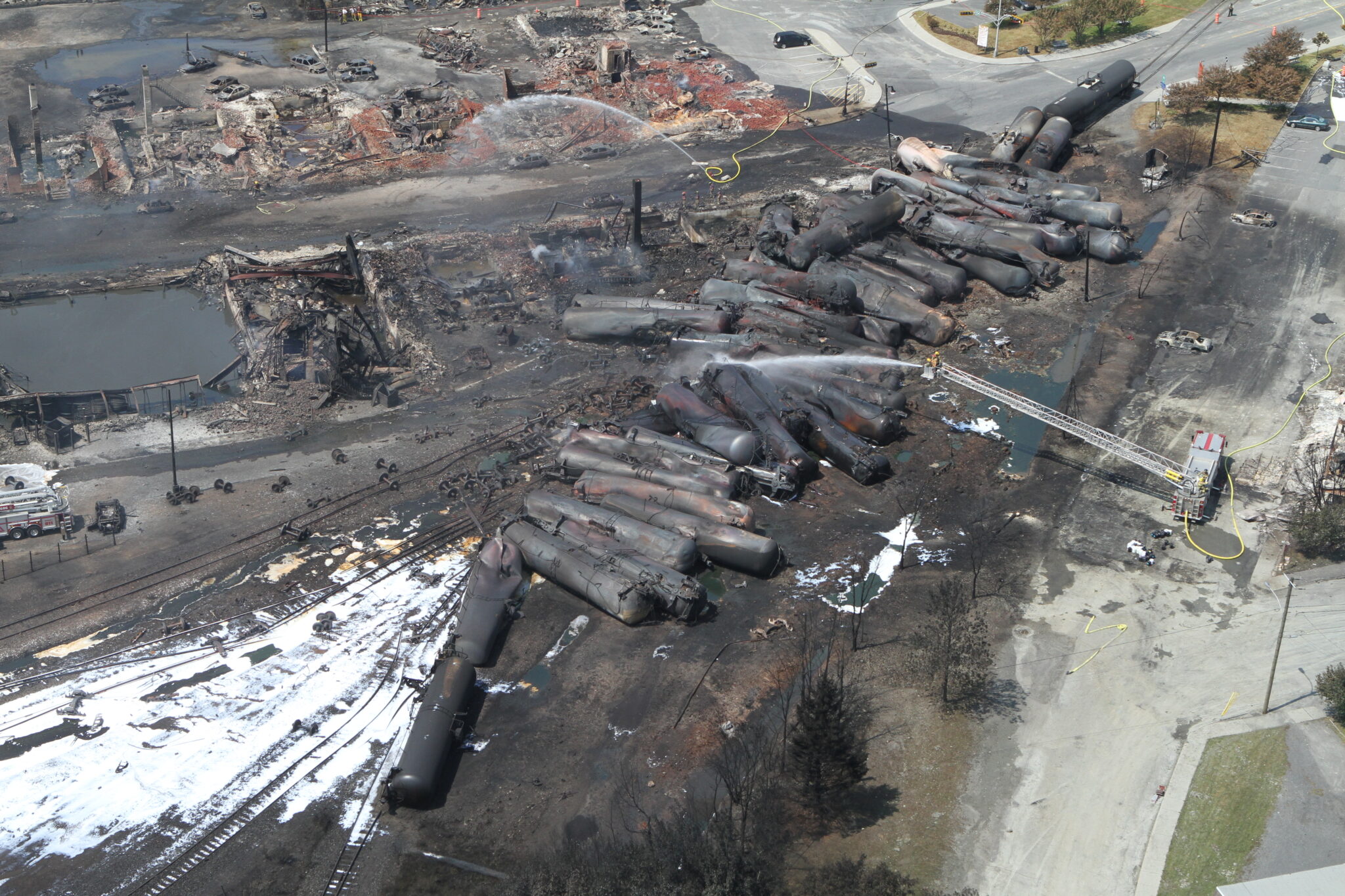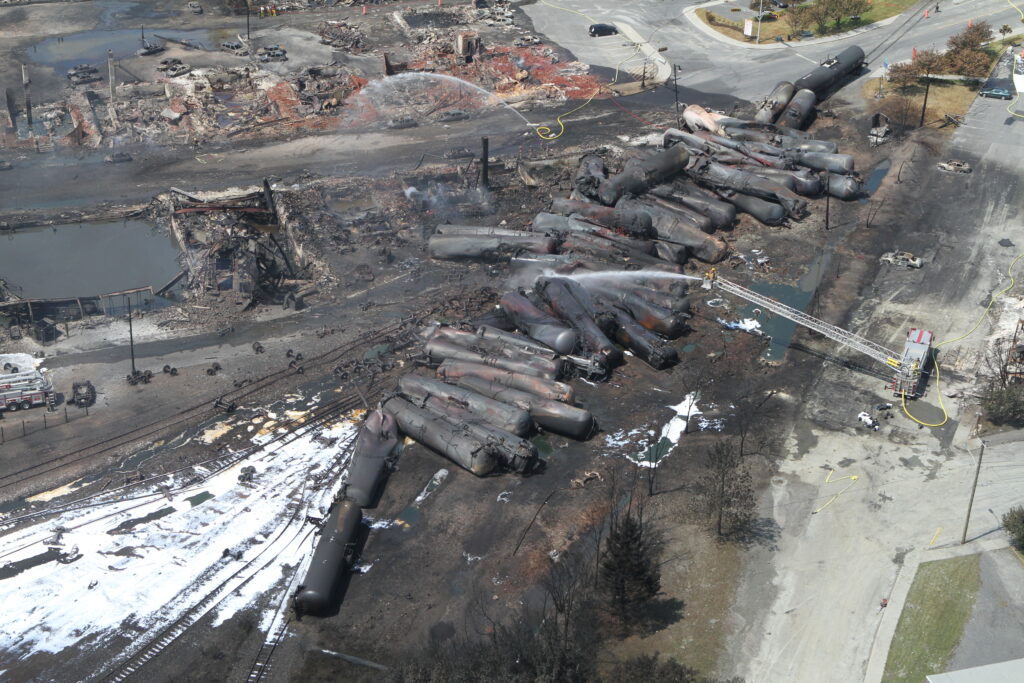 History shows the rail industry and its supporters in Congress are likely to prevail in maintaining the status quo. When an exploding oil train killed 47 people and destroyed downtown Lac-Mégantic, Canada, it sent shockwaves through the highly-connected North American rail world — the oil train had originated in the United States — and set the U.S. Congress and regulators on alert. Due to the high rail traffic crossing the border between Canada and the U.S., the two countries work to harmonize their rail regulations so that trains crossing the border meet regulatory requirements in both countries.
But after the Lac-Mégantic disaster, even this level of immediate loss wasn't enough to spur meaningful new safety regulations for the industry. And that tragic reality means the poisoning of East Palestine is unlikely to result in the necessary changes that would eliminate these accidents, which the NTSB has called "100% preventable."
Senator Markey appears to be a student of such rail history. Near the end of the three hour hearing, he showed frustration when Shaw repeated the same vague talking point that "I'm committed to doing what's right for the community…"
The senator cut him off, saying:
"What's right for the community will then be balanced with — what we can see from your stock buybacks — by what's right for Norfolk Southern. And that's going to be to sue, to fight, resist full compensation for these families. That's the pattern we've seen over the last 10 years in your one-third reduction in workforce with its natural concomitant reduction in safety. We're not hearing the right things today. These families want to know long-term are they just going to be left behind. Once the cameras move on, once the national attention dies down, you know, where will these families be? I think they're going to be in the cross hairs of the accountants of Norfolk Southern saying we're not going to pay full compensation. That's why we're going to stay on this case until everyone in East Palestine is given the justice they deserve."
This July will be the 10-year anniversary of the Lac-Mégantic disaster. In December 2022, Canadian Pacific, one of the railroads implicated in the accident, finally won its legal battle to be absolved of all responsibility, Though a separate rail and several oil companies paid into a CAN $430 million settlement fund for victims, Canadian Pacific's legal challenge delayed payouts to the families of victims.
And downtown Lac-Mégantic, a once-idyllic town similar in size to East Palestine, remains mostly a vacant lot. The cost to rebuild the town is estimated to be as much as two billion dollars, according to the town's mayor in 2015. Executives at MMA, the now-defunct U.S.-based rail company that owned the exploding oil train, were fined $50,000, and MMA's Canadian subsidiary paid $1 million for the oil spill that polluted the lake.
Perhaps now in the U.S., the efforts of this Congress can produce a different outcome for the people of East Palestine, but history — and Shaw's testimony — suggests otherwise.
CORRECTION (3/15/23): Due to an editing error, the original version of this article stated that the oil train that derailed in Mosier, Oregon was owned by BNSF. That has been corrected.