Global advertising and public relations company WPP has more contracts with fossil fuel clients than any of its rivals, despite the group's pledge to reach net zero emissions by 2030, according to a report by campaign group Clean Creatives.
The UK-based company topped the annual 'F-List' documenting the creative and public relations industry's work for polluting industries, with 55 fossil fuel contracts. Omnicom followed with 39 contracts; Interpublic Group had 25; and Publicis Groupe had 11. These four companies dominate the communications industry; owning hundreds of subsidiaries around the world, and generating combined revenues of $56 billion in 2022.
"This is a turning point for the industry — communications agencies who work for oil and gas clients are knowingly accelerating the global climate emergency, and their legal risks will accelerate, too," said Duncan Meisel, executive director of Clean Creatives. "The ad and PR industry cannot continue to be this far out of step with scientific and political reality and expect to avoid backlash."
WPP, Omnicom, Interpublic Group and Publicis Groupe did not respond to a DeSmog request for comment.
The latest F-List traced a record 500 fossil fuel advertising, marketing and PR contracts active in 2022-2023 across 294 agencies in 45 countries.
Clean Creatives launched the report at New York Climate Week with a poster campaign aimed at employees of Edelman, McCann, Ogilvy and Publicis — four companies who feature heavily in the F-List — to alert them to their employer's work for polluting companies.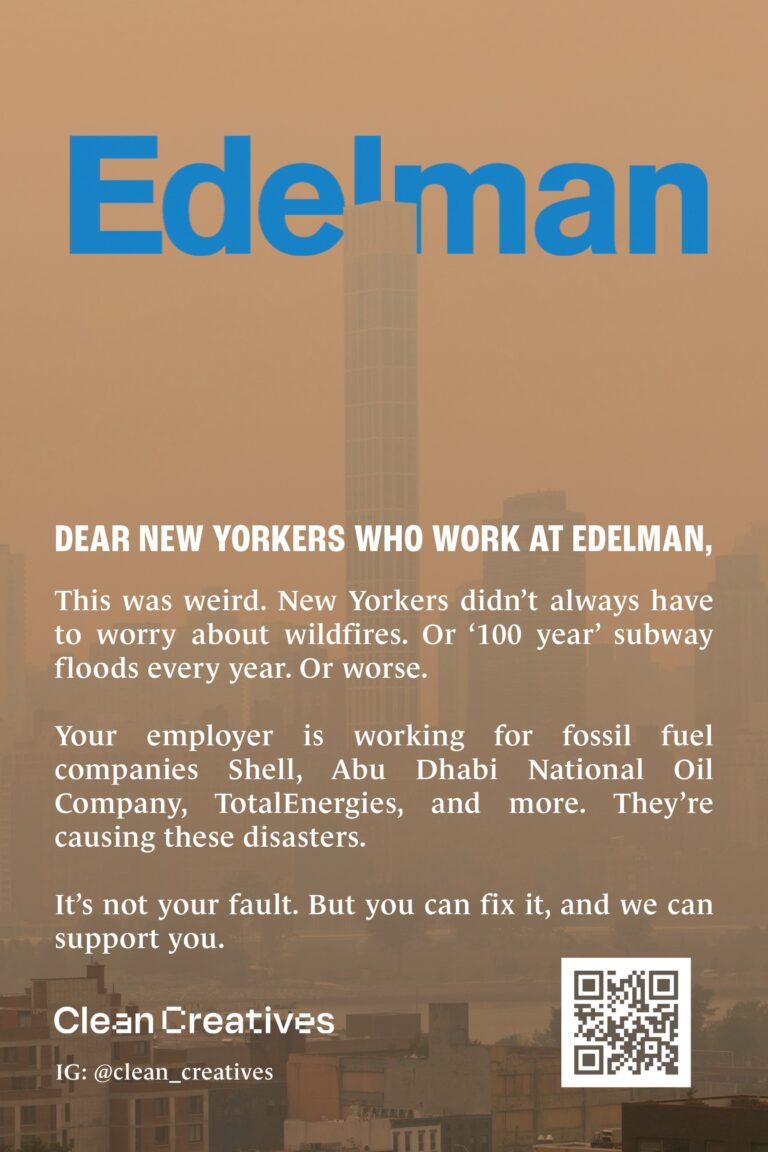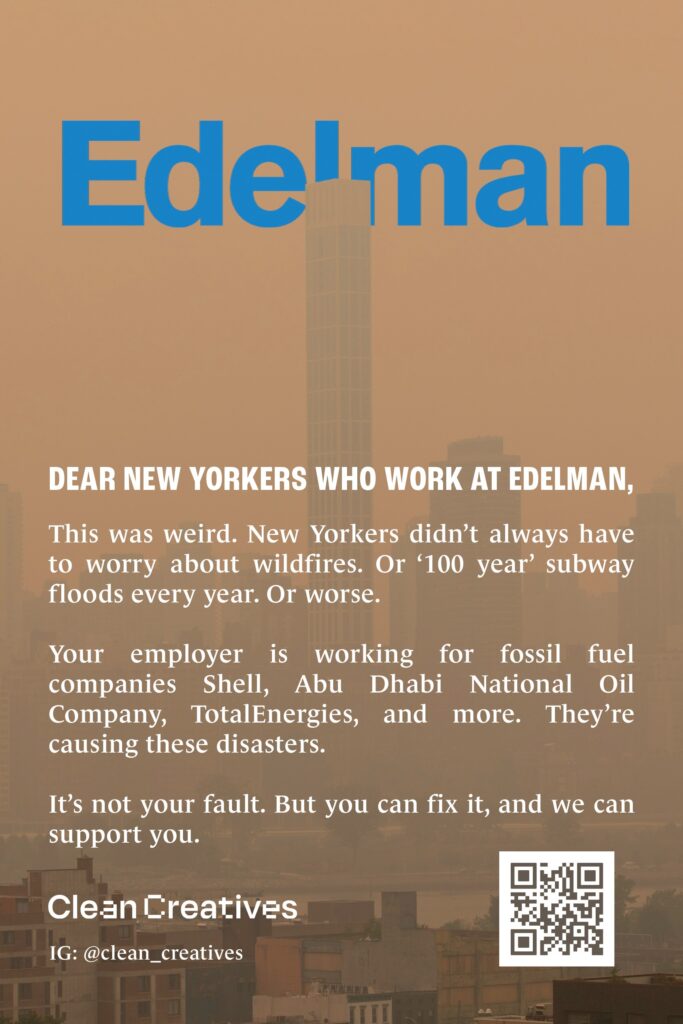 'Raking in Billions'
Scrutiny of the role of communications agencies in promoting fossil fuels has increased since the Intergovernmental Panel on Climate Change's (IPCC) April 2022 report raised concerns over the influence of the communications industry for the first time. The IPPC's Sixth Assessment Report on the mitigation of climate change stated that "the media shapes the public discourse about climate mitigation" and that this may be "used to impede decarbonisation".
In September 2022, UN Secretary-General Antonio Guterres expressed such concerns in blunter language, telling the UN General Assembly: "We need to hold fossil fuel companies and their enablers to account. [This] includes the massive public relations machine raking in billions to shield the fossil fuel industry from scrutiny."
Outside of the four largest holding companies, Canada-based Pitch Digital was the independent agency with the most fossil fuel contracts during this period, with 22 projects, mostly concentrated in the Canadian tar sands industry, the F-List found.
Edelman, the world's largest independent public relations agency, had five fossil fuel contracts, including with French major TotalEnergies, which is building a controversial oil pipeline in east Africa. Edelman is also working with Abu Dhabi Future Energy Company (Masdar), a renewable energy company which featured prominently in a campaign Edelman undertook from 2007 to 2009 to boost the climate credentials of Sultan Ahmed Al Jaber, the head of Abu Dhabi's state oil company ADNOC. Al Jaber is now president of COP28, the annual U.N. climate talks due to open in Dubai in November.
WPP's most prolific agency was its advertising group Ogilvy, which had at least seven fossil fuel contracts, including the American Petroleum Institute lobby group; British oil major BP; and Brazilian oil company Petrobras. Hill + Knowlton had six contracts listed in the report, with WPP's flagship PR agency delivering a variety of public relations and lobby work for clients such as ExxonMobil, Chevron and Saudi Aramco, the biggest oil company in the world by revenue.
Meanwhile, IPG Mediabrands, and Omnicom's GRACosway and DDB, have also engaged in at least six fossil fuel projects each over the past 18 months, including for major oil companies and lobby groups such as Shell, Glencore and the Canadian Energy Centre, the F-List found.
'Take Action'
WPP pledged in April 2021 to reach net zero emissions in its operations and supply chain by 2030. The goal applies to areas such as employee travel; energy used to power office buildings; the production of advertising campaigns, and the carbon footprint of digital advertising.
Clean creatives say that focusing on the relatively modest emissions produced by the advertising industry's operations distracts from a much bigger problem: The impact of its campaigns on behalf of fossil fuel clients.
Campaigners argue that running advertising and public relations campaigns on behalf of polluting industries can boost sales of climate-damaging products, such as fuel-guzzling sports utility vehicles; shield polluting companies from pressure to decarbonise, and weaken government climate policies.
Nevertheless, none of the major advertising industry holding groups factor the possible impact of their client work in driving increased emissions into their climate targets.
"Despite agencies' net zero promises and sustainability pledges, they continue to promote the oil and gas industry," Clean Creatives Research Director Nayantara Dutta told DeSmog. "We share our data publicly to encourage transparency so that creatives at agencies can learn who they are actually working for and have the tools to take action."
'Responsibility'
Purpose Disruptors, an industry campaign group, has developed a methodology known as 'advertised emissions' to help agencies try and measure their wider climate impact.
This works by calculating the greenhouse gas emissions that result from the uplift in sales generated by advertising.
Dentsu — the fifth largest holding company in the industry — found that their 2022 'advertised emissions' were 32 times the size of their operational footprint when they published an estimate of their advertised emissions in July as part of a climate risk assessment for investors.
"If the ad industry continues as normal, then the more ads we see or hear, the more we're influenced to buy," Purpose Disruptors co-founder Jonathan Wise wrote in an article for trade publication Campaign in July. "Each product made generates carbon emissions, from the production and extraction of the materials it's made with, to how it's transported, to the energy use it requires in its lifetime. If we celebrate the growth that advertising drives, we have to take responsibility for the emissions associated with that growth."
So far, most holding companies, agencies and industry bodies have rejected the concept of 'advertised emissions', playing down the need to cut ties with polluting industries.
A month before Wise's piece ran in Campaign, the UK-based lobby groups the Institute of Practitioners in Advertising, Advertising Association, and Incorporated Society of British Advertisers wrote a joint article in the same publication critiquing the methodology. The trade associations argued that attempting to calculate "advertised emissions" would lead "to a significant overstating of emissions attributable to an advertising campaign by ignoring advertising's displacement effects — the sale of one product or service means the lost sale of another in most markets."
However, campaigners point out that the Advertising Association's report Advertising Pays, produced wth consultancy Deloitte, appears to contradict the "displacement effects" theory, stating that "advertising encouraging market growth is one of the reasons why £1 spent on advertising generates £6 to the UK economy".
Pledge
Campaigners say that major advertising companies are using their clients' flimsy transition plans to deflect scrutiny of their relationships with polluting industries.
Impact investors Inyova raised the issue of "advertised emissions" at Publicis Groupe's 2023 annual general meeting Paris in May. Publicis Chief Executive Arthur Sadoun said the concept was unnecessary because all of the company's clients were transitioning in line with the 2015 Paris climate agreement.
The F-List found that Publicis' clients include Saudi Aramco, the world's largest corporate greenhouse gas emitter, whose targets remain far from Paris-aligned, according to financial think tank Carbon Tracker. Saudi Aramco said last year that it aims to boost its oil production to 13 million barrels per day by 2027 from 11.5 million in 2022, and increase natural gas production by more than 50 percent by 2030.
Large agencies such as GALE and Forsman & Bodenfors have signed the Clean Creatives pledge to refuse contracts from fossil fuel companies, bringing the number of signatories to more than 700 agencies in 38 countries since the campaign was launched in November 2020.
The pressure group has since introduced a new 'Creator's Pledge', following a DeSmog investigation that revealed social media influencers were working for Big Oil.