At a panel discussion held at the 24th World Petroleum Congress, Shaikh Nawaf Saud Al-Sabah, deputy chairman & CEO of the Kuwait Petroleum Corporation, estimated that more than a billion people will die if all new oil and gas investment is stopped.
Nawaf Al-Sabah made the comment during a discussion entitled "Building Partnerships in an Energy Transition," which also featured Kendall Dilling of the Pathways Alliance, and was hosted by Jackie Forrest, executive director of the ARC Energy Research Institute.
Panelists were discussing their belief that continued production is necessary to maintain the world's current standard of living, and the need for a secure and steady energy market when Al-Sabah raised the possibility that new oil and gas investment could be banned. "You're going to have an extremely rough transition between now and then," he said. "When you're talking about the international institutions (…) [that] come out and say 'stop all new oil and gas investment,' the end product of that is very simple: a billion people on this planet who end up dying."
Al-Sabah contextualized his estimate in saying that a substantial number of the world's poor are dependent on fossil fuels to deliver their food and provide medicine. He did not provide a reference for how this estimate was determined. The argument that people will die if oil and gas production isn't maintained, or if decarbonization happens too fast, was reiterated at other panels throughout the day.
Al-Sabah's comment contrasts with an estimate of one billion deaths caused by climate change if warming reaches or exceeds two degrees Celsius this century. Following a 1,000-ton rule, for which one person is killed for every 1,000 tons of fossil carbon burned, Joshua M. Pierce of the University of Western Ontario, and Richard Parncutt of the University of Graz, estimated the global rich will be responsible for the involuntary manslaughter of roughly one billion of the world's poor. Their findings were published in the August 2023 edition of the journal Energies.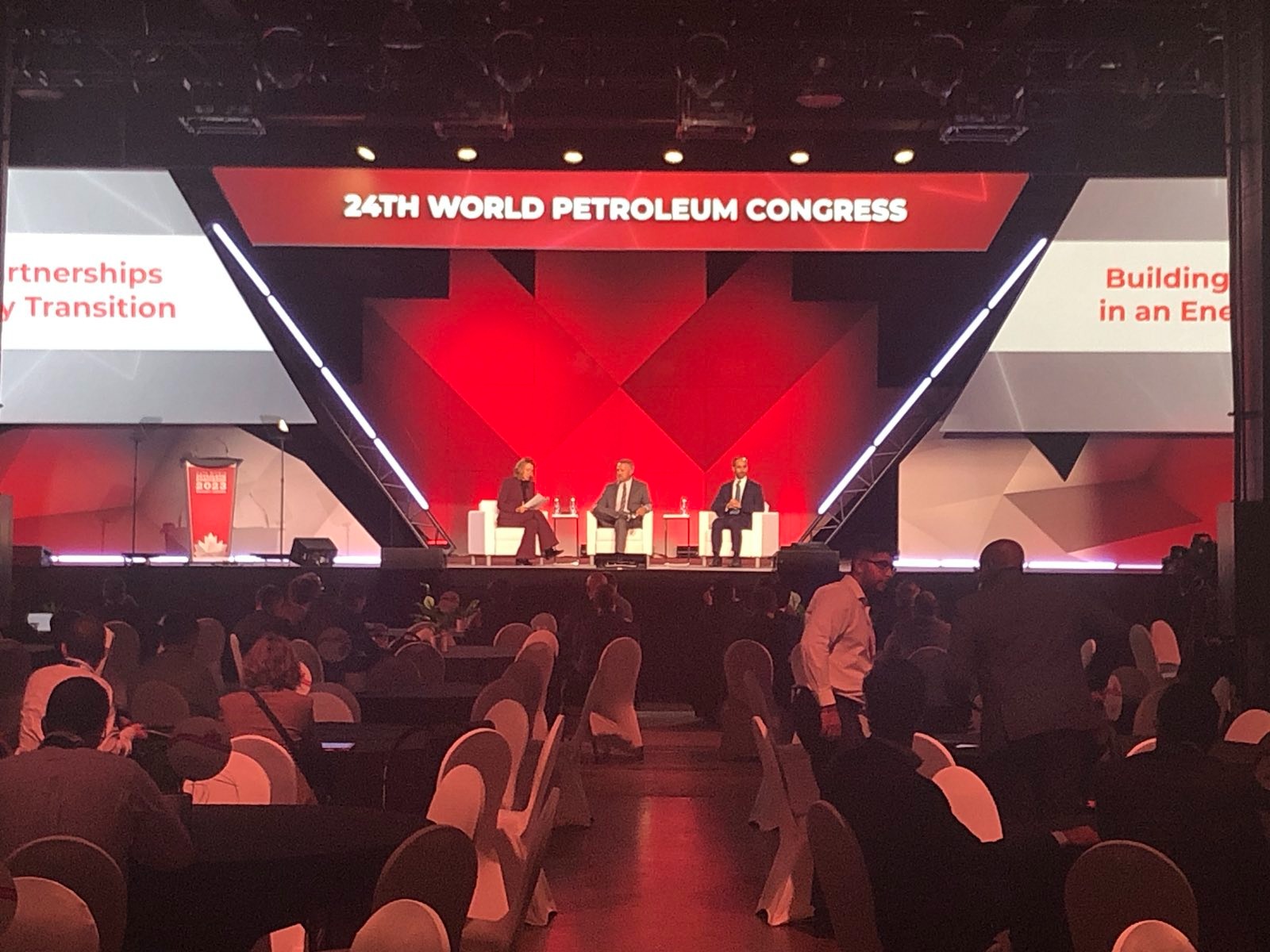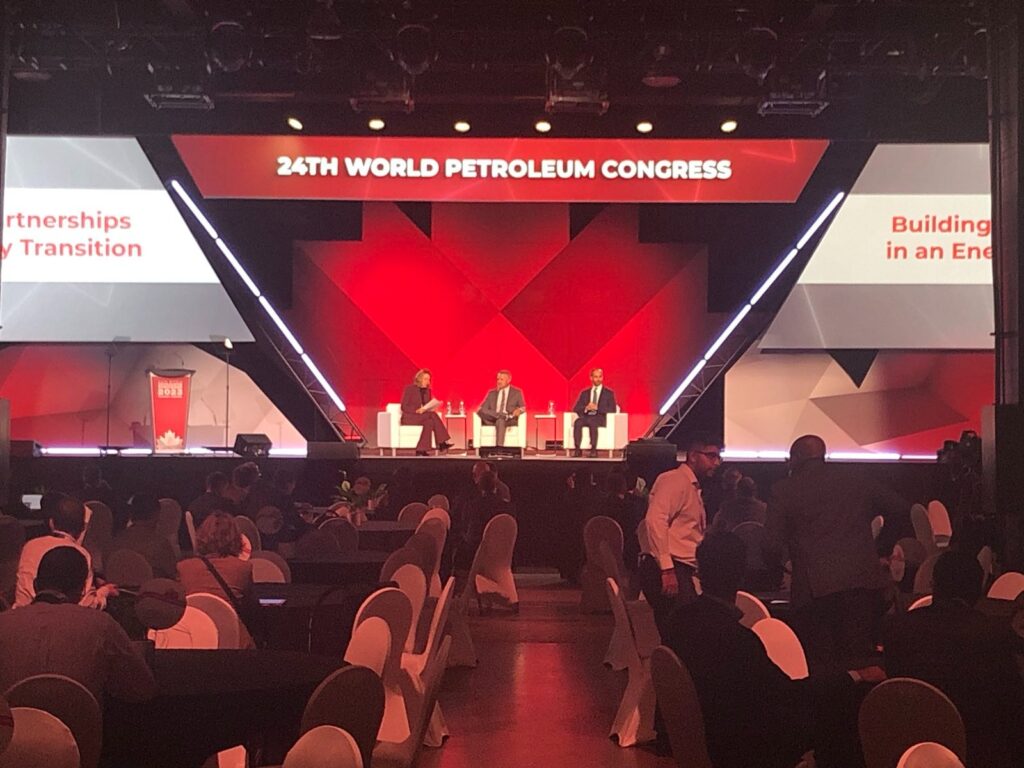 Though representing vastly different nations with very different petroleum industries, and despite the Canadian oil industry and its political supporters near-constant railing against foreign oil imports over the past decade, Dilling and Al-Sabah were in general agreement on certain issues, such as the idea that "oil and gas need to be part of the energy transition."
While Al-Sabah acknowledged a need for renewables like solar and wind power, he also stated that a future energy mix will "have to continue to include hydrocarbons for the simple reason that all of the other ones will not be enough to power the world (…) We anticipate between now and 2050 energy demand will increase by about 50 percent."
Al-Sabah's statement doesn't align with a forthcoming International Energy Agency report, which is expected to demonstrate that global demand for non-renewable energy sources will peak before 2030. This projection is consistent with earlier IEA reports indicating global oil demand will slow significantly by 2028. The IEA's most recent estimates aren't new — they've been consistent for a few years — and are seemingly confirmed by the Canada Energy Regulator, which is also anticipating a decline in Canadian production.
Asked to respond to these projections, Al-Sabah responded that the IEA's estimate "cannot put forward any credible alternative to oil and gas in the energy mix that will get the world the energy that the world is going to demand by 2050."
"If you read the fine print and in the footnotes, you're going to see that it relies on essentially a huge leap of faith on new technology that's magically going to appear at some point in the future," Al-Sabah added. "That's not a way to plan for the future. That is a recipe for disaster."
The IEA's report is due out in October.
Dilling — speaking in his role as president and CEO of the Pathways Alliance — was also skeptical of the IEA report, but insisted that since "we're a big source of emissions (…) we're going to be a big part of the solution."
The Pathways Alliance is composed of six Canadian tar sands producers who have joined together to propose a massive carbon capture project in the Cold Lake region of Alberta that would store emissions generated by tar sands oil production. One of the Pathways Alliance members — oil giant Cenovus Energy — was recently awarded $7 million dollars by the Government of Alberta to study the possible use of small modular nuclear reactors in an effort to decarbonize the production of oil from Canada's tar sands.
The Pathways project has encountered several setbacks recently, including allegations it hasn't adequately consulted with First Nations, an inquiry by Canada's Competition Bureau into allegations it has misled Canadian consumers, and failure to secure a special funding mechanism that would incentivize investors.
Despite the theme of the discussion, little was said about building partnerships in an era of energy transition. Al-Sabah stated that Kuwait is not yet collaborating on CCS projects, but has recently announced a joint venture with Oman to develop a new oil refinery. Though both representatives discussed how each nation is individually pursuing alleged decarbonization efforts that won't impact production — be it carbon capture pipelines for Canada or the creation of mangrove swamps in Kuwait — there was no discussion of how either oil producing nation might lead the energy transformation globally.
Dilling and Al-Sabah spent more time agreeing that Canada's federal regulatory climate was holding back progress.
Dilling mentioned his relief that the Pathways carbon capture project, already expected to take seven years to complete in a best case scenario, will not be subjected to federal government oversight or regulation. "Our project happens to be entirely provincially regulated, which gives us a much more streamlined regulatory process," he said. "If this had to go through a federal impact assessment process, you're adding probably several more years on top of that."
Canadian politicians, lobbyists and industry officials have long advocated Canadian oil is an ethical choice when compared with other world sources, often contrasting Canada's human rights record and ESG standards with those of the Middle East and other oil producing regions. Though these arguments have often gone hand in hand with arguments the proverbial last barrel of oil should be a Canadian one, these talking points were conspicuously absent from the panel discussion, as was any conversation about why climate justice might also be considered an ethical choice in an era of rampant climate catastrophe.