Ezra Levant
Credentials
Background
Ezra Levant is a Canadian television and radio personality, conservative political activist, and author of Ethical Oil: The Case for Canada's Oil Sands, the book that popularized the phrase "Ethical Oil," which is now being used by the conservative government in Canada as justification for the expansion of the Athabasca tar sands.
He is the founder and former publisher of The Western Standard, and formerly ran his own Sun TV program "The Source." Sun News shut down in 2015 after failing to find a new owner. After Sun Media shut down, Levant moved his reporting to Rebel Media where he is "Rebel Commander." iPolitics described the site as "the de facto epicenter of Canadian right-leaning political discourse." [35], [37], [38]
In his early years, Levant undertook an internship with the Charles G. Koch Foundation's Summer Fellowship program in 1994, and then proceeded to work for the Fraser Institute in 1995 where he wrote Youthquake, which argued for smaller government and privatization of the Canada Pension Plan. [2]
According to a search of the Office of the Commissioner of Lobbying of Canada, from 2009 until 2010, Levant worked as a lobbyist for Rothman's Incorporated, a manufacturer and distributor of tobacco products. [3]
Charlottesville Controversy
Controversy hit shortly after The Rebel's Faith Goldy's broadcast from the alt-right rally in Charlottesville, Virginia. According to The National Post, Goldy "had spoken sympathetically of a rising 'white racial consciousness' and dispassionately about the 'JQ' or Jewish question, a longtime obsession of white nationalists." Maclean's noted that Goldy repeatedly called marchers on the side of white nationalists "patriots." She was still broadcasting when a car rammed into the protesters behind her. [39], [40], [41]
After Goldy's coverage, Rebel cofounder Brian Lilley quit and a number of contributors walked away. Lilley announced on a Facebook post that he no longer felt "comfortable" being part of the organization. Levant claimed that he had fired Levant last year. [42], [39]
"What may have started as a concern over the (Rebel's) harsh tone taken on some subjects came to a head with this weekend's events in Charlottesville, Virginia," Lilley said in a Facebook post. Lilley said the protest "was really an anti-Semitic white power rally." [43]
Levant said he had no choice but to fire Goldy after she went on a podcast from the white supremacist news site Daily Stormer, which he wrote "was just too far. So we said goodbye." [44]
After the events, a number of conservative politicians in Canada including Jason Kenney, Brian Jean, and Andrew Scheer publicly distanced themselves from The Rebel . [45]
Later that week, Caolan Robertson, formerly one of The Rebel's U.K. correspondents, posted a YouTube video titled "Why I Left The Rebel Media," where he played recordings of what he claimed was Levant offering "hush money" to stay quiet regarding aspects of The Rebel. Robertson criticized The Rebel further in the video, saying "The Rebel takes its money from ordinary hardworking people […] But, it also quietly takes a lot of money from less ordinary, more wealthy people." Note that the original video is no longer on YouTube. [46]
Levant responded to Robertson's video, claiming that Robertson and another man were blackmailing him: [47]
The Washington Times reported on August 21 that the Rebel Media website was "was abruptly terminated for roughly half of his global audience." A technology company, which Levant did not name, stopped directing traffic to some users internationally. Levant said he was given 24 hours notice and no explanation for the action. [48]
"If this was a political censorship decision, it is terrifying – like a phone company telling you it is cancelling your phone number on 24 hours notice because it doesn't like your conversations," Levant told Reuters. [49]
During the same week, the advocacy group Press Progress released a report claiming that Levant had received an undisclosed amount of funding from the Middle East Forum in 2015. [50]
After the events, Levant said the site would not necessarily shut down: [51]
"I'm a flawed leader who has made mistakes," he wrote in a post on The Rebel. "But as long as you stand with me, I will still stand." He added, "I think we need more oversight — not more censorship — just to make sure we're really being on brand with what we believe, what we stand for." [51]
Rebel News
&

Extremist Groups

The Proud Boys have been described as an extremist group by the Southern Poverty Law Center and in Feb. 2021 were labeled a terrorist group in Canada. [53], [54]

McInnes founded the Proud Boys in 2016. In 2018, McInnes publicly stated that he was "officially disassociating" himself from the far right group shortly after the FBI had categorized the Proud Boys as "an extremist group with ties to white nationalism" in a briefing to Washington state law enforcement. [55], [56]

In a September 2019 interview with Ezra Levant, Proud Boys founder Gavin McInnes said that his early relationship with Rebel News was what helped him become famous. Levant said he had also benefited from that relationship: [57]
Ezra Levant: [00:00:03] "You really helped build The Rebel in a number of ways. I want to tell you that. I think you know that. You helped us reach beyond guys like me who came up through politics." [00:00:11]

Gavin McInnes: [00:00:11] "You made me famous, unfortunately, which I don't like." [00:00:14]

Ezra Levant: [00:00:15] "Weren't you famous before?" […]

Gavin McInnes: [00:00:17] "No, I was never recognized before Rebel." [00:00:19]

Ezra Levant: [00:00:19] "Well, I mean, you did hundreds of videos and you were the star of all the videos. So I guess you became famous." [00:00:24]

Gavin McInnes: [00:00:24] "No. Yeah, I did hundreds of videos for you, you mean?" [00:00:26]

Ezra Levant: [00:00:26] "Yeah." [00:00:26]

Gavin McInnes: [00:00:26] "Yeah, yeah, yeah. Before that I did some comedy sketches. I'd get recognized maybe once a week. After the Rebel videos blew up, I am stopped by millennials, mostly white millennial men, five times a day. And they all want a selfie, which is infuriating because what are you doing with that selfie? Like we're not friends." [00:00:45]
A search for "Gavin" in Rebel Media's YouTube page returns over 300 videos.
Gavin McInnes left the Rebel in August 2017. [58]
"Gavin's a great friend and a great talent," Rebel Media founder Ezra Levant told Canadaland in an email. "We tried to keep him, but he was lured away by a major competitor that we just couldn't outbid."
According to Canadaland: "McInnes was one of The Rebel's earliest hosts, joining the company in April 2015, shortly after it launched."
McInnes published a video titled "10 Things I Hate About Jews"on Rebel News in March, 2017. [59]
Two days earlier, Rebel News published a video on YouTube titled "What Gavin McInnes really thinks about the Holocaust."
According to Canadaland, Levant changed the title to "10 Things I Hate About Israel" within 12 hours. "I chose both headlines," Rebel head Ezra Levant told Canadaland in an email. "I liked the first one because it was provocative; but then I changed it to the second one because it was more descriptive. I should probably have stayed with my first instincts." [59]
Rebel reporter Sheila Gunn Reid also appeared on a 2019 podcast alongside a representative from the Calgary chapter of the Proud Boys to discuss "the Antifa and leftist history of assault." [60]
This isn't the only time staff for the Rebel have been tied to far-right extremist groups. Keean Bexte, a journalist at Rebel News was previously found to have worked for the "white supremacist web store" Fireforce Ventures by investigative reporters. [61]
According to an investigation by Ricochet, the online military surplus store's "primary focus is the white-minority-rule state of Rhodesia, and its flagship product is a reproduction of the Rhodesian brushstroke, a camouflage pattern developed during Rhodesia's dirty war against indigenous Africans." [62]
"Fireforce personnel use pseudonyms when engaging in company affairs, but a Ricochet investigation has revealed ties to both the Canadian military and the far right," Ricochet reported.
Bexte confirmed he had worked at the company "doing graphic design and shipping orders" until resigning "a few months" prior to the November 2018 piece. [61]
Bexte attended the Capitol insurrection in the US on behalf of the Rebel, In a Jan. 11, 2021 video, Bexte calls the insurrection a "disaster, by every measure," claiming that "99.99 percent" of the protesters had been peaceful. [63]
In a February 5, 2021 Rebel News podcast, Bexte defended the Proud Boys following the group's classification as a terrorist group by Canada. [64]
Stance on Climate Change
June 2017
After Donald Trump announced U.S. withdrawal from the Paris Climate Agreement, Ezra agreed with his decision, but said he didn't go far enough when he mentioned there was room to renegotiate. [36]
""Global warming is designed to scam America, more than any other country," Levant said in a TheRebel.media video. "That's not my opinion. That's a fact." [36]
2016
"The world is over 400 parts per million of carbon dioxide and global warming has stopped … it's paused. There is no correlation between carbon dioxide and global warming. If there was, you would sure see it. But there isn't, so you don't." [32]
2012
Ezra describes man-made global warming as "a theory that has been cast into disrepute through not only the misconduct of its high priests but by scientific observation itself: There has been no measurable global warming since 1998, according to satellite weather data." [4]
Key Quotes
August 2017
After controversy surrounding The Rebel's coverage of events in Charlottseville, among other issues, Levant wrote at The Rebel:
"I'm a flawed leader who has made mistakes. But as long as you stand with me, I will still stand." He added, "I think we need more oversight — not more censorship — just to make sure we're really being on brand with what we believe, what we stand for." [51]
July 2016
"I don't know if Donald Trump will be the next president. I do know that our key allies are walking away from the global warming mania of the past decade.

Only Trudeau is stupid enough and ideologically malicious enough to destroy our own economy — and Alberta, the province that he and his father have always despised — by using global warming as an excuse…" [33]
March 2014
"I'm a commentator, I'm a pundit," he said to the judge. "I don't think in my entire life I've ever called myself a reporter." [22]
March 2012
"It is a perverse faith, in that it reveres the "environment" ahead of people who live in it. It is a most ascetic superstition, in that it demands we live less happily and less freely and with less prosperity– the opposite of, say, the Protestant work ethic that helped build Ontario." [4]
September 2010
"And if our goal as moral citizens is to make the world a better place, then there is only once choice: to pump as much oil as we possibly can out of Fort McMurray. Pump and steam and dig and drill and get that oil out of the sand in any and every way we can. Every drop of oil from Alberta is one less drop from some fascist theocracy, or some brutal warlord; one less cent into the treasuries of Russia's secret police and al-Qaeda's murderers." [5]
"The famous statue of Christ the Redeemer that overlooks Rio de Janeiro is only 130 feet tall. McGuinty's eco-idols [Wind Turbines] will be three times that height, but will serve the same imposing purpose.

"Do not confuse McGuinty's belief system with a true faith. It is a superstition, the tenets of which are capable of being scientifically disproven.
Ezra Levant's Social Media Posts on

US

Insurrection
Levant was among dozens of the individuals and organizations profiled in DeSmog's Disinformation Database who posted online or gave interviews about the events surrounding the Jan. 6, 2021 Capitol insurrection. Some posted claims of election fraud, similar to those that drove the Stop the Steal rally on Jan. 6. Some circulated dubious information about the insurrection itself. DeSmog has preserved a selection of notable posts related to the events of Jan. 6, 2021, including some that were later deleted or removed.
For example, on Jan. 10, 2021, Levant retweeted a tweet by @Cernovich that compared the Capitol insurrection, where five died, to a 2017 attack where a gunman opened fire on a congressional Republican baseball team practice, striking Rep. Steve Scalise in the hip and wounding several others before being fatally shot himself. Mike Cernovich's Southern Poverty Law Center's profile describes him as "one of America's most visible right-wing provocateurs, known for boosting or generating massively successful conspiracy theories like #Pizzagate. He made his career on trolling the liberal establishment by accusing people of pedophilia or child sex trafficking." [65], [66], [67], [68]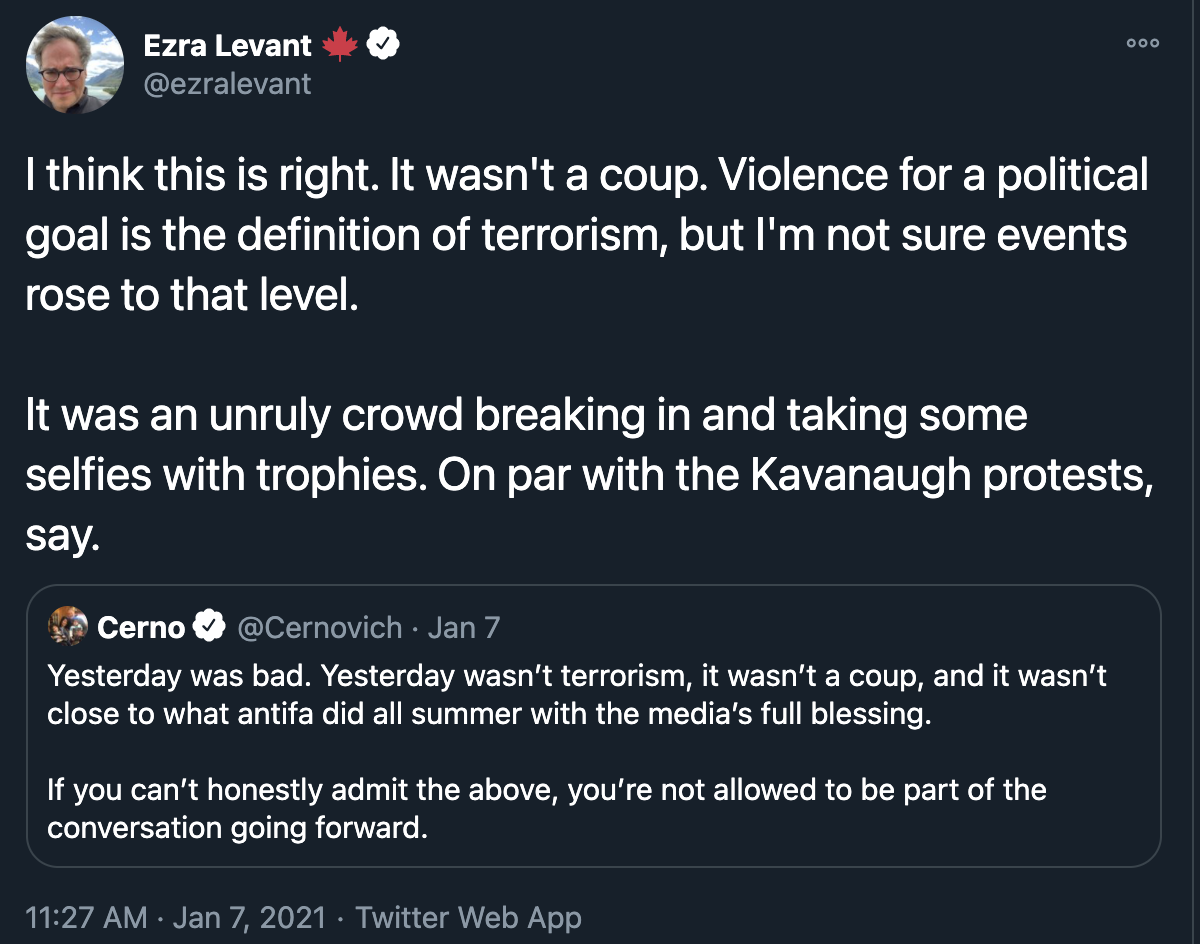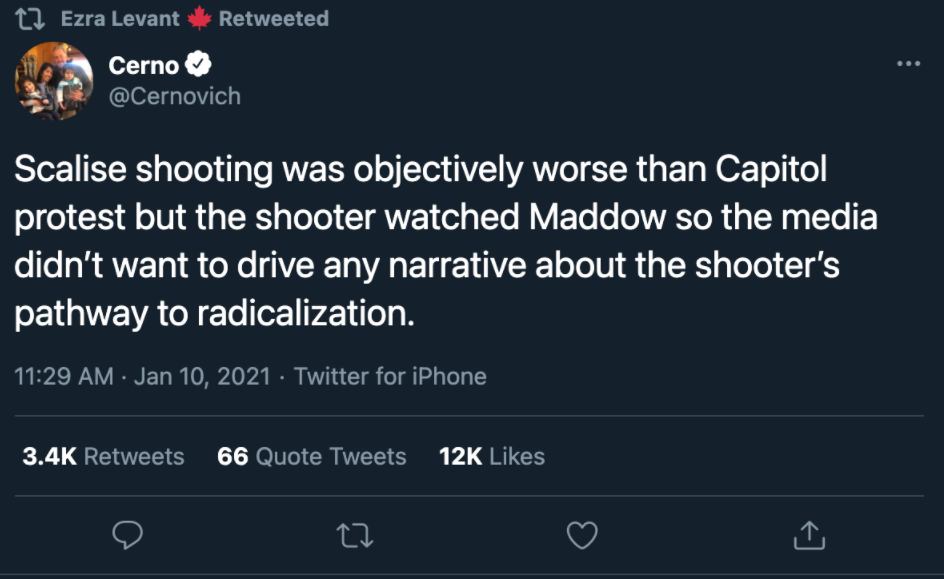 Levant retweeted a claim by Andy Ngo that John Earle Sullivan, one of the participants in the Capitol insurrection was a Black Lives Matter activist. On Jan. 16, 2021, the Washington Post published a profile reporting that Sullivan had been disavowed by left-wing organizers long before the insurrection. "Activists in Utah have spent months condemning Sullivan, who has at turns identified himself as a racial justice protester and leftist documentarian, and they have warned others to be leery of his motives and any events he sponsored," the Post wrote, adding that Sullivan has a history of "alienating activists on both ends of the political spectrum" and had organized a demonstration that "featured members of the Proud Boys, an all-male extremist group with ties to white nationalism." [69]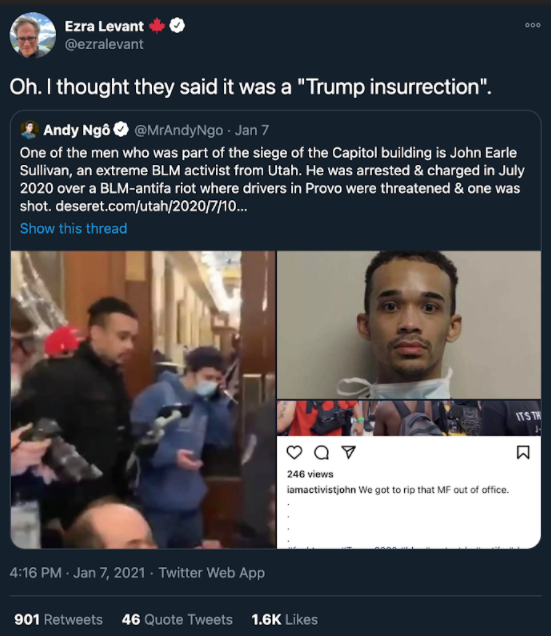 Key Actions
September 14, 2021
Following Patrick Moore's claims he was "deplatformed" from a speech in Regina, Canada, Ezra Levant booked the Conexus Art Center to feature Moore for his cancelled talk. [70]
Speaking of the event Moore was originally set to speak at, Levant commented: [70]
"He would have been definitely the star speaker at the conference, but then a cancel culture mob, including city officials and frankly, the local left wing media, they whipped up a fake frenzy and the city absolutely disgraced themselves by reneging on their invitation to him."

In addition to basic event tickets, Levant also said they were selling an "exclusive VIP wine and cheese reception" as well as a "private dinner with Dr. Moore after the speech."
August 22, 2017
Ezra Levant interviewed ClimateDepot's Marc Morano on The Ezra Levant Show. During the interview, Morano said that Steve Bannon's departure from the White House was a huge loss for climate change deniers. [52]
Morano: "We've lost a major voice. Now, you're right, Scott Pruitt's a great voice. Energy Secretary Rick Perry has been a great voice, but it doesn't change the fact we've lost a major skeptic in the White House with influence and power. You guys remember, personnel is power."

Levant: "That's a good point. And, as you they say, personnel is policy as well. […]"[52]
Morano also described his experience while working in the U.S. Senate for Senator James Inhofe. Morano said that he was told by members of his own staff in the Environment & Public Works Committee to "lay off" of pushing climate change skepticism because it was affecting their ability to get jobs, "because Inhofe was being painted as an extremist for denying global warming." [52]
"It matters. People don't want to stand up to the Washington establishment because it means jobs, it means money, it means reputation. And that is why the loss of someone like Bannon has a big impact." [52]
June 3, 2017
Shortly after Donald Trump announced he would be withdrawing the U.S. from the Paris Climate agreement, Ezra Levant reported at TheRebel.media that Trump "was right to reject the 'Global Warming Scam'." Video below. [36]
Levant said that Trump "doesn't go quite far enough in my books," given his mention of a potential of renegotiating the agreement. "Either the whole thing's a scam, or it isn't," Levant adds. "Global warming is designed to scam America, more than any other country. That's not my opinion. That's a fact."
November 2016
The Financial Post reports that Ezra Levant was successful in his battle with the United Nations to have his staff members accredited to cover the climate change conference in Morocco. While he was granted two spots, Ezra continued to push for a third. [26]
DeSmog notes that during Levant's campaign for accreditation, he has repeatedly shown footage from the last major climate change talks in Paris to bolster his case. He claims that the footage shows journalists in the Paris media room "jumping for joy": [27]
Levant has told viewers: "Here's a clip from the UN global warming convention last year showing journalists in the press room cheering." [28]

In another Rebel video, Levant says: "The most striking video clip of the entire Paris conference last year was when an international agreement was finally announced and the media room burst into applause and cheering. Some actually jumping for joy – you know, the way objective reporters do." [29]
However, DeSmog found that the video shown was not of journalists, and was not filmed in "the media room," as Levant claimed. Instead the clip shows a side room apart from the media center where civil society groups who campaigned for action on climate change were watching the final moments of the climate talks. [27]
The clip was originally shared by a passing journalist, Miranda Johnson of The Economist, who confirmed that the Rebel did not seek permission to use her footage, and if it had, would have been refused. Original video below: [27]
WE HAVE A #ParisAgreement pic.twitter.com/Xh7HSPWXSD

— Miranda Johnson (@MSLJeconomist) December 12, 2015
The Rebel is crowfunding its trip to Marrakech. The Rebel writes: "One thing we won't scrimp on is security, though — especially in a place like Morocco. So we need a driver/handler to make sure we get to and from the conference site each day safely."
COP22's website notes that visitors have access to official shuttle buses running 12 routes, each route covered from 6am until midnight and, in peak hours, running every 15 minute. Levant is trying to raise more than CA$27,000 for the India trip, including $14,000 to hire a private security firm. [30], [31]
October 2016
After the United Nations declined accreditation to three of The Rebel's journalists who planned to cover the climate change conference in Marrakech, Morocco. Ezra Levant launched a petition titled "Tell the UN to stop blacklisting our journalists!" and argues that the ban is an attack on free speech. [23]
The journalists Levant planned to send included Sheila Gunn Reid, Alberta bureau chief, Meaghan MacSween, a producer, formerly with Global News and Sun News Network, and Alex Jones also formerly of Sun News Network. According to screenshots shared by Levant, the UN has declined the application because "advocacy media outlets do not qualify for media accreditation." [23]
Earlier in September, Desmog attended a screening of Marc Morano's Climate Hustle in Edmonton, Alberta, where Ezra Levent outlined some of his plans for the upcoming conference in Marrakech. Levant told the audience that "we will be asking questions and turning the camera around to show the other journalists," to ridicule reporters who he describes as "cheerleaders" for the UN. Answering questions later, Levant said he planned to "put on a disguise" at the conference. [24]
During a Q&A session following the Climate Hustle screening, Levant says that climate change denier Marc Morano will be an "honorary Rebel journalist" in Morocco. Gunn Reid, one of Levant's proposed Morocco team, described people who believe in global warming as a "doomsday cult." [24]
Levant has described his attempts to get accreditation as a "fight for press freedom." In an October 19 episode of The Ezra Levant Show, Levant said "There's no bigger bully than the U.N." [25]
December 29, 2015
In an episode of The Ezra Levant Show titled "Best of 2015 – Climate change hysteria," Levant goes on to show "some of the most inaccurate global warming predictions ever." Guests include Lorrie Goldstein of the Toronto Sun and prominent climate change denier Marc Morano of ClimateDepot.com. [32]
"The world is over 400 parts per million of carbon dioxide and global warming has stopped […] it's paused," Levant said. "There is no correlation between carbon dioxide and global warming. If there was, you would sure see it. But there isn't, so you don't." [32]
March 7, 2014
Ezra Levant testified in his defense in his libel suit. The National Post reported that "His evidence-in-chief was part soliloquy, part lecture and all theatre, as befits the man who begins his prime-time, five-days-a-week show on Sun TV with a monologue which, as he told Judge Wendy Matheson, once went on so long 'we had to cancel the commercials' because it had morphed into a 'rant' of an hour." [22]
The Post notes that Ezra, by his own admission, is not a journalist: "I'm a commentator, I'm a pundit," he said to the judge. "I don't think in my entire life I've ever called myself a reporter." [22]
Levant is alleged to have libelled Khurrum Awan, a Saskatchewan lawyer who had been part of a group of Osgoode Hall law students that had made formal hate-speech complaints regarding a Maclean's magazine cover story bout Muslims. Levant had live-blogged at Awan's human rights hearing in Vancouver, calling Awan a liar. [22]
In court, Levant repeated the alleged libels and "used the word 'liar' because 'that's what it was.'" [22]
April 2012
Ezra Levant's EthicalOil.org, which some argue is a lobby organization for the oil industry, accused the David Suzuki Foundation of "Partisan and Political activity," and demanded that the foundation's charitable status be reviewed.
The complaint was made in a 44-page letter to the CRA.
March 9, 2011
Ezra Levant and Alykhan Velshi worked together to form the Ethical Oil Institute and its website EthicalOil.org.
DeepClimate prepared an in-depth report on the formation of the "grassroot" organization, and also reveals that both Levant and Velshi shared involvement with the Harper-led conservatives. [6]
Levant's other partner at the Institute is Calgary lawyer Thomas Ross, who is a partner at the law firm McLellan Ross and one of the leaders of the firm's OilSandsLaw.com initiative ("dedicated to working with those operating in the Canadian oil sands").
The same search lists him as a past lobbyist for "Achieve Energy Services," a construction management company that specializes in pipeline construction.
DeSmogBlog also reported connections between EthicalOil.org, oil interests, and the Harper Government, as well as other conservative leaders and groups. At the core is "GoNewclear," a communications agency run by Hamish Marshall, husband of former Ethical Oil spokesperson Kathryn Marshall and a former Conservative campaigner.
EthicalOil.org has been a strong proponent of the Northern Gateway Pipeline Project, and launched the website OurDecision.ca to push for the project's approval.
EthicalOil.org's former manager Kathryn Marshall refused to answer the question of whether the Ethical Oil Institute received funding from Enbridge, which many viewed as suggesting a possible connection.
December 2011
Ezra Levant featured well-known climate change skeptic Lord Christopher Monckton, whom Ezra describes as "a bit of a hero of mine" as a guest on his show, The Source. Ezra later describes Monckton as "a bit of a scientist," not mentioning Monckton's primary background is in journalism. [7], [8]
Ezra asks Monckton about Britain "foolishly signing on to these foreign treaties like Kyoto…" and goes on to mention a "socialist experiment" and "junk science" in the same statement. He later refers to Monckton's skepticism of the "pagan faiths of environmentalism."
Monckton describes the implementation of climate change policies as "taking away our democracy little by little so no one notices until suddenly it's too late … and that is what I'm trying to stop."
Monckton is not the only climate change skeptic that Ezra has interviewed on his show. In January, 2012, Levant featured Timothy Ball on his show and discussed Ball's belief that there has been no global warming since 1998, a debunked argument that has long been popular with climate change skeptics. [9]
Levant also featured skeptic Tom Harris, previous director of the High Park Group lobbying firm, who believes that the sun is behind climate change (another popular, and largely debunked climate change skeptic talking point). [10]
September 2010
Ezra Levant published Ethical Oil: The Case for Canada's Oil Sands, which makes a case for further developing Alberta's tar sands and sister projects. His book has popularized the concept of "ethical oil" which has been used by the the Conservative government of Stephen Harper and provided the inspiration behind Alykhan Velshi's "Ethical Oil" campaign in the United States and Canada.
Levant's basic thesis is that the Canadian petroleum industry is "heads above other crude producers like Saudi Arabia, Libya, Nigeria and Venezuela" which is the equivalent of conflict oil.
According to Levant, "If we actually want to make the world a better place, a more moral place, the ethical thing to do is to pump as much oil as we possibly can out of the oil sands, knowing that every barrel we produce in Canada displaces a fascist barrel from Saudi Arabia, a misogynist barrel from Iran and a dictatorial barrel from Venezuela." [11]
Levant also said that "if they [Liberals] believe global warming is an issue, then oilsands oil is superior to other sources of oil, such as California or Venezuela, which both have heavy oil that requires a lot of energy to refine." [12]
In response to the book, David Suzuki described Levant as an apologist for the oil industry and argued that "the logic is faulty. Just because a country or society is considered 'ethical' does not mean everything it produces or exports is ethical." [13]
In the Winnipeg Free Press, John Collins criticized some of Levant's sources, noting the presence of the Canadian Association of Petroleum Producers (CAPP) in the footnotes. [14]
Patrick Brethour, writing in the Literary Review of Canada, said that Levant "fails to make the case for ethical oil" due to two of his key claims.
First, Levant claims that the environmental footprint of the tar sands is shrinking:
"In reality, the oil sands are more environmentally progressive and emit less waste than all sorts of other common industries in Canada and around the world. In just nineteen years, from 1990 to 2009, the intensity of greenhouse gases (GHGs) from the oil sands has plummeted by 38 per cent."
Second, he claims that the oil sands are less damaging than other kinds of oil:
"Alberta's so-called carbon footprint is actually less of an issue than many other kinds of oil being produced around the world. Relative to other sources of petroleum, the oil sands look better and better all the time."
Neither of these claims is entirely true, as the oil sands generate more carbon emissions than comparable sources of crude oil, and its emissions are expected to rise in the decades to come. [15]
An "Ethical Oil Echo Chamber" has developed since the book was published in 2010. It started with Sun Media which featured excerpts from Levant's book which gave it national exposure. [16]
Then bloggers like Alykhan Velshi spread the message. Velshi also partnered with Levant in forming the Ethical Oil Institute and the Ethicaloil.org website. The concept then reached politicians like Stephen Harper.
The Ethical Oil campaign has become so pervasive that their advertisements have even appeared on Oprah Winfrey's television network.
November 2010
Ezra Levant was ordered by a judge to pay $25,000 to Giacomo Vignal, a Canadian Human Rights Commission lawyer, for libeling him with "reckless indifference" to the truth in blog posts about a major hate speech case. [17]
September 2010
Levant wrote a column for Sun Media that strongly attacked George Soros's character and alleged that as a child he collaborated with the Nazis. [18]
Soros threatened to sue Sun Media for libel, and on September 18 they issued a retraction and apology to Soros.
February 2006
Ezra Levant's Western Standard published the Jyllands-Posten Muhammad cartoons depicting Muhammad.
The Alberta Human Rights and Citizenship Commission received complaints from the Islamic Supreme Council of Canada and from the Edmonton Council of Muslim Communities regarding the publication, and a hearing was scheduled for January, 2008.
On the day of the hearing, Levant republished the cartoons on his website. [19]
Both complaints were eventually dropped. [20]
Affiliations
Social Media
Publications
According to one profile, Levant has written six books: [1]
Resources
Other Resources