John Hinderaker
Credentials
Background
John Hinderaker is "a lawyer in Minneapolis who occasionally writes stuff on the web" for Powerlineblog.com, according to his Twitter profile biography. Hinderaker's litigation practice spans the United States and for twenty years he has written on public policy issues "including income inequality, income taxes, campaign finance reform, affirmative action, welfare reform, and race in the criminal justice system." His articles, which were co-written with law partner Scott W. Johnson, have been published in The American Enterprise, National Review, The Weekly Standard, American Experiment Quarterly, "and newspapers from Florida to California." [3], [1]
Hinderaker has appeared in court in 17 different states according to his biography at Faegre Baker Daniels, where he is a Partner. Hinderaker has "won the largest case that was tried in Colorado in 2010, with $200 million in claims and counterclaims, on behalf of the owner of a $1.3 billion power plant project." Additionally, Hinderaker "won a $4 million arbitration award on behalf of a piping subcontractor in a case arising out of refinery construction in Utah … represented one of the world's largest seed companies before congress and federal agencies in antitrust matters relating to the biotech seed industry," and also, "represented a major chemical company in a lawsuit by a seed corn company, in which it was alleged that a fungicide caused millions of dollars in damages to hybrid seed corn." [4]
According to Hinderaker's Sourcewatch profile, he was the chairman of the Center for the American Experiment, a Minneapolis-based think tank, in the year 2000, and is a fellow at the Claremont Institute conservative think tank. [5]
Stance on Climate Change
"Global warming hysteria is politics, not science. If the IPCC enterprise were science, it would at least make a good faith effort to deal with major defects in the temperature data, like the UHIE. Alarmists refuse to address the UHIE [Urban Heat Island Effect] not because they have a plausible case that it doesn't exist–they don't–but because there is an enormous amount of money being made by promoting "green" energy. You should read the comments to Dr. Spencer's post; they draw out the difficulty of properly understanding and quantifying the urban heat island effect." [6]
"The fact is that global warming alarmism is a well-funded industry. The United States government alone has contributed billions of dollars to promote global warming alarmists, and nothing to the voices of scientific sanity. What is going on here is that the alarmists, knowing their science is shaky at best, cannot tolerate diversity of thought. They know that if critics are allowed to exist, their "scientific" house of cards will come tumbling down. So they must silence every dissenting voice; otherwise, the gravy train might end.
It isn't pretty, but this is what happens when you make science subservient to a political agenda." [7]
Key Quotes
January 7, 2021
One day after the Capitol insurrection on Jan. 6, 2021, Hinderaker's Facebook account bore the following message: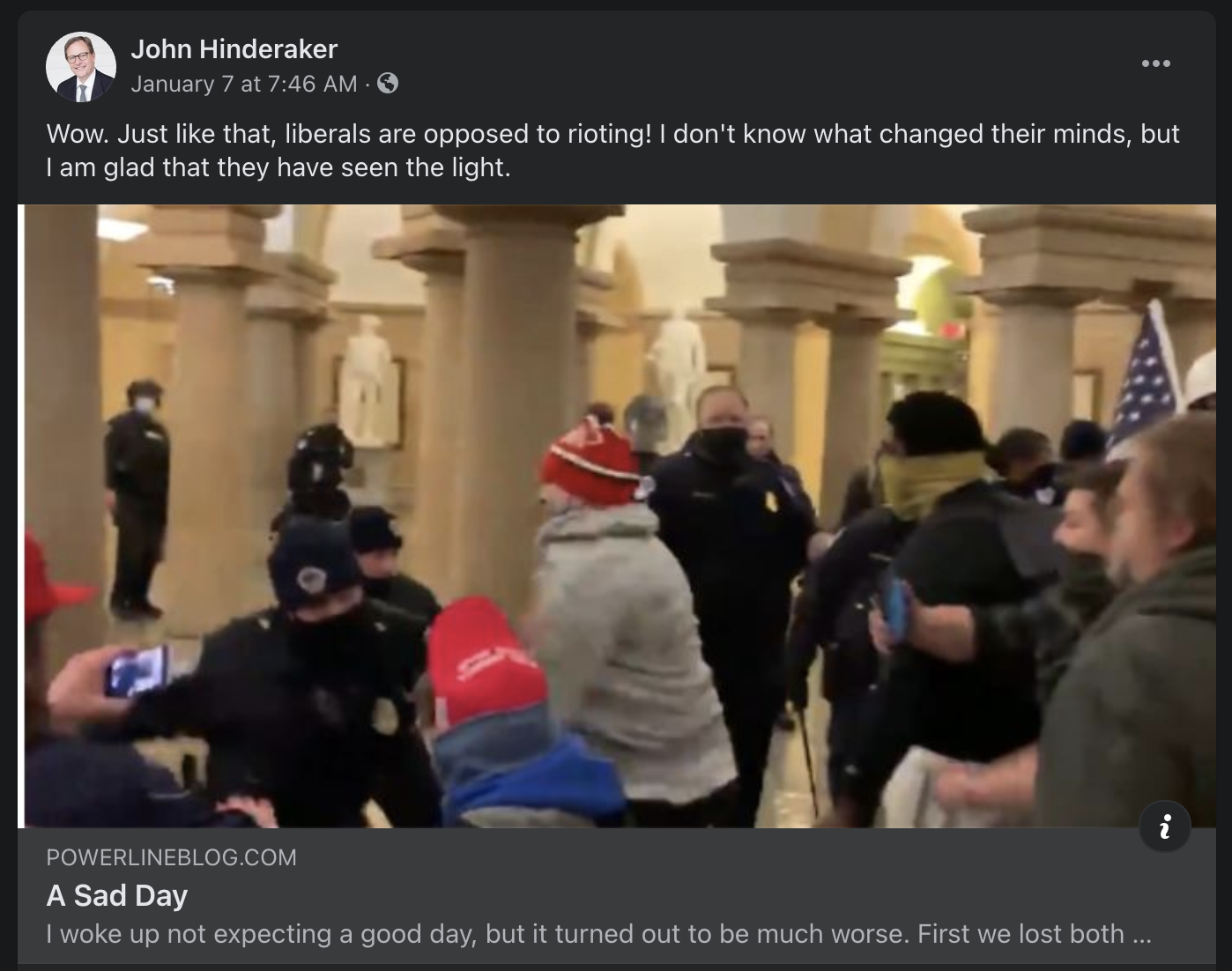 January 27, 2013
"There are many more problems with the data on which global warming hysteria rests; for example, those who have inspected weather stations in the U.S. have reported that well over half are out of compliance with standards for such stations, e.g. because they are next to heating vents." [6]
"Michael Mann, perpetrator of the notorious hockey stick hoax, is one of the world's execrable characters. On top of his more important bad qualities, he is a whiner. The self-pitying Mann complains that scientists and organizations that are skeptical of the alarmists' claims—like the now-ridiculed hockey stick—get tiny amounts of funding from concerned citizens." [7]
Key Deeds
August 13, 2019
Hinderaker appeared in a Nature Communications article that ranked 386 "climate change contrarians" based on media visibility. The article also ranked bona fide climate scientists and found that deniers had nearly 50% more visibility in the media than mainstream scientists. [10]
Hinderaker was ranked #41 among other noted deniers, including Marc Morano (#1), Sen. James Inhofe, Energy Secretary Rick Perry, Judith Curry, Steven Hayward, Freeman Dyson, Ross McKitrick, and Roy Spencer. [10]
February 21, 2012
John Hinderaker writes a blog post on Powerlineblog.com titled, "Global Warming Alarmists Resort to Hoax," referring to the "Confidential Memo: 2012 Heartland Climate Strategy." Within the post, Hinderaker writes, "The Heartland Institute is a superb organization that deals with a number of issues including climate science. We have cited Heartland's research many times." [8] Further on, he states, "Let me be perfectly clear: I think it is obvious that Peter Gleick fabricated this document—the only one he posted that makes the Heartland Institute look bad—because the real ones he stole from Heartland didn't serve his partisan purpose. Or, if he didn't make it up himself, he got it from an ally who fabricated it. No knowledgeable person could mistake Gleick's hoax for a legitimate top-secret Heartland memo." [8]
March 3, 2011
Think Progress publishes an article titled, "Blogger From Koch's Law Firm Defends Koch, Doesn't Disclose Ties," which details Hinderaker's "failure to disclose his firm's financial relationship with Koch," while blogging for Powerlineblog.com. [9] Hinderaker responded to Think Progress with his own post, "Think Ignorance Swings and Misses."
Affiliations
Social Media
Publications
According to a search of Google Scholar, John Hinderaker has not published any research in peer-reviewed journals. The search does list that he has published numerous articles with Powerlineblog.com and one with the Center of the American Experiment titled "The Truth About Income Inequality."
View an ongoing archive of John Hinderaker's posts on Powerlineblog.com.
Resources
Other Resources