John O'Sullivan
Credentials
Credentials heavily contested. No reliable source available.
Background
John O'Sullivan is a UK-based climate denialist blogger, writer, and the sole active director of Principia Scientific International — a membership group promoting fringe views on climate change science and the role of carbon dioxide in the atmosphere. O'Sullivan, a former school teacher, claims the greenhouse effect caused by carbon dioxide is unproven and that human-caused climate change is a "fraud."
Stance on Climate Change
We never have and never will get a detailed scientific explanation of the "greenhouse gas" effect (GHE) because for climatologists to seek one would require them to dissect it, thus exposing the truth; it hangs on nothing of any substance.
Key Quotes
"This (human -caused climate change) is a monumental fraud… we are cracking the fraud wide open."
Comments Surrounding 2021 Capitol Insurrection
On Jan. 6, 2021, the day of the Capitol insurrection, O'Sullivan retweeted a message from @JesseKellyDC that reads, in part, "You poked and prodded and laughed and mocked. Now it's here." That original tweet has since been removed from social media.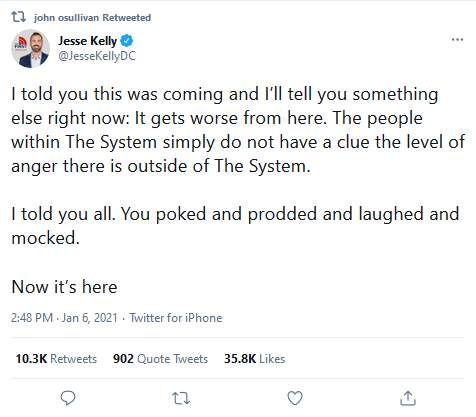 O'Sullivan also retweeted messages about the Jan. 6 insurrection from Twitter accounts that were subsequently suspended: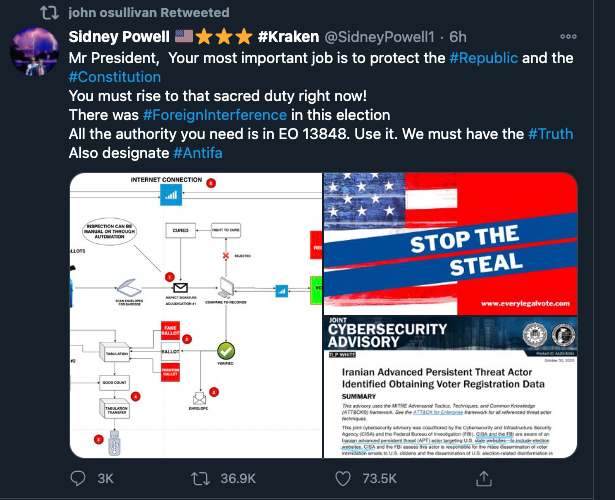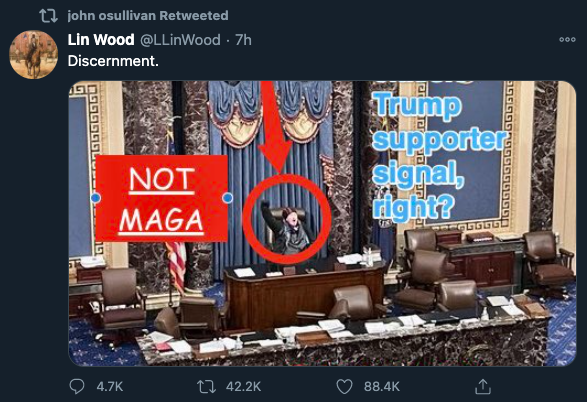 Key Deeds
October, 2013
O'Sullivan criticised climate denialist blogger Anthony Watts for accepting that carbon dioxide is a greenhouse gases capable of warming the planet.
March, 2011
After Professor Michael Mann sued Canadian climate sceptic Tim Ball for defamation, affadavits filed in the Supreme Court of British Columbia made several serious allegations against O'Sullivan, who was also providing legal support to his long-time associate Ball.
The affidavtits filed by science writer Andrew Skolnick showed O'Sullivan had made several false claims in relation to his qualifications and past experience. As DeSmogBlog reported, the false claims included:
that he was an attorney with more than a decade of successful litigation in New York State and Federal courts;
that he was employed by a major Victoria,

B.C.

(Canada) law firm that is representing Ball in the libel action;
that he is a widely published writer, with credits in Forbes and the National Review;
that he had received his law degree from the University College, Cork, Ireland and/or from the University of Surrey (O'Sullivan's actual legal accreditation, apparently obtained after the Mann-Ball action commenced, comes from an online degree mill, Hill University, which promises delivery in two weeks);
that he is a member of the American Bar Association.
New Zealand climate blogger and author Gareth Renowden also looked into O'Sullivan's background on his Hot Topic blog, finding that O'Sullivan's claims that he was qualified as a lawyer were bogus.
Climate sceptic blogger Pete Ridley has also investigated O'Sullivan's claimed work history and qualifications, finding many irregularities including O'Sullivan's claim to have a law degree.
Affiliations
Publications
John O'Sullivan has not written any peer-reviewed scientific papers on climate change. O'Sullivan has written many blog posts about climate change.
He is a co-author of the 2010 book Slaying the Sky Dragon – Death of the Greenhouse Gas Theory.
O'Sullivan once claimed to have written articles in two high profile publications, but investigations by Gareth Renowden and Andrew Skolnick found that this was in fact the work of another individual, also named John O'Sullivan.
Resources
Pete Ridley's examination of John O'Sullivan's various claims about his work history and experience.
Andrew Skolnick's examination of a long list of claims John O'Sullivan had made about his work history and qualifications.
Other Resources