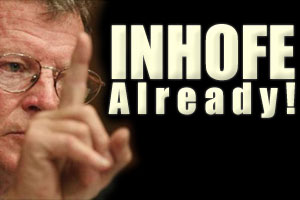 In his climate-change ain't happening State of the Union speech of Sept. 25th, Sen. James Inhofe (R-OK) makes the claim that climate change "skeptic" scientists do not get a fair share of media coverage.
Inhofe states:
"Scientists like MIT's Richard Lindzen, former Colarado State Climatologist Roger Pielke, the University of Alabama's Roy Spencer, and John Christy, Virginia State Climatologist Patrick Michaels, Colorado State University's William Grey, atmospehric physicist Fred Singer, Willie Soon, Oregon State Climatologist George Taylor [and] astrophysicist Sallie Baliuna, just to name a few. But you never hear of them.The media never talks about these well-established scientists."
We won't get into the fact in this post that many of the "well established" scientists Inhofe rattles off are "well established" in the oil and coal industry.
Instead, we tested Inhofe's claim that the scientists he lists are never  talked about in the media. Unfortunately, Inhofe's claim of media bias is way off the mark.
A quick infomart media search of major  North American newspaper shows over 350 mentions of Fred Singer, Willie Soon, Sallie Baliunas, William Grey, Roger Pielke, Richard Linzen and Patrick Michaels. In other words, the most notorious climate change "skeptics" in the US have been mentioned, on average, once every 5 days in North American major print outlets alone.