Please join DeSmogBlog and a network of environmental organizations, websites, nonprofits, and social media mavens this weekend in a 48-hour fundraiser to benefit the 12 million people fighting to survive the worst drought to impact East Africa in over sixty years. On the weekend of August 6 and 7, this network is hosting a blogathon benefit, East Africa Famine: 48 Hour Fundraiser.
The UN, after declaring famine in two districts in Somalia, last week announced the entire region of southern-Somalia is in danger of slipping into famine.
Please click the image below to donate to Oxfam, which is mobilizing to provide emergency water supplies in the region.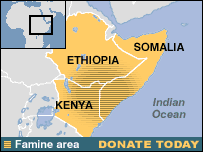 DONATE TO OXFAM CANADA BY CLICKING THE IMAGE ABOVE AND FILLING OUT THE FORM.
OR CLICK HERE TO DONATE TO OXFAM AMERICA.
Participants in this weekend of action include 350.org, Oxfam International, WiserEarth,  tcktcktck, DeSmogBlog, Daily Kos, MIT Climate CoLab, Climate Change: The Next Generation, BPI Campus, Cool HIVE, MedicMobile, and RedGreenAndBlue.org.
Horn of Africa Drought Facts (combined sources) (courtesy of DailyKos)

• More than 12 million people are affected in Somalia, Kenya, Djibouti, Sudan and Uganda
• Nearly half of Somalia's population is facing a humanitarian crisis – almost 3.7 million people
• Over 2 million children under the age of five who are suffering from malnutrition; 480,000 are severely malnourished
• UN declares famine in two districts- Bakool and Lower Shabelle –  in southern Somalia; anticipates spread of famine throughout the entire southern Somalia region.
• Women are disproportionally affected by the drought as they are the last to eat when food is limited.
• Aid response nearly $1 billion short of what is needed
• Immunizations have begun in Daab Refugee camp, where medical teams are in serious need of additional supplies.
• Over $1bn has been committed but a further $1bn is still required to save thousands of lives
For more details on this effort, read 12 Million Fight for Survival: East Africa Food Crisis: 48 Hours of Action.
Please help spread the word about this crisis and response effort using suggested Twitter hashtags: #48forEastAfrica #somalia #drought #famine
Visit the campaign on Facebook: Horn of Africa
Watch an Oxfam video of the sever drought conditions in Somalia: