This is a guest post by Ian, originally published at The Real Story.
The Koch brothers are spending $6million on a new anti-Obama ad
Shona Holmes claims our medicare system blocked her from getting the immediate treatment she needed to prevent her from dying from a brain tumour.  She mortgaged her home to buy life saving treatment at a Mayo Clinic in the US.
Except she never had a brain tumour.  She had a benign cyst on her pituitary gland.  Very serious, but not life threatening and treatable in the time period planned in Ontario.
I completely get the fear one goes through when you get told you have a tumour on or near the brain.  I do have a brain tumour and have come close to dying more than once.
My tumour is actually a brain stem tumour that has spread throughout the area around my brain stem, around my throat, below my nose, on my spinal chord and flopping around next to my carotid artery.
It will probably kill me, not now, but someday. But more importantly, I'm alive because of our medicare system.
Friends I made during treatment in the States didn't have Canada's options.  They died.  Let me tell you about that.
In 2002 I had a tennis ball sized tumour excised from my nasopharyngeal cavity.  The surgery saved my life but wasn't enough to keep me alive.  Scalpels couldn't get every microscopic chunk of tumour so the next step was radiation.
The problem with radiation around the brain is that it kills the good with the bad – you can decide for yourself which is which.  So I needed something precise with a record of effectiveness.  In my case that meant proton radiation.
Proton radiation isn't available in Canada.  At the time there were four sites in the US that offered it and I was referred within two weeks to Loma Linda hospital, just off the number 10, half way between LA and Palm Springs.
All it took was a letter from my radiologist to MSP reviewing my condition and very limited treatment options.  The full expenditure was immediately approved and I was on my way to Loma Linda.
I spent three months there at the out patient clinic buried deep underground with it's concrete walls a metre thick.  Proton radiation requires an atom splitter and Loma Linda had a big track underground that created the velocity to smash atoms and send a single proton ray down a tube and out a gun into my head.
It was right out of DC comics.  Lex Luthor was probably sitting alone in some white office behind the thick walls, laughing at us.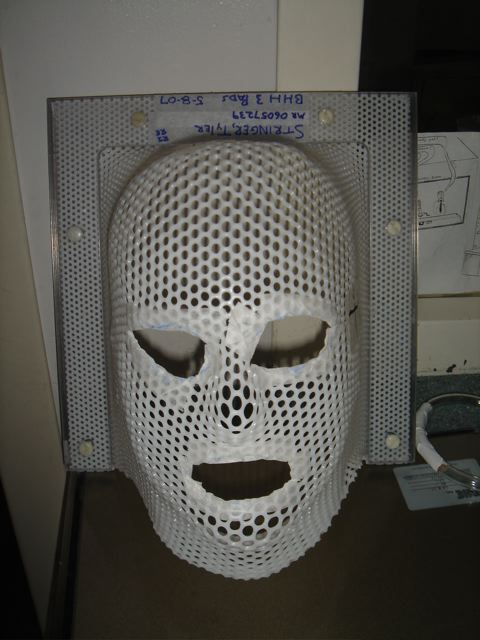 Five days a week I'd go in for my treatment, strapped down on a metal bed with a mask molded to my face, keeping my head still as the proton gun pumped the rays into it.
Like some crazy asylum, the waiting room was full of patients.  Most were there for one of two reasons – brain tumours or prostate cancer.  The prostate guys were generally older, richer white men who could afford to pay for the best, optional treatment for prostate cancer.  They gathered around the TV and watched Fox news.
The others were regular folks with brain tumours and HMO funding.
There was a free phone in the waiting room and there was always a line for it.  At the end of the line was a patient on the line, often to their HMO talking about funding.
I made friends there with a woman from Texas with a lousy husband, kids and her own promising career.  Except, like me, she had a chordoma.
The treatment for chordoma was 8-10 weeks of proton radiation, give or take a few days.  It cost somewhere between $100 and $200 thousand and most HMO's didn't want to cover it.  My friend was no exception.  So several times a week she'd get on the phone to plead with her insurer to pay for another week of treatment.
She didn't complete the treatment.  And she stopped answering my emails a year later.  She was dead.
I met a very funny guy from the South with some kind of cancer of the scalp.  He didn't complete.  He's dead.
I was asked to talk with a young guy who didn't have the money to get a proper diagnosis until too late.  So as the chordoma destroyed the vertebrae in his neck he saw a chiropractor who told him he was out of alignment.  For two years he was out of alignment.  Then in terrible pain he saw a real doctor.  He didn't complete.  He's also dead – late diagnosis, limited treatment.
There are problems with our system.  Waiting lists for painful but less catastrophic illnesses are often too long.
But in Canada there are no people at the end of a phone pleading for funding to continue life saving treatments.  People die in the States because they can't afford treatment and their private plans won't pay for it.
I'm at the BC Cancer Clinic a lot.  I see frustrated people.  I'm often frustrated.  But I don't see people pleading for treatment they need but can't afford.  None.  You can't say that about the US.
People like me, living in Canada, have it so much better.
Watch the Americans For Prosperity attack ad below: