Global grassroots activism is heating up alongside a scarily ever-warming climate.
Since the beginning of 2012, we've seen the Arab Spring, the Wisconsin Uprising, the Tar Sands Action, and the ongoing Keystone XL Blockade. In the climate justice movement, some have referred to the recently passed summer as the Climate Summer of Solidarity (SOS).
The SOS closed with an action organized by Protecting Our Waters called Shale Gas Outrage, which took place in the heart of the global fracking boom, Philadelphia, PA, home of the Marcellus Shale basin. Outrage was warranted, given that this year's Shale Gas Insight unfolded in the City of Brotherly Love. Insight was sponsored by Chesapeake Energy, Chevron, Range Resources, EOG Resources, Aqua America (who stands to profit off of water as a scarce resource via fracking), and many others.
Speakers at the pre-march rally included the likes of "Gasland" Producer and Director Josh Fox, author and ecologist Sandra Steingraber, environmental journalist and activist Bill McKibben and Food and Water Watch Executive Director Wenonah Hauter; former Pittsburgh City Council member and writer of the ordinance that banned fracking in the city, Doug Shields, as well as members of the Pennsylvania community whose livelihoods have been deeply affected at the hands of the shale gas fracking industry. 
Upon the rally's completion, activists zig-zagged up and down Philly's streets, making stops at the Obama for President campaign headquarters and Governor Tom Corbett's campaign headquaters.   
"Since coming into office, President Obama has permitted every drop of water used to frack in northeast and central Pennsylvania with his vote on the Susquehanna River Basin Commission," the Shale Gas Outrage webpage explains. "The Global Shale Gas Initiative was established in his State Department and he has traveled to countries like India, Poland, and China to sign agreements that the US will assist them in drilling for shale gas."
Of Corbett, Outrage explained the reasons behind its march pit stop to his office this way:
Corbett maintains that Pennsylvania should not tax the natural gas industry. In February 2011, Corbett repealed a four month old policy regulating natural gas drilling in park land, deeming it "unnecessary and redundant". In February 2012, Corbett signed Act 13, overriding all local zoning laws for the gas industry, and putting a gag order on doctors.
Photos from the march are now up on the Protecting Our Waters Facebook page.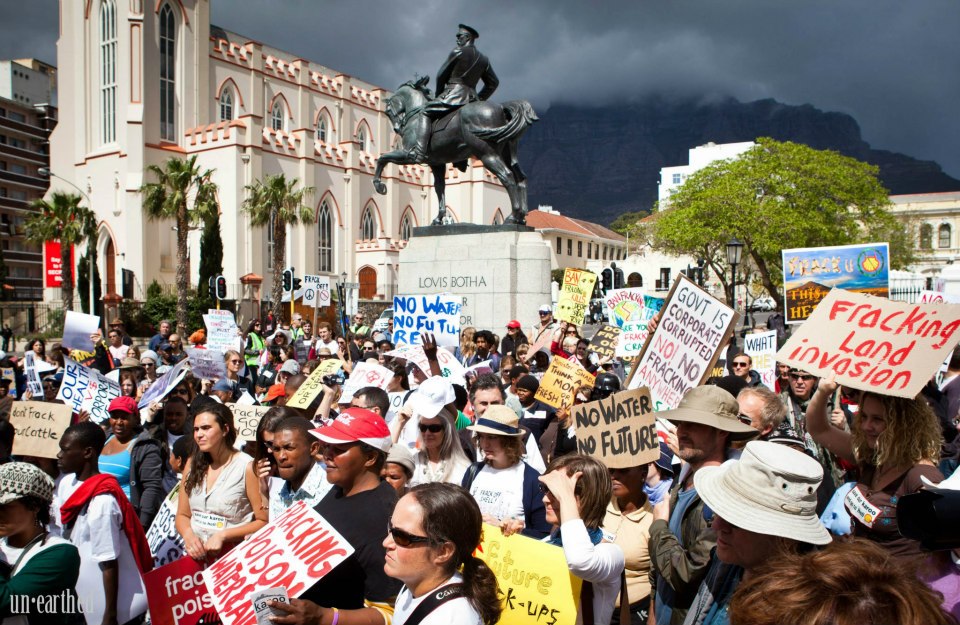 Capetown, South Africa
Global Frackdown
The first day of fall began where the SOS left off: with an action called the Global Frackdown, led in the forefront by Food and Water Watch.
Actions unfolded on five continents and as EcoWatch wrote, "united activists on five continents at more than 150 events calling for a ban on fracking in their communities and to advocate for the development of clean, sustainable energy solutions."
EcoWatch went on to depict the truly worldwide nature of the protests:
Major actions overseas included a rally on the steps of the European Parliament; demonstrations in front of Parliament buildings in South Africa, Bulgaria and the Czech republic; marches in Argentina; grassroots activities in Paris and the south of France, and screenings of the film Gasland in Spain.
Photos from rallies around the world can be seen on the Food and Water Watch Facebook page.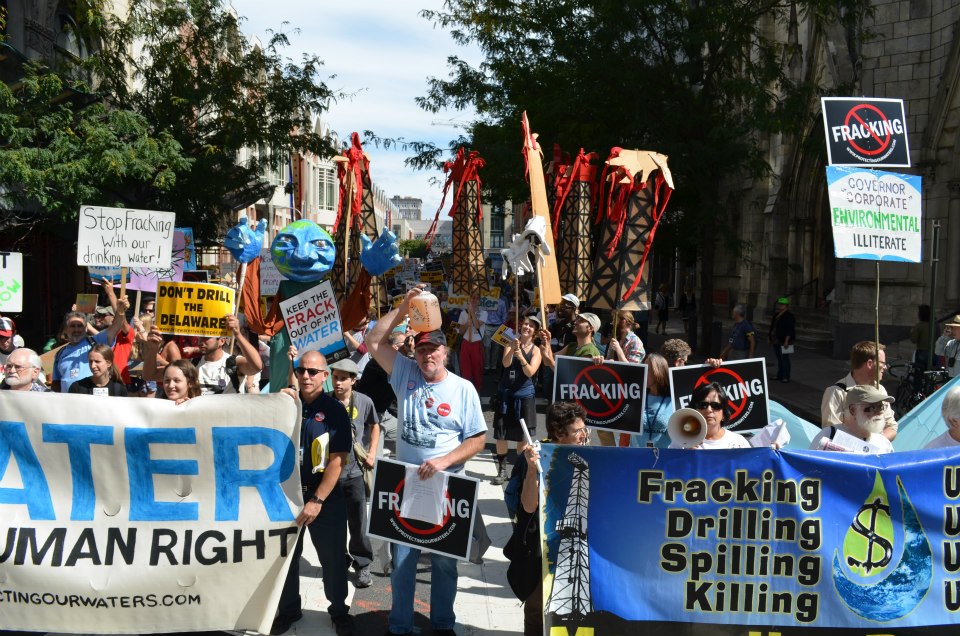 Philadelphia Shale Gas Outrage
A Frackivism Fall? It All Comes Back to Egypt
Egypt was one of the first hubs of the Arab Spring. Now, shale gas industry wildcatters see the country as a new possible home for fracking, as covered in a Sept. 19 blog post published by the Egyptian Initiative on Personal Rights (EIPR). Royal Dutch Shell and Apache have expressed interest in extracting Egypt's shale deposits.
"Fracking threatens Egypt's drinking water, but Shell and Apache's drilling is mired in secrecy. Egyptians have a right to know how their resources are managed and how that impacts their environment and life," said Reem Labib, Environmental Justice Researcher at EIPR.
A year and a half after the Arab Spring, are we about to bear witness to a "Fracktivist Fall"? Well that's not likely.
Then again, neither was the Arab Spring.
Photo Credit: Protecting Our Waters