This post is a part of DeSmog's investigative series: Cry Wolf.
The outlook for caribou in Alberta is grim, especially as they find themselves in a stand off against industrial giants backed by a federal government in favor of increasing tar sands and other industrial activity. Habitat disruption is a crucial issue for caribou who need large buffered areas of old growth forest to survive. The majority of Alberta's 12 caribou herds currently struggle with low calf survival – an issue directly related to disturbed habitat.
Cliff Wallis, the Vice-President of the Alberta Wilderness Association (
AWA
) and member of the Alberta Caribou Committee said in an 
AWA

press release
, "governments failing to act means more caribou death in the woods. Everyone knows what must be done to save the vanishing caribou – it's time to get on with the job of protecting Alberta's boreal and foothills forests".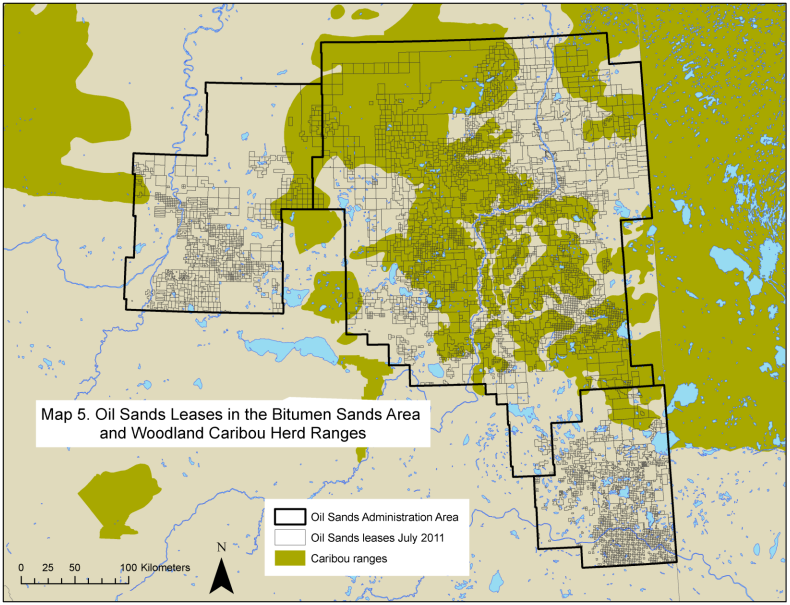 The government's
delayed draft recovery strategy
, released 4 years overdue in August 2011, shirked away from habitat protection and restoration, instead pushing forward an aggressive predator control program that entailed a
provincial wolf cull
. Wolf control,
according to the

AWA
, was put forward "as a band-aid approach to distract from oilsands, oil and gas and forestry-driven habitat loss."
Groups awaiting the federal government's action on urgent caribou issues were disappointed with the draft strategy, calling it a "
war on wolves
." Now they face another delay while some of the tar sands' largest projects – such as
Imperial Oil's Kearl Open Pit Mining Project
– have been granted approval.
"Alberta caribou recovery is both biologically and technically feasible,"
said Carolyn Campbell of

AWA
. "But it is urgent for governments to show responsibility and begin meaningful habitat protection for this iconic species."
To learn more about the plight of caribou and wolves in Alberta, watch DeSmog's investigative report Cry Wolf: An Unethical Oil Story. 
Image Credit: Flickr Creative Commons blimers2.