By 2035 operators in Alberta's tar sands expect to produce 5 million barrels of the world's most environmentally dirty and energy intensive oil per day. Current daily production hovers around 2 million barrels. According to a recent Conference Board of Canada report, projected expansion of the tar sands will require roughly $364 billion in investment over the next 25 years and will create significant economic benefits for both Canada and the US.
However, the report, commissioned by the Canadian federal and Alberta provincial governments, acknowledges that the economic benefits of oil production in the tar sands hinges on continued global climate inaction.
An alternative
IEA
'450 Scenario'
 mentioned in the Conference Board report outlines how "strong policy action to limit climate change" may give rise to "a concerted global effort to lower emissions" through carbon-pricing, cap-and-trade policies and widespread support of renewable energy. "These policies result in a dramatic reduction in coal use, but oil demand is also considerably weaker," the report says.
"Key factors contributing to the decline in this scenario include the international agreement on rising fuel economy standards for personal vehicles, shipping, and aviation; the complete phase-out of fossil fuel consumption subsidies (except in the Middle East); and the extension of

CO2

pricing through taxes or exchange trading schemes to all

OECD

countries and major emerging market emitters, such as China, Russia, Brazil, and South Africa."
Were such a scenario to come to pass, concludes the report, "the impacts on future oil sands investment would be clearly negative."
The oil industry, however, is not banking on this scenario. 
According to the Oil Sands Developers Group (
OSDG
), production in the tar sands is slated to increase dramatically, to more than 9 million barrels per day in coming decades. A
production summary
released this month from the
OSDG
outlines existing and future projects both approved and under review: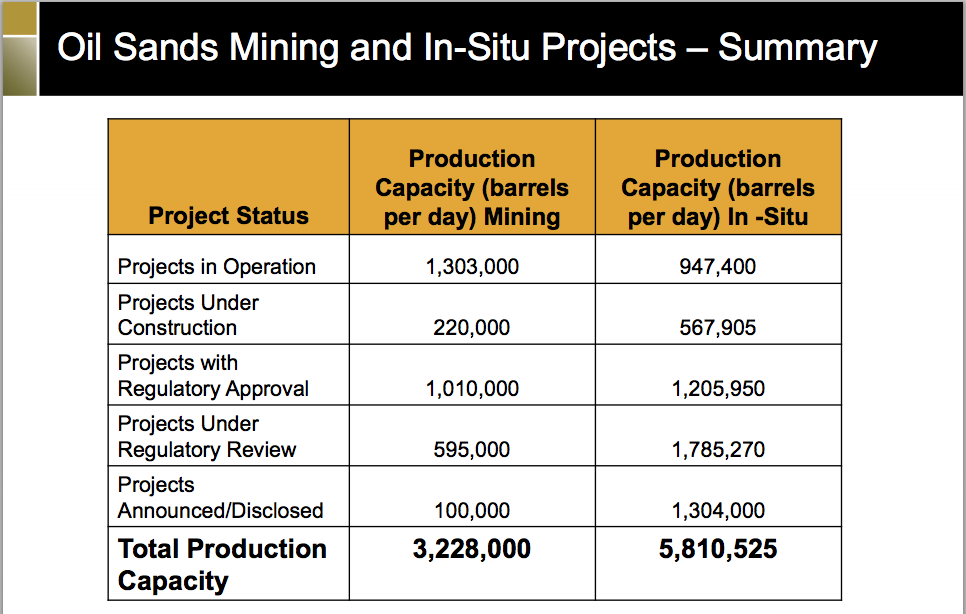 Some projects are slated to begin as late as 2030.
Based on these industry figures, tar sands production is set to continue at a rate wildly incongruent with proactive climate policy.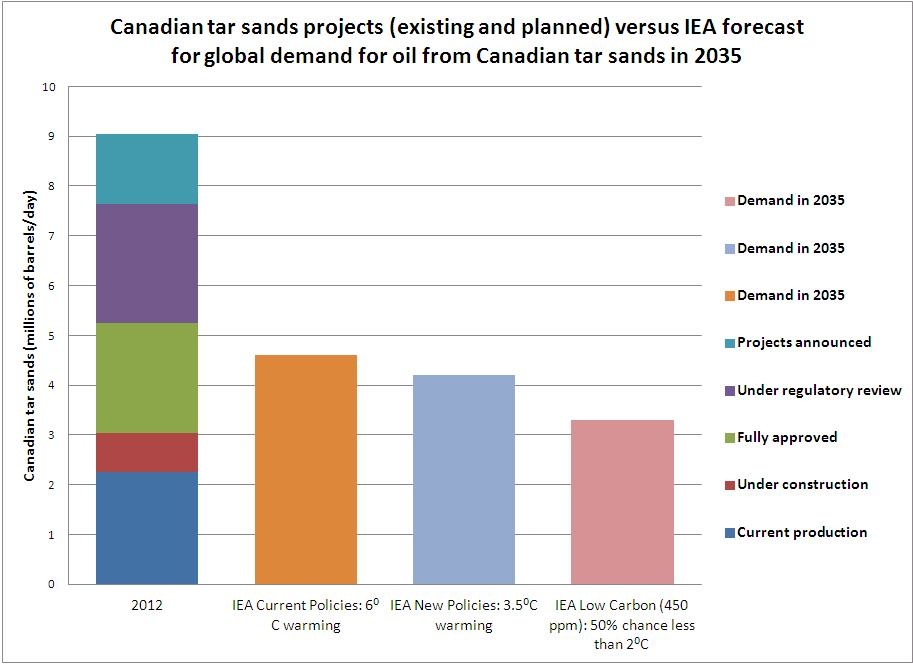 Keith Stewart, climate and energy campaigner with Greenpeace Canada, says the Conference Board report actively works against the realization of positive policy changes:
"they acknowledge that demand for expensive, high-carbon oil from the tar sands would drop dramatically if the world were to adopt policies consistent with keeping warming below 2 degrees. The Conference Board, however, says this is unlikely to happen, yet ignore that by advocating for rapid expansion of the tar sands they are making it even more unlikely."
Stewart further suggests the report puts the Canadian economy at odds with the environment.
"If we invested $364 billion in green energy, we would create even more jobs without fueling the climate crisis. Buried in the Conference Board's report is an acknowledgement that the benefits they claim from tar sands expansion largely disappear if the world succeeds in avoiding catastrophic levels of global warming. There are no good jobs on a dead planet, so the question Canadians should ask themselves is: do we want to bet our economic future on a plan that would devastate our environment?"
Beyond the environmental implications of accelerating oil production in Alberta, an overemphasis on development in the tar sands could have unfavorable economic implications for competing Canadian sectors, says the Pembina Institute.