Here's a term that bears repeating: climate disruption tax. What is a climate disruption tax? It's the cost to the American taxpayer of dealing with the impacts of climate-related weather events, as introduced by NRDC's Dan Lashof and Andy Stevenson.  
The concept of a climate disruption tax is actually hugely important. Why? Because climate change is costing us more than trying to avoid climate change ever would, but unfortunately, this troubling little bit of economics is somehow constantly overlooked in the climate debates. We always hear about how much it will cost to transition away from fossil fuels and to slow deforestation. But the costs of inaction rarely stick in the discussion.
It's not for lack of research or knowledge, nor for lack of bloggers bringing it up. Over the past few years, a range of voices have weighed in with warnings from all across the socioeconomic and ideological spectra. If not quite first, but foremost, the master economist Sir Nicholas Stern sounded the alarm, only to recently double down on his dire predictions.
Then there are the massive insurers and even more massive reinsurers like Munich Re and Swiss Re. There are the , of course. There are NGOs and think tanks like DARA with a cold, hard economic calculus in their Climate Vulnerability Monitor. There are academics.There's the U.S. government itself warning of the severe costs of unmitigated climate change.
These studies and reports are written about, blogged, tweeted, and sometimes cited, but they haven't managed to nudge their way into the mainstream climate conversation. The costs often seem too far off, too theoretical–a problem for another time.
Which is why any clever new way of framing climate-related costs should be celebrated and spread far and why. Over on Switchboard, Lashof and Stevenson are onto something.
Say it with me again: Climate Disruption Tax.
Lashof and Stevenson take data from an AON Benfeld, Macroeconomic Advisors report on severe weather events (or climate related disasters) in 2012, and recalculate the costs to the U.S. economy as a tax rate.
In short: climate-related severe weather events cost Americans the equivalent of tacking an extra 3.9-percent sales tax across the nation.
That figure is a little misleading, though, as we know that some states and regions are more severely affected than others in any given year. Superstorm Sandy took a disproportionate toll on New York and New Jersey, and if you break down the climate disruption tax by state, those states each suffered an "effective climate tax rate" of around 25 percent. Ouch. Lashof and Stevenson:
As one would expect, the Climate Disruption Tax rates for New York and New Jersey were the highest in the country last year at around 25%. The next tier of states (Oklahoma, Nebraska, Kansas, and Colorado) may be a bit more surprising, however, as these states didn't suffer from one large event like Superstorm Sandy, but instead from a series of smaller events that cost roughly double what these states received in sales tax revenues… [unlike] sales tax revenues that are used by the state to fund nearly 30% of their budgets, the Climate Disruption Tax is a dead weight loss to our economy that helps no one.
Here's how it breaks down by state (click to see a larger version):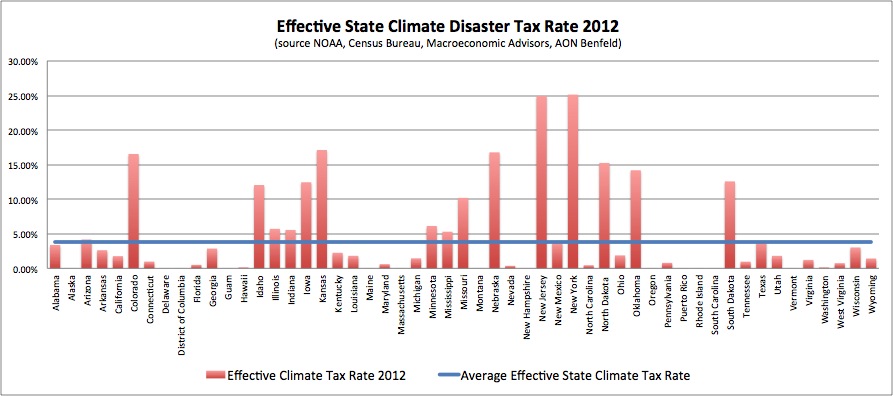 I'm going to borrow Lashof and Stevenson's obligatory disclaimer here:
We don't know what portion of these costs can be attributed to climate change, but we do know that smoking causes cancer and carbon pollution fuels more extreme weather.
Lashof and Stevenson get into a lot more details and run a lot more numbers on their original post, which you really should check out.
But the takeaway is that climate change is costing us real money, today, at a rate far higher than any proposed carbon tax or clean energy program would cost.
This climate disruption tax is real, and will only get more and more expensive the longer we put off the relatively small investments necessary to avoid the worst fates of climate change.