A 1991 report tracked down by DeSmogBlog from the University of California-San Francisco's Legacy Tobacco Documents reveals that the State Policy Network (SPN) was created by the American Legislative Exchange Council (ALEC), raising additional questions over both organizations' Internal Revenue Service (IRS) non-profit tax status. 
Titled "Special Report: Burgeoning Conservative Think Tanks" and published by the National Committee for Responsive Philanthropy, the report states that State Policy Network's precursor — the Madison Group — was "launched by the American Legislative Exchange Council and housed in the Chicago-based Heartland Institute."
Further, Constance "Connie" Campanella — former ALEC executive director and the first president of the Madison Group — left ALEC in 1988 to create a lobbying firm called Stateside Associates. Stateside uses ALEC meetings (and the meetings of other groups) as lobbying opportunities for its corporate clients. 
"Stateside Associates is the largest state and local government affairs firm," according to its website. "Since 1988, the Stateside team has worked across the 50 states and in many local governments on behalf of dozens of companies, trade associations and government and non-profit clients."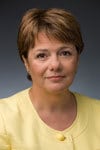 Constance Campanella; Photo Source: Twitter
Named Constance Heckman while heading ALEC, Campenella also formerly served on the Board of Directors of Washington Area State Relations Group, a state-level lobbyist networking group. 
"The Washington Area State Relations Group (WASRG) is one of the nation's largest organizations dedicated exclusively to serving state government relations professionals," explains its website. "Since the mid-1970s, WASRG has been providing its corporate, trade association and public sector members with a unique and valuable opportunity to interact with their peers, key state officials and public policy experts."
Shadow Lobbying All Along
ALEC is currently under fire for potentially abusing its 501(c)(3) non-profit IRS charity tax status, acting as a shadow lobbying apparatus and "corporate bill mill" throughout its 40 years of existence.
In response to criticism, internal documents recently revealed by The Guardian show that ALEC created a 501(c)(4) group called the Jeffersonian Project, a move activists said was a tacit admission ALEC has illegally served as a lobbying apparatus from the beginning.
What Campanella understood and cashed in on by creating Stateside Associates was how the "shadow lobbying" process works. Her career move from serving as ALEC's executive director to setting up Stateside is another indicator ALEC and related groups facilitate lobbying. 
"Stink Tanks" Ideas Factory
While ALEC facilitates passage of "model bills" — what the Center for Media and Democracy (CMD) has coined a "corporate bill mill" — State Policy Network proliferates the ideas legitimizing the myriad models that become legislation in statehouses nationwide. 
These ideas come in the form of what CMD and Progress Now call "Stink Tanks," modeled to be "mini-Heritage Foundations" by one of its original funders, Thomas Roe. State Policy Network has 64 state affiliates.
Roe, who passed away in 2000, served as vice chairman and finance chairman of the Republican Party in South Carolina and as a member of the Republican National Finance Committee. The Heritage Foundation, where Roe served on the Board of Trustees, now houses the Thomas Roe Institute for Economic Policy Studies.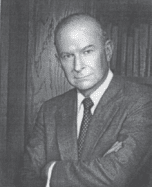 Thomas Roe; Photo Credit: SourceWatch
Though current State Policy Network president Tracie Sharp claimed SPN member groups don't coordinate with one another in a November Politico article, Roe explicitly funded the organization to do just that.
"Starting in 1987, these organizations began meeting regularly as the Madison Group…to trade information and discuss strategies," a history of SPN published in 2007 explains. "Roe believed that these get-togethers were so helpful that they should be formalized through a professional association that would host annual conferences, provide services, and improve communications among its members."
To this day, State Policy Network hands out an annual Roe Award.
"The annual Roe Award pays tribute to those in the state public policy movement whose achievements have greatly advanced the free market philosophy. It recognizes leadership, innovation and accomplishment in public policy," explains the SPN website. "The award is an eagle, a symbol of liberty and the courage and conviction necessary for its preservation." 
"Winning is the Operative Word"
In introducing the "Burgeoning Conservative Think Tanks" report in a July 1991 letter to Kurt Malmgren — then the Senior Vice President of State Activities for the Tobacco Institute — former ALEC Executive Director Sam Brunelli wrote "winning is what ALEC is all about."
"Winning is the operative word. It is an experience you can appreciate because winning the public policy debate will continue to have a tremendous positive effect on the 'bottom line' of your company," Brunelli wrote.
"At ALEC, we bring together, in an intellectually and challenging environment, state legislators and corporate and business executives, wherein we provide the mixture of determination, dedication, preparation, and teamwork — those elements so necessary to winning!"
Yet, it's fair to say after a week of hard-hitting investigative journalism by The Guardian and many other outlets, both ALEC and the State Policy Network have doubled down on defense and are not "winning" for now.  
Photo Credit: Wikimedia Commons