What do large companies do when they want to lobby against climate change and carbon mitigation measures without looking publicly like they're pro-pollution? According to a new analysis by the Union of Concerned Scientists, they hide behind trade groups.
Groups like the U.S. Chamber of Commerce and the National Association of Manufacturers have essentially become puppets for the positions of the ventriloquist corporations they serve. Companies often position themselves publicly to suggest they support action to address climate change. But those promises are regularly contradicted by the lobbying activities of trade groups they are part of, such as the chamber, that fight against such policy action.
The Union of Concerned Scientists report, Tricks of the Trade: How Companies Influence Climate Policy Through Business and Trade Associations, doesn't introduce this concept — organizations like 350.org have been calling out companies for their membership in the anti-science U.S. Chamber for years now — but its authors Gretchen Goldman and Christina Carlson take a deep, analytical look at the memberships of various trade orgs and dig into survey data from the companies to find some glaring contradictions.
What does the report find? For starters, there's a troubling lack of transparency that makes this sort of analysis really tough to begin with.
The report's findings were based largely on responses to a climate reporting questionnaire distributed to more than 5,000 companies by CDP (formerly the Carbon Disclosure Project). This survey has been requested by 722 institutional investors representing more than $87 trillion in invested capital, so it stands to reason that companies would want to play along.
Remarkably, just one-third of companies polled opted to respond publicly to the questionnaire. A full 97 of the Global 500 companies (the largest 500 companies in the world, based on revenue) did not participate at all. Nor did 166 of the S&P 500.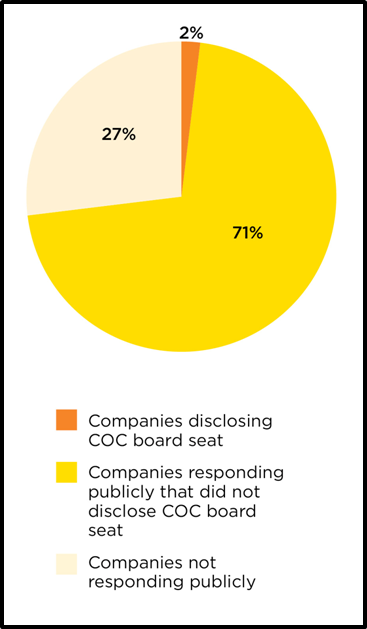 What's more, of the one-third that did respond publicly, most misreported or failed to report their positions on the boards of directors of these main trade groups, essentially masking their influence on the groups' climate policy positions.
For example, according to Goldman:
"Of the 32 U.S. Chamber board companies that publicly responded to the CDP questionnaire, only a single company, UPS, disclosed its board seat. The vast majority of the 44 U.S. Chamber board-member companies from which CDP requested information completed the questionnaire but failed to indicate their position on the board."
By disguising their influence within these trade groups, companies are free to publicly claim different climate positions, while working behind the veil of the U.S. Chamber or the National Association of Manufacturers to stifle productive climate change policy.
Goldman says this is the second major finding of the report: that when companies do acknowledge their involvement with trade groups, many claim to disagree with the groups' climate positions. 
Of the 15 companies on the National Association of Manufacturer's (NAM) board who acknowledged their seat, nine of them reported their climate positions were "inconsistent" or "mixed" with that of the association. The Clorox Company, for example, explained "NAM maintains a neutral position on climate change. The Clorox Company, on the other hand, is on record as believing that rising GHG [greenhouse gas] emissions have a significant impact on climate change and the environment. Clorox therefore supports congressional action on comprehensive national climate change legislation…"

Other major U.S. trade associations with several inconsistent or mixed responses were Edison Electric Institute (eight companies), American Petroleum Institute (four companies) and the American Chemistry Council (four companies). Air Products & Chemicals, Inc., for example, explained their differences with the chemistry council and noted, "The ACC has challenged certain aspects of legislation and regulations related to climate change."
All of which begs the question: who are the trade groups truly representing? Goldman writes:
If companies claim they don't agree with their trade groups' climate position, who are these trade groups representing when they fight against policy action to address climate change? And importantly, who then is held accountable for trade groups' policy stances? Without more information about corporate political activities, we can't know who is actually supporting these groups. As a result, business and trade associations can wield enormous influence over public policy debates, blocking climate action and other policy initiatives that affect our health and safety, while the companies and others funding them can remain in the dark.
One potential solution, suggested by the authors, lies in the hands of the Securities and Exchange Commission (SEC), which could enact more rigorous standards for public companies to disclose their direct and indirect lobbying and policy activities. Until companies are forced by the commission or investors to tell the bare truth about their climate advocacy, they will continue to hide behind the anonymity of the trade groups, letting the U.S. Chamber, National Association of Manufacturers and others fight carbon mitigation policies while continuing to claim publicly that they support climate action.