The oil industry and its well-compensated apologists in Congress like to complain that the Obama administration is stalling oil production on public lands. The problem with that argument: it's demonstrably false.
While plenty of environmental advocates may wish that President Obama was actively working to keep the fossil fuel reserves underground, the data tells a much different story.
In fact, according to new data released by the Department of the Interior, the amount of crude oil produced on onshore federal lands in 2013 was the highest it has been in over a decade.
This hasn't stopped the oil industry from "distorting and cherry-picking statistics," in the words of the Center for Western Priorities, to argue for even fewer regulations and more lax permitting processes.
A recent post on the The Daily Caller is representative of the oil industry's spin, and provides a tutorial in cherry-picking data.
The total number of oil and gas drilling leases issued in 2013 reached a nearly three-decade lows, according to the Bureau of Land Management. The bureau says it issued 1,468 drilling leases last year, totaling 1.17 million acres of federal land — the lowest figures since 1988, which is the oldest year for which the BLM has data.

…

Overall, U.S. oil production has boomed in recent years, but production on federal lands has been falling. The Congressional Research Service reports that oil production on federal lands fell from 1,731,500 barrels per day in 2009 to 1,627,400 barrels per day in 2012, and the total shareof crude oil produced on federal lands fell to 26 percent in 2012 from 33 percent in 2009.
Let's unpack this a bit.
First of all, the post opens by referencing the new BLM data, which only accounts for the federal onshore leasing program. To bolster the faulty argument that fewer leases is resulting in decreased production, the post then cites a Congressional Research Service (CRS) report from last year, which includes all production on federal lands – onshore and, importantly, offshore.
When you actually dig into that year-old CRS report, you see that production on federal onshore lands has increased every year since President Bush left office.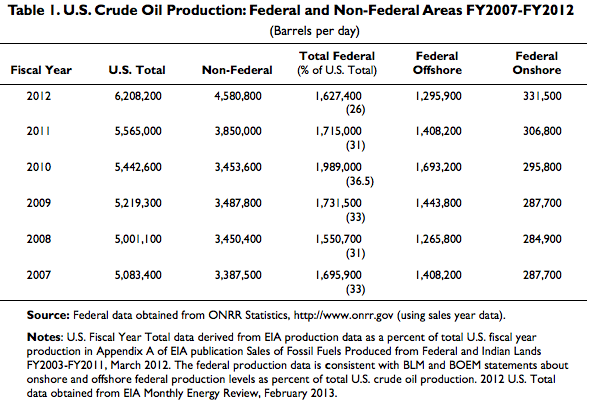 All of the decreases in overall production on federal lands have occurred offshore, where production has flagged from a high in 2010. That year, you may remember, there was a pretty massive explosion and oil spill in the Gulf of Mexico, which reasonably brought about a more tempered approach — and a temporary moratorium — to deep water offshore drilling.
The new data from Interior and EIA analysis shows that offshore production, too, it poised to again pick up steam. As E&E News reports:
Oil production was level in the Gulf of Mexico, dropping slightly from 476 million barrels to 472 million barrels in 2013, according to the federal data.

…

And while oil production in the Gulf of Mexico was level last year – down about 23 percent from a peak in 2010 – the region appears to have halted the rapid drop in production that followed the 2010 Deepwater Horizon oil spill, which triggered a five-month drilling moratorium and a major overhaul of safety regulations.

Gulf production averaged 1.25 million barrels a day in 2013, but it is expected to grow by 140,000 barrels a day in 2014 and an additional 210,000 barrels a day the following year, EIA said.
As for the oft-repeated claim that that faster permitting and more leases will directly boost oil production? That same CRS report debunks that one too.
There is however, continued interest among some in Congress to open more federal lands for oil and gas development (e.g., the Arctic National Wildlife Refuge (ANWR) and areas offshore) and increase the speed of the permitting process. But having more lands accessible may not translate into higher levels of production on federal lands, as industry seeks out the most promising prospects and highest returns.
This is an important point, and one that speaks to another stat cited in the Daily Caller post — that "the total share of crude oil produced on federal lands fell to 26 percent in 2012 from 33 percent in 2009."
Looking at the percentages of production coming from public versus private lands is just plain misleading.
As the CRS report and the new data from Interior both make clear, overall production has increased substantially and consistently under the Obama administration. The shift in the percentage from public lands is mostly a reflection of the industry's massive shift to shale oil operations, predominantly in the Bakken region, which don't happen to be on public lands.
In fact, according to a Center for Western Priorities report,
The large majority of shale oil plays exist under nonfederal lands. Mapping of shale resources reveals that 93 percent of all onshore shale oil and mixed oil and gas plays are found under nonfederal lands. Even in the Rocky Mountain West, where more federal land is located, 89 percent of the shale oil and mixed oil and gas plays are under nonfederal lands.

The CWP report makes a strong case  that "the lack of shale oil deposits under public lands and the market-driven movement away from natural gas and towards oil explains recent drilling trends on public lands."
In other words, oil and gas companies aren't drilling as much on public lands because there isn't nearly as much shale oil under public lands.
In fact, that same CRS report that conservative media and the oil industry love to cite says reveals that applications for permits to drill (APDs) have actually dropped consistently from 2006 through 2011 (the last year for which they had data). 

And though it might come as a surprise to the oil industry flacks, the Obama administration has actually processed more applications than it received every year, a feat only achieved once in the last three years of the Bush administration.