"Sometimes you can't convince people, you just have to defeat them." That was Washington state governor Jay Inslee's message about dealing with climate deniers today at Climate Solutions' 6th annual breakfast in Seattle.
"We're not going to wait until the last person in Washington understands physics and chemistry in order to confront climate change," Inslee said, describing his view that the climate policy debate essentially pits optimists against pessimists. Those who understand the urgent need to address climate change are the optimists who see climate solutions as beneficial for our health and economic prosperity, while those who deny the problem or think there's nothing we can do about it are the pessimists. Nobody likes a pessimist. 
Governor Inslee was joined on stage today by David Gelber, the executive producer of the must-watch Showtime climate change series, Years of Living Dangerously. These two optimists were both in agreement that "climate deniers are really back on their heels," as Gelber said about the increasing public pressure for politicians to stop waffling and move ahead with climate solutions. 
Pacific Northwest coal export proposals were a hot topic of conversation, as usual whenever Governor Inslee makes a public appearance these days. Gelber noted that the potential climate impacts of coal expansion are "every bit as important" as the controversial Keystone XL tar sands pipeline, and urged the media to be more aggressive in covering climate threats since we face "civilizational suicide" if we fail to act. 
Gelber shared several stories about the success of the Years series in its first season, and revealed plans for wider distrubtion once the Showtime run concludes. The series will be released on DVD approximately three months after the final episode of season one airs, and the producers are getting closer to securing international distribution agreements. That will be welcome news to fans outside the U.S., along with the many schools and universities that want to screen the series for their students, Gelber said. 
Governor Inslee was featured in episode 5 for his leadership as a climate-focused governor who won election on a platform of climate action promises. That episode also looked at New Jersey Governor Chris Christie's refusal to acknowledge the role that climate change played in amplifying the impacts of Superstorm Sandy. The highlight of the episode is the conversion of Rep. Michael Grimm (R-NY), a former climate skeptic who accepts the scientific consensus by the end of the episode in an interview with host Chris Hayes. 
If you happen to have Showtime or know someone who does, tune in tonight at 8pm for episode 6, which looks at two important story lines that will be familiar to DeSmog readers.
Mark Bittman hosts the "Chasing Methane" segment looking at the climate impacts of natural gas development, while America Ferrera hosts "Against the Wind," a segment looking at the anti-science attacks on renewable energy by the Heartland Institute and other fossil fuel front groups. That segment features an interview with yours truly as well as Center for Media and Democracy executive director Lisa Graves examining the history and tactics of James Taylor and Heartland with America Ferrera.  

Here is a Facebook-friendly graphic to share with your friends to alert them about tonight's episode.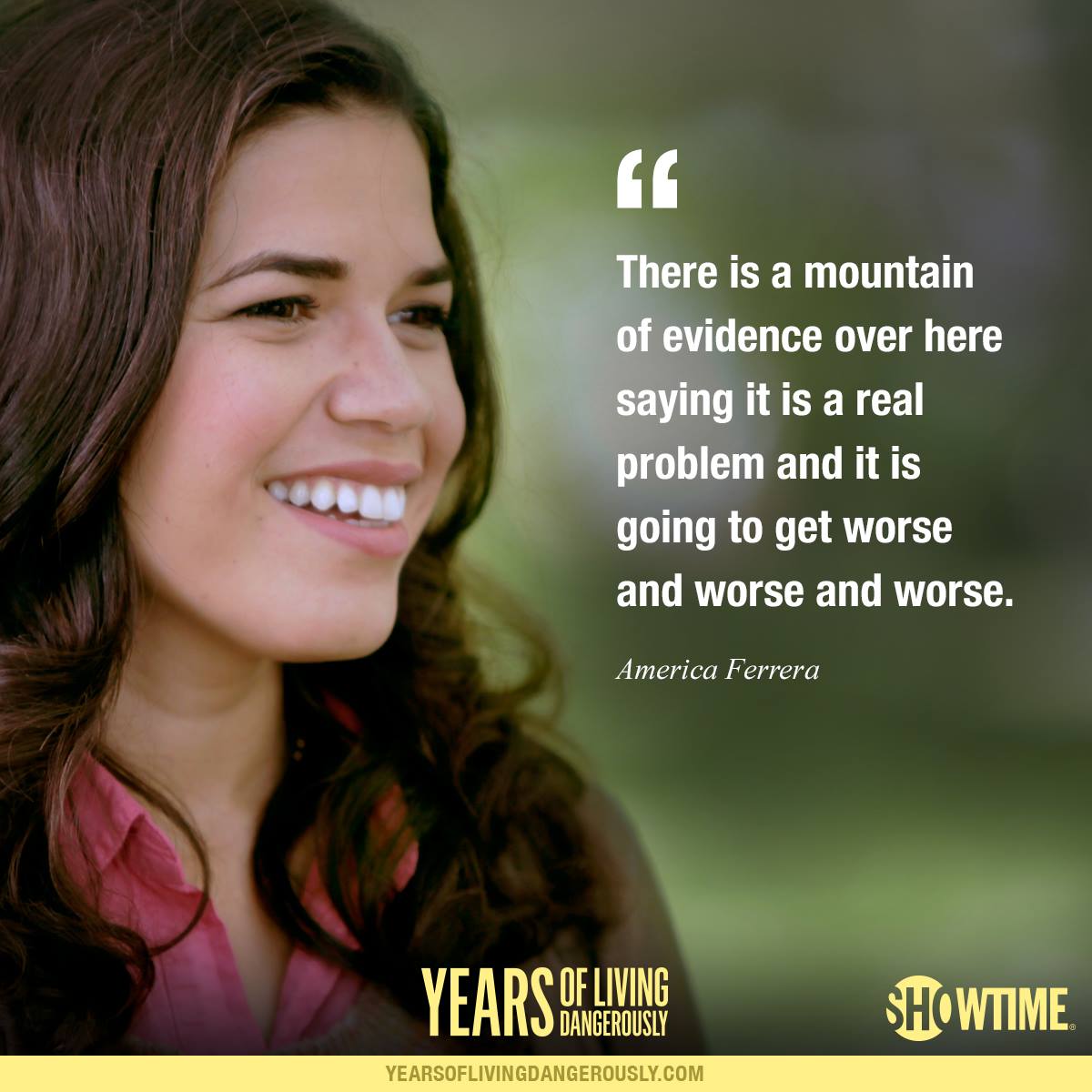 Here is episode one of the series, which Showtime made available for free: