Award-winning author and anti-fracking activist Dr. Sandra Steingraber is going to spend Thanksgiving in jail. And it won't be her first stay there. She spent last Earth Day there as well. She is returning to jail in upstate New York after her arrest for being part of a human blockade at the gates of the Crestwood Midstream gas storage facility on the shores of Seneca Lake in New York.
And despite the upcoming holiday about giving thanks, Steingraber has a message for anyone who wants to thank her for her efforts to protect the waters of Seneca Lake, a source of drinking water for 100,000 people – "Don't thank me, join me."
Over the last four weeks, she has found plenty of people to join her. Activists working under the name We Are Seneca Lake have repeatedly blocked the gates of the Crestwood facility. Initially sentenced to jail along with Steingraber this week were fellow blockade members U.S.A.F. veteran Colleen Boland (retired) and 86 year old Roland Micklem.
Over the four weeks of the We Are Seneca Lake protests, there have been 52 arrests. The protests began after a decision by the Federal Energy Regulatory Commission (FERC) to allow the abandoned salt caverns on the shores of Seneca Lake to be used for gas storage.  As there currently is little recourse left for anyone opposing a FERC decision, We Are Seneca Lake has resorted to civil disobedience.
Steingraber explained at a press conference this week:
"We Are Seneca Lake is a campaign that was born on October 23, the date of our first blockade, after we learned that approval had been granted by the Federal Energy Regulatory Commission to expand the storage of methane in crumbling salt caverns that underlie the west bank of Seneca Lake. In granting this approval, the federal government swept aside demonstrable evidence for reckless risks, including methane leakage, salt cavern collapse, and salination of our lake."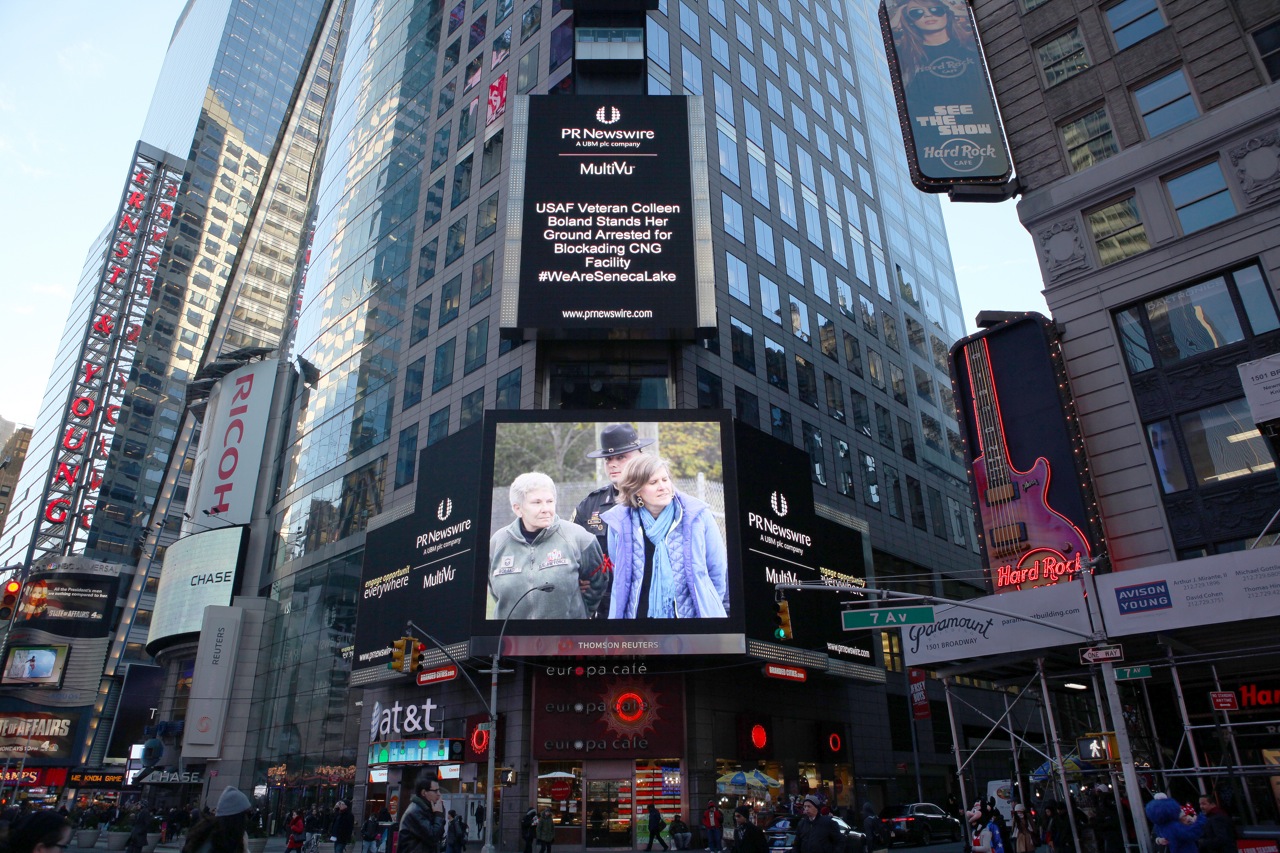 This latest activism at Seneca Lake as a result of a decision by FERC is not an isolated protest against FERC's industry friendly decision making.
At the same time that the NY salt cavern gas storage project was approved by FERC, the agency also approved the liquified natural gas export facility at Cove Point. These decisions led to direct protests at the FERC headquarters in Washington, D.C. during the week of November 7th resulting in over 100 total arrests.
Drew Hudson, director of Environmental Action made it clear that these protests are occurring because the activists are tired of politicians and regulators who continue to approve projects despite legitimate concerns from local residents.
"Yesterday's election was a demonstration of what happens when voters are fed up with politicians who talk without action," Hudson told EcoWatch the day after the recent federal elections. "This movement that's shutting down FERC, shutting down Cove Point, and resisting in countless communities from New York to California is coming for the pundits and politicians. They had better get ready for us."
This sentiment was echoed by Steingraber's recent statement about the resolve of the people who make up We Are Seneca Lake.
"We are young mothers and great-grandmothers and business leaders. We are your neighbors, the makers of your favorite wine, and the drummers in your favorite roots-rock band. We are fighting for water. We are fighting for life itself. We will not give up. Not in jail. Not in the rain. Not in the snow. You can't freeze us out, starve us out, or arrest us out. Because we are…Seneca Lake."
And while activists from in New York and Washington D.C. were being arrested to protest FERC's continued approvals of any and all gas industry projects, the head of FERC provided some clarification on how much consideration FERC gives to the impact of all of these projects on the climate – none. As EE Publishing reported this week:
The Federal Energy Regulatory Commission chairwoman has a message for activists urging the agency to measure far-reaching effects of greenhouse gas emissions from new gas export terminals and pipelines: It's not FERC's job.
The agency that has the power to approve gas industry projects from pipelines to export terminals admits that it gives no consideration to the impact that these fossil fuel projects may have on the climate. FERC also approves projects like the Seneca Lake gas storage project that endanger the drinking water of 100,000 with apparent disregard for any negative environmental impacts as well.
Carolyn Elefant is a former FERC attorney who now represents citizen groups challenging FERC's decisions. Elefant recently summed up this situation for LancasterOnline while commenting on FERC's track record of approving industry projects with no regard for public opposition.
"It's a very unfortunate and sad thing," Elefant said. "If a congressman gets 1,000 letters, he'll listen because these are voters. …But the more form letters (FERC) gets saying, 'I don't like it,' those letters make very little difference. FERC could care less."
It is this reality that has landed Dr. Steingraber back in jail. The current regulatory capture by the oil and gas industry has left local communities across the country few options when defending their local environment and drinking water.