"What happens if the climate skeptics are wrong? Catastrophe." 
Those were the words of Secretary of State John Kerry here in Lima today as he addressed the COP 20 climate talks on the need to foster global action to address climate change. 
Secretary Kerry also emphasized the 97 percent scientific consensus on manmade global warming, calling it "a dramatic statement of fact that no one of good conscience or faith should ignore."
Kerry spoke firmly about the climate-related costs of fossil fuels, saying that "oil and coal are largely responsible" for manmade global warming, and cautioned against any further expansion of fossil fuel use. 
"If developing nations choose the energy choices of the past rather than the energy choices of the future," they would further endanger the planet and miss out on "one of the greatest economic opportunities of all time" to build economies based on clean energy technology, Kerry said.
"Coal and oil may be cheap ways to power an economy today, in the near term, but I urge nations around the world, the vast majority of whom are represented here at this conference, look further down the road," Kerry said. "I urge you to consider the real, actual, far-reaching costs that come along with what some think is the cheaper alternative. It's not cheaper."
He referenced the 4.5 million deaths each year attributable to air pollution from burning fossil fuels, and implored nations to "do the real math on the costs" of climate change.
"It's time for countries to do some real cost accounting," he said.  "Factor in the long term cost of carbon pollution. Factor in the cost of survival itself."
Kerry Mum on Keystone XL, But Protestors Hope He Got Their Message
In his speech today, Sec. Kerry was mum about the Keystone XL pipeline decision that his State Department is responsible for making a recommendation to the President on whether to approve or deny.
Youth protestors at the COP 20 talks hoped to send him a reminder about their opposition to Keystone XL outside the press tent, but were largely thwarted by the UN, they said.
"Earlier in the week, we held protests that called out specific countries and fossil fuel projects as bad actors in the negotiations and the broader fight against climate change," said Evan Weber of U.S. Climate Plan. "Once we approached the Secretariat with a specific proposal around Kerry, the United States, and Keystone XL, suddenly this type of action was not allowed."
"It's outrageous that the United Nations censors participants' protests from using anything that might identify a specific proposal when it's politically inconvenient for that story to be shared," said Alyssa Johnson-Kurts, a U.S. youth delegate with SustainUS. 
The groups still managed to hold up a sign in the immediate aftermath of Kerry's speech that anyone following the Keystone XL debate would likely connect the dots on, including members of the U.S. delegation who walked past.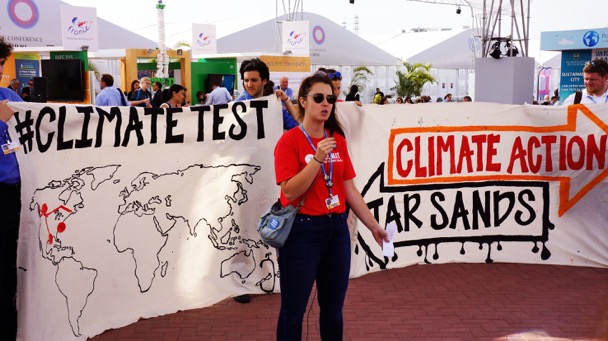 Image credit: Mark Pejkovic
Blog image credit: Brendan DeMelle