Fracking lives to see another day in Britain as MPs overwhelmingly reject a proposal to place a moratorium on hydraulic fracturing for shale gas.
A mere 52 MPs voted in favour of the amendment to the controversial Infrastructure Bill yesterday. The vote follows a report released earlier that day by the cross-party House of Commons Environmental Audit Committee calling for a ban on fracking due to the risks it poses to Britain's efforts to tackle climate change.
The amendment was voted down by 308 MPs including the Under Secretary of State at the Department of Energy and Climate Change (DECC), Amber Rudd, and DECC Secretary of State, Ed Davey, demonstrating their steadfast support of the nascent industry in face of rapidly mounting public and political opposition.
"What's been happening on fracking is not democracy in action. It's democracy in free fall," said former UK climate envoy John Ashton ahead of the final Commons debate on the bill as protesters and high profile campaigners including Bianca Jagger and Vivienne Westwood gathered outside the Houses of Parliament to call for a ban on fracking.
'Dysfunctional Love-In'
"Too many MPs still think it's more important to do the bidding of those Party machines and of their corporate friends than it is to listen to the people who put them in our Parliament," Ashton said.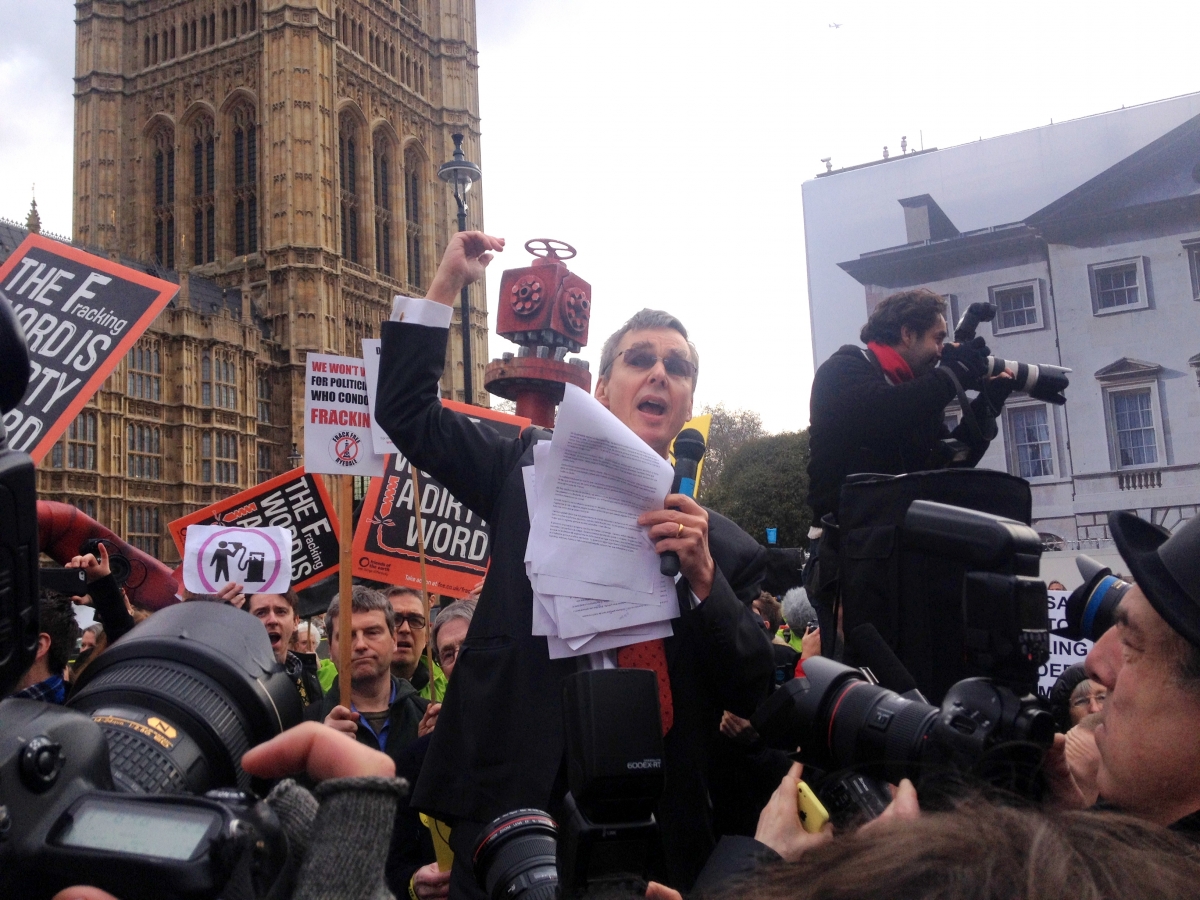 Former UK climate envoy John Ashton calls for ban on fracking. Photo: Kyla Mandel
Green Party MP Caroline Lucas added: "The dysfunctional love-in between the fossil fuel industry and the politicians is as strong as ever. The sweet nothings are evident throughout the infrastructure bill."
This was clear when, during the debate, Rudd described fracking as "a win-win for the UK in both potential economic benefit and reducing our carbon footprint". She added that the proposed moratorium on shale gas exploration came as a "surprise".
"It is far more sensible to explore the potential of shale and assess the impacts along the way, while ensuring that development is regulated and risks managed," she said.
However Ashton said the government's promise for "gold-plated regulations" was "hollow".
"It's a lie because our regulators don't have the budgets, the people or the skills to enforce it; it relies entirely on self-policing by the companies concerned," he said.
Political U-Turn
The government did, however, concede some ground during the short two-hour debate when it agreed to ban fracking in national parks in a concession to the Labour Party calling for tighter controls on fracking.
As Rudd made clear: "We have agreed an outright ban on fracking in national parks, sites of special scientific interest and areas of outstanding natural beauty."
The decision is a direct reversal of the policy declared last year by the government, which allowed fracking in national parks under "exceptional circumstances". It has been described as a "huge u-turn" by Labour energy spokesperson Caroline Flint.
And in a last-minute amendment to the bill, the government has also proposed to consult the independent Committee on Climate Change "from time to time" on the impact of oil and gas exploration on the carbon budget.
"By introducing this amendment, we are making it absolutely clear that shale development will remain compatible with our goal to cut greenhouse gas emissions," said Rudd.
Responding to the outcome of the bill's vote, Donna Hume, Energy Campaigner at Friends of the Earth, said: "Public opinion and increasing concern from MPs has forced the Government into retreat on fracking."
'Unnecessary' Amendments
"But these concessions do not go far enough," Hume said. "The only way to safeguard our climate, local communities and their environment from the fracking threat is to halt shale gas completely."
Other controversial clauses such as that to maximise the economic recovery of UK oil and gas and changes to the trespass law to allow fracking under people's homes were, however, swiftly dismissed by Rudd.
"It is absolutely essential that we do also maximise economic recovery," she said, adding later that "the Government feel that oil and gas recovery makes an important contribution to the national economy by supporting jobs and growth."
Amendments calling for changes to the trespass law were simply deemed "not necessary" by Rudd.
In response to an amendment calling for the government to release the hotly-contested redacted Shale Gas: Rural Economy Impacts report Rudd responded saying it was not "analytically robust" and that "DEFRA should not have produced a document of this kind."
"Releasing the unredacted draft paper would not help to inform the debate on developing the UK's shale industry," she said. "I do not think it is appropriate for it to be released. It could mislead the public. It is because I am so concerned about the public that we have taken this view."
The bill will now head to Lords where further changes are expected.
Photo: Kyla Mandel